This week, Tino has a school lesson at home and, with help from Bill, builds a birdhouse. Find out how Tino discovers he can learn outside school lessons, then try our fun activity sheet to help him with some word and number games!
---
It was a strange feeling for Tino to see Miss Waters in his home! She was usually teaching him in the classroom at school. But here she was, talking to him and his classmates from the computer screen while he sat at the kitchen table completing her lesson.
Tino could see on the laptop that his friends from school were doing the same thing, so although he missed seeing them in person and playing games with them, he still felt they were together.
He was looking forward to the time when it would be safe for everyone to go back to school – Bill would walk Tino, Tilly, Rupert and Roberta to their local school. He always waved goodbye as the Gang of Four followed their teachers into their classrooms and would be there at the end of the day to collect them.
'What did you learn today?' Bill would ask each of them in turn. Tino would tell Bill all about the songs they learned to sing in French, and Roberta would excitedly report back on the science experiments they had carried out.
'Is that alright, Tino?'
Tino's concentration was brought back to Miss Waters as she spoke his name from the screen.
'I have a day off so there'll be no school lesson tomorrow.'
Tino looked doubtful. How would he learn anything without lessons or school?
'You'll be fine,' smiled his teacher. 'In fact you might quite enjoy it!' she laughed, before signing off for the day.
***
'I need your help' called Bill the following morning. Tino went to see what Bill needed. Laid out on a table were wood and tools including a saw, measuring tape, screws and a pencil. He passed Tino a large piece of paper.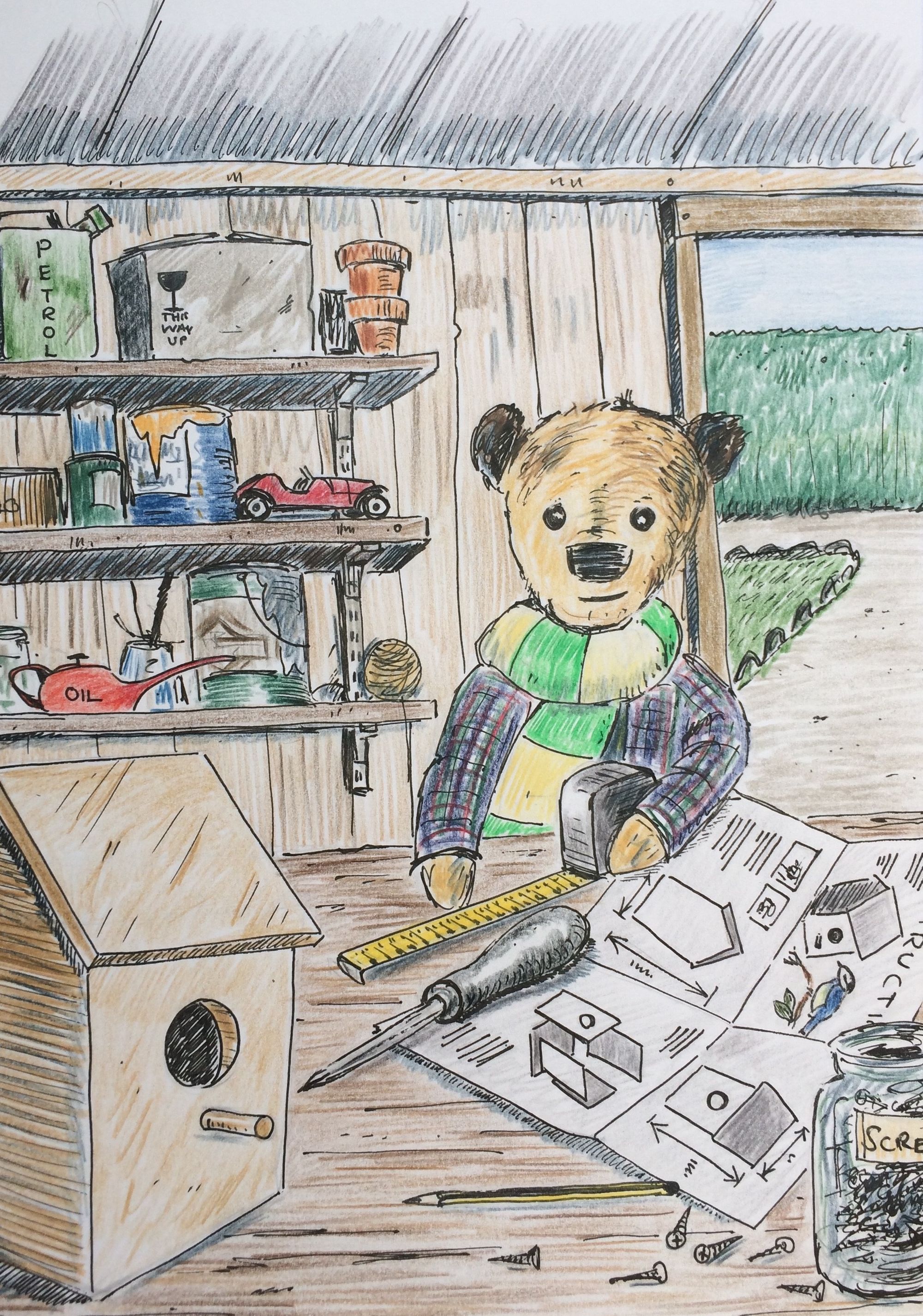 'Here are the instructions for making a bird nesting box,' explained Bill. 'Can you help me by reading them out?'
Tino studied the instructions and began to read aloud. He found the right tools and equipment that Bill needed each time, then used the measuring tape and pencil to mark out the size of the wood Bill needed. He even looked up on the RSPB's website the size of the hole that blue tits prefer for their homes, so that Bill could cut it!
After a couple of hours they were ready to paint on the wildlife-friendly waterproof varnish.
'I hope you didn't miss school too much today!' Bill grinned at Tino while they stood back and admired their work. Tino thought for a moment, looked at the bird nesting box, then smiled at Bill.
'Not at all! I was too busy reading, doing maths, science, technology, computing… and teamwork!'
It was time to go indoors for a well-earned cup of tea.
---
Teddy Tales Tino's Puzzles
Tino has been playing some word and number games at home to help with his learning. He has got stuck on some of his games, can you help him?
---
Tino, Tilly, Roberta and all of Bill's collection of 269 bears will soon be moving into a new home at Mr Simpson's Teddy Bear Museum in Milestones Museum. Find out how we're getting the bears ready for their move.
Tino's Tales was made by Mark Fenton, Ruth James, Caroline Johnson, Helen Sinnamon and Nick Suffolk
---
If you have enjoyed Culture on Call and you are able to make a donation, any support you can give will help us keep people connected.