The Milestones Museum teddies have a great adventure while the museum is closed! Will the security guards see them? Read on to find out, then solve Roberta's tricky riddles in our fun Teddy Tales activity.
---
'Now!'
At Roberta's command, Tinker, who was closest, quietly lifted the latch and gently swung the large shop window outwards on its hinges, making a gap for the bears to slip through. Out they went, one after the other. There were at least 20 bears – if anyone had seen them, they would have been in a lot of trouble!
It was quite dark on the street, so each bear carried a torch to help them find their way. Each bear knew exactly where to go and what to do.
'Roberta, over here,' hissed Felicity and pointed. Roberta crept towards her, taking care not to make too much noise, and shone her torch to see what Felicity was showing her.
'Ah yes, perfect. Fetch the equipment and be careful!' Roberta vanished into the darkness towards Sidney, who had called her over, and Felicity was alone. Holding her torch low so that she didn't trip on the pavement, Felicity crept towards the supplies. Digging through the equipment, she collected what she needed and was crossing the street when Roberta called out urgently.
'Security! Hide!'
There was a faint shuffling and scuffling as all the bears slipped into the shadows of doorways and behind vehicles. Felicity looked around hurriedly for a hiding place – she was in the middle of the road, where could she go? She didn't want to get caught! A powerful torch swept the street, making the bears shrink back for cover, and voices could be heard a short distance away.
'Nothing here, all quiet. Time for a cup of tea?'
'Great idea, it's a bit cold out tonight.'
One last sweep of the bright beam and the security guards moved on. Felicity relaxed, coming out from behind the lamp post where she had rushed when the torchlight threatened to reveal her. She returned to her spot and got to work.
'It's time!' called Roberta. 'The sun's starting to come up and it's getting light.'
The bears stopped what they were doing, stored the equipment and slipped back into the Simpson's shop window, Tinker dropping the latch as Roberta and the other bears settled back into their places, still.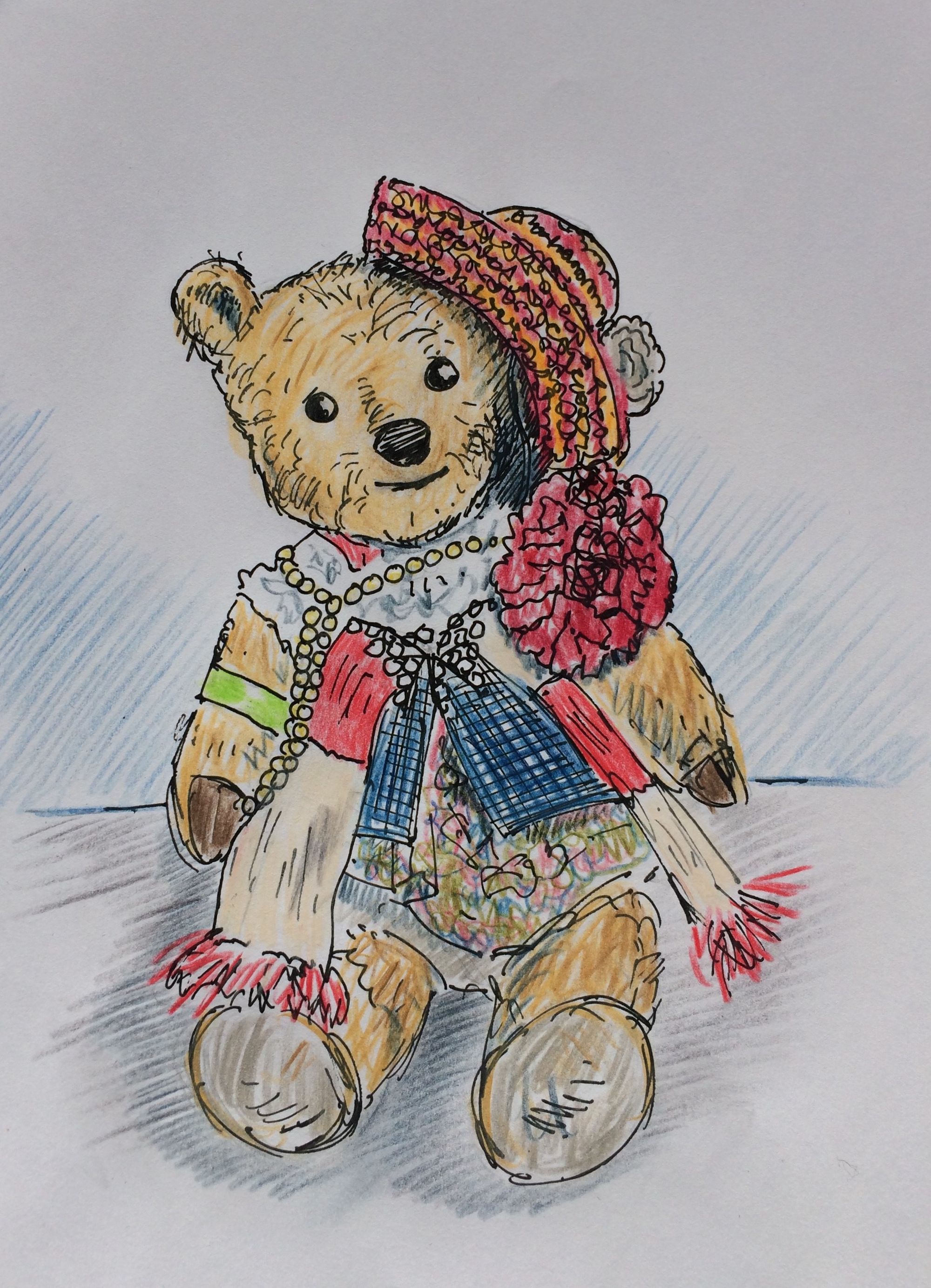 Half an hour later, Jackie came past the bears' window carrying her basket of cleaning equipment.
'That's funny,' Jackie said to herself, peering closely at the glass counter of Milestones Museum's sweet shop. 'I'm sure there were sticky fingerprints on here yesterday that I needed to clean off. The cleaning fairies must have been in the museum overnight again!'. Jackie shook her head in wonder.
The bears secretly smiled at each other. They were happy to help.
---
Teddy Tales Roberta's Riddles
Can you solve Roberta's tricky riddles?
Teddy Tales: Roberta's Riddles
---
Roberta, Felicity, Sidney and all of Bill's collection of 269 bears will soon be moving into a new home at Mr Simpson's Teddy Bear Museum in Milestones Museum. Find out how we're getting the bears ready for their move.
Tino's Tales was made by Mark Fenton, Ruth James, Caroline Johnson, Helen Sinnamon and Nick Suffolk
---
If you have enjoyed Culture on Call and you are able to make a donation, any support you can give will help us keep people connected.