Part 3 - After World War II to the Present Day
The Dress
1948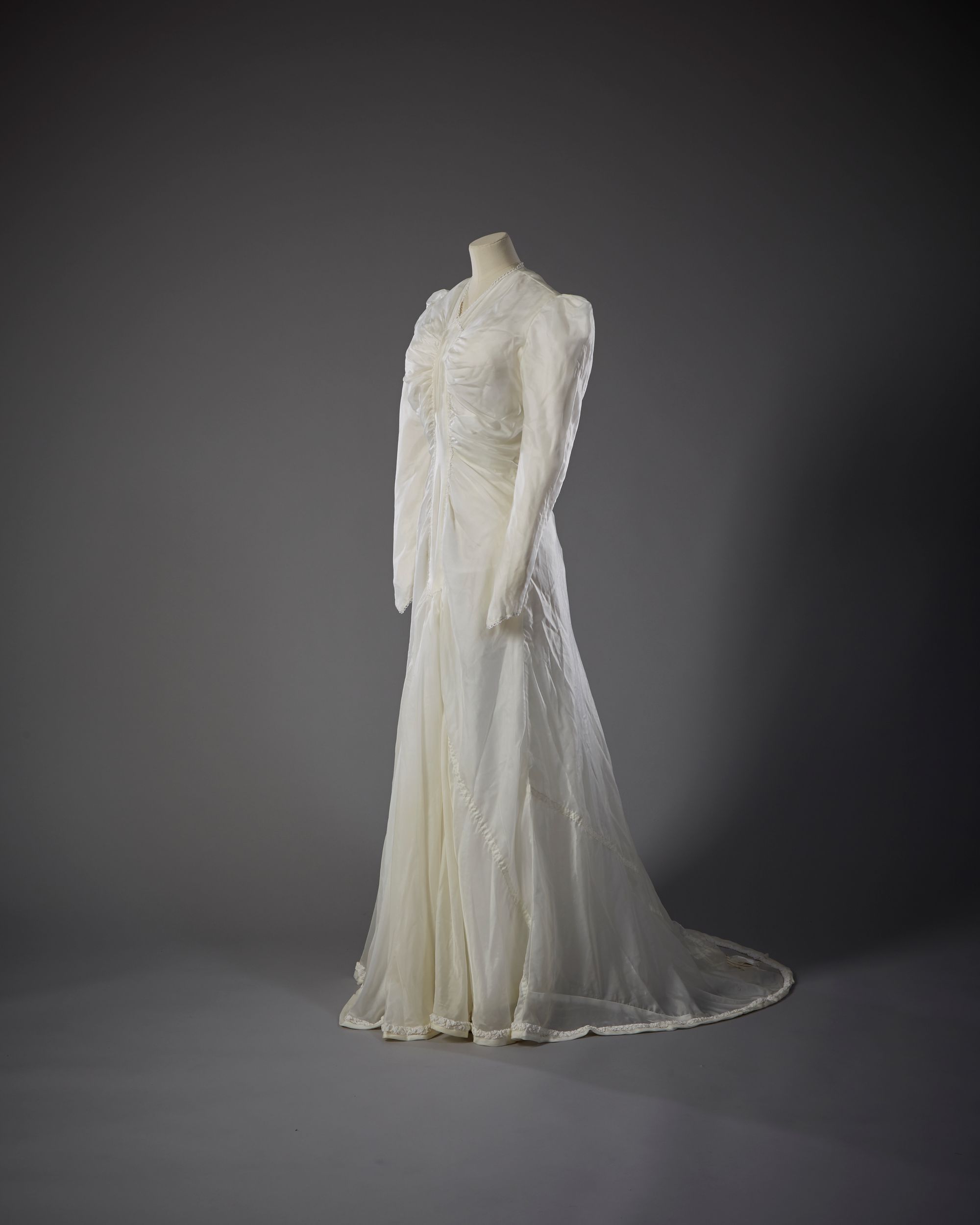 Fabric rationing continued into the early 1950s and brides-to-be had to be inventive and practical. Some still managed to be married in white by altering outfits worn by relatives, while others resorted to making a new outfit by using non-rationed fabrics such as light upholstery material or even net curtaining. At the end of the war, there were large quantities of superfluous parachute silk or rayon which were not rationed and both easy and cheap to get hold of.
Olive Cannings used a Style paper pattern to turn this nylon parachute fabric into her stylish wedding dress. The design of the dress would have been very popular in the years before the war, referencing film star fashion. At the point of the V-shaped neckline starts a central vertical placket that ends below the waistline. Gathering around this gives a more luxurious feel to the rather inexpensive material. The dress was donated to the trust along with a headdress, handkerchief, the groom's tie, a photograph of the happy couple and the paper pattern used, all testament to Olive's ingenuity and style.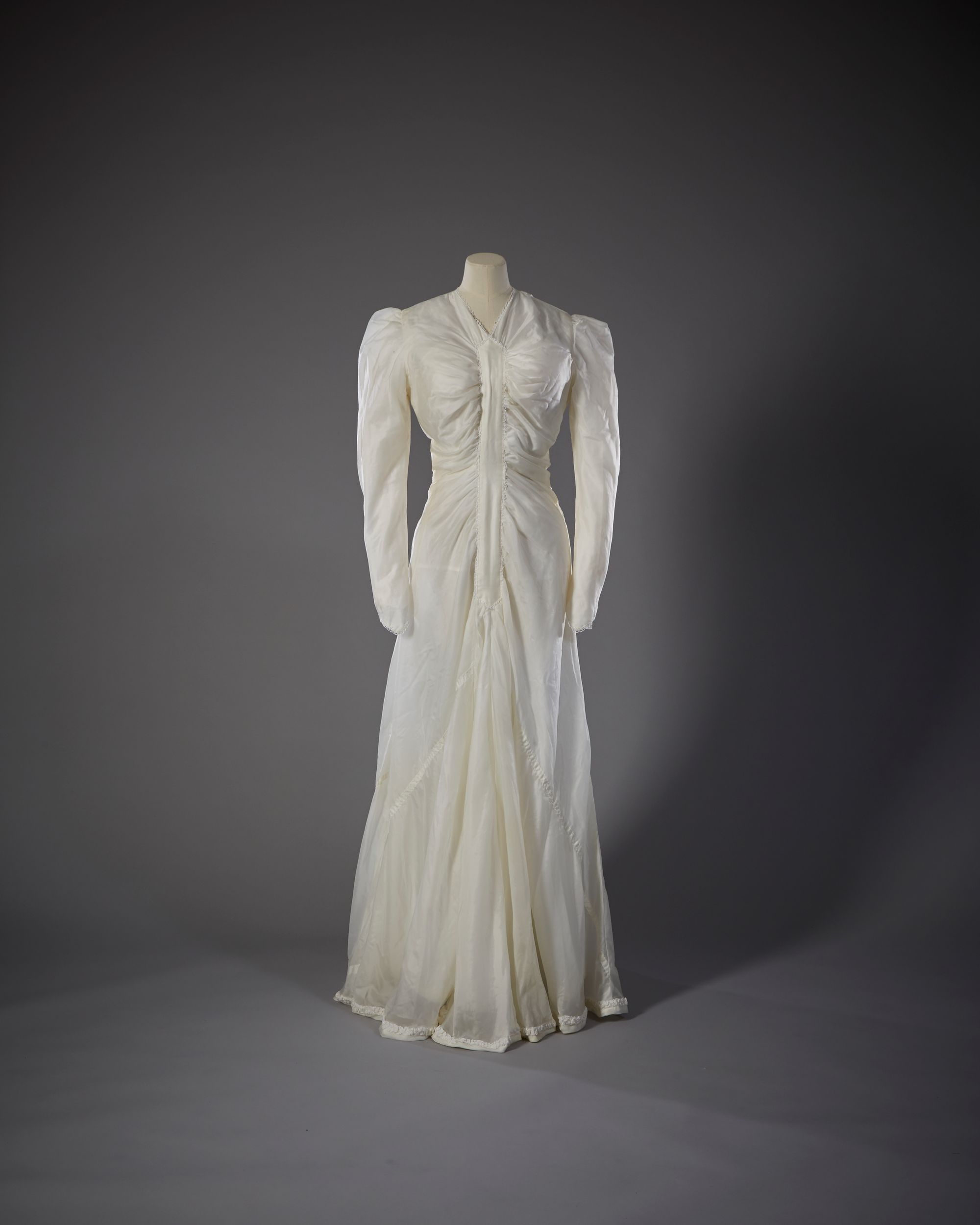 ---
The Dress
1950s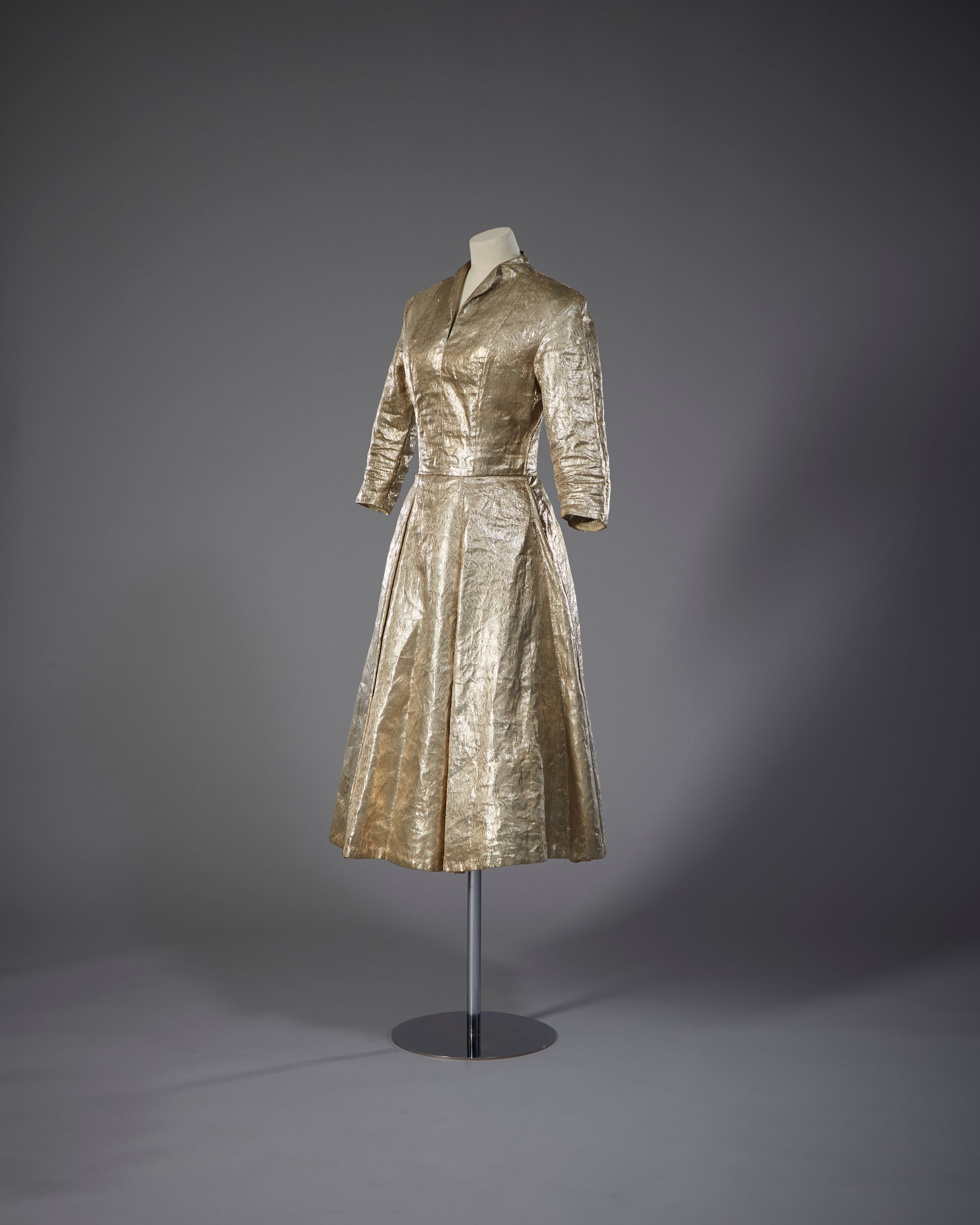 Although by the end of the war fashion was flourishing abroad, in Britain rationing continued into the early 1950s. The New Look launched by Dior, renamed Sweetheart line in the US, sent shock waves through this side of the channel with the amount of fabric it used. In stark contrast to the utilitarian style of wartime, corsets returned, constricting the waist and pulling stomachs in, while extravagant crinoline skirts were supported by many layers of stiff organza or net petticoats.
A drive to return to traditional family values saw an increase in wedding numbers. As brides started spending greater amounts on their special dress, the creation of wedding dress departments and specialised shops appeared. The royal wedding of the decade, between Crown Prince Rainier of Monaco and film star Grace Kelly, and the wedding of Hollywood royalty Elizabeth Taylor, set the trend for voluminous skirts and tight bodices.
Typical of the style and period, this wedding dress of silver lamé features a high open collar, tight bodice, three quarter tight-fitting sleeves and a ballerina length skirt worn over stiff petticoats.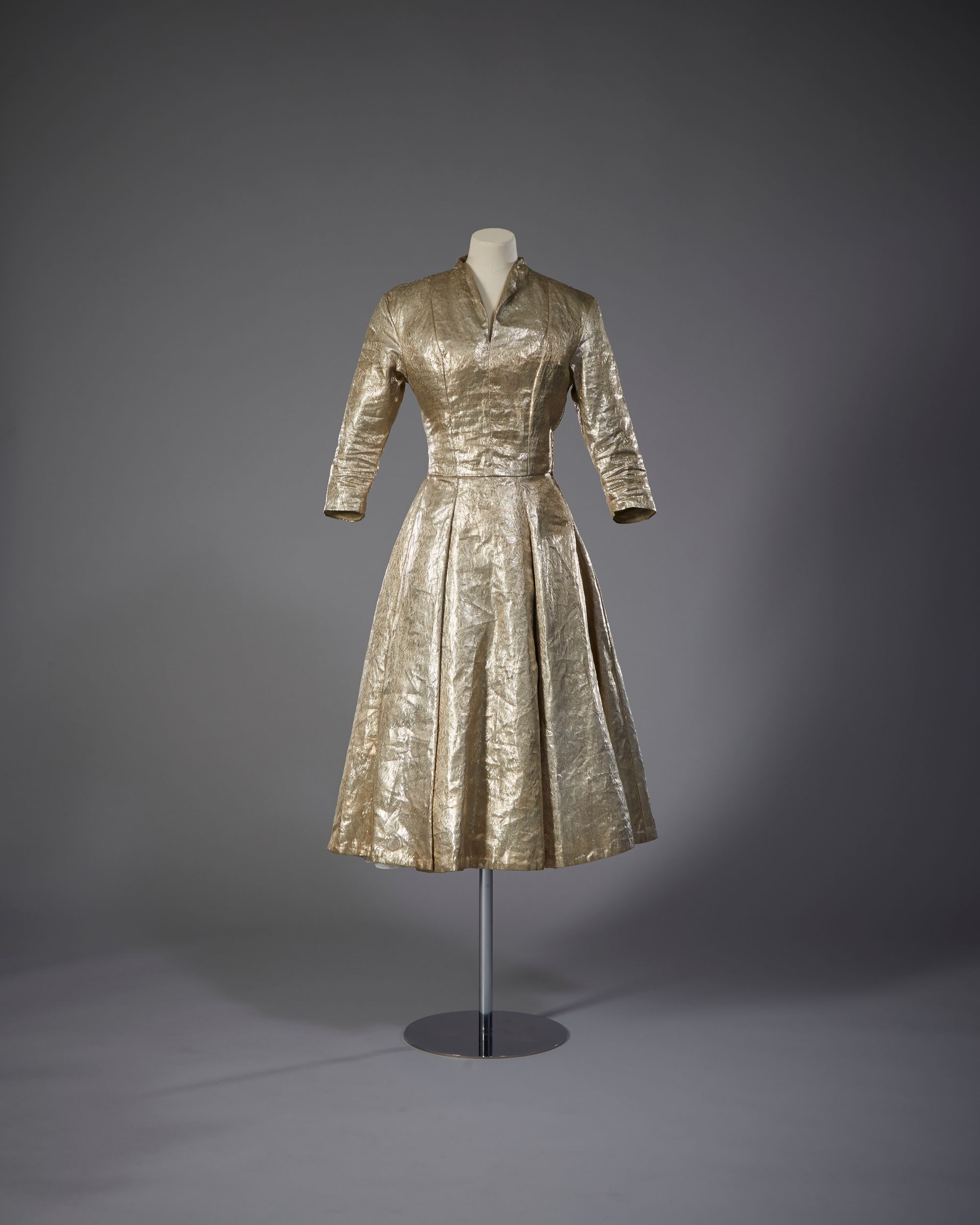 ---
The Dress
1957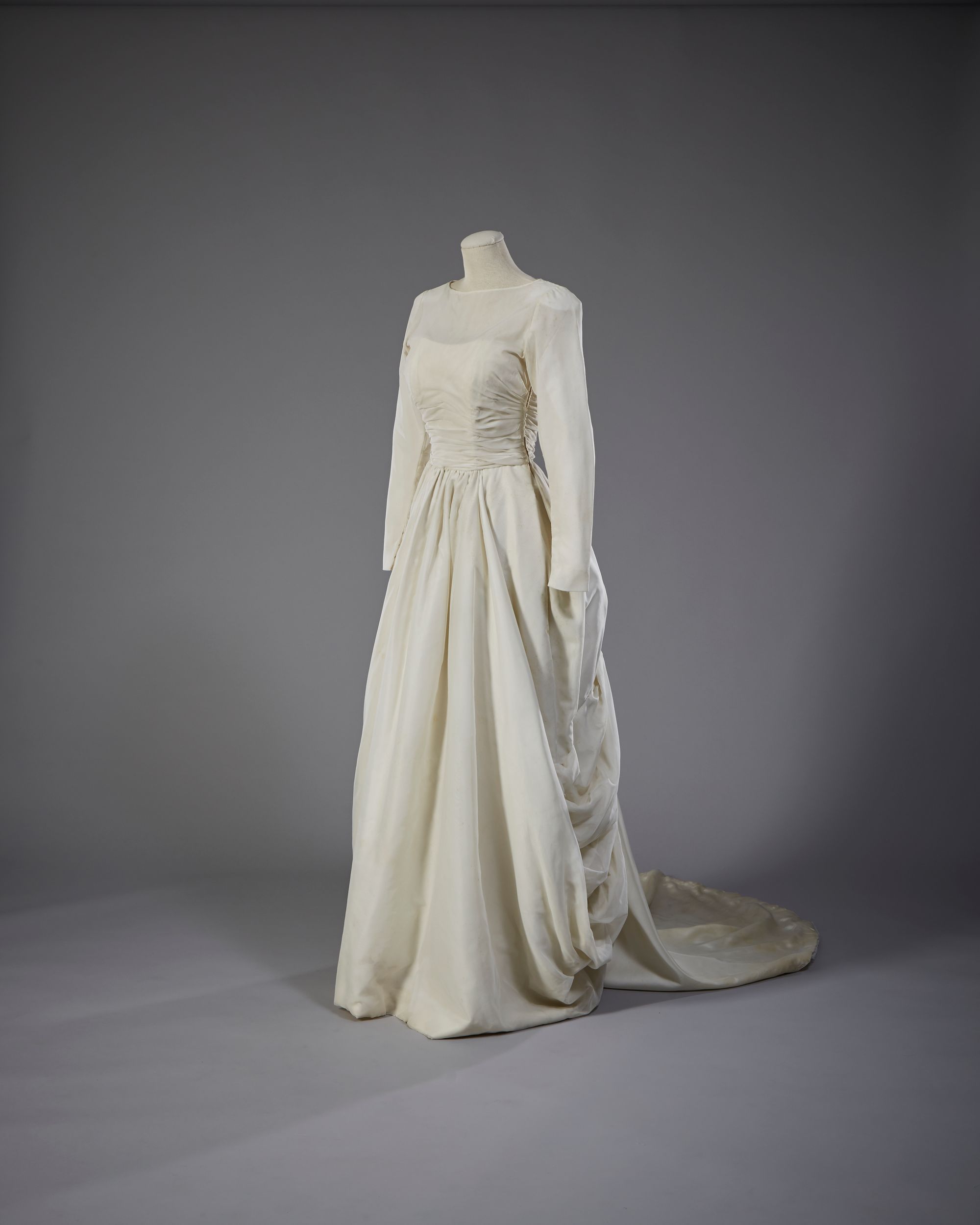 The glamorisation of wifedom, fuelled by advertising, reintroduced the role of the woman as a homemaker, mother and consumer. This ideal of a perfect home could only start with the perfect ceremony: a fairy tale wedding, where the bride and her dress took centre stage. Bridal designers were inspired by historic styles with fuller, floor-length skirts, tiny waists that celebrated an hourglass figure and design elements such as long trains, lace and bows. They also looked to the haute couture houses of Dior, Balenciaga, Chanel, Hartnell and Amis and their ball gowns for inspiration.
In 1957, the wearer of this gown visited a couturier with her mother, excited by these new styles. A design was picked, but production in traditional silk made was unfeasible. The couturier suggested the use of a modern fabric that had recently become fashionable: nylon. This new fabric made this fashionable gown, with its tight-fitting bodice, bateau neckline and full train, look ethereal and modern.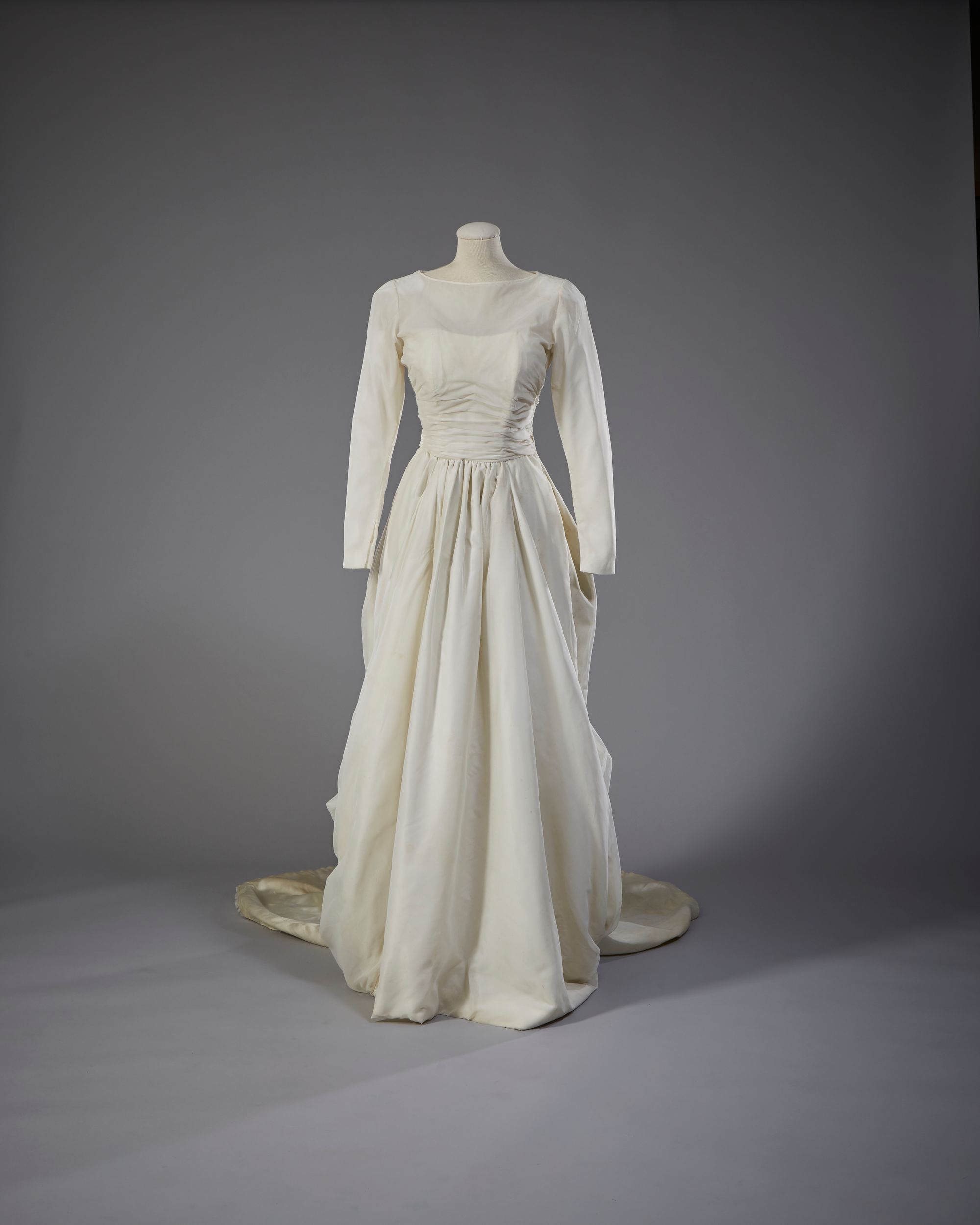 ---
The Dress
1960s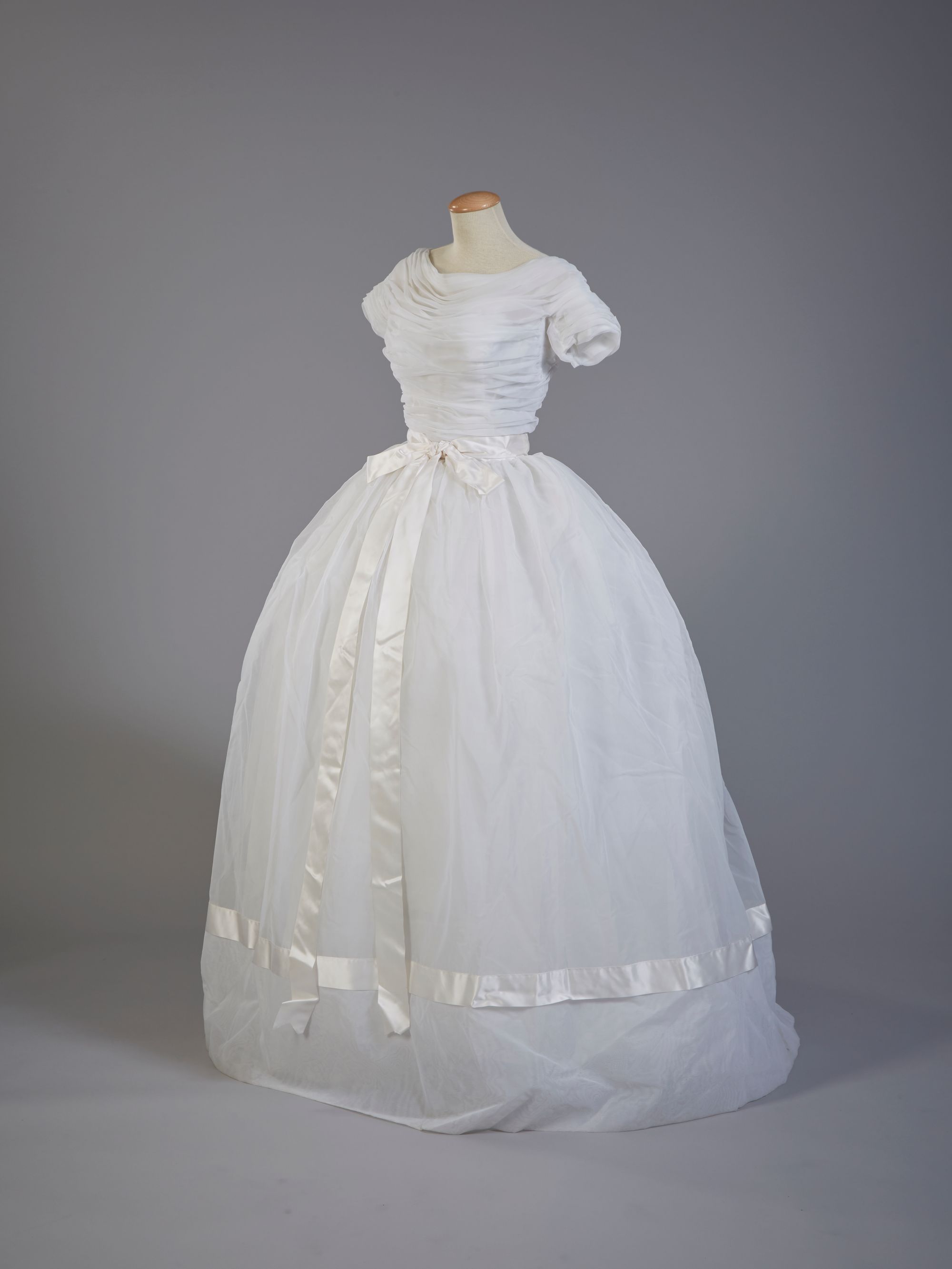 While the 1960s witnessed rapid social change, with increasing economic and sexual freedom and a more critical view of marriage, bridal wear retained a degree of formality. Young designers brought a more youthful approach to bridal design. Skirt lengths varied and so did shapes and materials.
With youth culture on the rise by the end of the decade, fashion in general was 'girly and pretty'. Miniskirts, metallic fabrics and synthetic fabrics were very popular and came together in fantastical combinations.

The wearer of this gown opted for the more traditional design approach to bridal wear while using modern nylon fabric. The ruched top of the garment with short sleeves and a wide neckline create a youthful look that is completed by the long bow at the front of the dress. The voluminous skirt, supported by a stiff underskirt, references older fashions, while its bell shape gives it a modern twist.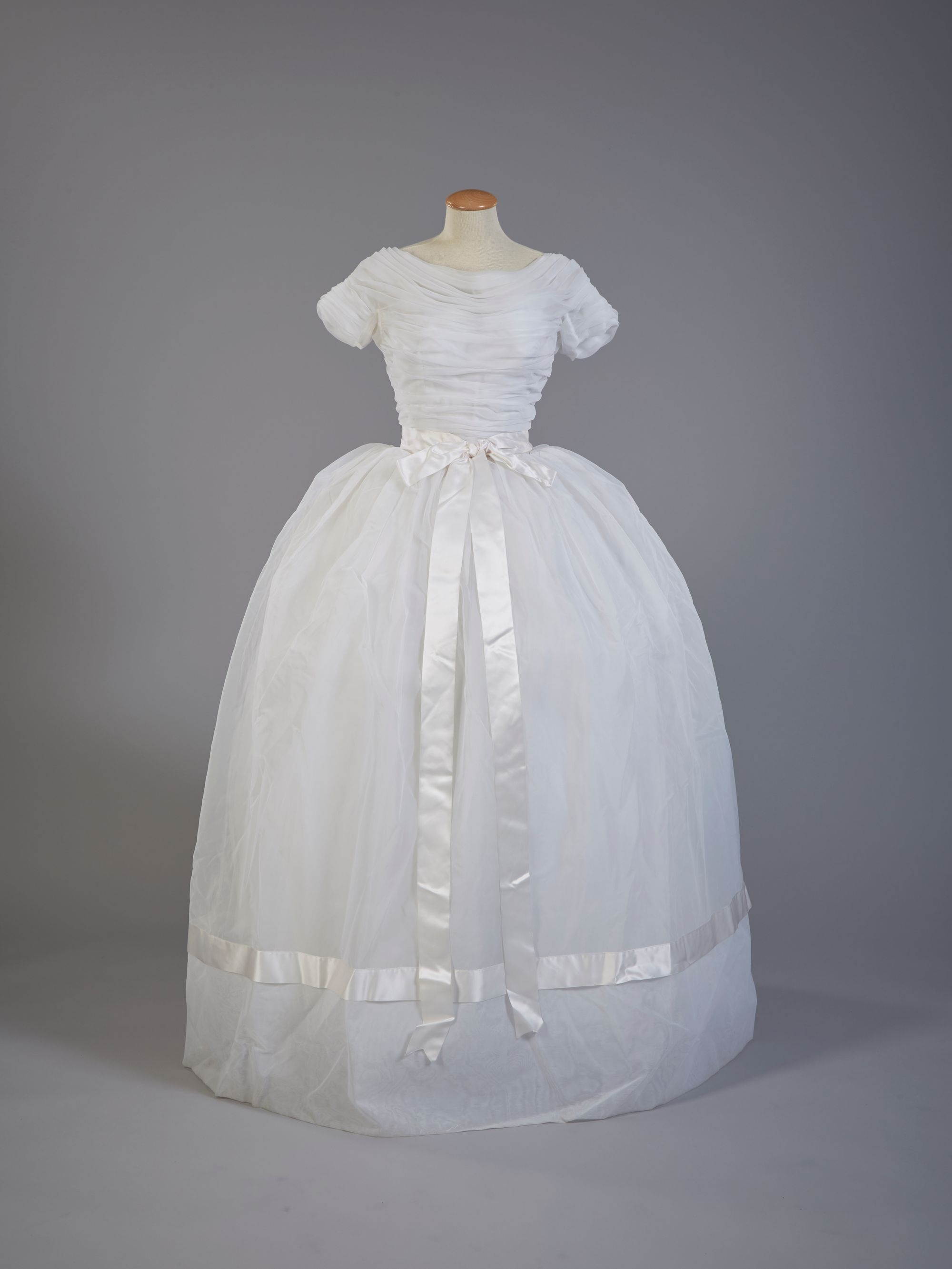 ---
The Dress
1970s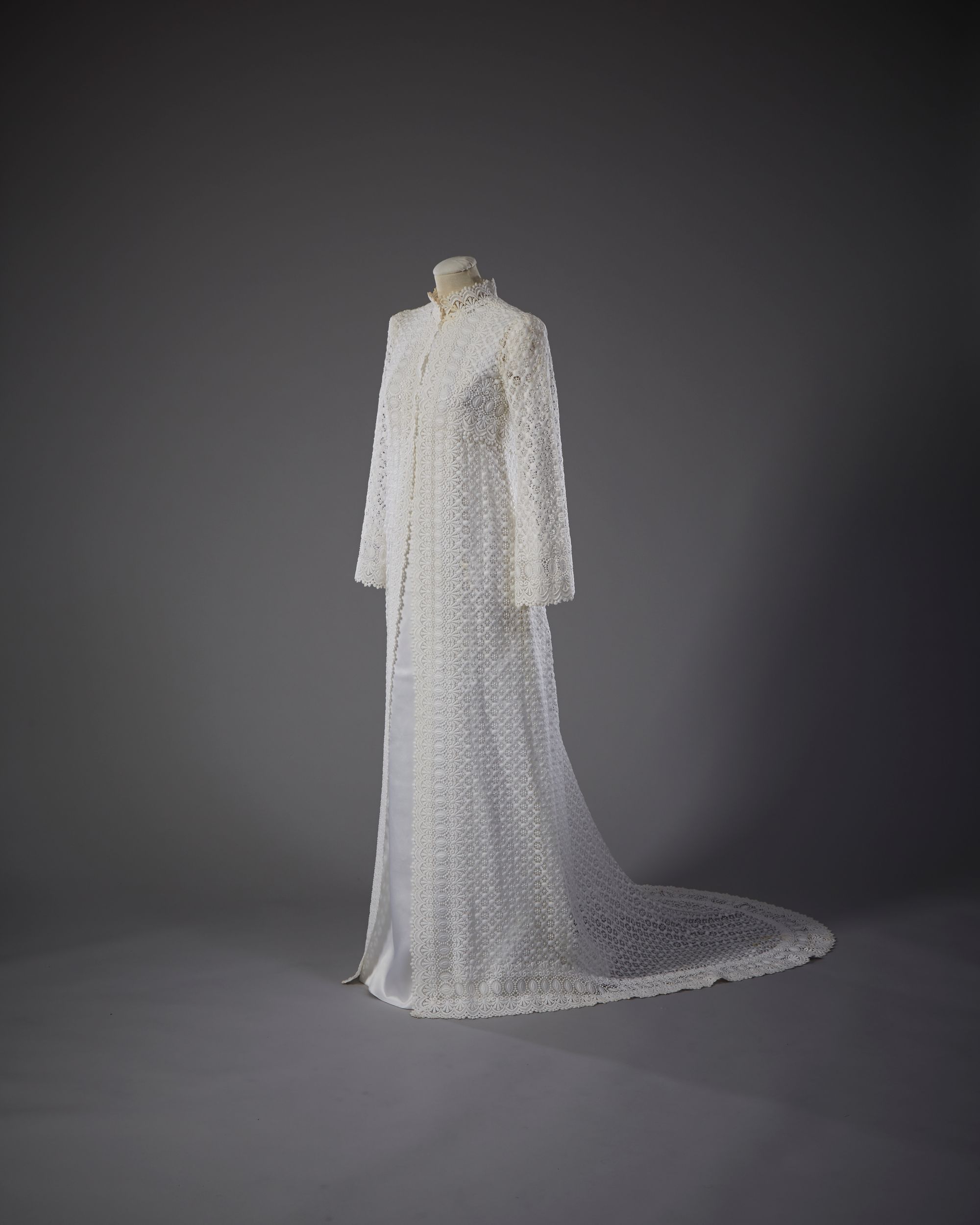 With the sexual revolution in full swing and rising divorce rates, church weddings nevertheless remained very popular. In a decade of experimentation fashion, bridal wear also followed this trend.
Trouser suits combined with wide brimmed hats brought together masculine and feminine in one outfit. Diaphanous fabrics or cut-out designs revealed the body in a way that would not have been acceptable in traditional church weddings. Historic fantasies also became reality, with Tudor maids and medieval damsels standing next to an equally flamboyant groom.
This wedding outfit is inspired by Empire fashion made popular by the French Empress Josephine at the time of Jane Austen. The dress has a very high waist, no sleeves and a straight skirt. The over garment is made of synthetic, machine-made lace with a Georgian inspired motif; it has a high collar, straight long sleeves and a train that reference the elegance of the early 1800s.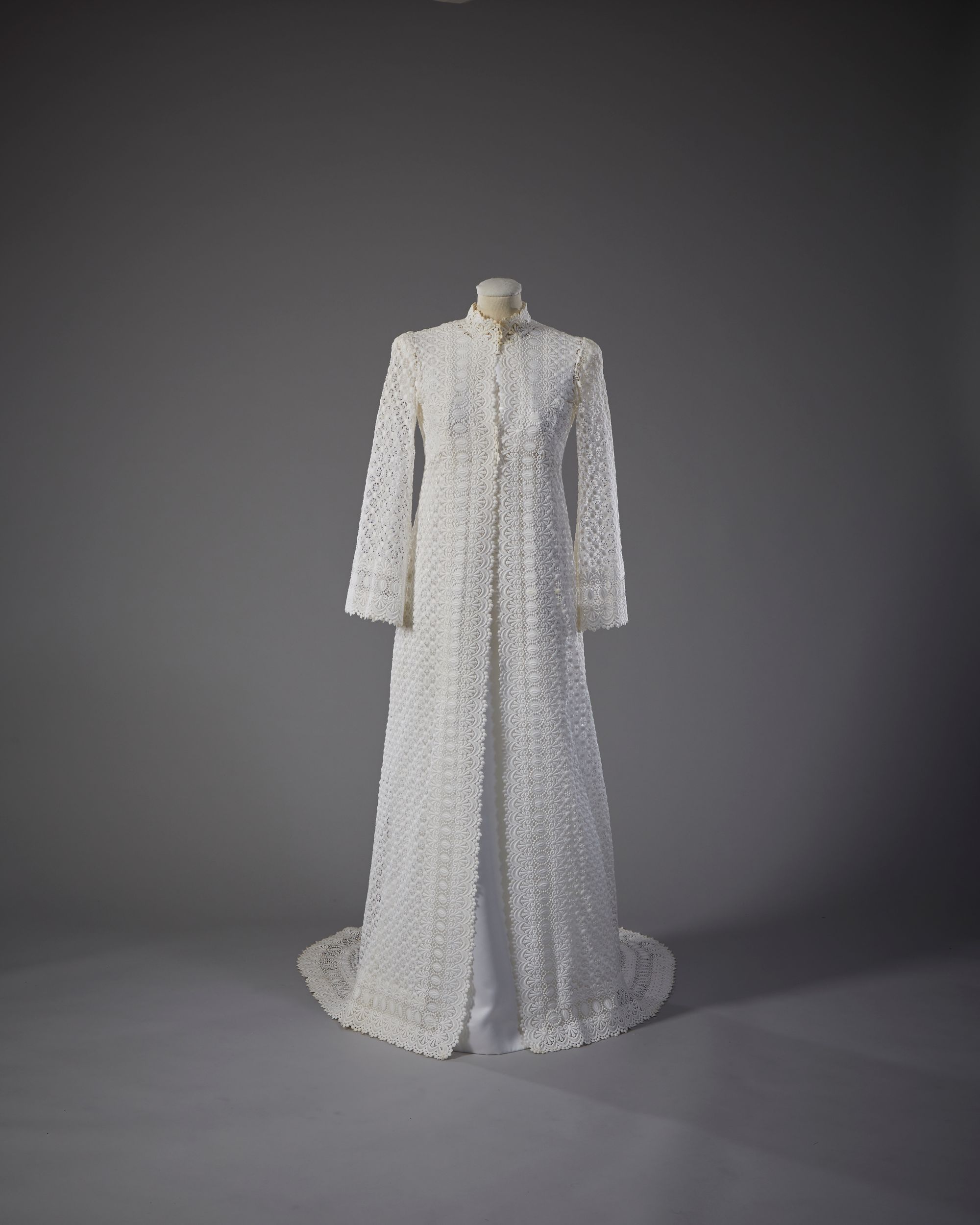 ---
The Dress
1990s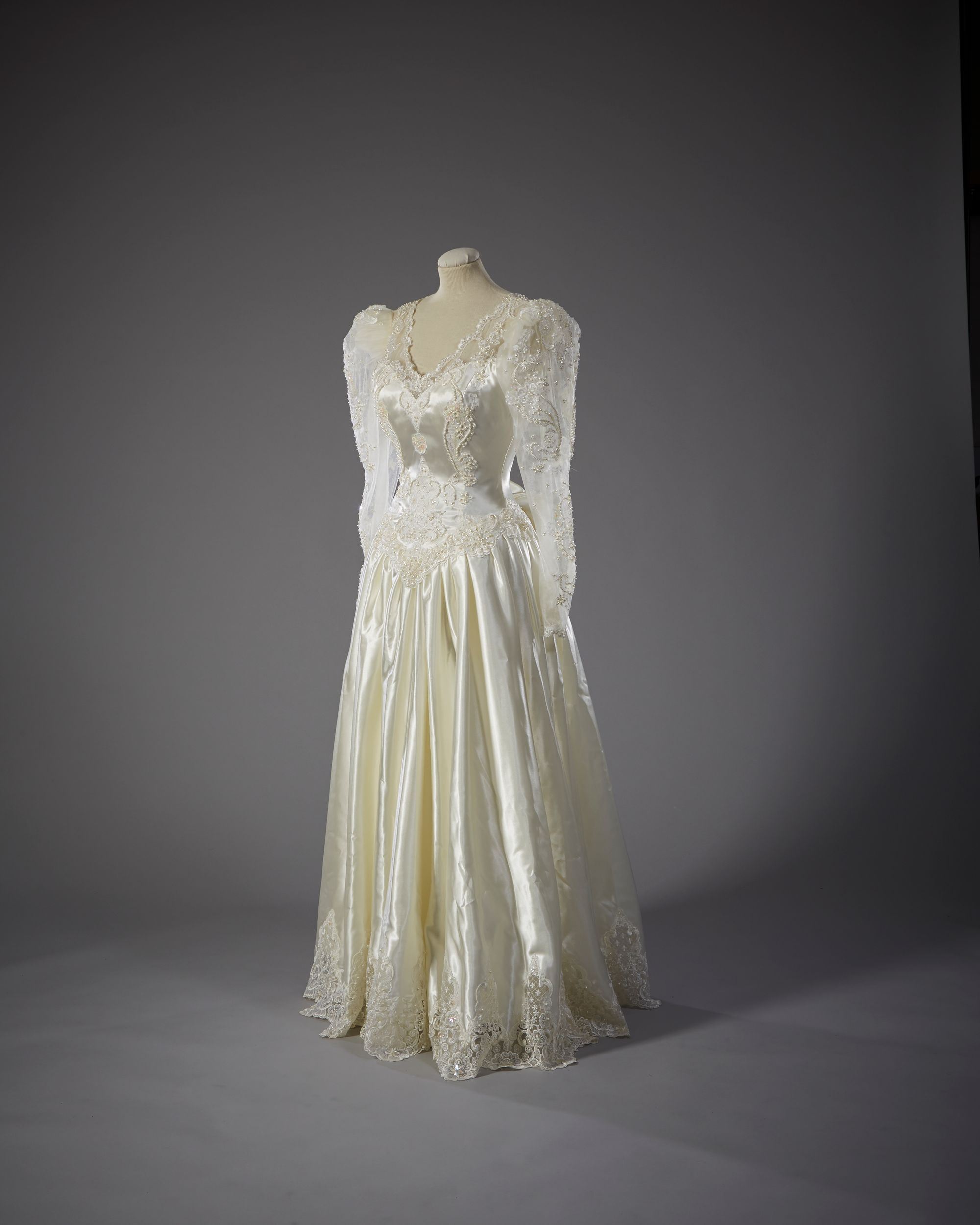 In the 1990s, bridal wear designers turned their focus back to contemporary fashion. Instead of creating a fantasy world inspired by times past, they took their lead from the big fashion houses. As a result, a limitless amount of styles and colours were available to all, although white remained by far the most popular colour choice.
One of the leading trends of the decade, which had been introduced by Vivienne Westwood a few years earlier, was underwear worn as outerwear. Corsets designed as outerwear and laced bodices emphasised slim waists and brought the hourglass figure back into fashion.
This early 1990s bridal gown is worn over a corset that accentuates the plentiful bust of the wearer and her slim waist. The voluminous sleeves and the machine-made, diaphanous lace that covers part of the upper body are covered by artificial pearls and beads in intricate designs.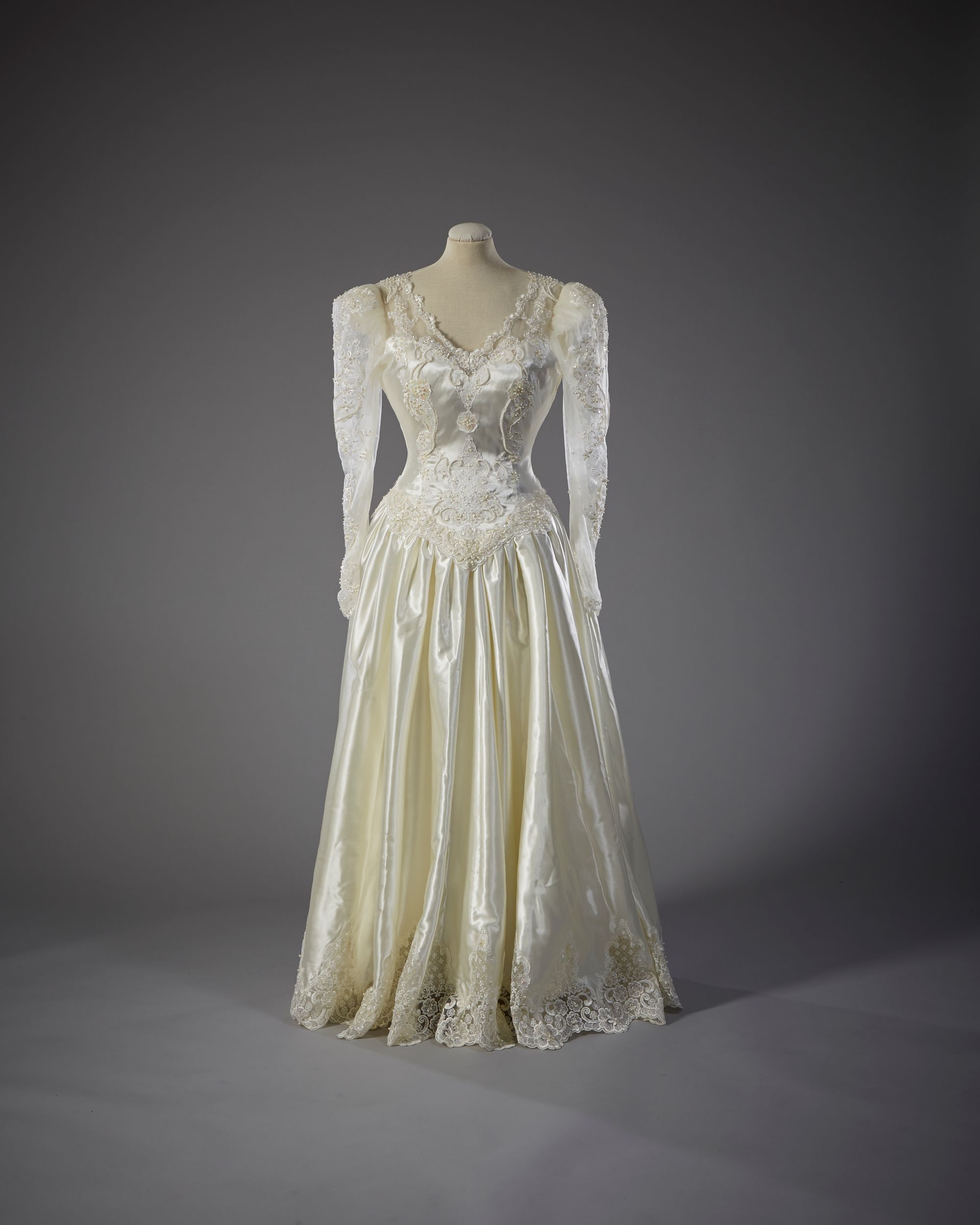 ---
The Dress
All New!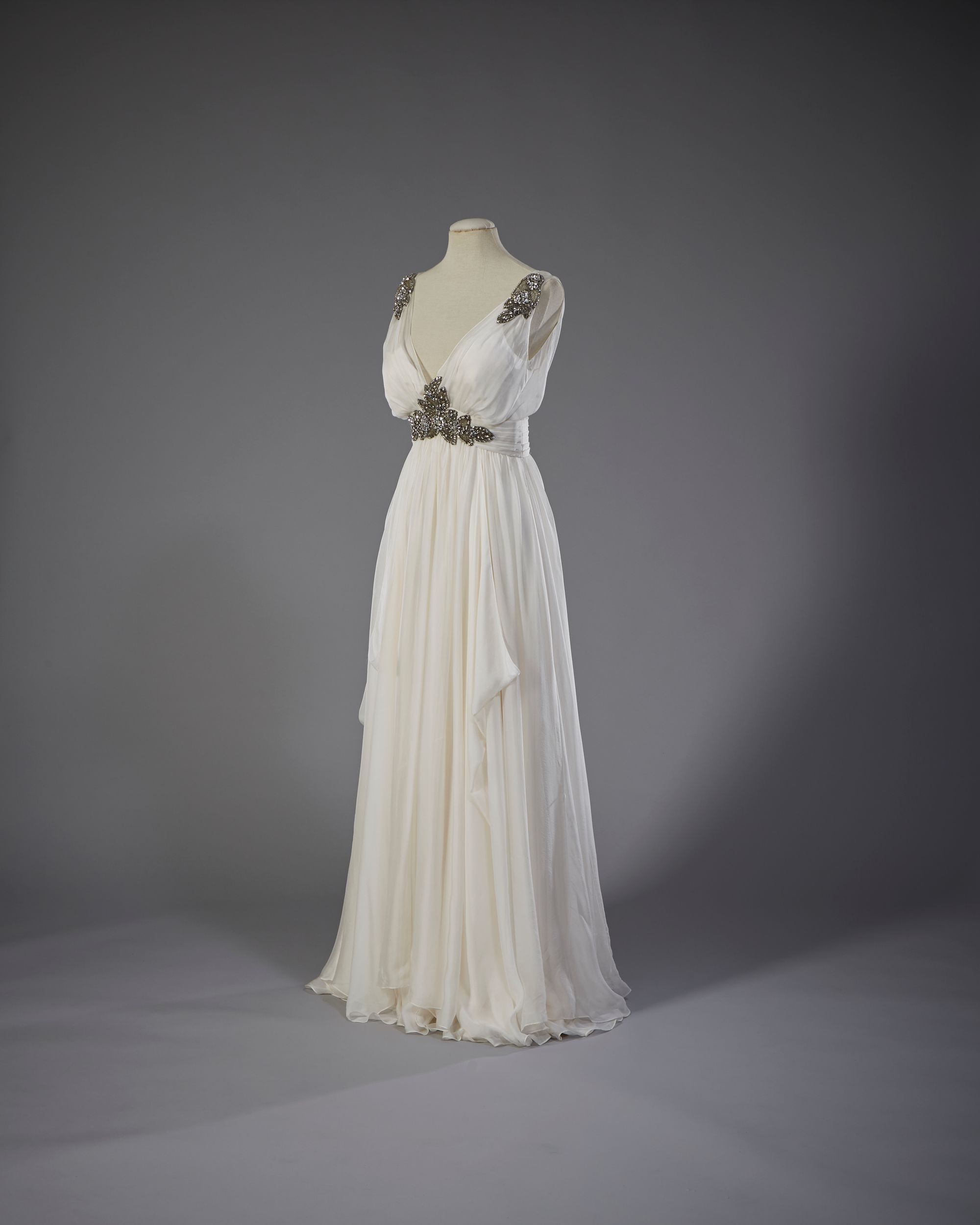 Magazines, high fashion designers, online and high street retailers provide off-the-peg and custom made solutions in an endless variety for today's brides and grooms to be. Themed weddings in secular locations, religious ceremonies in churches or same-sex marriages can be celebrated in style, with the wedding outfits still very much the focus. Today's fashion takes inspiration from the past but looks firmly to the future.
Internationally renowned and highly successful Jenny Packham, born in Hampshire, launched her brand in 1988, introducing a contemporary approach to design and styling. With flagship stores in London, New York, Paris and Hong Kong, her designs have graced red carpets all over the world and have been worn by Kate Winslet, Emily Blunt, Uma Thurman and The Duchess of Cambridge, to name just a few.
The Lisette dress, with its elegant design, floating chiffon silk and jewelled adornments, evokes 1930's glamour combined with classical Grecian influences.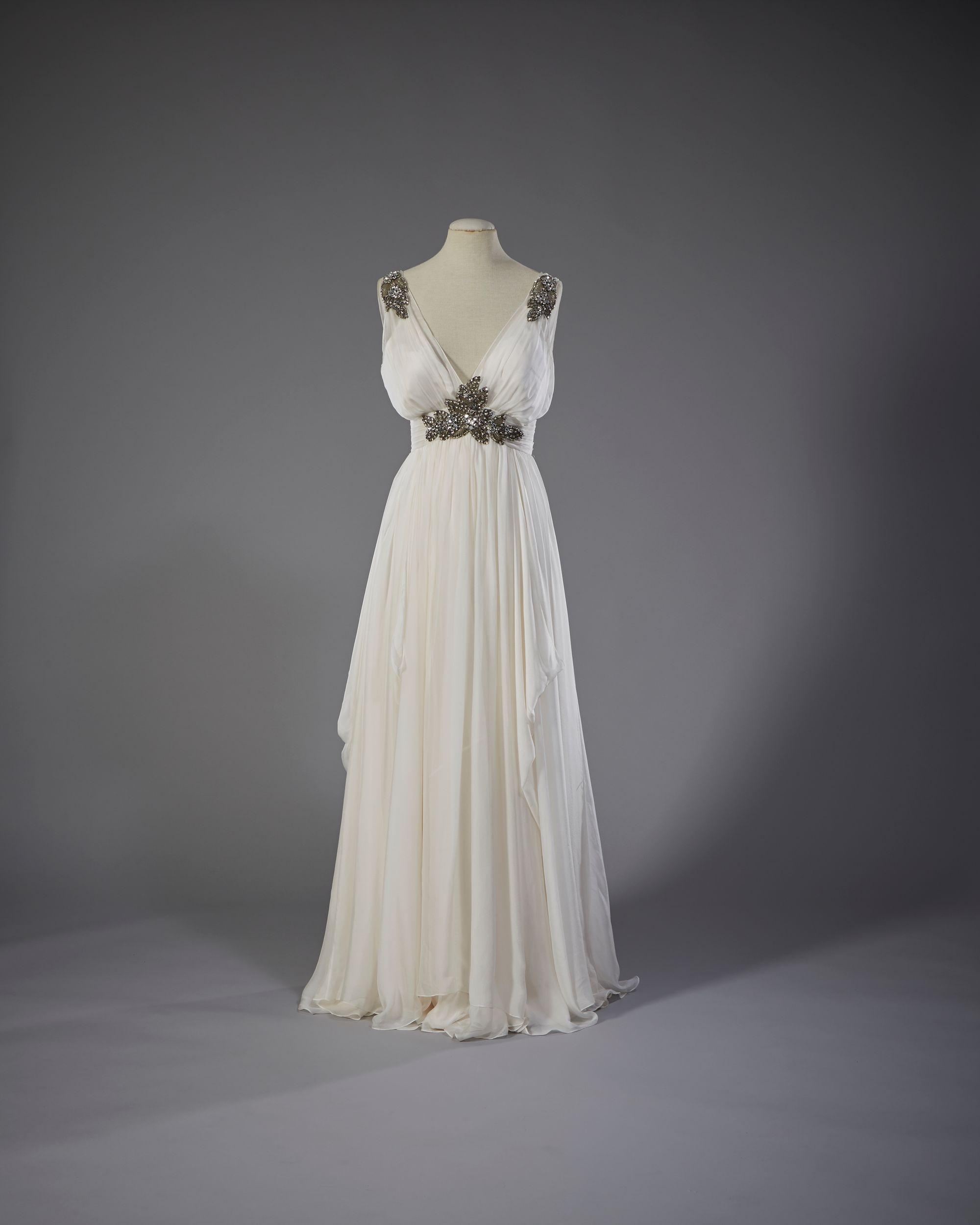 ---
If you have enjoyed Culture on Call and you are able to make a donation, any support you can give will help us keep people connected.