Today marks World Environment Day, a day coined by the United Nations to encourage worldwide awareness and action to protect our environment.
This summer at Basing House, we welcome SISATA for a contemporary performance of The Tempest (14 July). Ahead of the outdoor theatre performance at the beautiful, historic grounds in Basingstoke, we spoke with the cast about how their performance is inspired by powerful, environmental themes. In this daring production of The Tempest, all costumes, props and puppets have been made from recycled materials, some of which were picked from beach cleans. New narrative insights on our impact on the environment are brought into the open, using Shakespeare's very own words.
"[...] The spring, the summer, the childing autumn, angry winter, change
their wonted liveries; and the mazed world, by their increase, now knows not which is which. And this same progeny of evils comes from our debate, from our dissension; We are their parents and original" (Titania, A Midsummer Night's Dream, Act 2 Scene 1)
This famous speech, penned by Shakespeare approximately 430 years ago, has been known to draw clear parallels to our current climate crisis. It focuses on the strange occurrences of unpredictable seasonal temperatures due to human impact. Even this year, our spring has seemed like an endless winter, making Shakespeare's words seemingly prophetic. SISATA theatre company unearth even more parallels to the environmental crisis in Shakespeare's last known play, The Tempest.
In this Q&A, SISATA offer up some exciting insights about their new outdoor tour of Shakespeare's classic play. Read on below!
---
In conversation with: Cast and crew of The Tempest
The Tempest is one of the best-loved plays of all time – but what makes this show different to all other versions before it?
Throughout this adaptation, we're really drawing on coastal environments and relating them to the themes at the heart of The Tempest. The connections we explore between the two narratives are so interesting – the will of nature, the mystical and spiritual aspects, as well as the contemporary issues of climate change, ocean plastics and the incinerator in Portland, Dorset. For me as a Portlander, I think it's nice to be able to share the Portland experience with a wider audience in this way, especially the impact of climate change on coastal communities.
The theme of climate change plays a central role in your adaptation of The Tempest. What inspired the themes that you explore in your performances?
The piece is very much inspired by the Isle of Portland in Dorset. Charmaine worked with a community theatre group on Portland and Anna, who plays Ariel, Ferdinand, and Sebastian lived and grew up there. Due to Portland's geographical position, it feels the full force of nature's power, be it storms or droughts, as well as the effects of ocean pollution from plastic and sewage which impacts the local tourism and fishing industries. We wanted to highlight these issues to a wider audience and felt that many of the themes explored within The Tempest, such as the power and manipulation of nature and the human tendency to want to assert power, lent itself well to this.
Why do you feel it is important to explore these themes through art and live performance?
With art and live performance, everything becomes so much more visceral. We've all seen images of ocean pollution and the impacts of climate change on wildlife on our TV screens but, although it's troubling to watch, there is a distance there and live theatre bridges that gap. For this production, we will be using items that have actually been washed up on our shores to create puppets and costumes. The music and soundscape will all be performed live with heritage instruments. It's a chance to reconnect with the present moment, rather than be swept away by the endless stream of consumerism.
O ruined piece of nature, this great world
Shall so wear out to naught.
— King Lear, Act IV scene 5
What do you hope people will take away from your performance?
We hope that audiences will deepen their appreciation of the power of nature and be able to view it with respect rather than feel it's something to be controlled. We hope they will be inspired to work with nature in whatever way feels natural to them.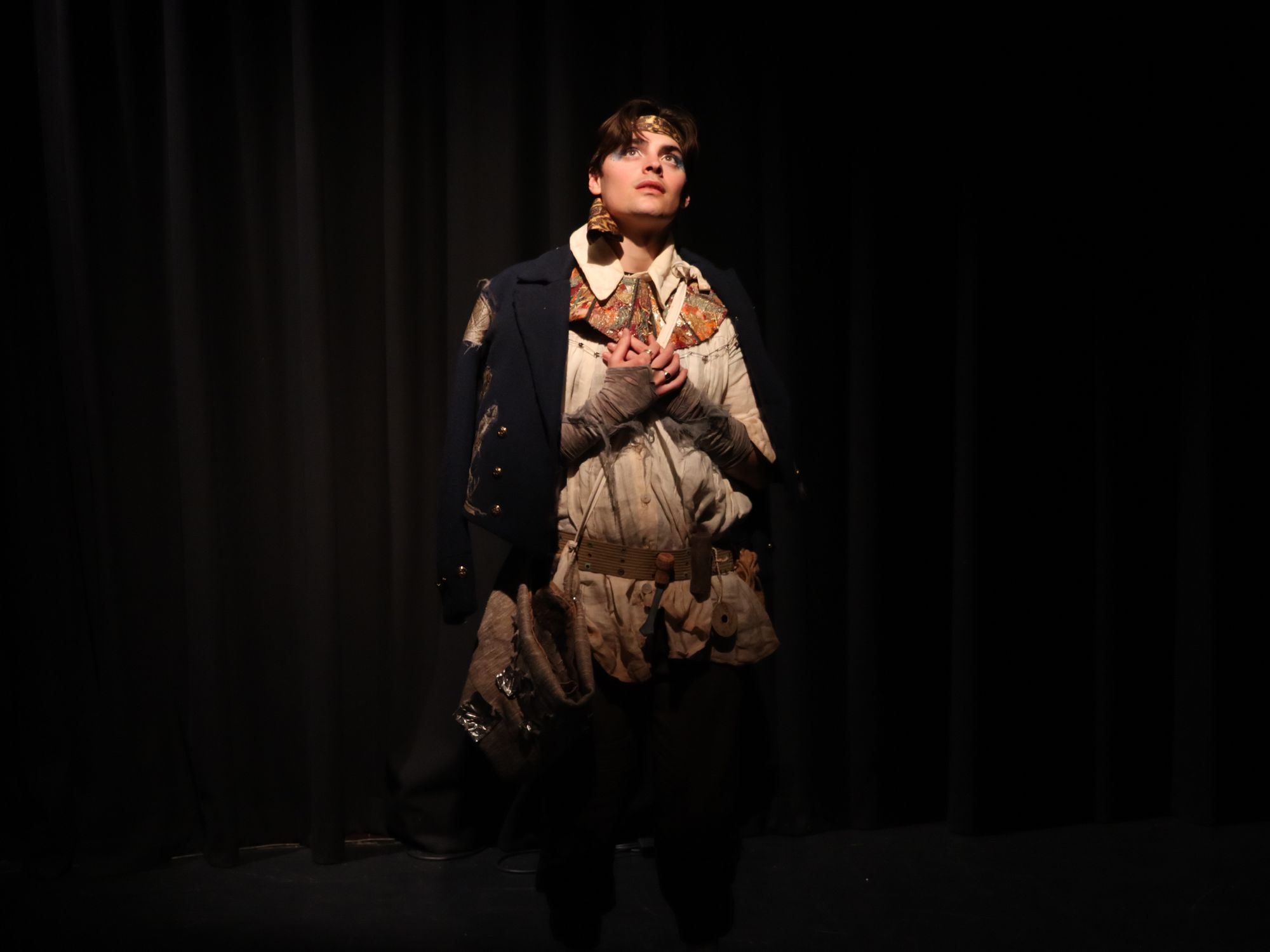 Many of these characters are very 'other-wordly' – how do you relate to your character?
Caliban and Gonzalo both have a love of nature. A connection is something I very much chase, so I'm enjoying getting back into that. And working on a farm as well as anything else. I'm looking forward to playing some characters that embody that. Alastair, Caliban
I think with Miranda, there's been a real joyful curiosity. There is a pleasure to be found in anything she interacts with and looks at. She takes an interest in one thing, after another thing, after another thing without it ever tiring her out. I think I love that about her. It's childlike, but in a way, I think all of us should embrace more. I definitely relate to that. Aidan, Miranda
What three words would you use to describe your show?
Ambitious. Relatable. Wild. Anna, Ariel
Passionate. Imaginative. Joyful Aidan, Miranda
Accessible. Visceral. Elemental Charmaine, director
Is there anything you'd like audiences to know?
They're going to have a good time! Amongst all the important undercurrent themes that are running through it, the show is fun. We're going to have a fun time!
---
Book your tickets for SISATA's outdoor tour of The Tempest, Friday 14 July, 6pm at Basing House.