Settle down for the first of our weekly tales about Tino the teddy bear and his friends. Read on to find out if the teddy bears find a new home when Bill moves house, then try our fun Teddy Tales activity sheet!
---
The Wish
'I'm so excited!' said Tino as he watched Bill carefully wrapping a photo frame in tissue paper and placing it in one of many open cardboard boxes. 'This will be the first time that I've moved house – what an adventure!'
'Do you think we will have our own shelf in our new home, so that the Gang of Four can stay together?' Rupert asked Tino.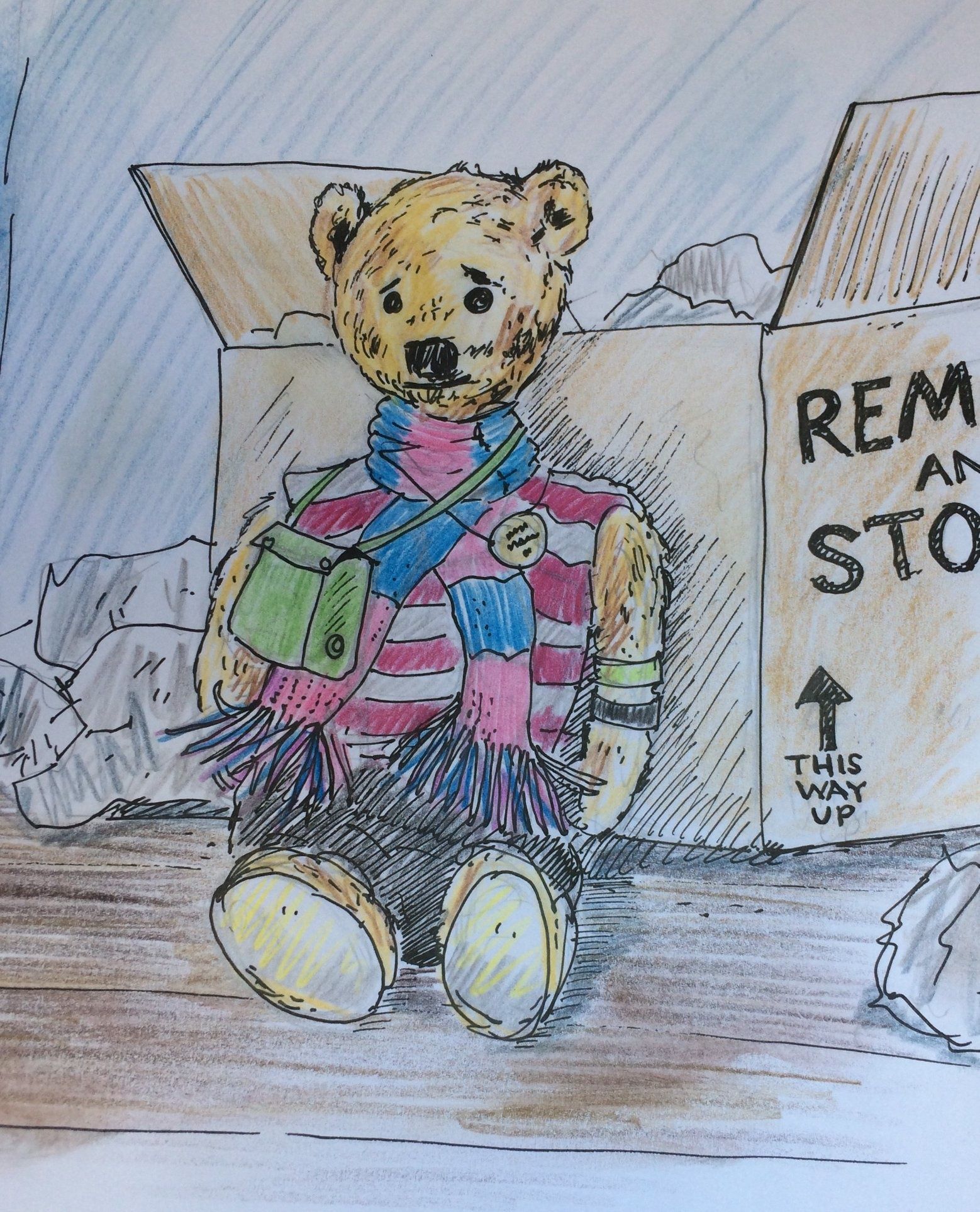 'I'm sure we will,' Tino replied, 'Bill always makes sure that his bear friends are happy. I'm so pleased with my new trousers that Bill gave me.'
'And my bonnet!' Tilly exclaimed, patting her straw hat with pride. 'I wonder which of these boxes is for all of us? It will have to be a very big box to fit 269 teddy bears inside!'
'And That Cat!'
The bears fell quiet when the telephone rang, straining their fluffy ears to hear Bill talking. Only a few of his words drifted down the hall to the curious crowd.
'And my bears? ... 269 … plus That Cat … Ah I see. I see. No room…'
Tino was the first to speak as the bears looked at each other in fear.
'There's no room for us in Bill's new home, what are we going to do?'
Tilly was shaking so much with fright that her bonnet slipped off and Tino caught it.
'Do you think we'll be split up?' she whispered.
'Maybe sent to charity shops and taken to separate homes? Sold at auction?' trembled Rupert.
'Put in the bin?' Roberta began to cry, the salty tears making her fur damp.
'Wait!' Tino held up his paw to silence the worried bears, 'Bill's still talking.'
Rupert comforted Roberta, whose tears were beginning to slide down her red shawl, while Tino concentrated on listening to Bill on the telephone. Bill's voice sounded different now – happy, almost delighted.
'Yes I'd love for Milestones Museum to have my collection of teddy bears, as long as they keep them together and promise to look after them carefully. It would be great if the public could see them on display too.'
A cheer went up from the relieved bears.
'I'm so glad we're going to be looked after together, where lots of people will still be able to enjoy us,' Tino smiled, 'I couldn't bear for us to have been separated!'
The bears laughed with Tino. Their wish had come true.
---
Teddy Tales Activity
Bears appear in many story books… these bears have got mixed up! Can you match the bears to their stories?
---
Tino, Tilly, That Cat and all of Bill's collection of 269 bears will soon be moving into a new home at Mr Simpson's Teddy Bear Museum in Milestones Museum. Find out how we're getting the bears ready for their move.
Tino's Tales was made by Mark Fenton, Ruth James, Caroline Johnson, Helen Sinnamon and Nick Suffolk
---
If you have enjoyed Culture on Call and you are able to make a donation, any support you can give will help us keep people connected.