In January of this year, we welcomed a new body of work from leading British artist Jake Wood-Evans to the Gallery in Winchester Discovery Centre, working in collaboration with gallery, Unit London.  Wood-Evans lives and works in Hastings, and as well as exhibiting at art fairs internationally, his work has been shown in galleries both in London and across the UK and can also be found in private collections around the world.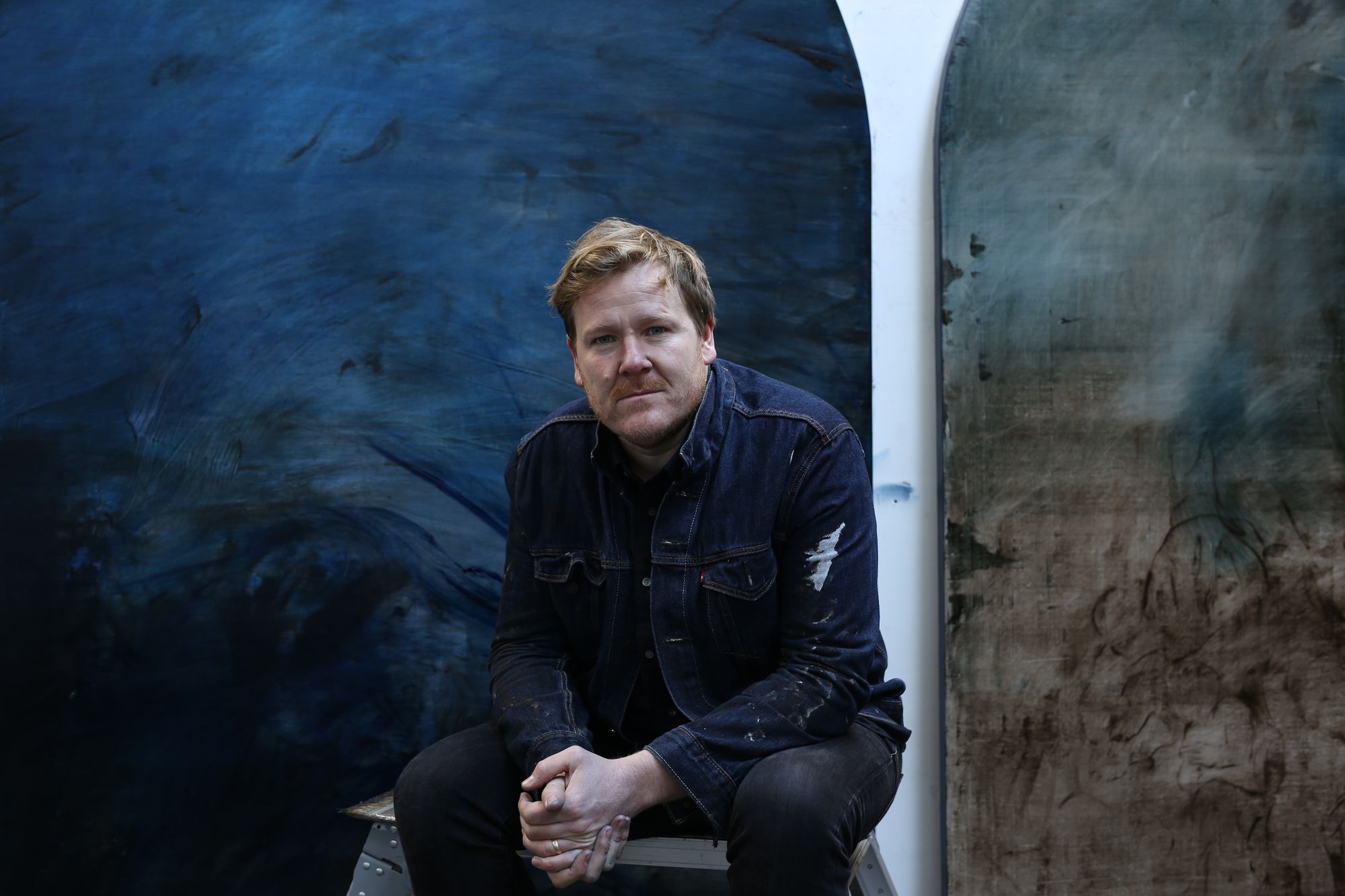 For Relic, Wood-Evans created more than 20 new works, including 16 large-scale paintings that explore his enduring themes of mortality and history. Recalling the great masterpieces of Baroque art, from Rubens to Van Dyke, Wood-Evans paintings fuse the great Romantic tradition of painting with the modernist sensibility of abstract artists such as Rothko and Motherwell. Wood-Evans brings to his art a subtle understanding of the passage of time, expressed in his appropriation of existing historic portraits, which he re-works through a process including cropping, erasure and over-painting.
In part two of our of our virtual Relic exhibition, Wood-Evans re-works the paintings of four Baroque masters: van Dyck, Poussin, Rubens and Murillo. You'll find links to view each historic work that inspired Wood-Evans' new paintings in the accompanying labels and if you would like to see more now, you can view the full body of work displayed in Relic in the exhibition catalogue.
New favourite! Everytime I look I find something new to see. Gallery visitor.
Madonna del Rosario, after van Dyck, 2019
Anthony van Dyck painted Madonna del Rosario (1625-1627) in Palermo, Sicily. He was most likely invited by viceroy Emanuele Filiberto of Savoy, who was eager to commission a self-portrait. In 1624 Palermo was succumbing to the plague. However, the remains of the hermit Rosalia were discovered in the same year, on Monte Pellegrino; in the weeks that followed, the plague gradually diminished, until it ceased altogether. This gave rise to a popular religious sect: that of Saint Rosalia, the saviour of Palermo. Visually, this is one of Wood-Evans' denser works, the figures used by Van Dyck are nearly impossible to determine, however he has co-opted the Flemish master's liberal use of blue.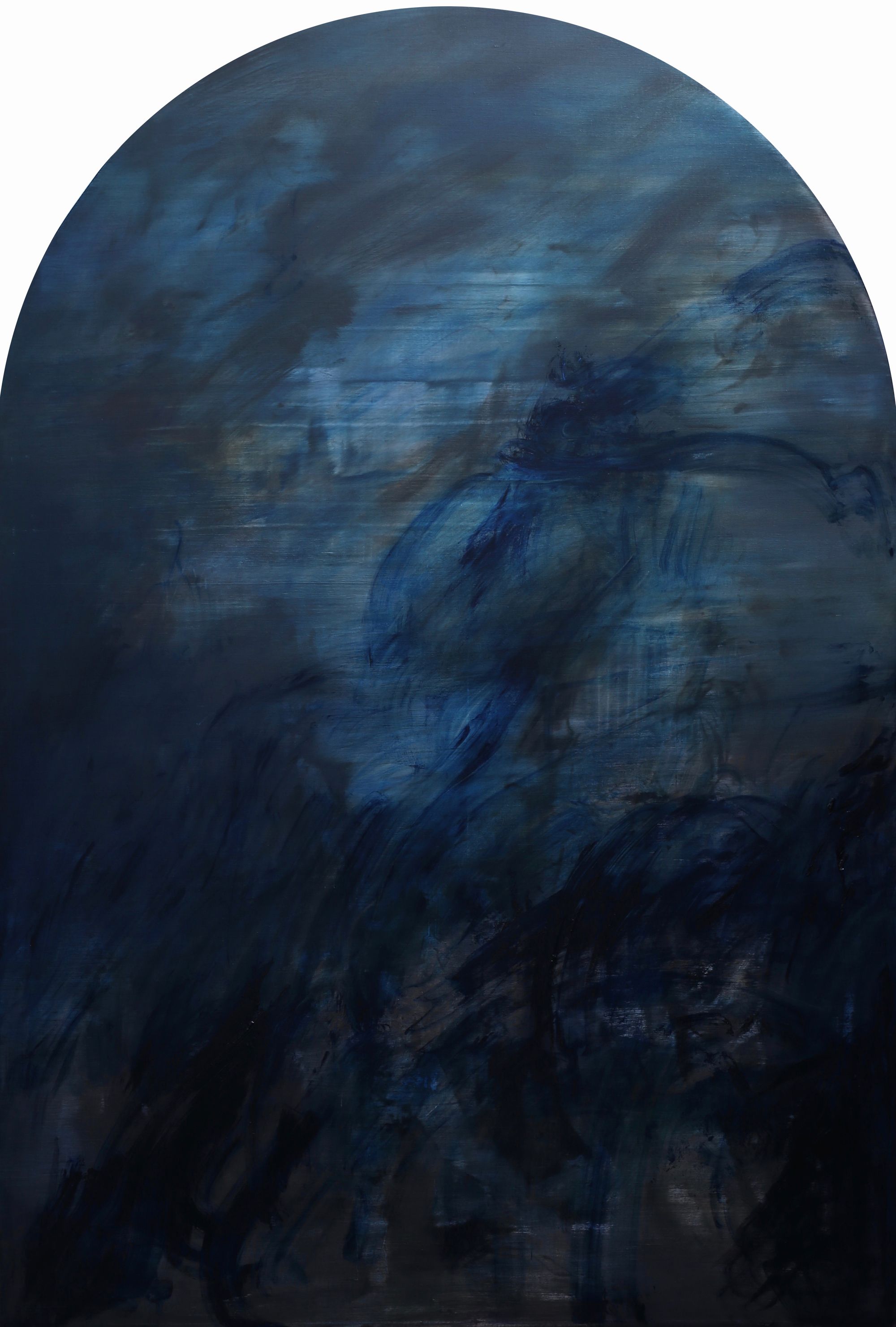 Study for The Triumph of Pan 1, after Poussin, 2019
Poussin's The Triumph of Pan (1635) is a highly centralised composition. The figures are participating in a formal arrangement, a ceremonial dance which is both an exuberant display of erotic energy and a celebration of fertility. They're arranged in a cluster around Pan which gives the piece a certain dynamism and compressed energy. The painting marks Poussin's return to classical antiquity and early Renaissance style - which he would stand by for the rest of his career. In leaving space either side of the throng of revellers, Wood-Evan's echoes the same centralised intensity. The details of the figures are so spare that they become a convoluted mass of entangled limbs that seem to writhe and jostle for position.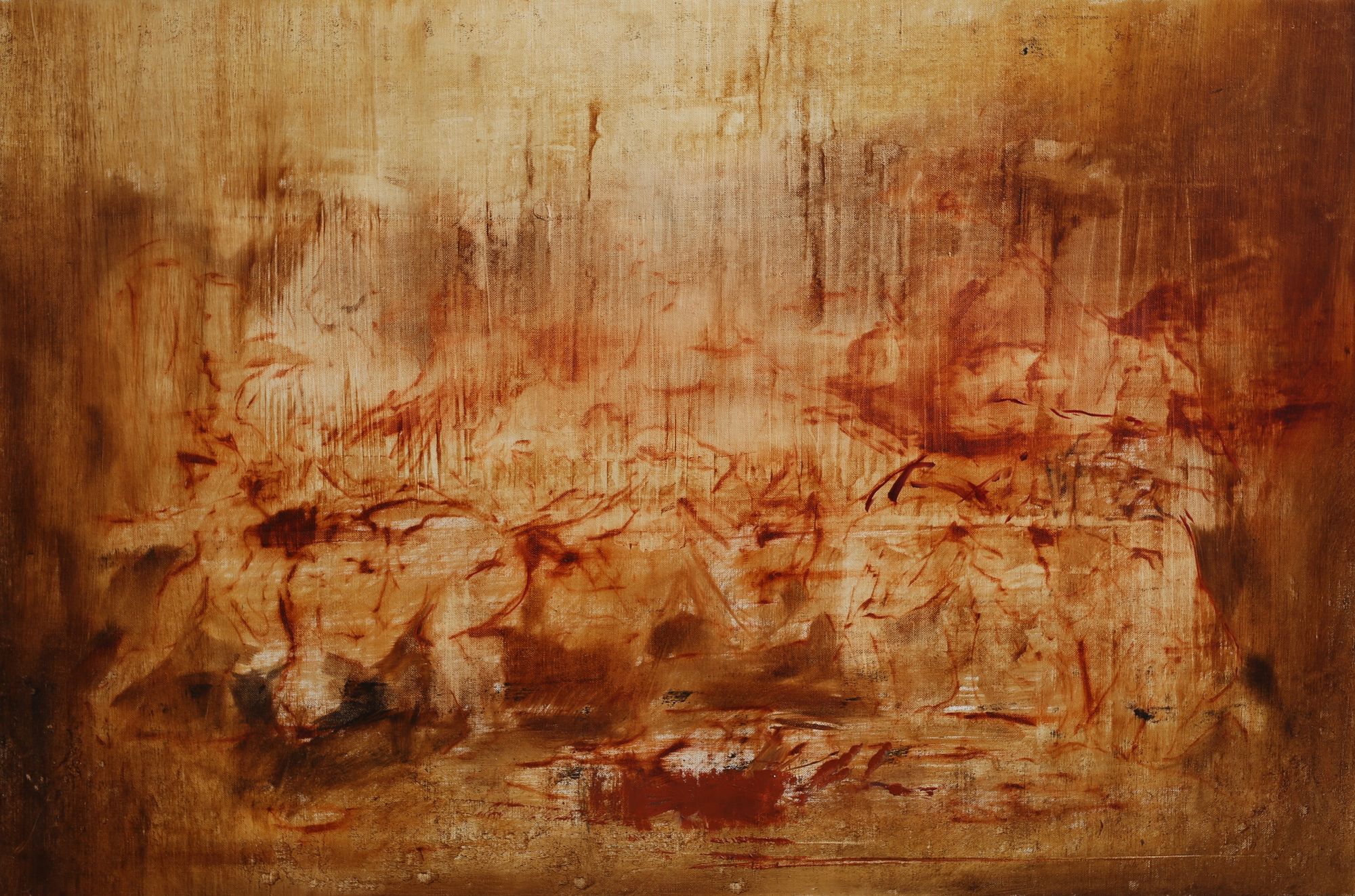 Study for The Triumph of Pan 2, after Poussin, 2019
This second interpretation is darker than the first, obscuring information the artist had previously made available, imbuing the piece with an enigmatic intensity.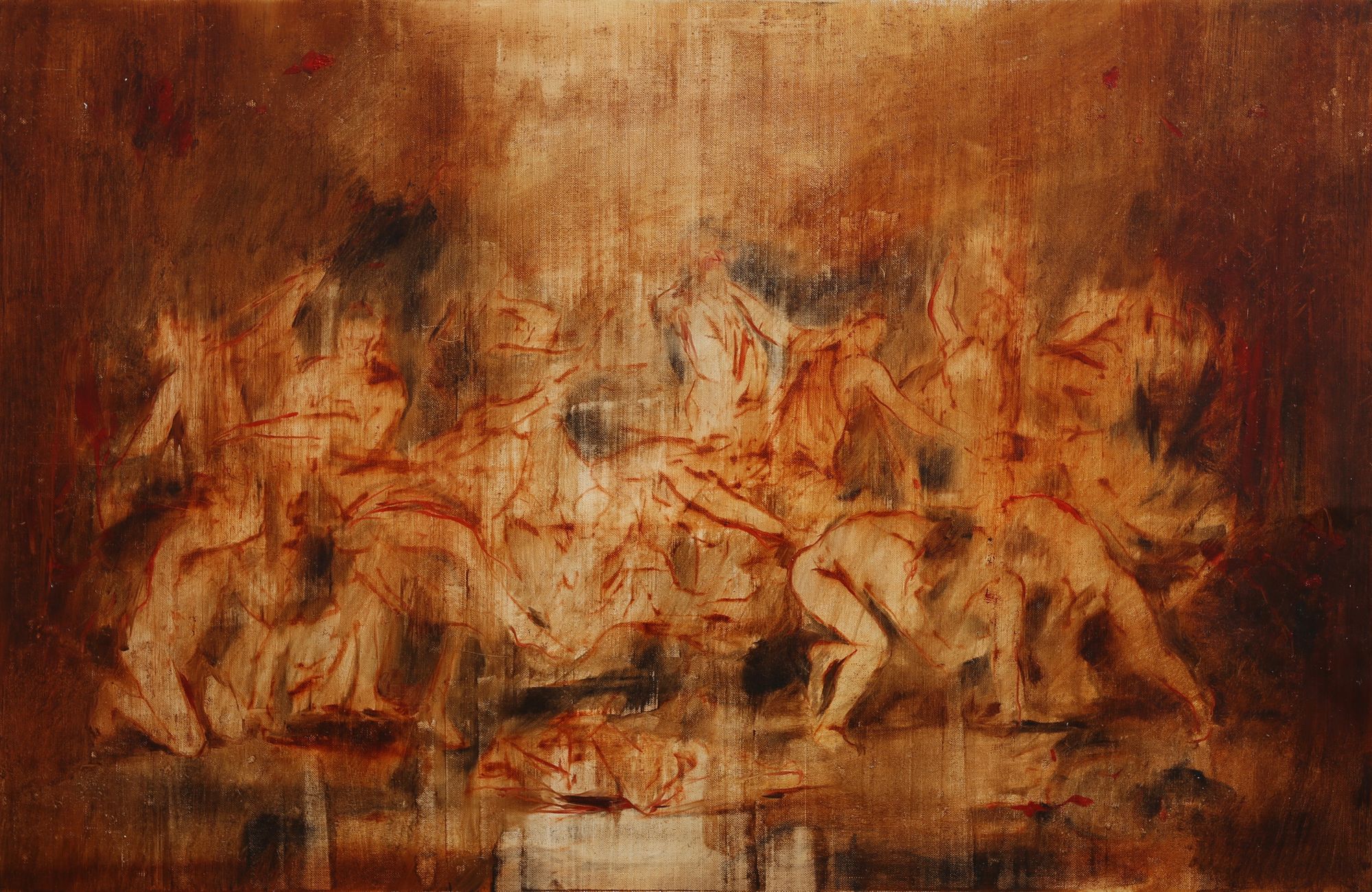 Study for The Mystical Marriage of St. Catherine 2, after Rubens, 2019
St. Catherine claimed to have experienced a vision in which the infant Christ offered himself as her spiritual bridegroom. This was traditionally represented by Christ placing a ring on Catherine's finger. Instead, in The Mystical Marriage of St. Catherine, Rubens chose to depict Christ placing a wreath over Catherine's head, to symbolise her purity and victory over evil. St. Margaret is to the right of the composition while, to the left, Saint Appolonia stands with her pincers. Putti hover above holding flowers, wreaths and thunderbolts. Wood-Evans responds to this traditional composition by pushing it to a place of pure abstraction, a brown hue renders the original almost entirely obscured.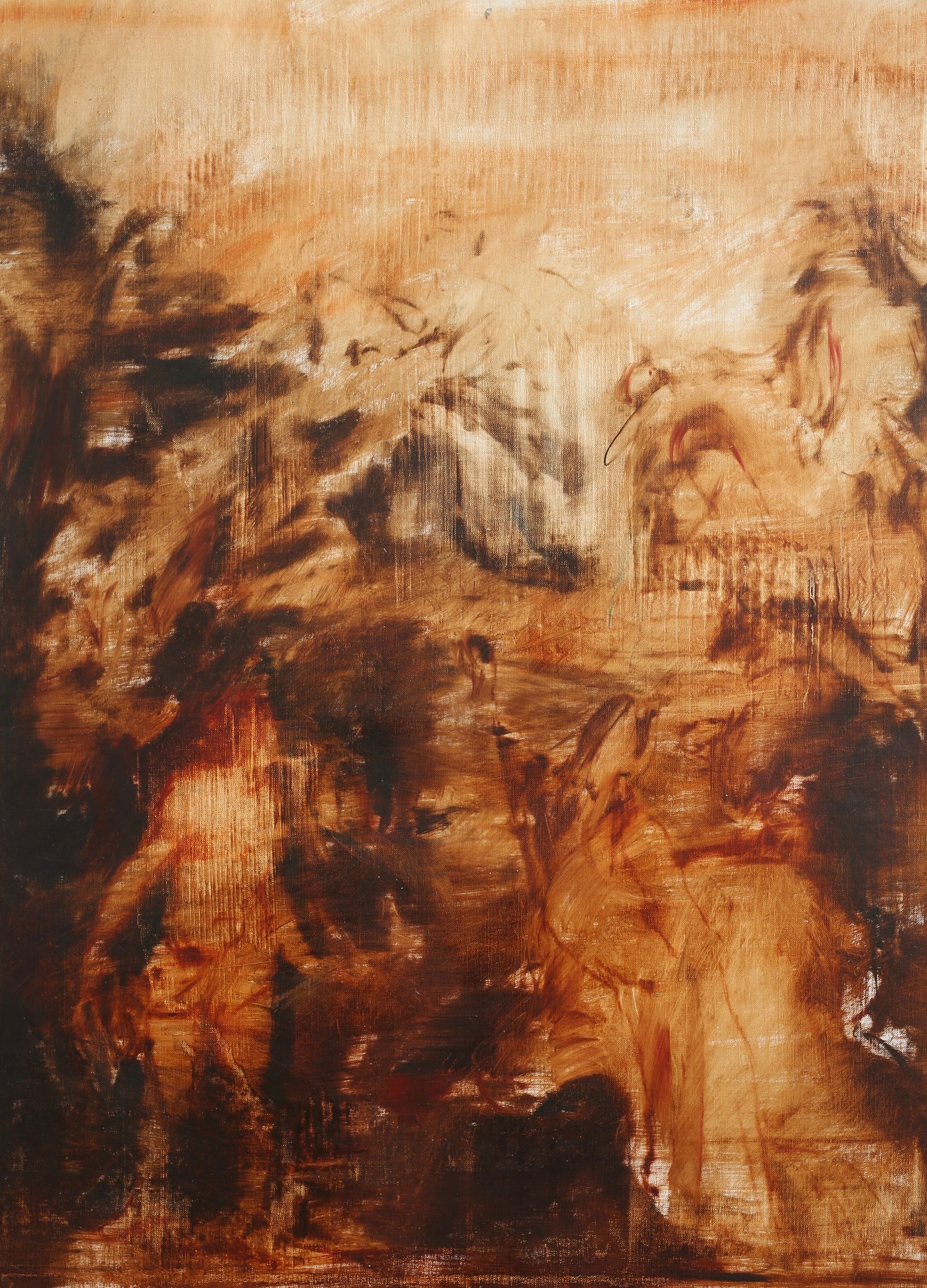 The Immaculate Conception with Prussian Blue, after Murillo, 2019
Murillo's The Immaculate Conception of Los Venerables(1678) was commissioned by Justino de Neve, the ecclesiastical president of the Hospital de los Venerables, Seville. Belief in the Immaculate Conception was widespread at the time of the commission and many similar pieces were being made. The Virgin Mary is dressed in a white robe with a blue mantle, floating just above a host of cherubim. Wood-Evans has emulated this composition's sense of movement from bottom to top. The entangled limbs of the cherubim are visible at the base of the painting, leading the eye up to the figure of the Virgin Mary, who appears to be in the process of being assimilated by the heavens.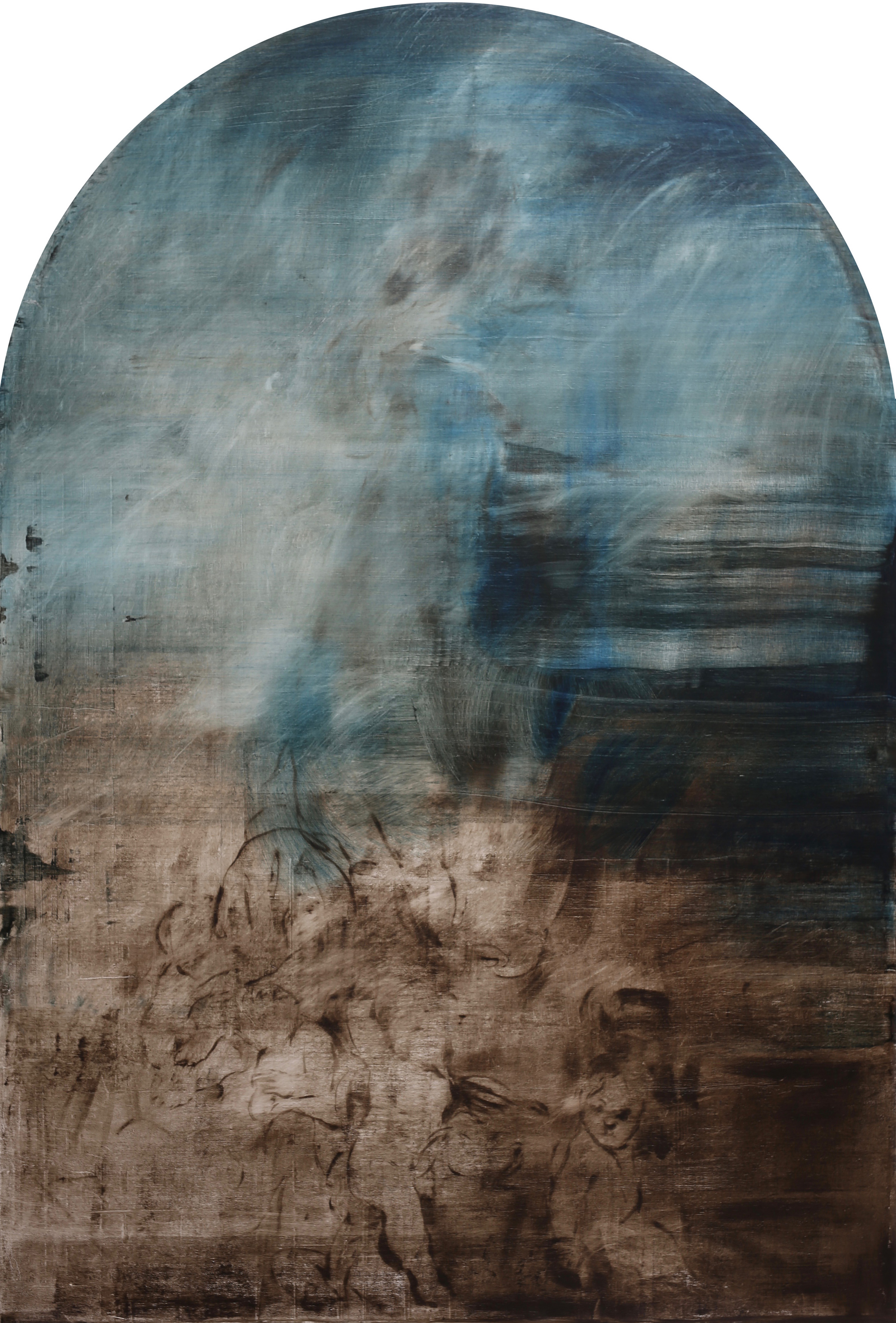 If you have enjoyed Culture on Call and you are able to make a donation, any support you can give will help us keep people connected.