Halloween brings monsters for Tilly this week! Once you've settled down for this week's Tino's Tales try our fun activity sheet!
---
Teddy Baby twitched his nose curiously and sniffed the air.
'What's that smell?'
Tilly shifted her position awkwardly and looked a little embarrassed. The other bears noticed her discomfort and turned to look at her.
'Is it you?'
'Um, perhaps,' mumbled Tilly.
'It smells like… hmmm I can't quite put my paw on it… like…'
'Flowers?' suggested Tilly.
'…like my grandma's soap!' finished Roberta, giggling.
Tilly sighed. 'I knew you'd laugh at me, that's why I didn't tell you.'
'Tell us what?' questioned Tino.
Tilly looked around her group of friends and decided that it was time to confess.
*             *             *
'It was Halloween, when I was a young bear. I had been invited to my first Halloween party and was so excited. There was going to be pumpkin punch to drink and ghoulish pizzas and spider web cakes to eat. There was even a competition for the best costume, so we had been planning them for weeks: Jenny was going as a pumpkin, Eddie as a ghost and Beth as a witch.
I really wanted to go as a skeleton or a zombie, but didn't yet have a costume. Auntie Jane had promised to make me one, but she was ill and was so sorry that she hadn't been able to finish it on time. The shops were sold out and it was too late to order anything online.
There was no choice but to make my own costume, which I actually thought might be quite fun, but I needed an adults help – and quickly! Mum thought there might be some fabric in the cupboard in the spare room, so I went hunting.
Opening the door to the cupboard, I peeked into the darkness within. Tatty books, piles of board games, dusty cardboard boxes… I rummaged and found the bag of fabric. Pulling some fabric from the bag, I dropped it all in horror and ran screaming to mum.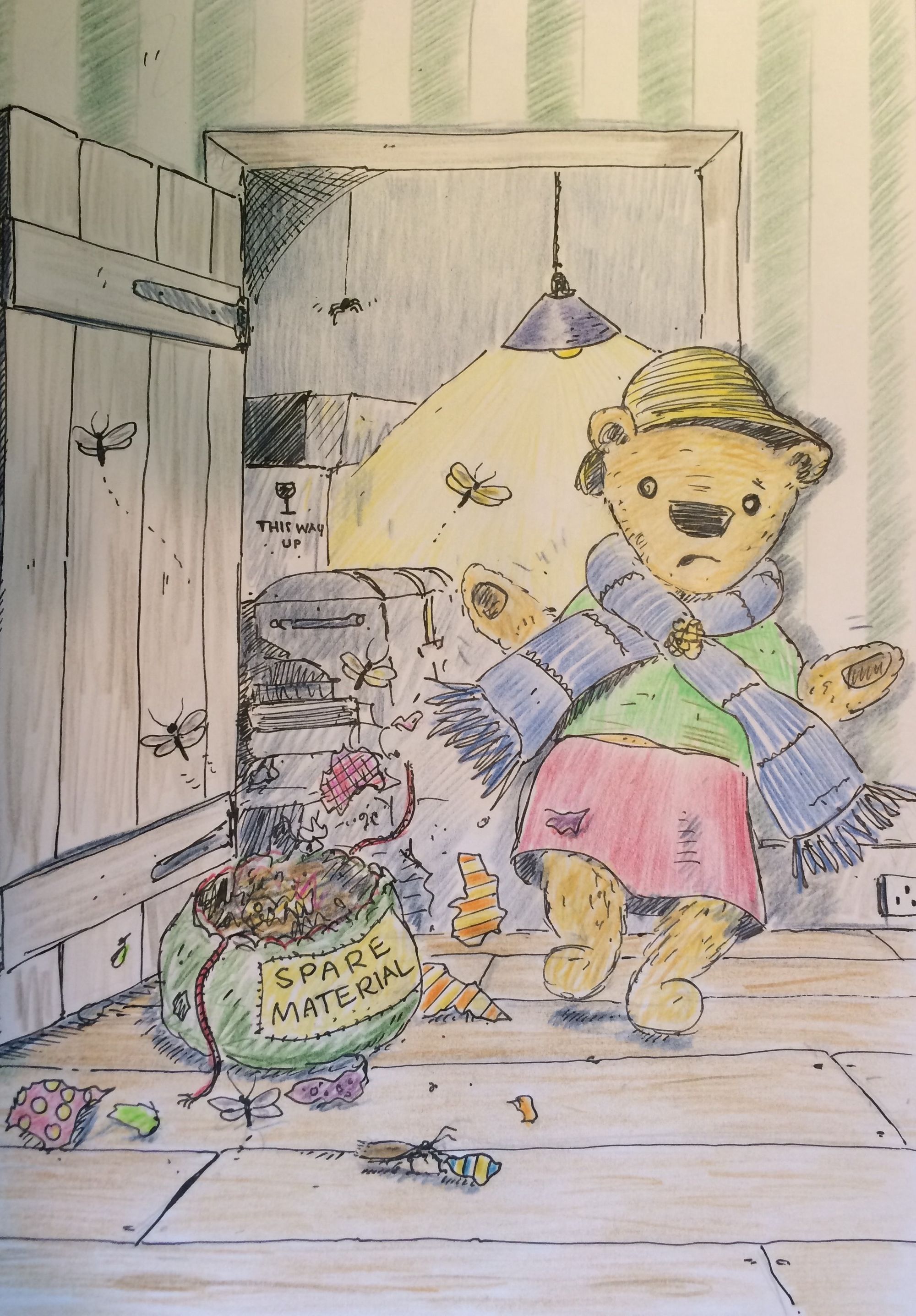 You see, what I found was that the fabric had been eaten! A monster had been munching the material!'
'What monster?!' asked Teddy Baby with wide eyes.
'Mum said it had been eaten by moth monsters – hideous, fabric-scoffing beasts! She said the best thing to fight them with was lavender, because they don't like that,' explained Tilly. 'So now, every Halloween, I have a bath in lavender because I don't want my fur to be eaten by the moth monsters.'
Teddy Baby looked thoughtful.
'That explains the smell,' he said. 'But what costume did you wear to the Halloween party?'
'Ah,' Tilly smiled. 'It was a wonderful party and I won first prize for my zombie costume – complete with real moth monster holes!'
'A happy Halloween ending!' said Teddy Baby, and everyone cheered.
---
Teddy tales: teddy food chain
Can you complete the food chain for the Monster Munchies?
Click here for the teddy food chain activity sheet
---
Tino, Tilly, Roberta, Rupert, Lord Meight and all of Bill's collection of 269 bears will soon be moving into a new home at Mr Simpson's Teddy Bear Museum in Milestones Museum. Find out how we're getting the bears ready for their move.
Tino's Tales was made by Mark Fenton, Ruth James, Caroline Johnson, Helen Sinnamon and Nick Suffolk
---
If you have enjoyed Culture on Call and you are able to make a donation, please click the link below. Any support you can give will help us keep communities connected to culture in these difficult times.