The bear friends go out for a hike in the countryside, but their rucksack - with their lunch inside! - ends up in a big patch of nettles! Read on to find out about their hiking adventure, then have fun with our Teddy Tales activity.
---
Roberta was carrying their lunch, Tilly had the first aid kit, Rupert was holding the map and the compass was round Tino's neck on a string. The bears felt free as they strode along the footpaths, pausing occasionally to admire the view from the high points, or to examine a particularly pretty orchid in a meadow.
'This fresh air is wonderful,' smiled Tilly. 'How I've missed our hikes while we've been in lockdown!'
'Look!' cried Roberta. 'A red kite!'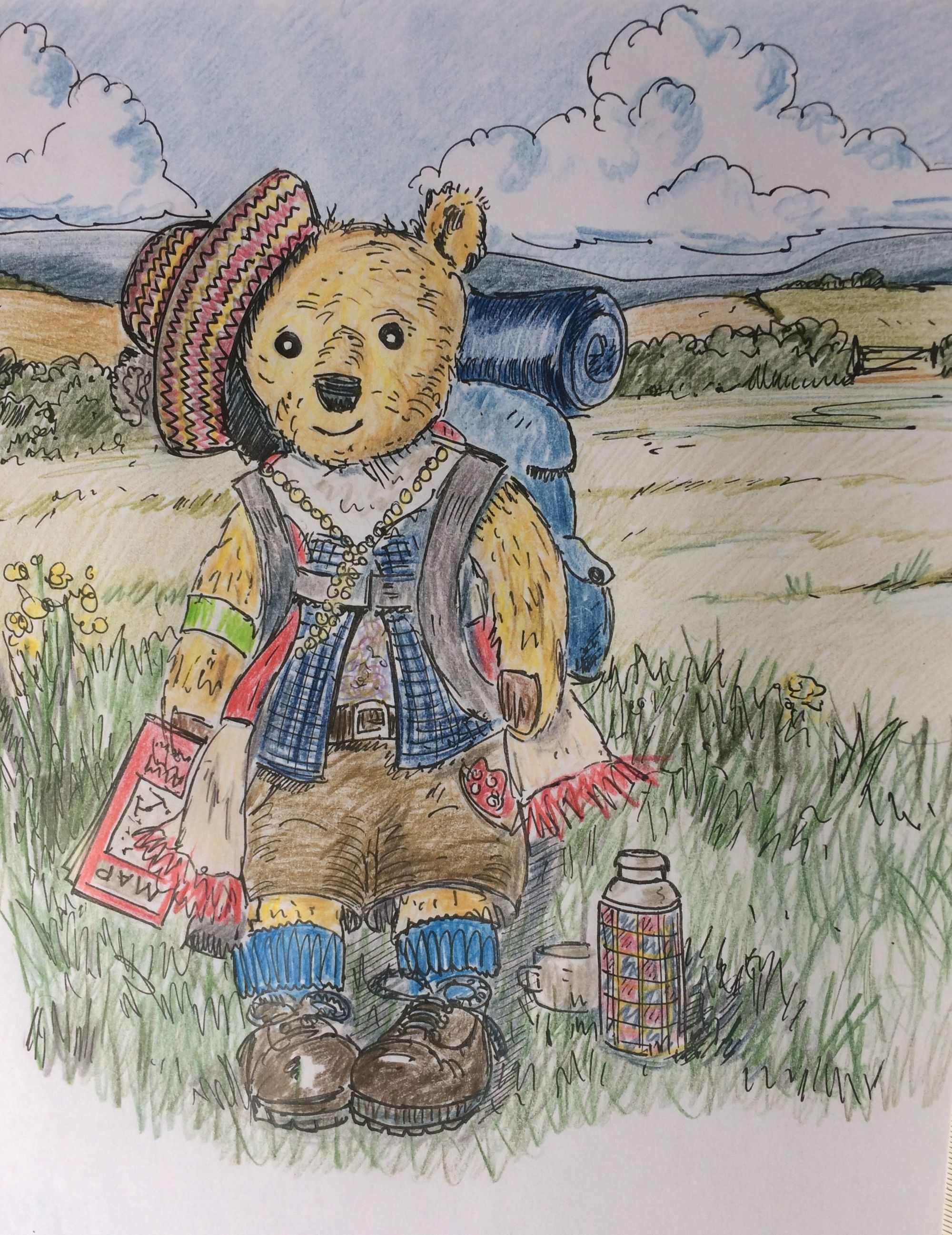 Shading their eyes from the summer sun, they all stopped and looked up to where Roberta was pointing in the sky. The bird of prey was angling its tail like a ship's rudder, holding itself in the air while its keen eyes scoured the ground for the small mammals, bugs and beetles it preferred to eat.
As the majestic bird, rising and falling, disappeared from sight behind the tall trees of the woodland, the bears continued on their way. Arriving at a bench, they agreed it was time to rest their feet and have a bite to eat to give them energy for the next part of their walk.
'Aaahhh,' sighed Tino as he relaxed onto the bench. Rupert and Tilly joined him and Roberta excitedly swung the rucksack off her back, looking forward to the sandwiches that Bill had made for them that morning.
'Whoops!' Roberta looked horrified as she swung the rucksack too far – it flew through the air, landing in the worst possible place, right in the middle of a patch of stinging nettles!
'Oh no!' cried Rupert. 'Our lunch! How are we going to reach it to get it back?'
The bears stood for a moment, staring at the nettle patch with the rucksack at its very centre. The bag was too far away to reach without getting stung. There was a thoughtful silence.
'What we need,' said Rupert after a while, 'is a big stick.'
'With a curve on the end so we can hook it onto the bag,' suggested Tilly.
'Great idea! Let's see what we can find,' Tino said.
They began to search and before long Roberta called out.
'This is perfect!'
From the ground under an elegant beech tree, Roberta dragged a thick, long stick with a twig that made a hook on the end.
Balancing at the edge of the nettle patch, and with Tilly holding her other hand, Roberta leaned forward, fishing… and hooked the rucksack! She swung the stick round and Rupert released the bag from the twiggy hook.
'Lunchtime!' Tino laughed. And after lunch the rescue stick continued with them all the way home, a real story prop to tell Bill about their adventure.
---
Teddy Tales: Happy Hikers
Have fun solving our happy hikers puzzles!
---
Roberta, Tilly, Rupert, Tino and all of Bill's collection of 269 bears will soon be moving into a new home at Mr Simpson's Teddy Bear Museum in Milestones Museum. Find out how we're getting the bears ready for their move.
Tino's Tales was made by Mark Fenton, Ruth James, Caroline Johnson, Helen Sinnamon and Nick Suffolk
---
If you have enjoyed Culture on Call and you are able to make a donation, any support you can give will help us keep people connected.