Join Tino and his teddy bear friends as they complete a jigsaw together - with a little help from Bill! Read how they get on, then try our fun Teddy Tales I Spy activity sheet!
---
'Be careful, Tino!' called Tilly from below, as Tino reached towards the dusty box on the top shelf. Standing on one leg and holding on with one paw, Tino stretched as far as he could, gently nudging the box towards him. When the box moved close enough, he grabbed it with both paws and passed it down to Roberta.
Tilly made sure that Tino climbed down safely and the Gang of Four gathered round the box.
Rupert blew a cloud of dust from the lid and the bears gasped at the beautiful picture that was revealed.
'Look at the sea and the blue sky!'
'And the colourful boats!'
Tino lifted the decorated lid carefully, placing it to one side and peering into the open box. A jumble of colourful pieces lay inside and Tino spread them out.
'Put them all face up and any with a straight edge go here,' Roberta suggested.
The four bears fell silent as they concentrated on their task. Eventually every piece was ready to be used.
'Let's make the edges first, using the straight pieces,' said Tilly. 'Has anyone seen the four corners?'
When Bill looked around the door to see why the bears were so quiet, he smiled to himself. Tino, Tilly, Rupert and Roberta were at the table, absorbed in putting the jigsaw together. They were using the picture on the lid to help find the right place for the right piece.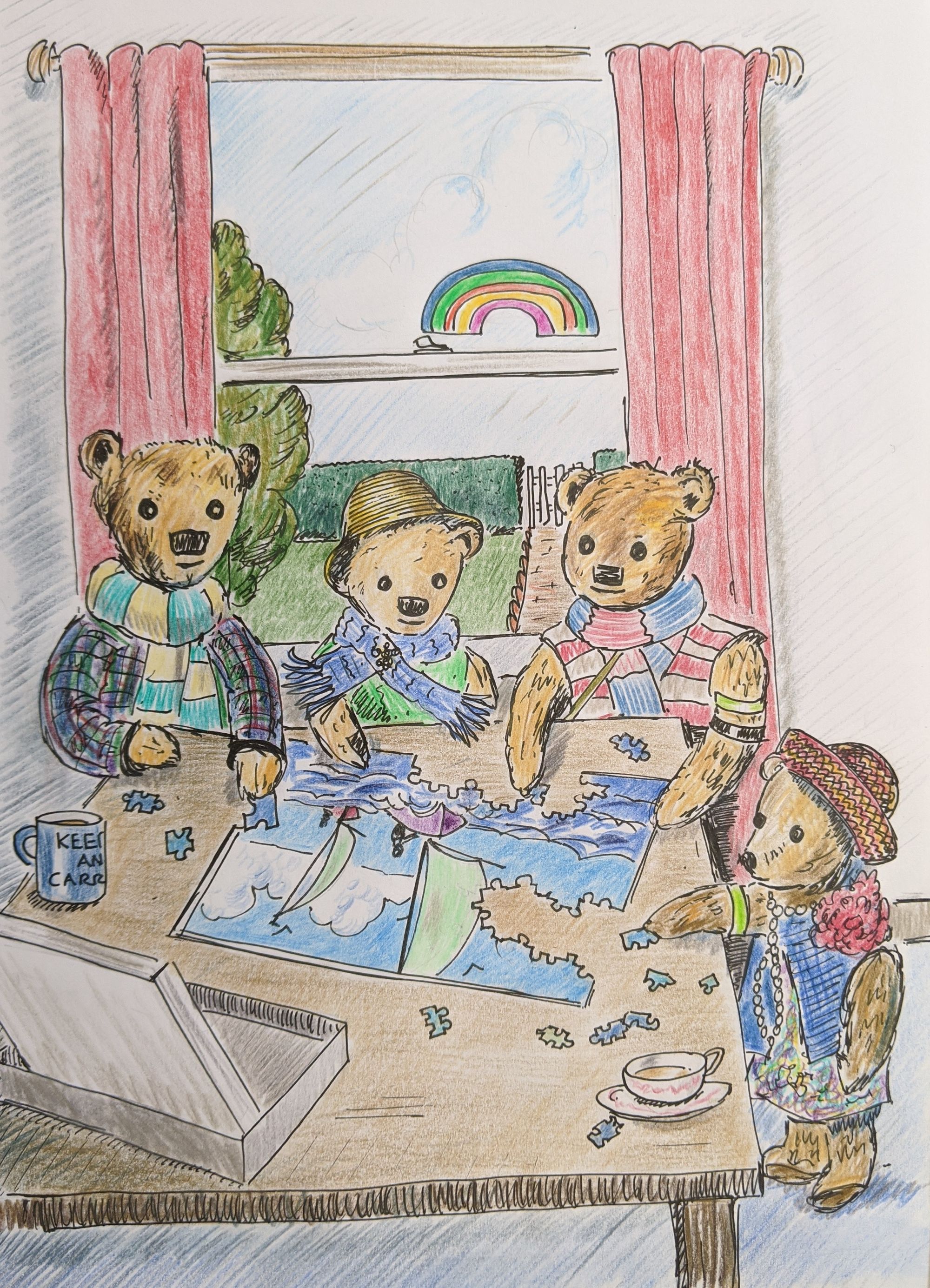 'Oh no!' Bill was making his way back down the hall when he heard the cry. 'One piece is missing!'
Returning to the bears, Bill found them looking at each other in dismay.
'You lost a piece!' Tino accused Rupert. 'Now we can't finish the jigsaw puzzle and this has all been a waste of time!'
'It wasn't me!' denied Rupert. 'It must have been you when you were getting the box down!'
Tino and Rupert stared at each other angrily.
Bill thought for a moment.
'OK everyone, time to release some of this stress and tension – let's dance!'
The bears watched Bill in surprise as he waved his arms and shook his legs, moving around the room to his own inner music.
Roberta was the first to join in, laughing as she followed Bill's lead. Rupert and Tino glanced at each other then joined in too. Tilly shook her dress as she danced, and something fell onto the floor.
'The missing jigsaw piece!' exclaimed Tino, picking it up. 'It must have been caught in your dress, Tilly!'
'Sorry Rupert,' said Tino.
'Sorry Tino,' said Rupert.
Bill and the bears laughed together as they completed the jigsaw with the final piece.
---
Teddy Tales I Spy
Tino has been playing I Spy at home. See how many things you can spot that begin with T - Tino's favourite letter! - in this fun activity sheet.
Teddy Tales I Spy Activity Sheet
---
Tino, Tilly, Roberta and all of Bill's collection of 269 bears will soon be moving into a new home at Mr Simpson's Teddy Bear Museum in Milestones Museum. Find out how we're getting the bears ready for their move.
Tino's Tales was made by Mark Fenton, Ruth James, Caroline Johnson, Helen Sinnamon and Nick Suffolk
---
If you have enjoyed Culture on Call and you are able to make a donation, any support you can give will help us keep people connected.