Every year, the Mayor of Winchester is invited to choose artwork from the collections cared for by Hampshire Cultural Trust which are then displayed at City Space in Winchester Discovery Centre. This year, the current Mayor of Winchester, Cllr Eleanor Bell, selected works from the Hampshire County Council Contemporary Art Collection and Winchester City Council's Civic Silver Collection for the exhibition. With the lockdown in place, the Mayor's Choice Exhibition 2020 is presented virtually on Culture on Call, serialised in three episodes.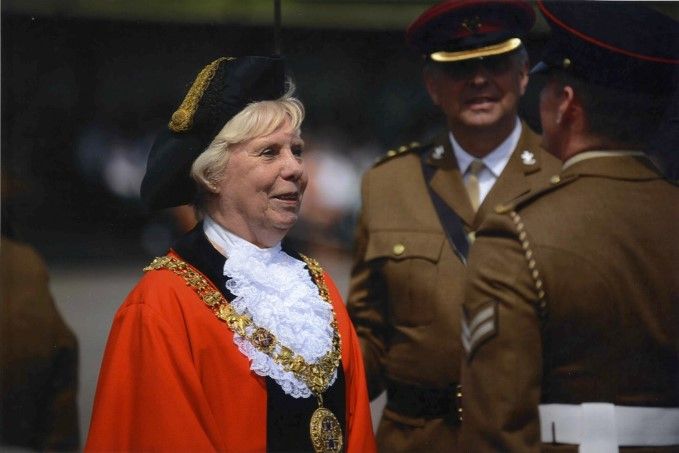 About the Contemporary Art Collection
The Contemporary Art Collection comprises nearly 400 works of modern and contemporary art, the majority of which are prints, photographs and paintings, with a small number of sculptural pieces.
Hampshire County Council began this collection over 20 years ago and it includes work by significant British artists such as Henry Moore, John Piper and David Hockney. Modern British prints make up just under 40% of the collection, including work by artists of national and international standing representative of significant movements in British modern and contemporary art. The paintings within the collection are an eclectic mix of oil, acrylic and watercolour and many are by artists living and working in Hampshire.
Alongside the paintings and prints, there is a small selection of three-dimensional works, including Hampshire Hog (1915) by nationally renowned artist Eric Gill and St Catherine's Hill, a bronze by Zoe de L'Isle Whittier.
---
Alan Davie (1920 - 2014)
Celtic Dreamboat, 1965
Lithograph, 77 x 51 cm
Hampshire County Council Contemporary Art Collection AO2010.31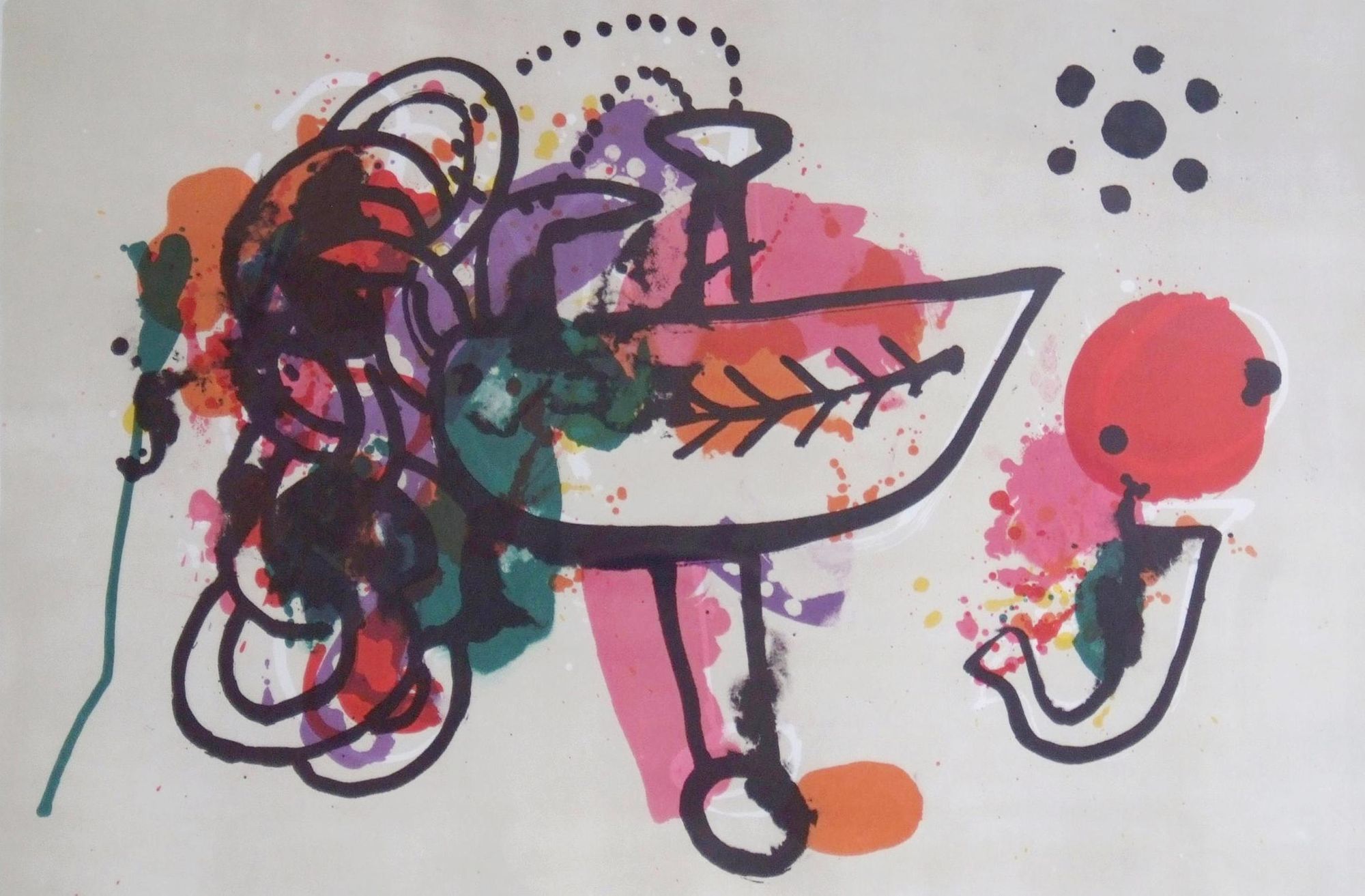 Alan James Davie was one of the first British artists after the Second World War to develop an expressive form of abstraction. He was a painter, poet, jazz musician and jewellery designer, and combined these disciplines throughout his career. His work is known for its visceral intensity and vibrant colours.
Davie was born on 28 September 1920 in Grangemouth, Scotland. His father was a teacher and artist of minor repute and his mother came from a family of professional musicians. From 1938 - 40, he studied at Edinburgh College of Art and in 1942, was conscripted into the Royal Artillery but never experienced frontline combat. During his service, he wrote poetry and after the war he became a professional jazz musician and jewellery maker.
In 1948, Davie travelled extensively in Europe and started painting. Inspired by Paul Klee, Joan Miro and the American Abstract Expressionists movement, he soon abandoned traditional methods of composition and subject matter and sought to free his art from premeditated decision making.
His work was heavily influenced by eastern philosophy and prehistoric cultures; he was an avid collector of African, North-American Indian and Oceanic art. His work is full of suggestive images of magic and mythology and he uses these as themes around which he spontaneously develops variations in exuberant colour and brushwork.
His work was initially ignored by the British art public. During the later 1950s and 60s, however, Davie's work gained critical and commercial success first in the continent and America and later in Britain. His work has been exhibited nationally and internationally and he continued to work until his death in Hertfordshire on 5 April 2014 at the age of 93.
---
Dame Elisabeth Frink CH DBE RA (1930 – 1993)
Hare, undated
Acrylic painting, limited edition, 77 x 59 cm
Hampshire County Council Contemporary Art Collection AO2009.105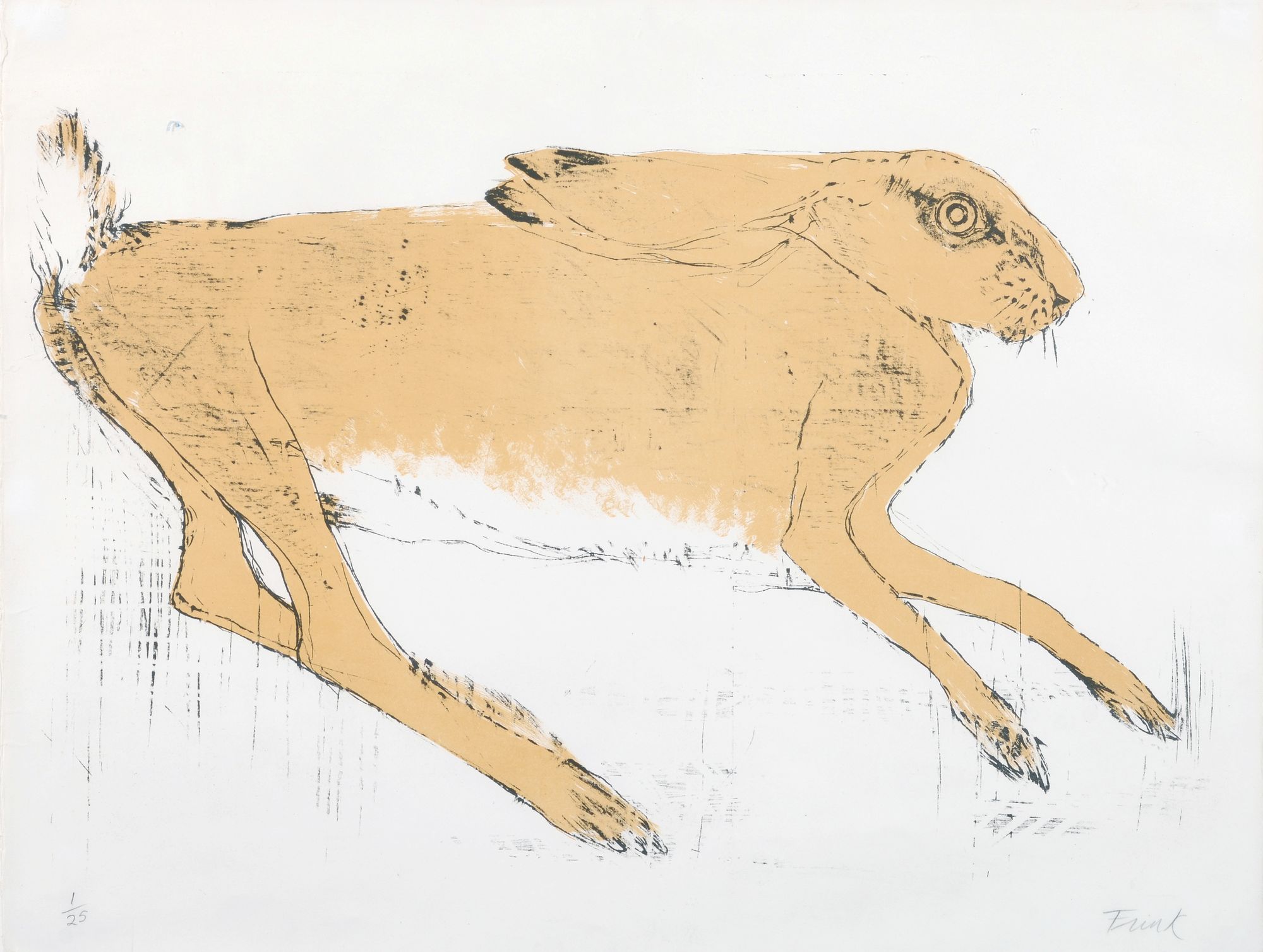 Elisabeth Jane Frink is one of the most important post-war British sculptors and printmakers, known for her preoccupation with naturalistic forms and subject matter. She is renowned for her animal figures and monumental public sculptures.
Frink was born on 14 November 1930 in Great Thurlow, Suffolk. Her father, who she idolised, was a career officer in the 4th/7th Royal Dragoon Guards. She spent much of her childhood in the countryside and developed a fascination with the outdoors. She was competent in riding and shooting and adored dogs.
During the Second World War, she was evacuated with her mother and brother to Dorset. There she met Rodney Fenwick, a young pacifist artist, who taught her how to draw and paint. After the war, Frink studied at the Guildford School of Art (1946–1949) and then at the Chelsea School of Art (1949–1953). She became part of the Geometry of Fear School, a post-war group of British sculptors.
She started to make plaster sculptures of men and animals and one of these sculptures, Bird, was bought by the Tate when she was just 22 years old. Her first major public commissions were the Harlow New Town Boar and the Blind Beggar and Dog in Bethnal Green, London.
Frink was fascinated with masculinity and her work rarely includes any female forms. Frink's unique sculptural style is characterised by rough treatment of the surface: work was often built up from layers of broken and distressed plaster placed on top of a wire armature, which would then be cast in bronze.
As recognition of her contribution to arts and culture, Frink was one of five women selected to be featured on British postage stamps in 1996. She died on 18 April 1993 in Dorset.
---
Annabel Gault (1952)
West from Butser Hill, Morning I, November 1994, 1994
Oil painting on paper, 24 x 17 cm
Hampshire County Council Contemporary Art Collection AO2010.31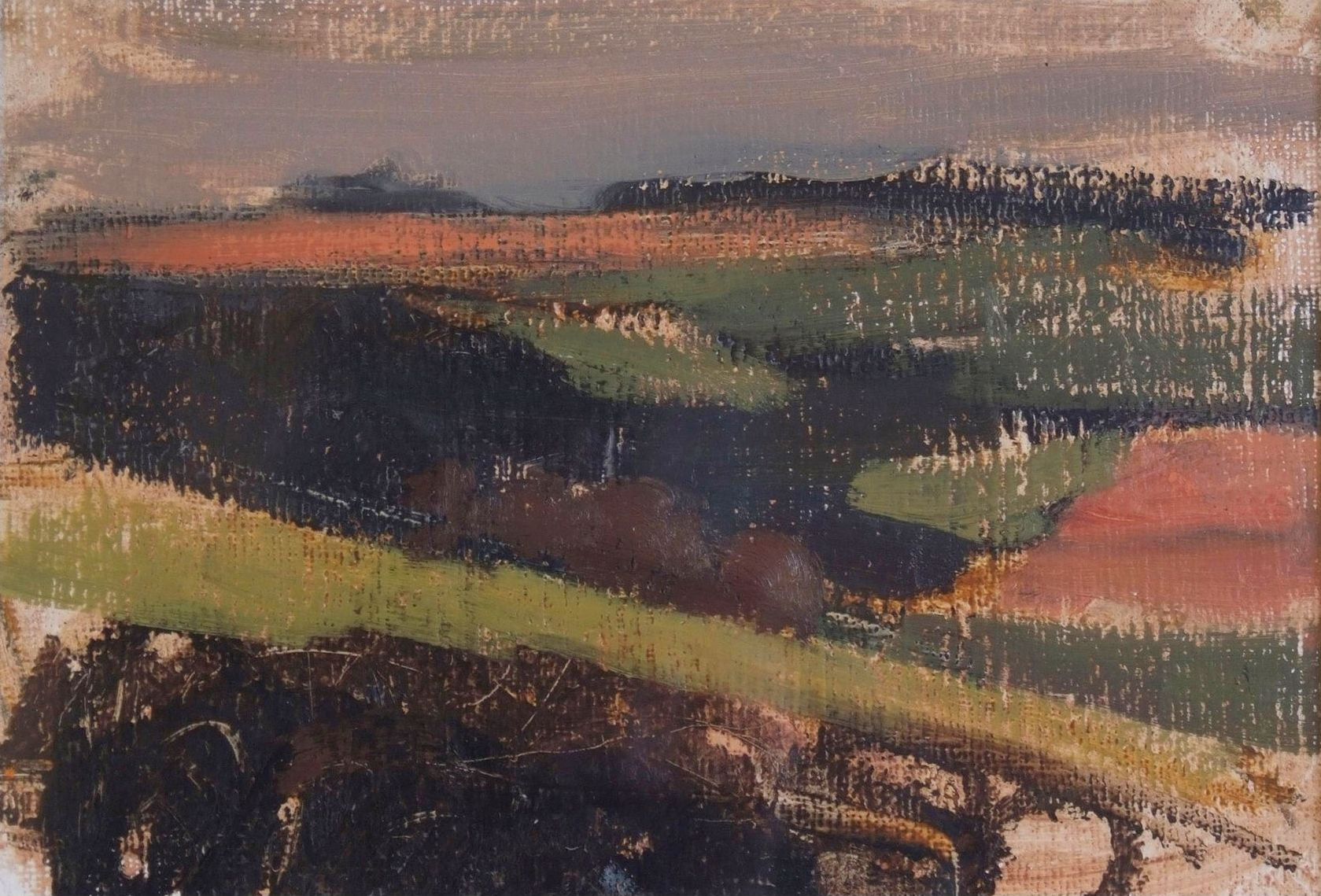 Annabel Gault is a post-war, contemporary artist known for her powerfully expressive landscapes.
Gault was born in 1952 in Midhurst, Sussex, the eldest of five children. She attended West Surrey College of Art from 1973-77 and then went on to the Royal Academy Schools until 1980.
Her approach is to work outdoors on prepared paper, conveying the direct experience of standing in a landscape. She uses various media, primarily gouache, oil, oil stick or charcoal, to capture the fall of sunlight over large, formal gardens. Her landscapes emerge as indistinct, evocative hazes of light and colour. Her newer work has moved towards abstraction, but is still anchored in the landscape.
Since 1973, Annabel Gault has exhibited regularly both as a solo artist and in group exhibitions. Her work has been shown at galleries such as the Oxford Gallery, Pallant House and the John Russell Gallery and alongside fellow artists Brendan Neiland and Patrick Procktor. Gault's work is in many public collections including the Government Art Collection, the Arts Council Collection and the British Museum. Between 1993 and 1994, she painted a series of works at Butser Hill in the South Downs - one of the highest points in Hampshire - which were purchased by Hampshire County Council.
She now lives and works in rural Suffolk and her garden at Knodishall Hall is a constant source of inspiration.
---
Sir Antony Mark David Gormley OBE RA (1950)
Energy, 2003
Print, Lithograph, Limited Edition, 23.5 x 36 cm
Hampshire County Council Contemporary Art Collection AO2009.21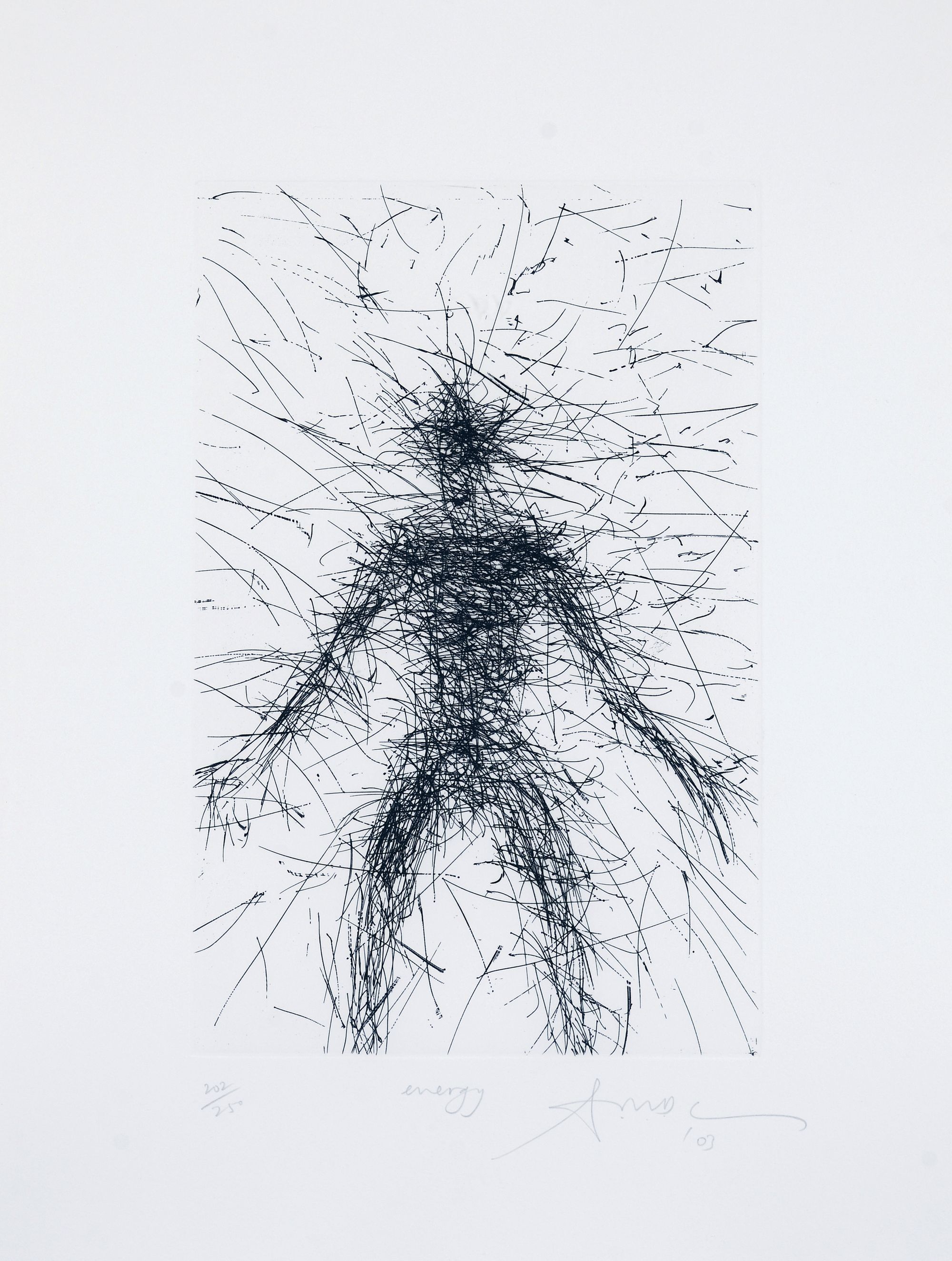 Antony Gormley is widely acclaimed for his sculptures, installations and public artworks that investigate the relationship of the human body to space.
Gormley was born on 30 August 1950 and grew up in a wealthy family in Hampstead Garden Suburb, London. He attended Ampleforth College, a Benedictine boarding school in Yorkshire, before reading archaeology, anthropology and the history of art at Trinity College, Cambridge, from 1968 to 1971. When he returned to London, he studied at Saint Martin's College of Art and Goldsmiths. In 1979, he completed his studies with a postgraduate course in sculpture at the Slade School of Fine Art.
Gormley has always been fascinated by the human form. In his work, he tries to capture its power and energy. Gormley has been widely exhibited both throughout the UK and internationally and has won many awards, including the prestigious Turner Prize in 1994 with Field for the British Isles.
His most popular sculptures include the Angel of the North in Gateshead, Another Place on Crosby Beach near Liverpool and Event Horizon, 31 life-size, anatomically correct casts of his naked body installed on top of prominent buildings in London in 2007, around Madison Square, New York City, in 2010, in São Paulo, Brazil, in 2012 and in Hong Kong in 2015–16.
Visitors to the vaults of Winchester Cathedral can view Sound II Sound, a life-size statue of a man contemplating the water held in his cupped hands.
---
Henry Moore OM CH FBA (1898 –1986)
Seated Figure, 1974
Lithograph, 43 x 49 cm
Hampshire County Council Contemporary Art Collection AO2010.25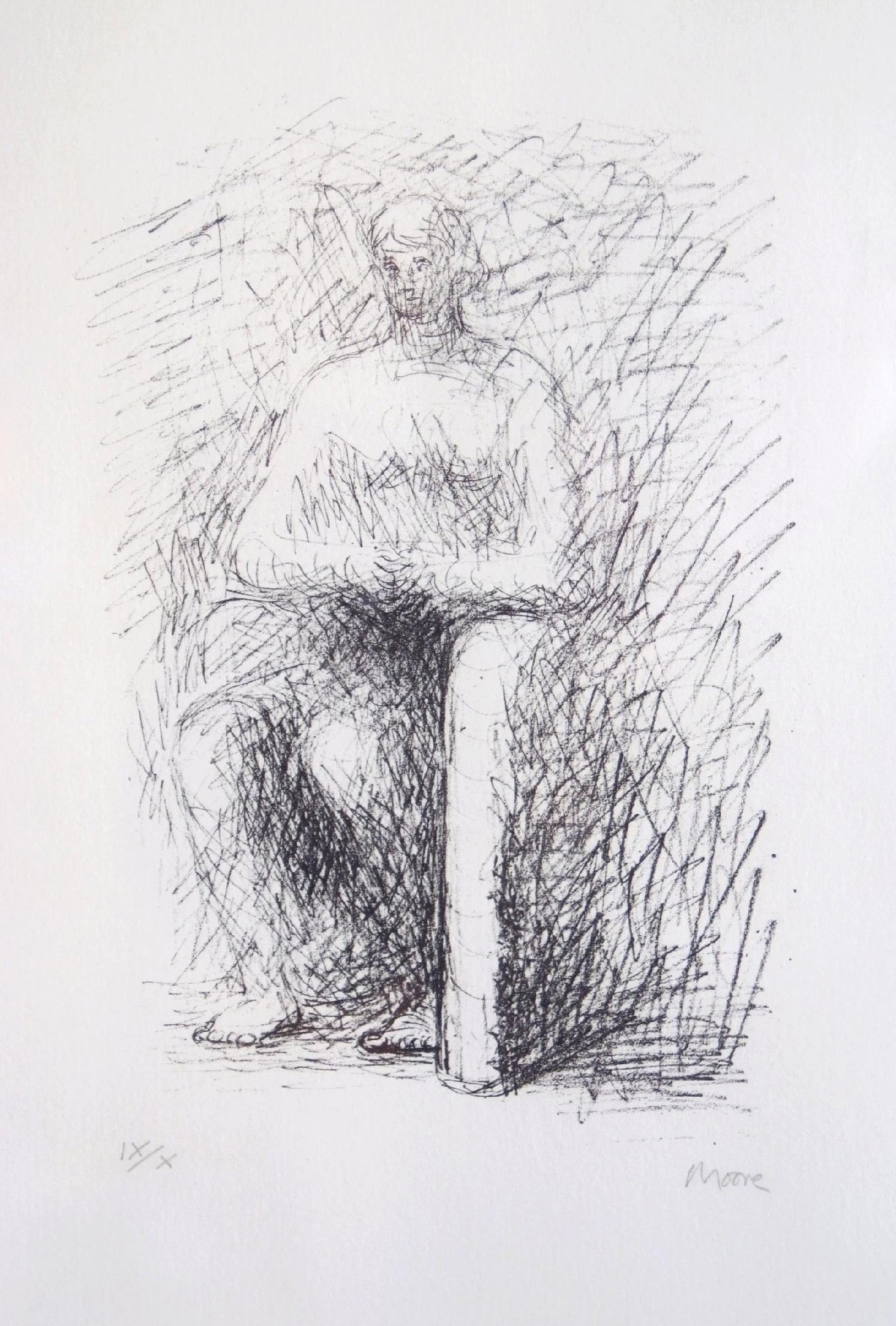 Henry Spencer Moore was one of the most important and internationally celebrated British sculptors of the 20th century. He is best known for his monumental abstract bronze sculptures.
Moore was born on 30 July 1898 in Castleford, Yorkshire. He was the seventh of eight children of a mining family that often struggled financially. In 1910, Moore won a scholarship to Castleford Grammar School. Although he wanted to be a sculptor, Moore began his career as a teacher.
After military service in the First World War, he attended Leeds School of Art on an ex-serviceman's grant, where he met fellow artists Raymond Coxon and Barbara Hepworth. In 1921, he won a Royal Exhibition Scholarship to study sculpture at the Royal Academy of Art in London.
His carvings in the late 1920s and '30s attracted much press criticism, with charges of ugliness and distortion of the human form. Moore continued in the face of this hostility with the growing support of the art establishment. Moore's drawings of shelters in the London Underground during the Second World War brought his work to a larger and more sympathetic public.
His work progressed through the years, exploring themes on the reclining figure and the mother and child, with brief excursions into other areas of inquiry, such as animals and natural forms. All of the subjects that concerned him were explored in sculptures, drawings and prints: Moore felt that his printed work provided a way for the viewer to better understand his three-dimensional forms.
Moore was awarded the first International Prize at the Venice Biennale in 1948 which launched his international career. In 1977, he established the Henry Moore Foundation to encourage public appreciation of the visual arts. He died on 31 August 1986 in Much Hadham, Hertfordshire.
---
John Piper (1903 – 1992)
Abstract Composition, 1936
Autolithograph, 45 x 60 cm
Hampshire County Council Contemporary Art Collection, AO2010.114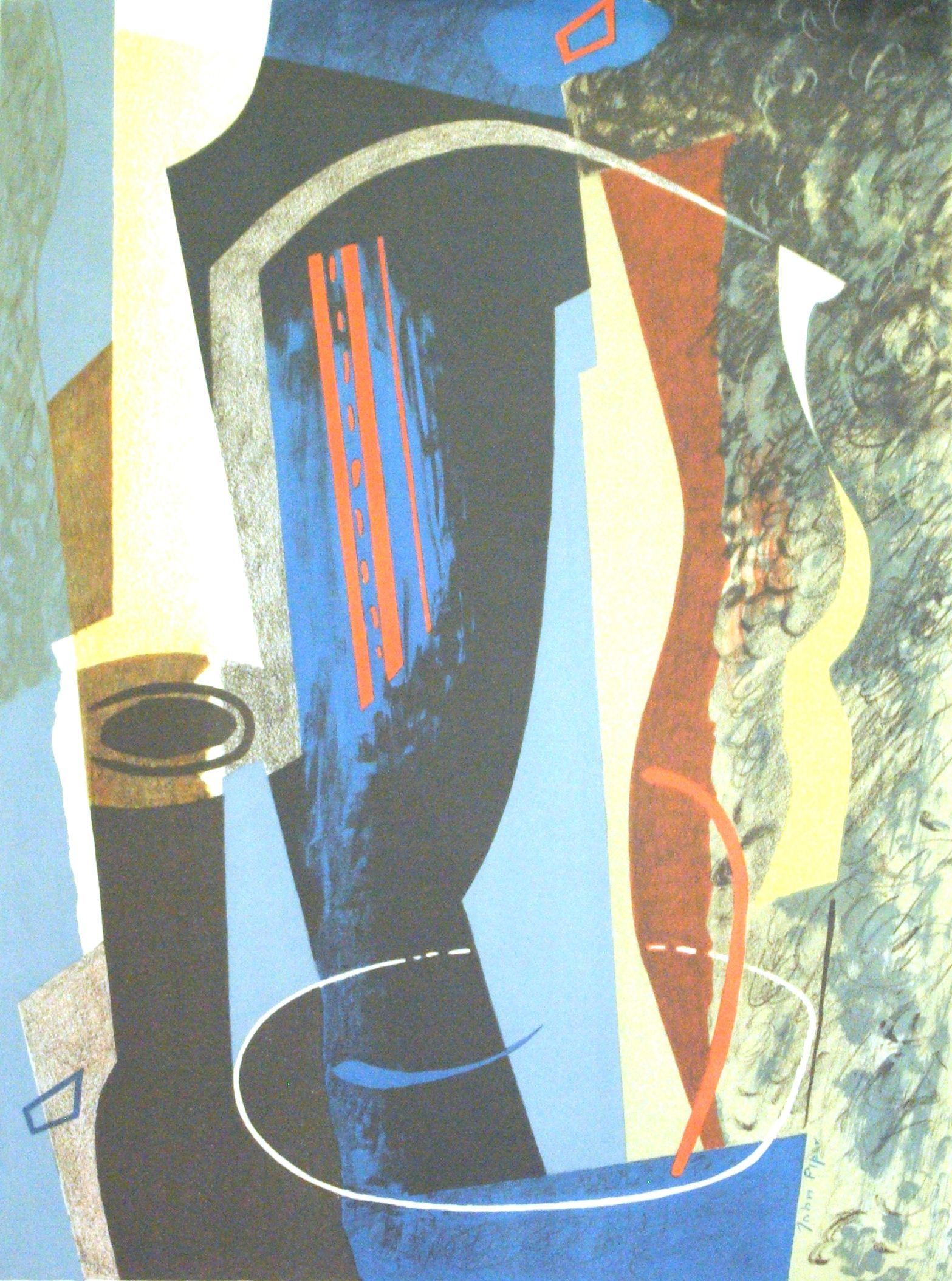 The Monument Folly at Farley Down, 1945
Watercolour painting with pen and ink drawing, 45 x 38 cm
Hampshire County Council Contemporary Art Collection, AO2007.3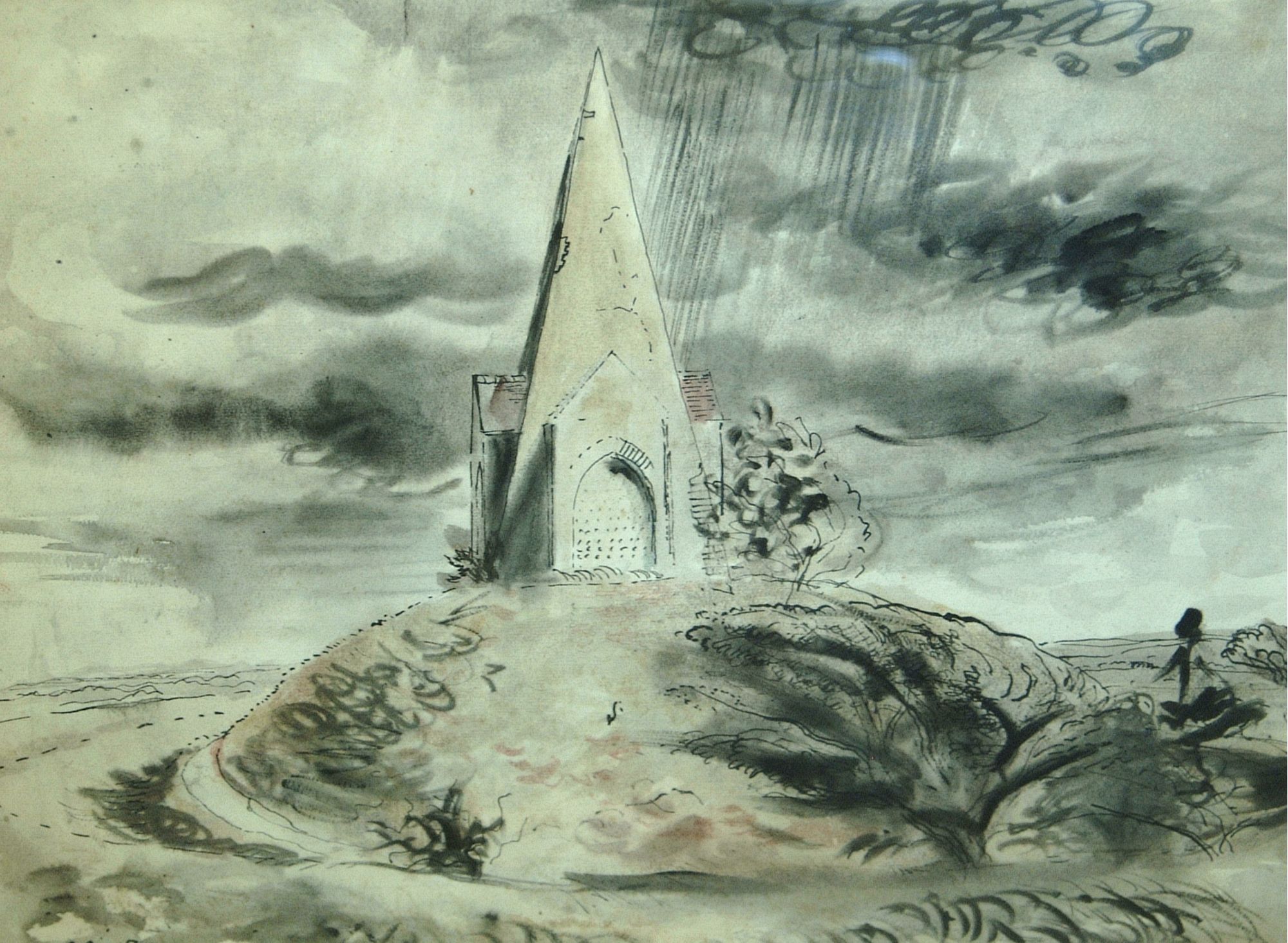 John Egerton Christmas Piper was one of the most significant and versatile British artists of the 20th century. He is best known for his romantic landscapes, views of ruined churches, stately homes and castles.
Piper was born on 13 December 1903 in Epsom, Surrey. From a young age, he wanted to become an artist, but was obliged to work as a clerk in his father's law firm. Following his father's death, Piper entered the Richmond School of Art in 1927 and, a year later, the Royal College of Art, but left in 1929 without graduating.
He started his career as an abstract artist and became a member of both the London Group and the Seven and Five Society. He was associated with Henry Moore, Ivon Hitchens, Ben Nicholson, Barbara Hepworth and Paul Nash. During this time, he also wrote art and music reviews and collaborated with poet John Betjeman on the Shell Guides.
His real interest, however, lay in architecture and landscape. From 1937, he gradually moved away from abstract to representational art, focusing on landscapes and architecture. During the Second World War, Piper was appointed an official war artist to record damaged historical buildings. He painted bombed-out structures, including Coventry Cathedral the morning after it was damaged. He was one of only two artists, the other being Meredith Frampton, who was commissioned to paint inside Air Raid Precaution control rooms.
Piper was an author of books, photographer, etcher, printmaker and designer of sets and costumes for opera, ballet and theatre. He created murals and stained glass for schools, colleges, churches and cathedrals, as well as designs for tapestries and fabrics. He died at his home in Fawley Bottom, Oxfordshire, on 28 June 1992 .
---
Episode two will be published on 6 May.
---
If you have enjoyed Culture on Call and you are able to make a donation, any support you can give will help us keep people connected.