For nearly 17 years, Sydney Ward-Evans was the unofficial city archaeologist for Winchester. In these four posts from Hampshire Cultural Trust's Curatorial Liaison Manager Ross Turle, find out how he went from Samuel Ward Evans, prosperous Surrey hardware store manager, to Sydney Ward-Evans impoverished archaeologist.
---
Deepening poverty lead to further ill-health for Winchester archaeologist Sydney Ward-Evans.
Just as back at home in Carshalton, one of his driving ambitions was to prove that there was a strong cultured and accomplished native British settlement in and around Winchester when the Romans arrived. This can be seen in the accompanying narratives with some of the boards. Subsequent excavations proved him right and Christopher Hawkes expressed a debt of gratitude to Ward-Evans for making objects available to him when writing up the St Catherine's Hill excavations. Ward-Evans was not without his detractors and he seems to have had arguments with a Canon Goodman of St Cross and the Winchester City Museum honorary curatorial advisor C. Fred Fox through letters in the Hampshire Chronicle. Ward-Evans also refused to join the Hampshire Field Club, being of the opinion that some members had a 'snobbish manner' towards site foremen and workers on some sites.
Living on a reduced income for so many years took its toll on Ward-Evans. Although he was a proud man who disliked charity, some friends made sure that he did occasionally get a good meal and Mrs Hooley of the City Museum persuaded him to accept a pint of milk a day.  But his health, which had never been good, did gradually deteriorate and after feeling unwell and retiring to bed, he died on the 10 July 1943; the death certificate recorded heart failure. The funeral service was held at Holy Trinity Church, Winchester and he was buried in Magdalene Down cemetery, Winchester. Ward-Evans did keep in contact with his family and one of his sisters, along with a Mr Trimball, were the chief mourners at his funeral. Other attendees were Canon Goodman and representatives of the Hampshire Field Club.
Although some of his theories and attributions have subsequently proven to be wrong, the city of Winchester undoubtedly owes a debt of gratitude to Ward-Evans for recording archaeological finds and sites at a time when they would otherwise have been lost and his Ward-Evans boards, along with site notes, survive as a lasting legacy.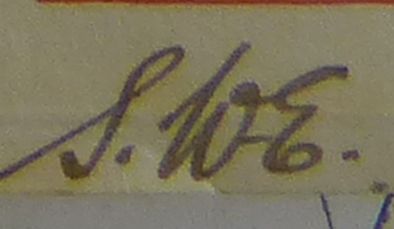 Thanks to Mr A. Combridge, Jenny Paterson, London Borough of Sutton Local Studies & Archives Service, members of Historic Carshalton Facebook page
---
If you have enjoyed Culture on Call and you are able to make a donation, any support you can give will help us keep people connected.