For nearly 17 years, Sydney Ward-Evans was the unofficial city archaeologist for Winchester. In these four posts from Hampshire Cultural Trust's Curatorial Liaison Manager Ross Turle, find out how he went from Samuel Ward Evans, prosperous Surrey hardware store manager, to Sydney Ward-Evans, impoverished archaeologist.
---
Now established in Winchester as an archaeologist, Ward-Evans ensured the public were given the opportunity to learn about the abundance of archaeology below their feet.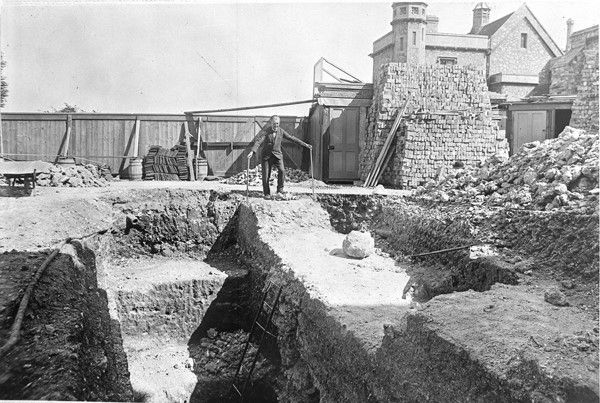 Over the 17 years that Ward-Evans lived in Winchester he gifted, or persuaded others to gift, over 200 finds or site archives. Material included prehistoric flint and pottery, Iron Age, Roman, Saxon, medieval and post-medieval pottery, worked stone, medieval floor tile, coins, keys and brooches. He helped identify parts of Winchester Castle, the northern Roman cemetery and dispersed objects from Hyde Abbey. Another large observation was of deep excavations for a new boiler room at Pilgrims' School in 1932-3. From his willingness to work at his own expense and the placing of objects in the museum it is clear that he believed in public ownership of archaeological items and this is perhaps best shown in the display boards he made up of objects.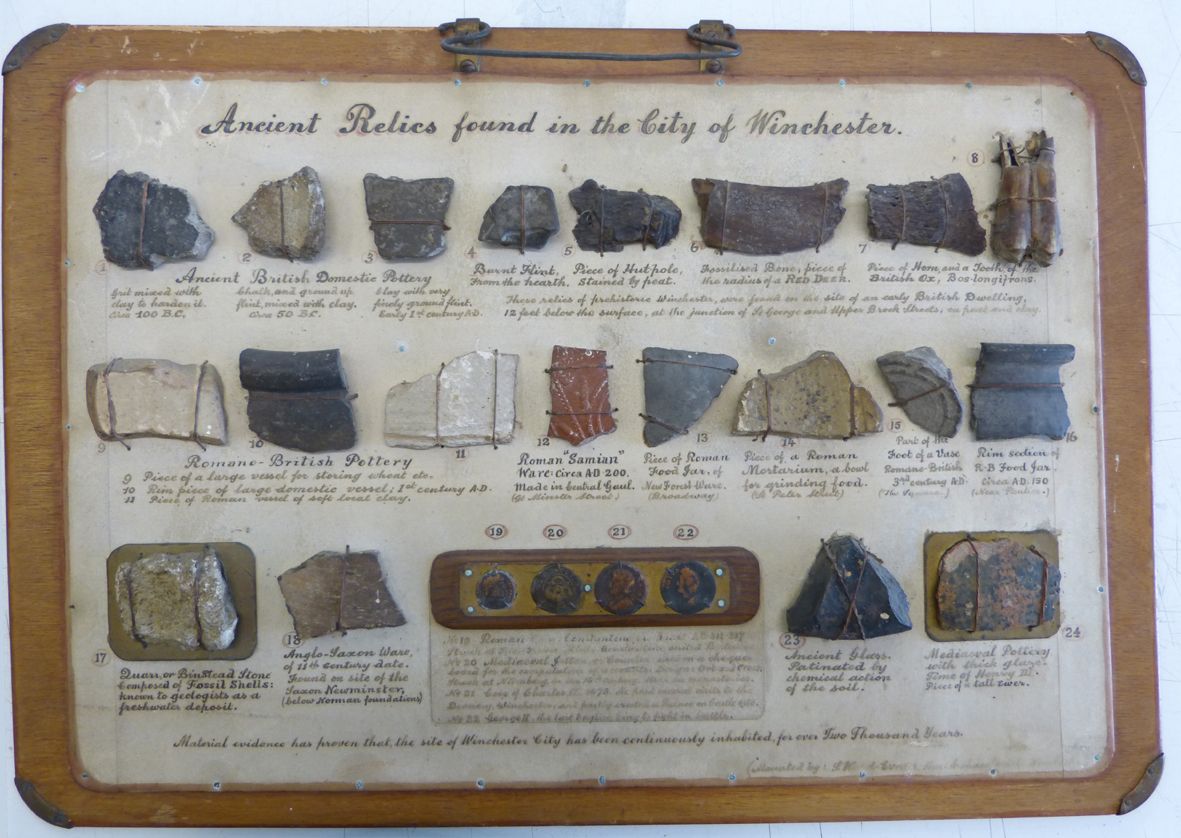 These boards and display boxes have become known as 'Ward-Evans boards', originally made up from objects from a particular location and often displayed at that place. Not all were put in public places; some were presented to private individuals and have been later given or sold to the former Winchester Museums Service.
The boards generally followed the same theme of a series of objects from a site or the city in general, which were labelled by hand. On the back of the board Ward-Evans fixed a thin wooden box or an envelope, which held further notes on the objects, at what depth objects and features were found and a brief history of the city. He also often fixed a magnifying glass to the back and a soft brush to clean the objects when they got dusty.
From a modern conservation point of view the boards do pose particular challenges, as the objects are glued onto the board and paper with string and staples were often used to help keep the objects in place. Ward-Evans did have the foresight to use permanent ink on the majority of the boards and the labels can still be clearly read after 80-90 years.
---
If you have enjoyed Culture on Call and you are able to make a donation, any support you can give will help us keep people connected.