We're thrilled to say that Aldershot Military Museum's new Resilience Garden was officially opened on 18 June by Lieutenant Colonel Nick Burley, Aldershot Garrison Commander. We look forward to welcoming local military families to enjoy the garden on Armed Forces Day – anyone serving in the Armed Forces has free admission to the Museum on 25 June! Simply present your MOD90 ID.
The Resilience Garden has been created by the hard work and dedication of individuals from the veteran and civilian communities. These participants have worked with a garden designer, mosaic artist and willow weaver to plan and build a space for reflection, which encourages wildlife and engages the senses. A dedicated allotment area and greenhouse also offers opportunities for learning new skills in the growing of vegetables, fruit and herbs. As Aldershot is the home of the British Army, some of the plants featured in the garden have been specifically selected for their symbolic meaning, such as poppy for remembrance, daisy for hope and laurel for victory.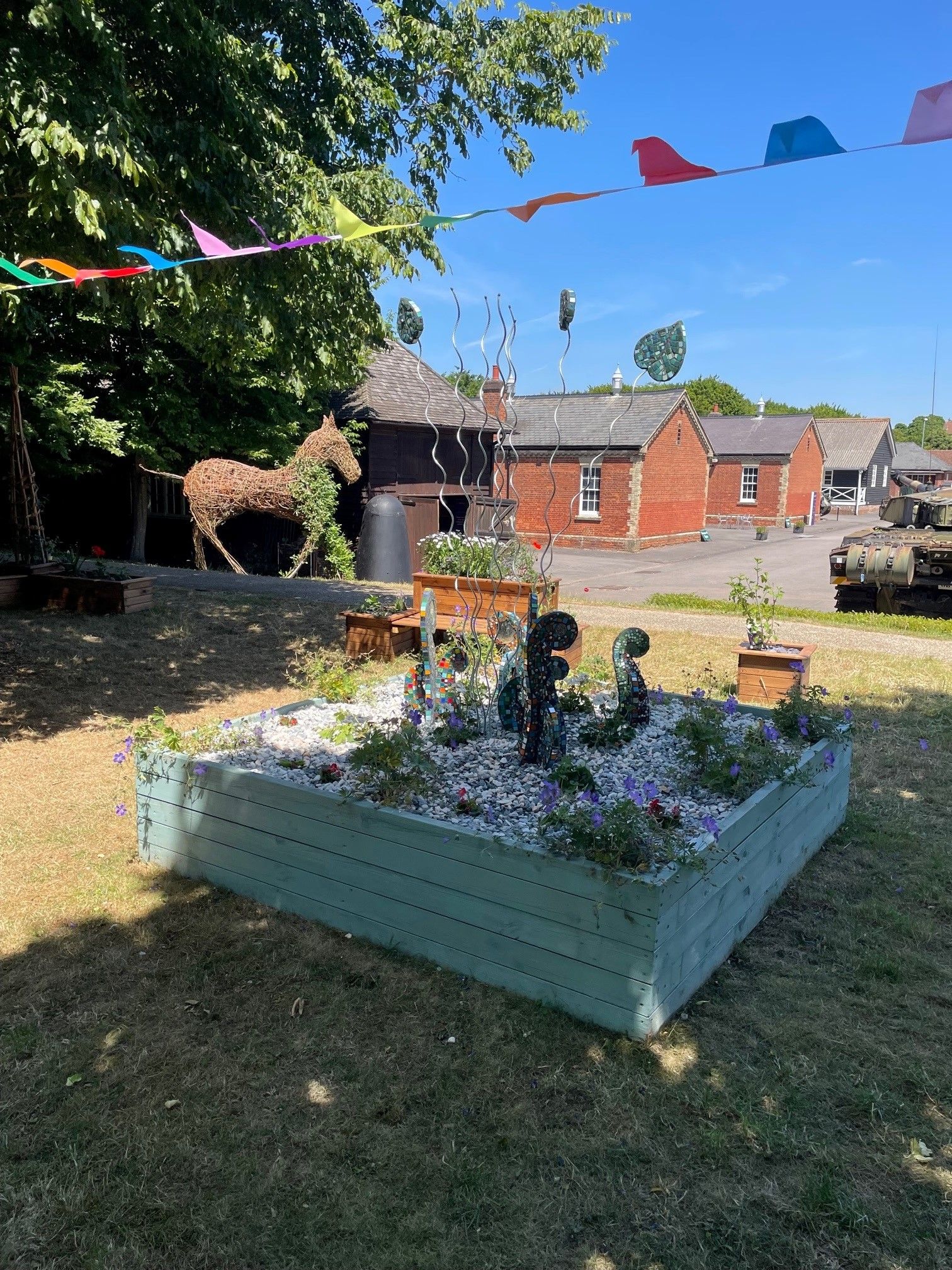 Participants have created beautiful ceramic mosaic sculptures, decorative plant pots and bug boxes to further enhance the space. Aldershot Military Museum's life-size willow war horse, planted in 2014 for the World War One centenary, has also been completely rejuvenated as part of the project.
Going forward, new cohorts of volunteers from the local community will join the garden team to continue the cycle of learning, camaraderie and support that its existence facilitates. Anyone interested in helping to maintain the garden – even if just coming in for an hour a week to water the plants – are encouraged to email us at aldershot@hampshireculturaltrust.org.uk.
The museum and garden can be visited on Wednesdays to Sundays, as well as daily during school holidays, 10am - 4pm. Visit our website for museum visiting and admission details.
Also on Armed Forces Day, Aldershot Military Museum will have a stall at Aldershot's free Prom in the Park event, 2.30pm - 6pm. Come along to Princes Gardens to say hello and peruse a variety of items from the museum shop!
Over in Basingstoke, Milestones Museum will be supporting the Armed Forces Day Convoy as they visit Milestones field. Part of a 37 mile route that ends on our grounds, the convoy will showcase 30 motorcyclists from the Hampshire Branch of the Royal British Legion Riders and 60 military vehicles. The event will welcome special guests, the Falklands Veterans and veterans representing Iraq and other conflicts.
---
The Resilience Garden project has been generously funded by the MOD Covenant Fund and Hampshire Gardens Trust, with additional support from Haskins Forest Lodge Garden Centre, the Friends of the Aldershot Military Museum, Church Crookham & Fleet Men's Shed, Rushmoor Borough Council and Gavin Jones Ltd. Aldershot Military Museum is operated by Hampshire Cultural Trust.
---