This Remembrance Sunday, learn about memorial plaques from World War I, with Aldershot Military Museum's Learning Facilitator, Sarah Dhanjal.
---
"November brings the act of remembrance, which for many people is at the forefront of our thoughts daily.
Discussions with the veterans in our creative wellbeing group reminded me of visits to the battlefields of the Somme, where the sheer numbers of people who have given their lives in service are difficult to comprehend. As more and more time passes between now and First and Second World Wars, with family ties forgotten or never known, we might not remember individuals, but we can commemorate their lives.
Aldershot Military Museum holds a number of memorial plaques, sometimes known as death/dead men's pennies. With the majority of World War I soldiers buried in Europe and families unable to visit their graves, or see their names on communal memorials, these bronze plaques were designed to enable families to remember their loved ones at home. For remembrance this year, here are the stories of some of the soldiers of Rushmoor for whom we have memorial plaques.
Frederick and Henry Lemon
The memorial plaques of Frederick and Henry Lemon are particularly poignant. Frederick was born in 1891, his older brother Henry (known as Harry) in 1883. In the 1891 census they lived with their parents, Henry, a baker, their mother Elizabeth and six sisters, Elizabeth, Eliza, Mary, Rose, Alice and Maud. All of the children were born in Aldershot, at this point well established as the home of the British Army. In 1901, at the age of 17, Harry was working as a stores carman. Fred was 11 and not yet working. The family had moved to Mount Pleasant Terrace, Redan Hill. Neither having married at the time of their death, their memorial plaques and personal effects were sent to their mother. Fred was a Private in the 15th (Service) Battalion Hampshire Regiment. He died on 2 October 1918 and is buried in Hooge Crater Cemetery, near Ypres in Belgium. Harry was also a Private in the 15th (Service) Battalion Hampshire Regiment. He died on 20 September 1917 and is remembered on the Tyne Cot Memorial. Their plaques are on display in the John Reed Gallery in Aldershot Military Museum, alongside the envelopes they were received in.
Augustus Herbert Beal
Augustus Herbert Beal was born in 1884 in Penge, Kent, to Emma and William Beal, a gardener. Augustus and Emma Louise Potter married in 1905 and in the 1911 census they are listed as living in 2 Myrtle Cottages, Union Street, Farnborough. He worked as a domestic gardener, following in his father's footsteps. In 1912, their daughter Margery Eileen Beal was born. During the war, Augustus was a Lance Corporal in the Royal Marine Light Infantry, 1st R.M. Battalion. R.N. Div. At the time of Augustus's death, on 26 October 1917, Emma and Margery were living at 7 Fir Place, Union Street, Farnborough. Augustus is remembered at Tyne Cot Memorial. As far as we can tell, Emma did not remarry.
Chabe Lal Ale
The plaque in the picture commemorates Rifleman Chabe Lal Ale, of the 6th Gurkha Rifles, 1st Battalion. We know little of his life, but Commonwealth War Graves Commission records state he was the son of Palpatti Ale, of Banjghari, No. 3, West, Rising, Nepal. He died on 7 August 1915, possibly during the Battle of Sari Bair, which was part of the attempt to gain control of the Gallipoli peninsula in Turkey. He is commemorated on the Helles Memorial in Turkey."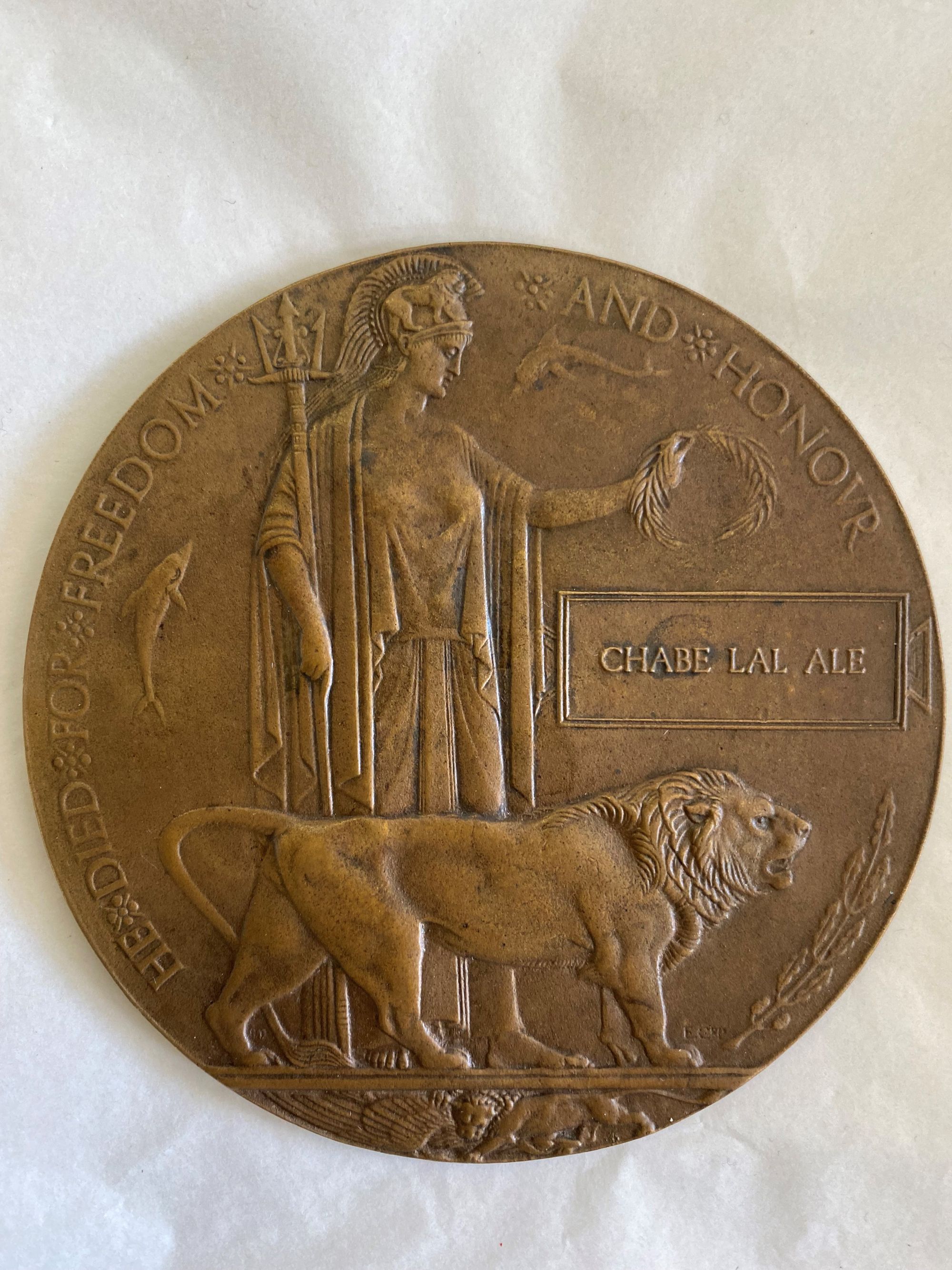 ---