Home Front Stories is an exhibition that was to be presented at Westbury Manor Museum and Eastleigh Museum in the run up to the 75th anniversary of VE Day. Museum volunteer, Peter Downton, initially put forward the idea of a VE Day exhibition. He then went on to research, carry out interviews and develop the exhibition content. As the museum is currently closed during the lockdown, Home Front Stories is now published in full online to mark VE Day 75.
Britain under the cosh
It's now early May. You've been under Government restrictions for what seems like forever. Although some people still seem to or are allowed to ignore them.
When you go to the shops you have to queue. When you get in, there are still empty shelves. Are some people still hoarding? If you are better off, however, have a bit of cash or the right contacts, you can still get things it seems.
Professional sporting leagues have been suspended for the duration so you can't go and watch your regular football or cricket team.
You can't go out anywhere without someone in authority asking what you are up to, where you are going and if your journey is really necessary.
The newspapers say the same things every day and even then you don't know if you are being told everything.
It's been going on for what seems like forever and although there are hopes of things getting back to normal, nobody really knows when.
Any of this sound familiar? This is early May 1945. Despite all this, a few days later, over five years of hardship and deprivation were about to come to an end - no wonder people were in a mood to party!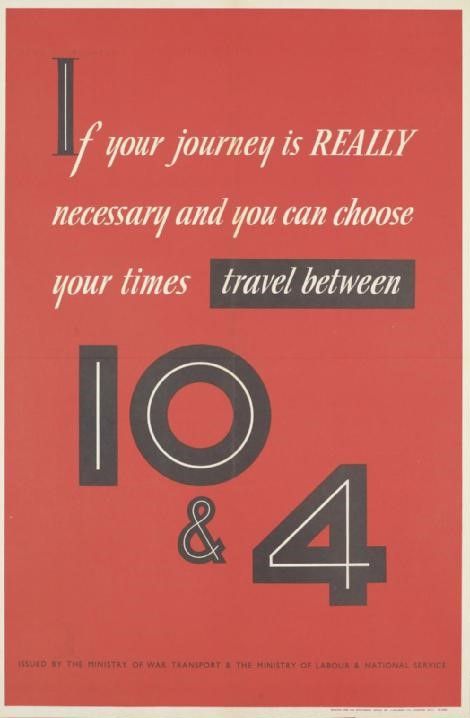 Light at the end of the tunnel
After five years of total war with millions of lives lost and aerial bombing campaigns which saw civilians on the front line of the conflict, there was at last light at the end of the tunnel. In May 1945, it was widely suspected by people in Britain that the war in Europe was coming to an end and this year we celebrate the 75th anniversary of Victory in Europe.
On 7 March 1945, the Allied forces had crossed the river Rhine into Germany; on 21 April Russian troops had reached Berlin; German troops in Italy surrendered on 2 May and all German forces surrendered unconditionally to the Allies on 7 May.
'A day disorganised by victory! A form of disorganisation I can put up with.'
From the war diary of Field Marshall Alan Brooke.
Churchill had planned to announce the end of the war in Europe officially at 3pm on 8 May, with the formal start of peace declared at one minute past midnight on 9 May.
The news of the German surrender had already leaked on 7 May so a national holiday was immediately announced for the following day, 8 May, because, according to Churchill 'the crowds celebrating in London were beyond control'.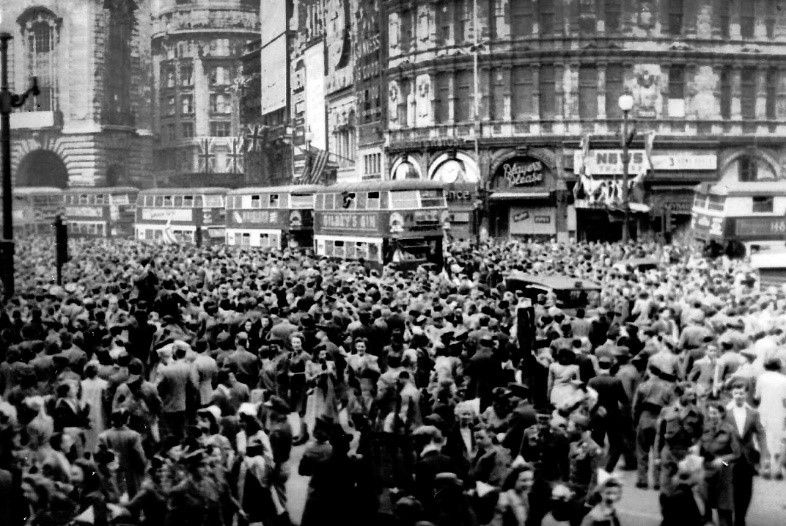 Community celebrations focused on street parties and it is incredible to see what people were able to achieve at such short notice, particularly as rationing was still in place and would continue for the next nine years.
We would like to share with you the moving, first-hand accounts of these celebrations, together with an amazing selection of photographs that help to bring alive the sense of joy and relief people felt as five years of sacrifice and suffering finally came to an end.
There are pictures of local street parties and stories from those who were there that give an insight into what it meant to people who had lived through the years of war.
In particular we are grateful to Betty Wright, Vic Knight, his wife Pat and Vic's brother Charlie for allowing us to interview them. You will find many quotes and observations from them within the exhibition. We are particularly grateful for being allowed to use Vic's photograph of himself and his brother at a VE Day party from his own collection.
We would also like to thank Eastleigh & District Local History Society for supplying WWII images for the exhibition and Barry Chinchen for recounting his memories of the event.
Finally, we would like to thank Westbury Manor Museum volunteer Peter Downton who had the idea to hold a VE Day exhibition. He then proceeded to find local people with VE Day memories, carried out interviews, researched and wrote text for the exhibition.
This exhibition also provides an opportunity to recall the sacrifices made and to remember that, amid the celebrations, some will have been remembering lost friends and relatives.
The beginning of the end?
Rumours of an official celebration to mark the end of the war had been circulating for some time. The term VE Day had been discussed as early as 1944 in anticipation of victory.
In Fareham, Betty Wright (nee Wassell) was 18 and living with her parents at 20 Paxton Road. She recalls that, as the war progressed after the D Day landings…
"There was great optimism. One of the papers had issued a map and we had this big map up on our wall and I can remember my parents, as we had triumphs in France pushing the Germans back; they marked it. I can remember my Father saying we've taken this, or we have done that. There was a feeling of gladness and optimism that it couldn't last much longer with us proceeding the way we were…"
It's official, Germany surrenders!
With the official announcement that the war in Europe was at an end, there was a series of spontaneous reactions. Individuals and businesses had little time to prepare for the big day. Some just downed tools and went out to toast victory, but not everybody got the chance. For many it was very much still 'Keep calm and carry on!'.
"I was working. I was temporarily helping out at a general stores at the bottom of Paxton Road. It was called Jefferies. It was a small family run business.
"When they heard that the war had ended, I shall never forget Mrs Jefferies came tearing up the road to me in a panic saying (she guessed that everybody would go wild you see to celebrate because we were all hysterically happy) and she came up and said you will come into work tomorrow won't you?"
Betty Wright
Let the celebrations begin!
Joan was on a Provincial bus between Gosport and Fareham "when two buses suddenly stopped, and an animated conversation took place between the drivers. The gist of this was that one driver had been told that a holiday for VE Day had been declared and that everybody was to get back to the depot as soon as possible in order that celebrations could commence."
Joan Hill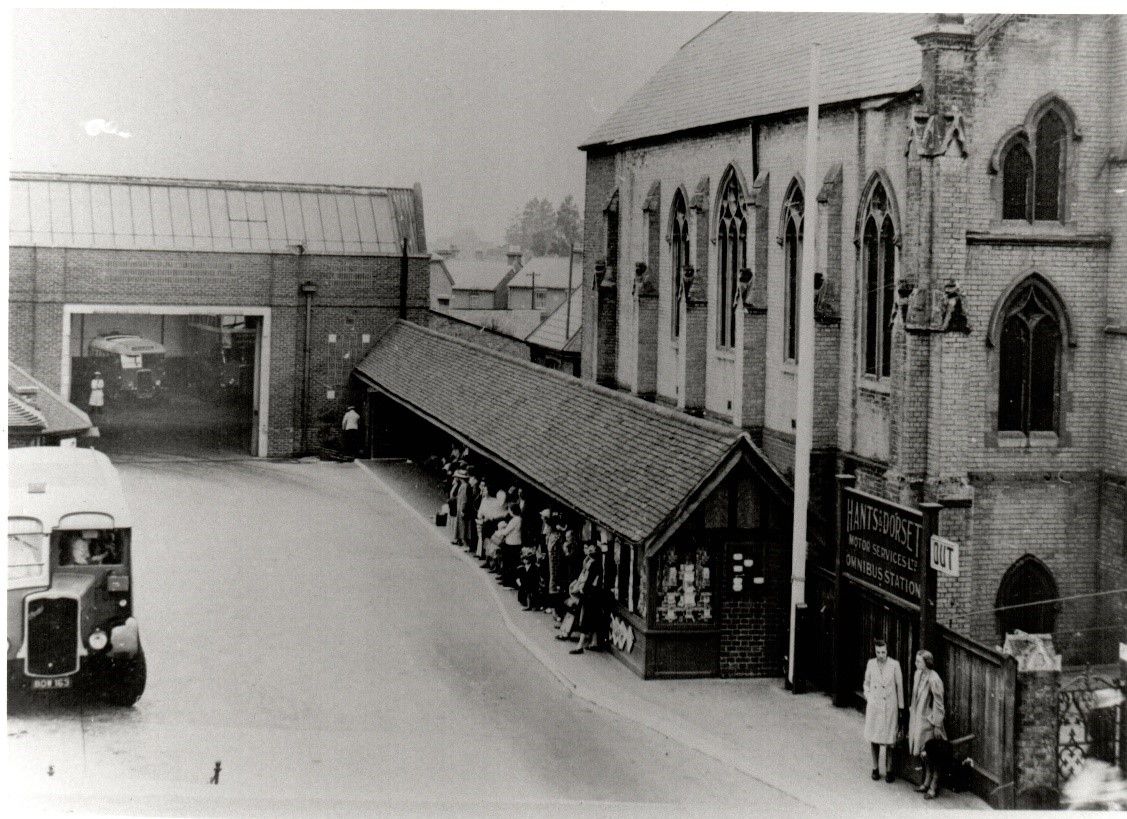 Let's hit the town
Licensing hours were extended. Peter Downton, a shipwright in Portsmouth Dockyard at the time, recalled that on hearing the news he immediately met up with friends and hit the town. His fiancée was less than amused when she realised that she had not been included in the revelry.
It's no wonder people wanted to celebrate
"You have got to think that during the course of that war you could never go to bed at night because of the bloody sirens, you was running round to the shelter you could hear the bombs in the distance. If it was a bit too close that's when you got worried. It wasn't just night time it was daytime and all, air raids going on all the time and all of a sudden everything stops.
"You can see what everyone would celebrate for."
Charlie Knight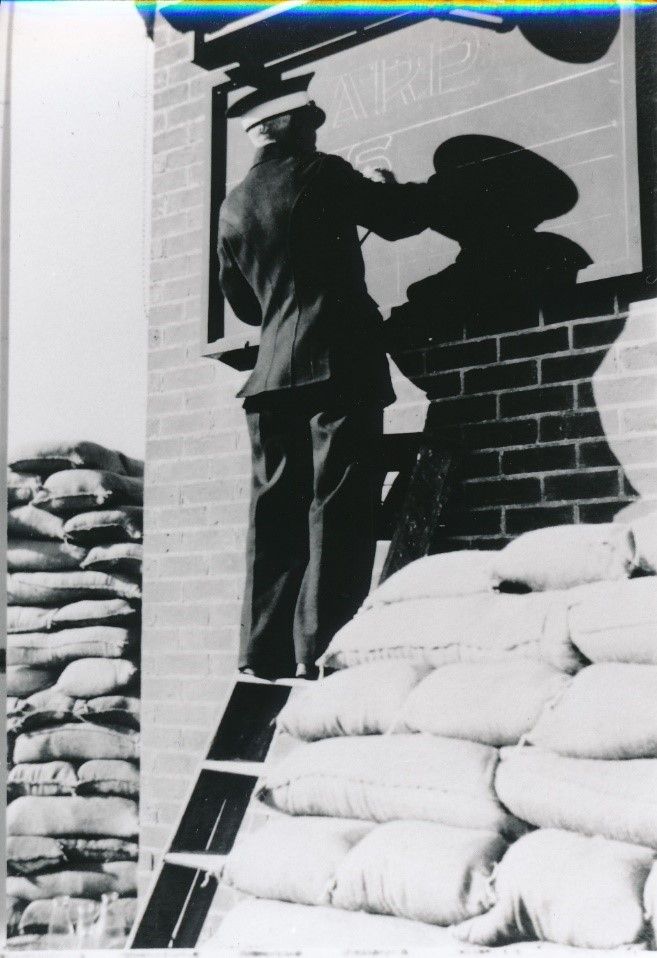 Celebrating VE Day – A personal reminiscence, Betty Wright
"I was very involved with the Missions to Seamen Club in Fareham as a voluntary helper and my fondest memory of the VE day rejoicings is when another friend I had made at the club came dashing up on her bicycle. Can you possibly come down to the club this evening because they are putting on a party, and Collingwood was absolutely packed with trainees. They used to come up to Missions for Seamen for their relaxation. They wanted as many girls as possible to dance with the boys of course.
"My friend said will you be able to come? I will call for you. So she called for me and it was a case of putting on the best possible dress we could manage. Chemists in those days used to mix up a concoction of calamine lotion with a colouring in it and we used to paint it on our legs. I stood up on the table and my friend drew a seam and off we went. And when we got down to Missions to Seaman club, where they got them from I will never know, but they had baskets and baskets of roses. There were two very nicely turned out sailors on the door pinning a rose on every girl.
"Can you imagine how we felt after wartime? We had never been feted like that at our age. And I can remember the excitement of the girls as they arrived, and these two sailors went forward and pinned a rose on them. We had just a whale of a party."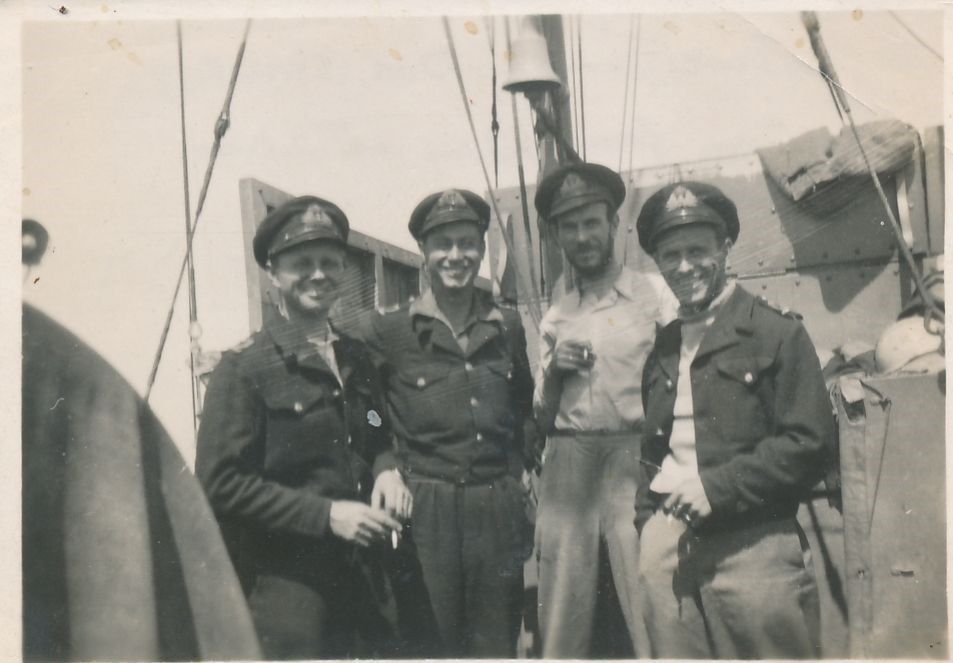 Street parties
Not all street parties were on VE Day itself. Parties needed organising with people coming together and pooling their resources and ration books. It is difficult to do that instantly and with everything in short supply and people competing for those supplies, getting it up and running will have been difficult. Joan Hill for example recalled that their party was held just after VE Day. However, it seems everybody pitched in. The furniture came out onto the street.
Street Party Hinchcliffe Road, Gosport
"I expect there was a lot of baking. Homemade jam tarts, blancmange etc. But it was the community spirit and the knowledge that something wonderful had happened for most people.
"What amuses me when I look at the VE Day pictures that appear in the paper is the variety of chairs that are brought out".
"I was nine at the time, It was just a big party day really. All the mums got together and made the cakes and all the men got together and made the tables up. And somebody hired all the chairs and it was one of the jobs of Mr Paul (he had a smallholding at the end of the road and had a cart) to go and collect them all and take them all back again. They hired them from somewhere or other. I remember all that part.
"Most streets had street parties. I remember our street party because I lived in that street, but you also knew that down the road you'd go down there and have a sneaky preview. I always remember ours because it was such a big large one. Everybody in the street was there."
Charlie Knight
"The road we lived in was owned by the railway and was divided into three sections (top, middle and bottom) according to what job you did. We lived in the bottom section where the people who made and assembled the steam engines lived. On VE Day there was a party in each of the three sections. Everyone had the day off work, we all wore hats and there was music in the street. I remember the local greengrocers ran stagecoach rides for all the children."
Roy Pigeon Extract from memories, WW2 People's War (BBC)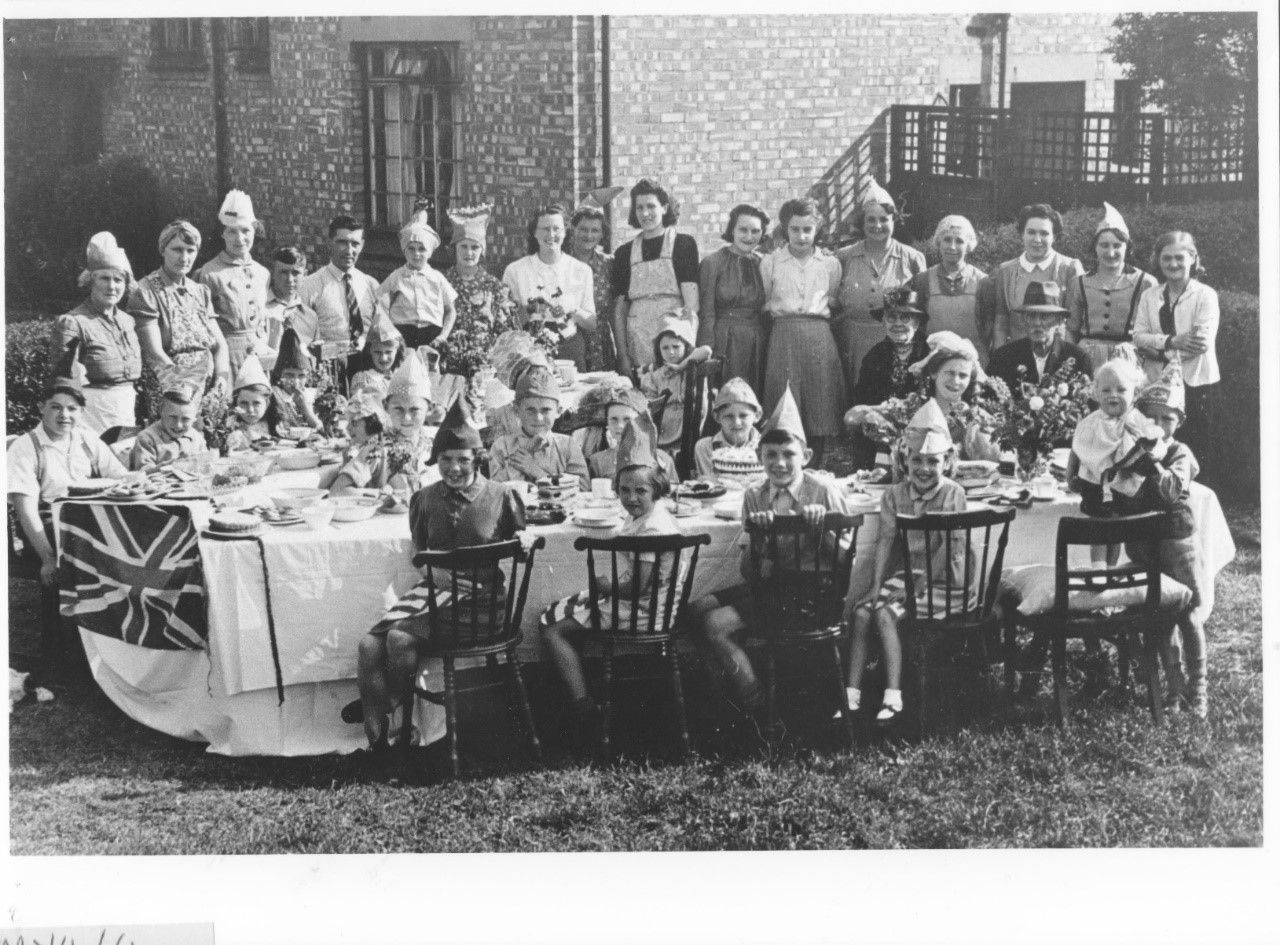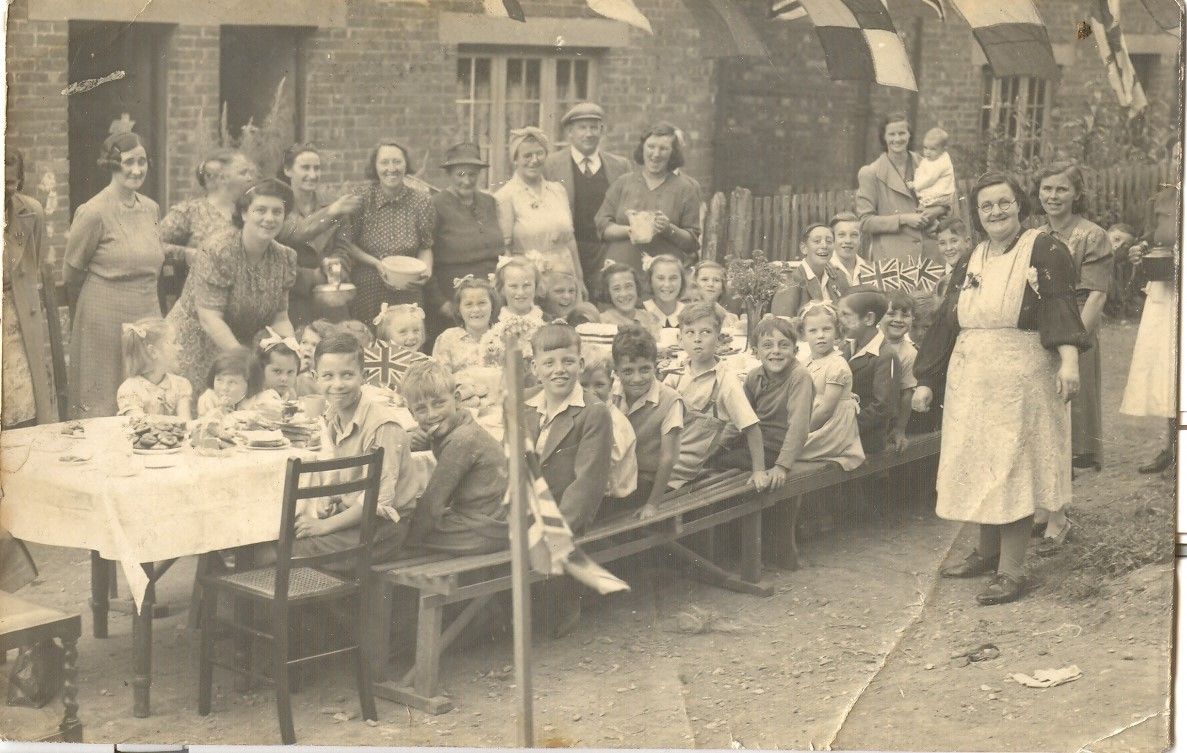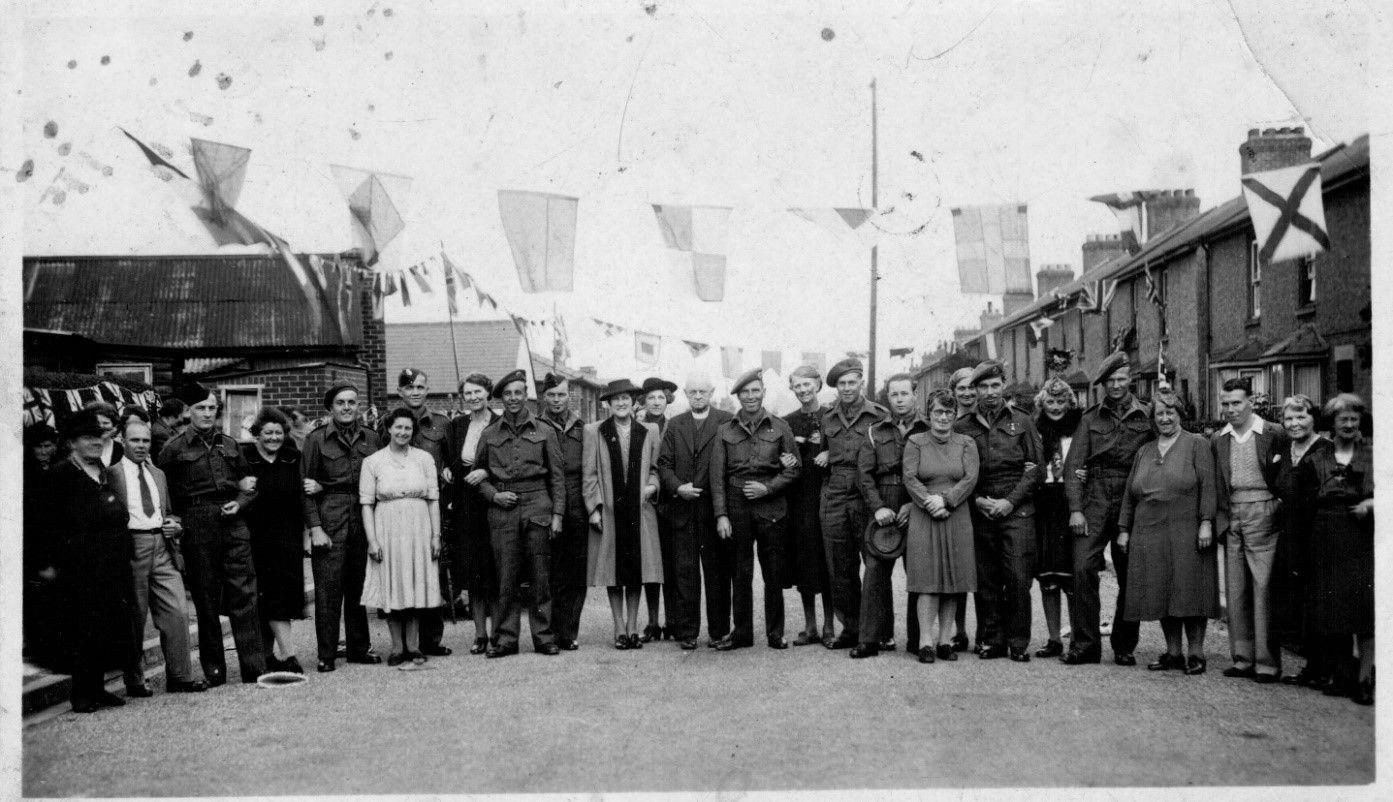 For more VE Day celebrations across Hampshire visit our VE Day Street Party Gallery.
The story of a VE Day baby - Victor Edward Knight
"My dad was a submariner, part of his duties was Malta so he used to visit Malta quite often.
"My mum was Greek and in the Greek and Turkish uprising a lot of the Greeks fled the country. My mum fled the country with her sister and ended up in Malta where my dad met her, or she met my dad, and after several meets he then brought her back to England. He then married her in Portsmouth.
"My mum had married previously. Her husband then was missing presumed dead in the Greek war so they had to wait a nine year period before they could marry, my mum who already had a daughter.
"They then had five children, five boys, myself being the youngest; and I was born on VE Day.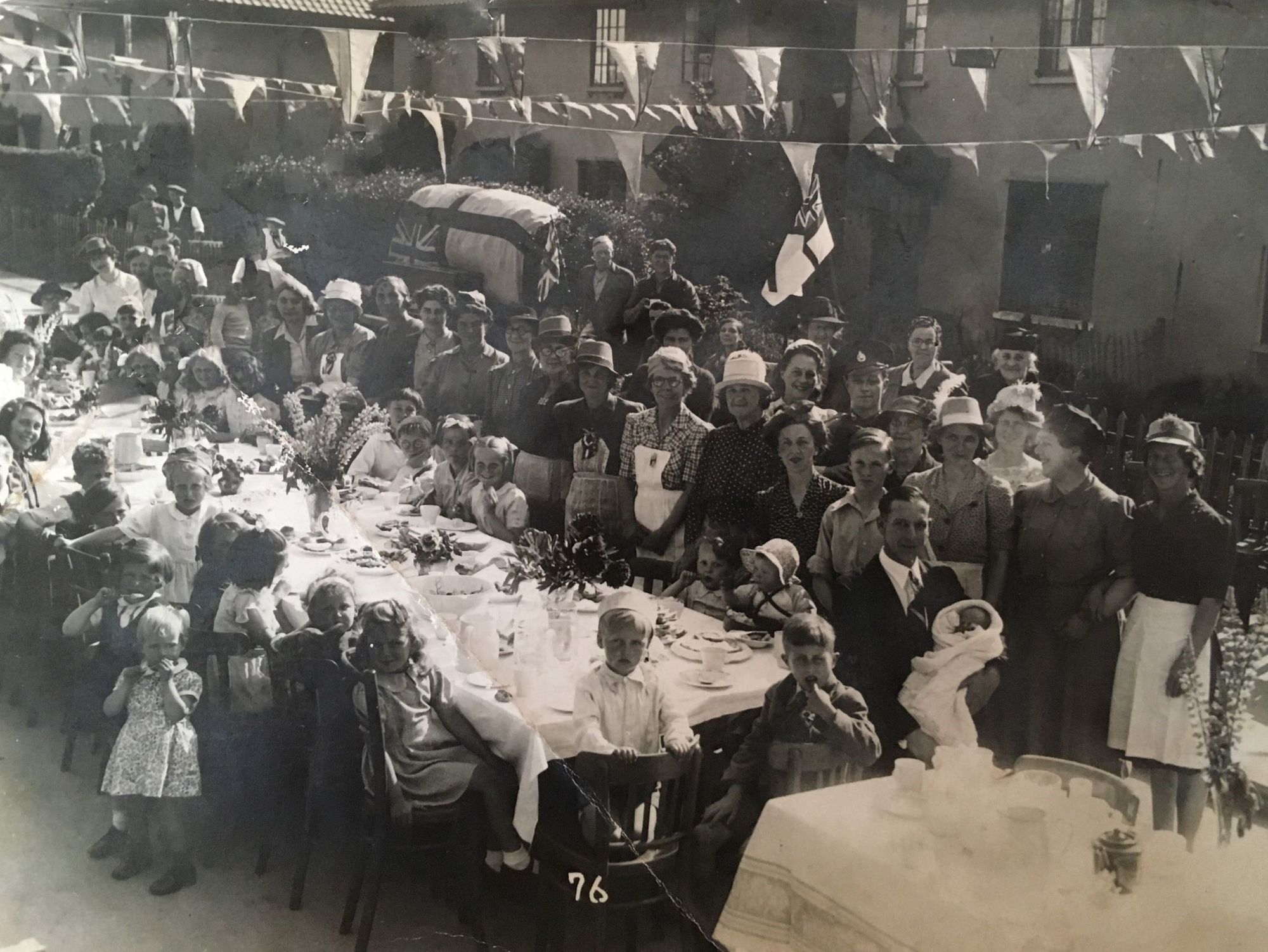 "The midwife in them days was a nurse Fisher who was very well known in Gosport. Nurse Fisher had apparently brought hundreds and hundreds of children into the world around the Gosport area. She said to my mum because I was born on VE Day that I had to be named VE Knight my surname being Knight so hence the name that I've got, Victor Edward Knight, is really due to Nurse Fisher."
Vic Knight
The party continues
Following the main celebrations, further events continued to be held around the country. In Eastleigh, a 'Victory Walk' and athletics events took place in September 1945 and the following year parades were held in June to commemorate the service of the Commonwealth forces.
Video footage of the walk can be viewed here courtesy of Wessex Film & Sound Archive.
A time for reflection
Celebrations were a reminder of those lost. 264,433 members of the armed forces had been killed and some had relatives who were still fighting overseas or prisoners of war.
Betty Wright remembers that: "Amid all of the celebrations there were people who were grieving. Frederick Light who lived at 123 Paxton Road was the boyfriend of a friend of mine Brenda Smith."
[Frederick Light. Marine PO/X 11083, was a crew member of H.M Landing Craft Gun (L) 15. On 25th April 1943 the vessel sank off St Ann's Head on way to Milford Haven. They all drowned.]
"We knew one family who were friends of my parents and the husband was a prisoner of the Japanese. Another family, who lodged with a Mr Bannell next door to us were grieving over the loss of a husband in Singapore.
"So in Paxton Road we had a bereaved sweetheart, somebody in Singapore missing presumed dead and another a prisoner of the Japanese."
These families "were looking at people rejoicing at a Street Party but how could they rejoice?"
Betty Wright
Back from the dead
"Lodging with Mr Bannell at 18 Paxton Road was a lady who had come home from Singapore when it fell, with her young children. But her husband was unable to come with her. She was lodging with her sister.
"Whilst the war was still on, I remember Mr Bannell came out in the garden and stood with his hands on the fence, looked at me and said, 'Walter's gone Betty'; Walter being the woman's husband. So at the end of the war she was a widow, and not able to celebrate VE Day.
"However, when the war ended, where he emerged from nobody knows, she received the news that she was not a widow and that he was alive. The local council got them a home in Highfield Avenue. He was a very damaged man by the experience however."
Betty Knight

Sometimes you have to be lucky
"Albert Road in Gosport took a hit. I lived there with mum and dad. They got married in Portsmouth and moved over to Gosport. And then we moved up to Highcliffe Road and that house got hit. The pair of them were just flattened. We moved at quite a good time really.
"I always remember when a part of fuselage came off a German plane that had been hit and a lump had come down and crashed through our roof and landed on my sister's bed. She would not get out of bed but at the last minute my father dragged her out to get her down into the air raid shelter. When they went back in, they could see she would not be here today if he hadn't have dragged her out.
"A big bit of the fuselage also landed on our hedge which was round the front garden quite near the air raid shelter. There was pictures of it in the daily paper. What a near miss it was for us."
Charlie Knight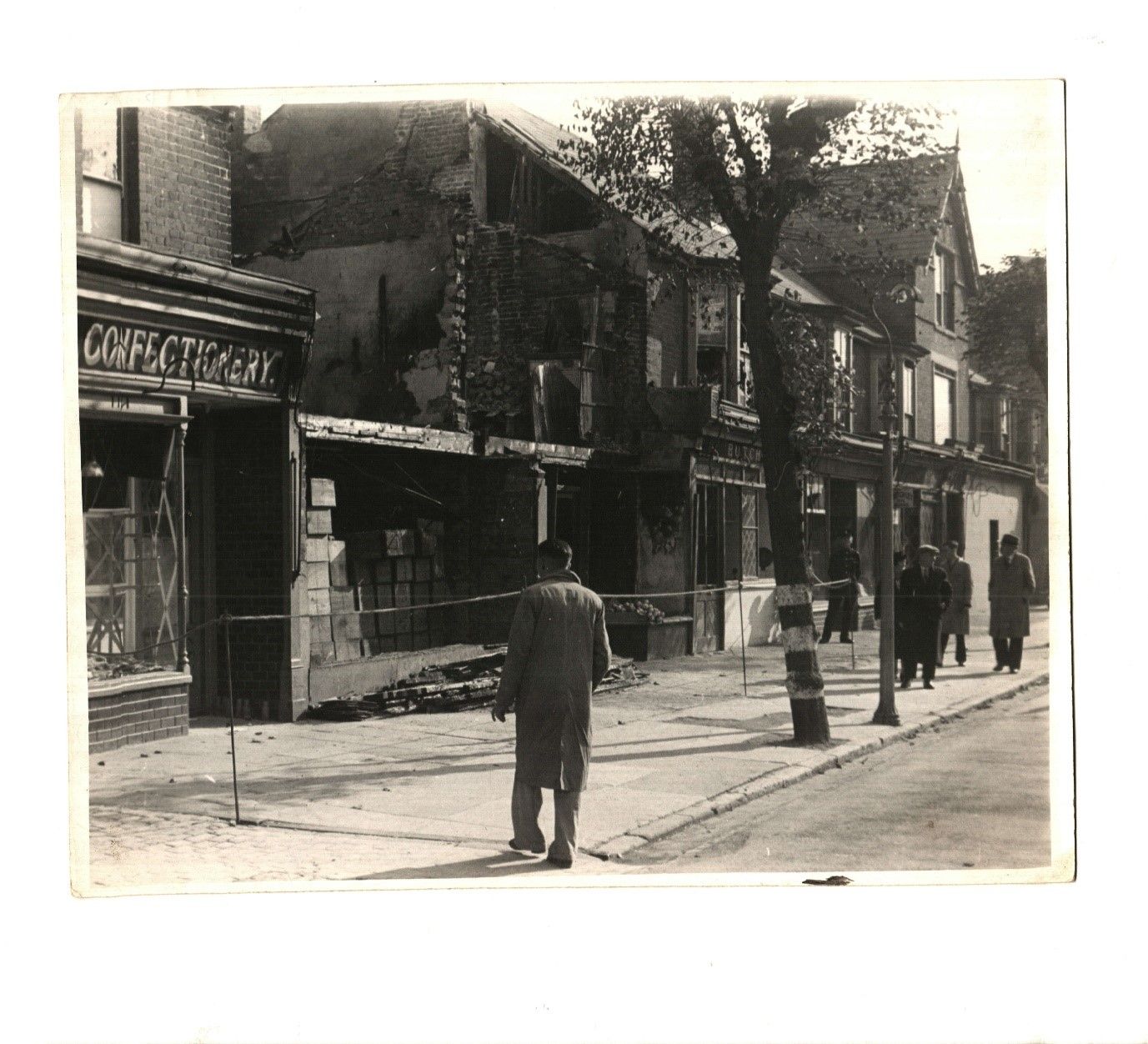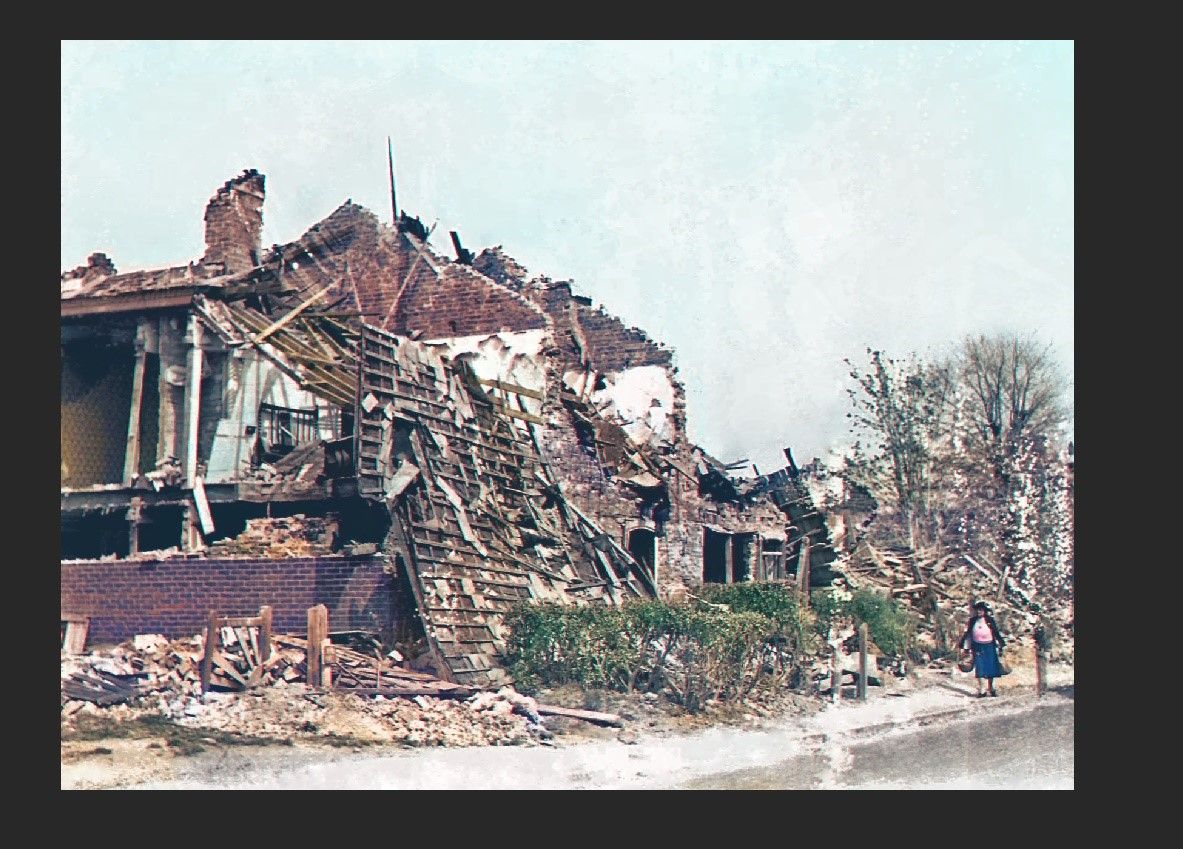 What was life like after VE Day and did anything change?
"Not really. I suppose when you look back, but you don't look back all the time do you, you look forward. I can't recall anything being totally different.
"People were more joyful. The pressure had gone, the pressure of the war, you could have been bombed or killed that day or that night. It was just like a relief valve really."
Charlie Knight
"I remember I was born a year after the war had ended but my mother was pregnant after the war and was rationed to one banana a week and the only one in the family (to have one on ration) and that was because she was pregnant. Everybody used to complain why can't we have more food.
"We only saw bananas and oranges at Christmas."
Pat Knight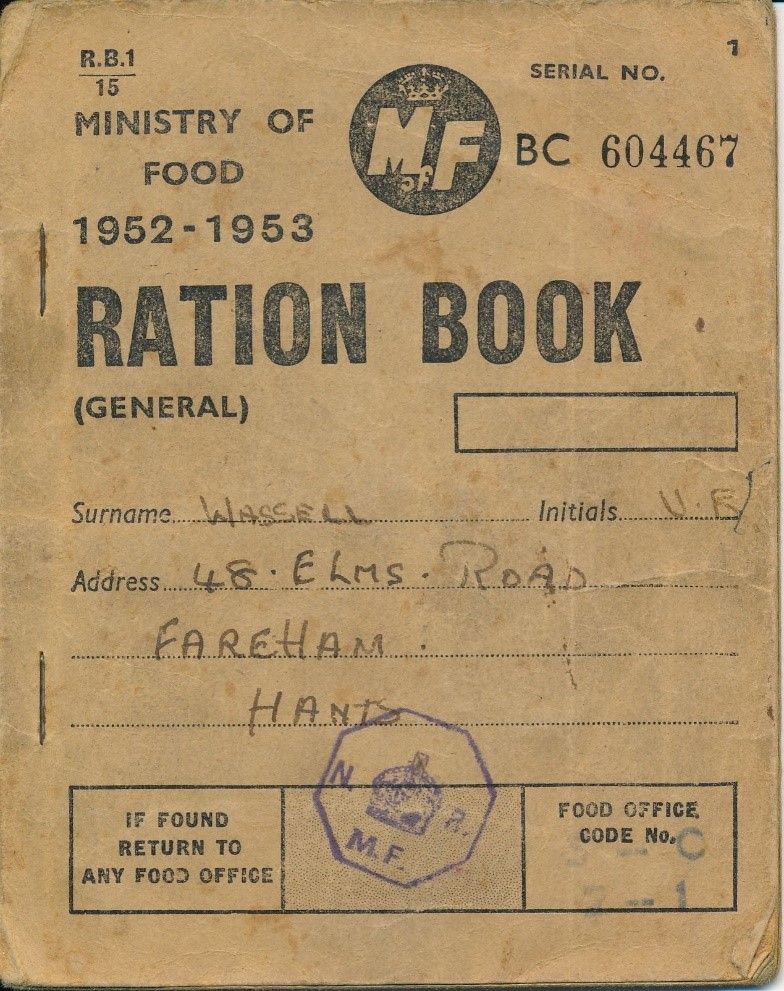 "Not really as we were still rationed. There was still that need for carefulness and consideration. In 1950 I went to Germany. I got married and went to join my husband who was a NAAFI manager. We were served by NAAFI and the amount of food we had was mind boggling. I used to write to my mother every week and saying to her that I wish I could send her a joint of meat home. We had deliveries twice a week and the size of the joints was huge for just the two of us."
Betty Wright
"But when you think that they had to rebuild the whole country basically you can understand why things were rationed."
Pat Knight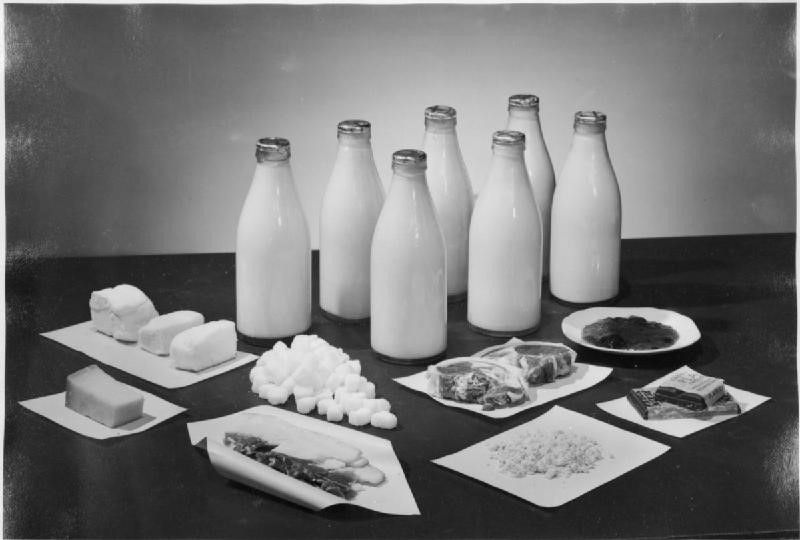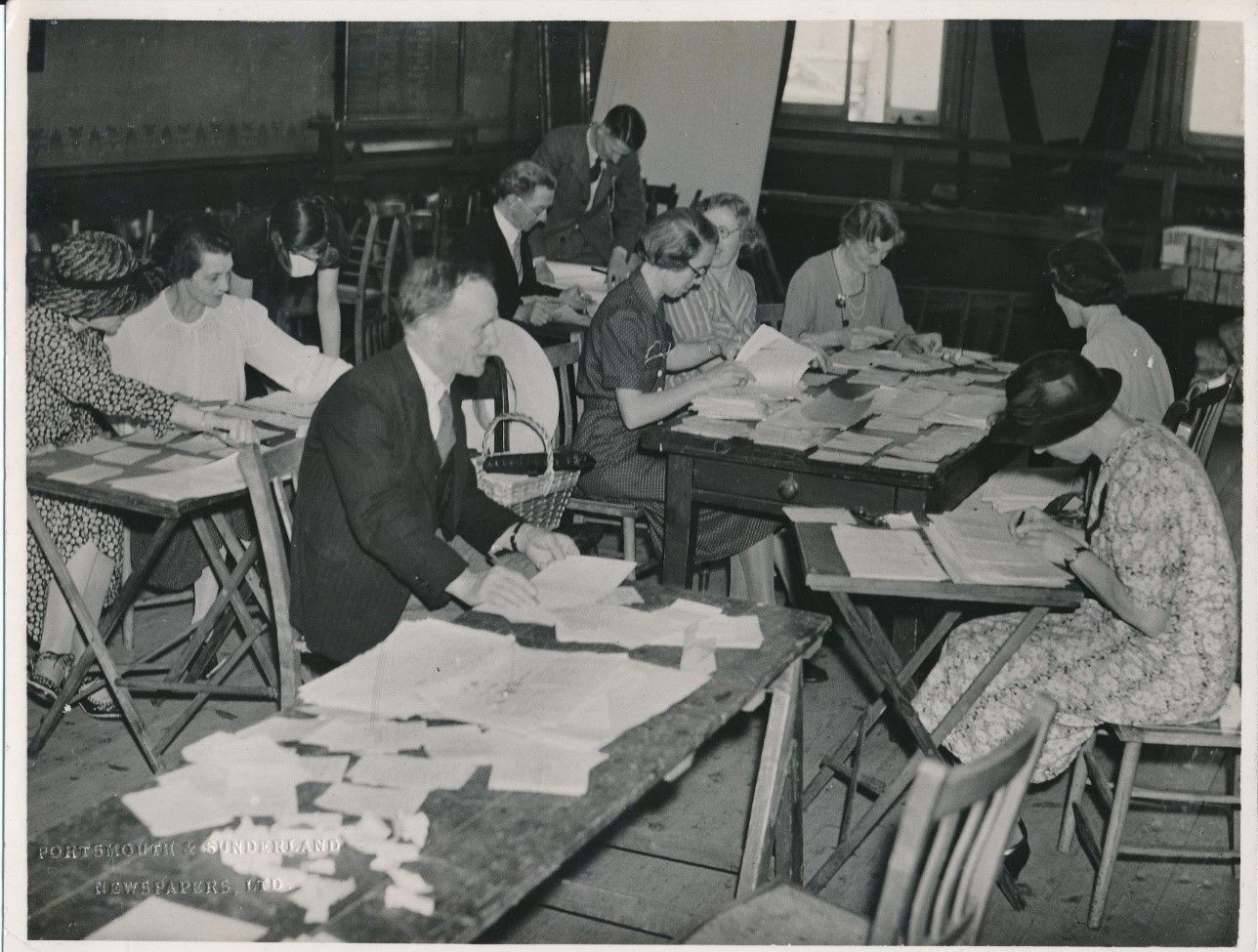 A sense of disappointment?
"I think we wondered why on earth it was still necessary to be rationed. We didn't understand the whole reason for it. Somethings did go on for quite a long time being rationed. In 1950 there was still the meat ration. Sweet rationing went on until 1953."
After the war, Betty moved to Germany with her husband who was a NAAFI manager
"I can remember sending home a parcel to relations who lived in Gordon Road Fareham, they had four young children. I could buy in Germany in the British Zone where we were. I was able to go out Christmas 1950 and buy little trinkets and delicacies and make up a parcel for these four children in Gordon Road. When their mother wrote to me, one of the little girls who could write had written… 'I took it to school to show my teacher and she said she had never seen such lovely things.'
"At Christmas 1951 I was actually sending dried fruit home to my mother and I can remember her writing saying that it was the first time she made such a rich fruit cake for years and I think I have burnt it a little bit."
Betty Wright
---
If you have enjoyed Culture on Call and you are able to make a donation, any support you can give will help us keep people connected.