In a three part serialisation, Hampshire Wardrobe's Havva Buckles discusses women wearing clothing originally designed for men, from the 19th century to wartime Britain and beyond. You can read part one here and part two here.
Part Three
Working in factories doing what was considered to be "a man's job", women needed practical and safe clothing that wouldn't get caught in machinery. Many women wore their husbands' clothing initially, but soon trousers were made with women in mind (with side zips for modesty!) It didn't take too long for women to adopt these into everyday lives.
The end of the war brought men back to their pre-war jobs, and women were meant to assume previous roles and duties at home. To entice and, (one would imagine) placate women back in their homes, many new kitchen gadgets were invented. Fashions changed dramatically and colourful clothing in feminine colours and fabrics were in demand. Skirts were voluminous, waists nipped in and the rocket bosom was prominent! The 40's and 50's saw the emergence of the teenager and with this came its own subcultures.  The Teddy Girls were the antithesis of what their mothers had become. Again, young women were resisting conformation to the standards being pushed upon them by yet another patriarchal society. Teddy girls wore rolled up jeans and trousers as their uniform, with jackets, shirts and ties, or scarves and flat shoes. Despite the Edwardian upper class clothes they wore, "the Teds" were a subculture born within the working class communities, as a push back from the austerity of Post War Britain.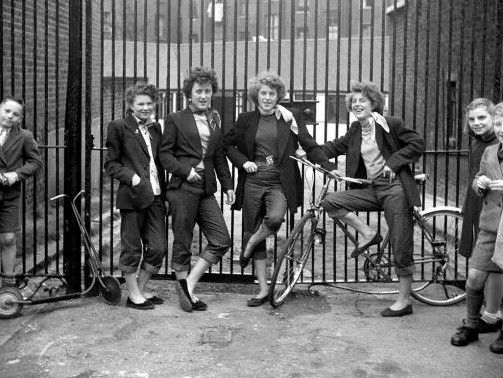 From the late 50's onwards, women were much freer to dress how they wanted to. With teenagers growing up in a more fluid and acceptable society, women were able to express themselves through dress. The sixties bought a more androgynous look which continued in varying degrees up until the 1980's.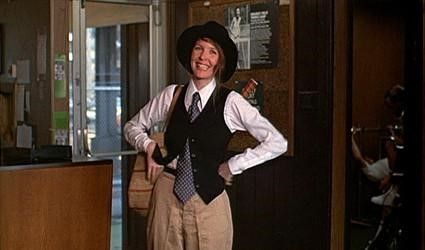 The 1980's was all about the power suit (welcome back, shoulder pads!) Women felt the need to take the focus away from their gender, and to be treated as an equal in the workplace. Margaret Thatcher always wore a suit quoting that she was in a "man's world and had to look the part."
Nowadays we are lucky enough to be living in a western society where we can wear masculine clothes without fear of punishment, yet when a well-known model wears a suit and top hat to a wedding, the media still questions her choice. We obviously still have a way to go!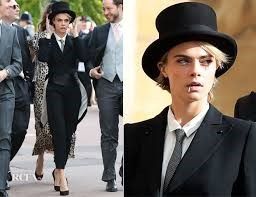 ---
If you have enjoyed Culture on Call and you are able to make a donation, any support you can give will help us keep people connected.