Preparations have started to get the Gosport Gallery and SEARCH building ready for building work to begin to create Gosport Museum and Gallery. Much of the furniture and many of the resources will not be required when the building re-opens. Although the items no longer required had been well used for almost 30 years there was still some life in them. The Gosport team took up the challenge to recycle, rehome, or repurpose as much as they could.
The Geology Gallery was dismantled to create way for new museum displays. Large glass panels from the display cases were offered to a local glazier. The glass was perfect for recycling and cutting down for reuse. Whilst clearing out cupboards eight boxes of out of date headed paper and leaflets were discovered. These were taken to a paper plant for recycling. Technical equipment such as old keyboards and laptops were also taken to a local IT centre for recycling.
There was a large number of tables, chairs, and stools, previously used in the learning spaces, which needed to be rehomed. The local community responded very quickly to the opportunity. A local primary school rehomed 105 stools and 12 large tables for activities to be delivered outside of the classroom. Ninety plastic chairs were taken by a charity to be sent to a school in Africa where classroom furniture is much needed.
A small number of stools were rehomed by a lady who needed them for her family to sit at the bedside of her husband who was terminally ill. As space was limited, the stools were just right to ensure the family could be together during the last days of their loved one.
Tables were also rehomed by Elson Community Hub, a young person for studying at home, a maker for a sewing table, and for use in a stable. Office and comfy chairs found new homes with Gosport community organisations and charities.
A new charity shop is being opened in Gosport and this was the ideal place to rehome display and storage units, workbenches, a till, clothes stand and books.
Two display heads are now being used by a hairdressing student to practice hair styling. Unwanted microscopes were rehomed with home educating families to enhance learning.
Repurposing items for use in a pop-up exhibition space gave the team an opportunity to think creatively about the items no longer needed. Old suitcases and hat boxes were turned into interesting display units. Wooden lecterns, previously used for information booklets, had fabric pads added to them for displaying jewellery. Wooden feely boxes and a butlers sink have been repurposed to create planters on an allotment.
With a change in the education sessions being planned for Gosport Museum and Art Gallery when it reopens, a large number of items previously used for handling activities, were no longer needed. These were offered to other venues within Hampshire Cultural Trust and other heritage organisations. Items were taken for use at Milestones Museum, Westbury Manor Museum, The New Forest Museum, and The Army Flying Museum. The Memory Box Project run by Wessex Heritage Trust welcomed the opportunity to rehome generic 1950s household items for use in Reminiscence sessions. Items for reminiscence work were also taken by Museums and More to be used with people with dementia. Creative History and Pedlars and Petticoats, who both bring history to life through performance and storytelling, rehomed items from the handling collection to enhance the service they deliver for schools and families.
After a week of recycling, rehoming, and repurposing the Gosport building is almost empty and ready for its makeover to begin. The Gosport team were surprised by the small amount that they had to throw away but still ensured the skip created a talking point while it was waiting to be collected.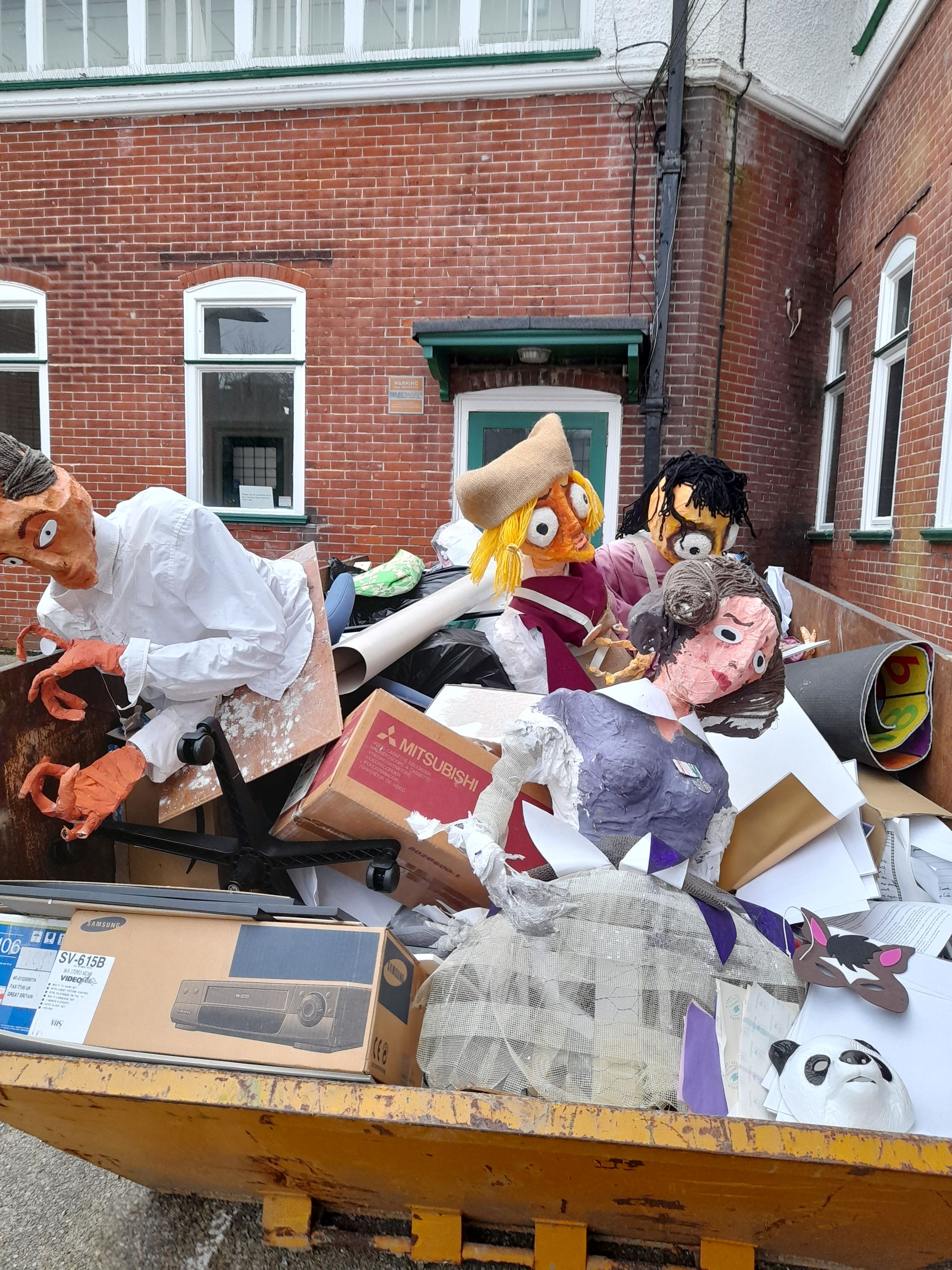 ---