This half term, Hampshire Cultural Trust arts centres are celebrating and encouraging you to get involved with Random Acts of Kindness Week!
Random Acts of Kindness Week is all about appreciating the kindness you've seen other people demonstrate and getting you thinking about how you can show kindness to others. Throughout the week, we'll be posting three kindness themed activities for you and the kids to try at home...
💐 Give the gift of kindness
Give the gift of kindness to your neighbours, friends, grandparents or teachers! Forest Arts Centre tutor, Emily Glen talks us through how to make a beautiful paper flower bouquet out of newspaper or junk mail...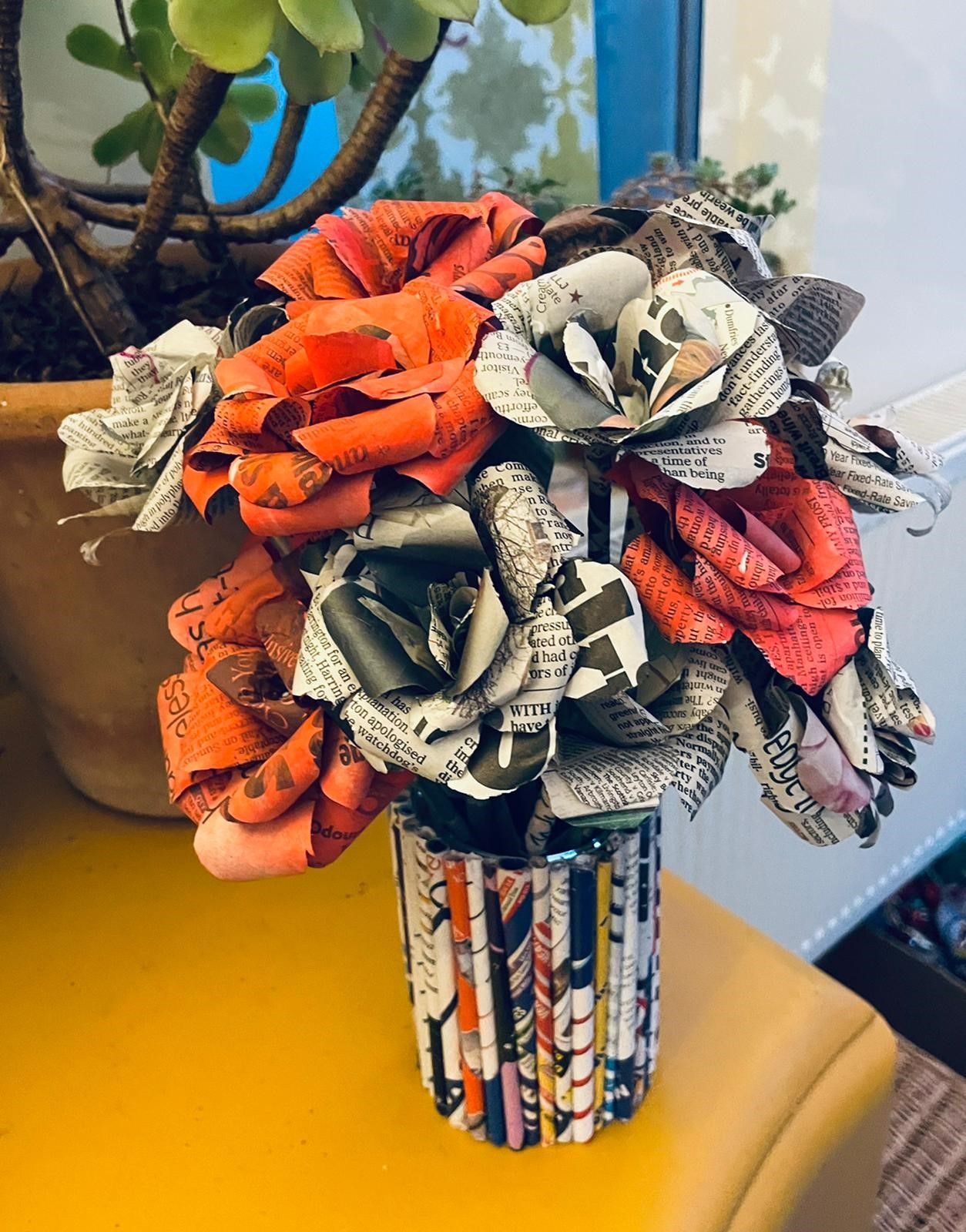 You will need:
Paper (newspaper, magazine, junk mail, wrapping paper etc.)
Glue (PVA or glue sticks are best)
A thin stick, pencil or reasonably straight twig
Scissors
Paint (optional)
Instructions:
Step one: Take four pieces of paper and cut a square - a good size is about 15cm x 15cm but it doesn't have to be exact.
Step two: Fold your paper diagonally three times.
Step three: Draw a semi circle on your folded paper and cut.
Optional step four: If you're going to paint your flowers, now is the time to do it - paint each side, waiting for one side to dry before painting the other. If you're in a hurry, you can use a hair dryer to speed up the drying process.
Step five: Cut one teardrop segment out of the first flower shape, then two segments on the next piece and so on. Don't forget to keep the pieces you cut off as we will use them too!
Step six: Grab a cocktail stick, pencil or something similar to curl the edges of your petals.
Step seven: Insert all of your flower shapes inside each other, using a small amount of glue to keep them together.
Step eight: Cut out a rectangle of paper (slightly bigger than the squares you cut for your flower) .
Step nine: Roll the paper around a small stick, starting from the corner of the paper. Add some glue to the last corner to secure your stem. Slide your stem off the stick.
Optional step ten: If you're going to paint your stem, now is the time to do it. You can also paint any leftover teardrop shapes to use as leaves.
Step eleven: Cut a small hole in the underside of your flower (you may want to use your stick to open up the hole). Add some glue to the end of your stem and insert into the hole. Gently pinch around the base to allow the glue to stick.
Step twelve: Repeat the steps to create and make some more flowers!
Once you're done, bunch them up and give them to someone to brighten their day 💐
If you want to share what you make this week, tag Forest Arts Centre on Facebook, Instagram or Twitter.
Random Acts of Kindness Top Pick:
The Forest Arts team also love the idea of making a kindness calendar. Each day write something you will do to spread kindness, maybe to yourself, someone you live with or a random stranger. Visit the Random Acts of Kindness website for more information.
Think about what your favourite activity or way to show kindness is?
---
If you have enjoyed Culture on Call and you are able to make a donation, please click the link below. Any support you can give will help us keep communities connected to culture in these difficult times.