When asked about his motivation behind brewing beers under the banner of Bowman Ales Ltd for nearly 16 years and counting, Martin Roberts tells it like it is…
"I like drinking!" the co-founder/director of the Droxford-based micro-brewery laughs, while taking a quick break from his busiest brewing cycle of the year. "In all seriousness, the passion is still there after all these years and it's a thing you do for love, not for money.
"There's always a quest for the perfect pint, and to be honest with our beers we come really close."
You might think those are bold words coming from Martin – considering how competitive Hampshire's beer industry has become over the last few years – but there's a reason Bowman Ales are the headline brewery for the long-awaited return of the Ashcroft Arts Centre Summer Ale Festival, taking place on Saturday 13 August.
"I go [to Ashcroft Arts Centre] quite a lot to see live music and it's just so nice to be associated with such a seriously good place and with the Summer Ale Festival. Events like these keep our flag raised up on the flagpole, so it's definitely worthwhile."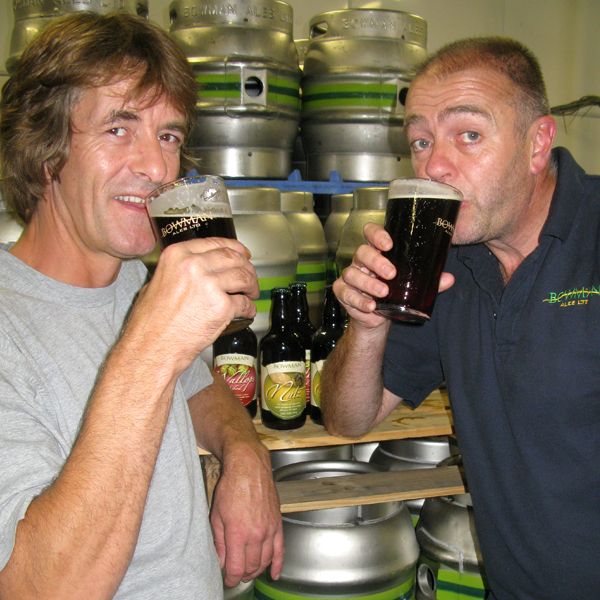 Martin, along with business partner Ray Page, founded Bowman Ales Ltd in Droxford on December 22, 2006 – which also happened to be Martin's birthday. Their first brew, a golden ale christened Swift One, remains their flagship beer today.
"It was a little bit different and exciting," Martin recalls of Bowman's early days. "Even though we had 13 and a half years of brewing experience before [founding Bowman Ales], we were in a different plant using different machinery and it was a bit of a learning curve."
Martin says that he and his team have "worked bloody hard since 2006", investing in expanding the brewery into a bigger plant over the years, and that their efforts have paid off in a post-pandemic environment.
Their hard work has also been rewarded in the form of awards from the likes of the Society of Independent Brewers (SIBA) and the Campaign for Real Ale (CAMRA).
"You have to really concentrate on continuity," Martin says of the ethos behind Bowman Ales' brewing process – from the accurate weighing of ingredients to maintaining consistent process timings. "[Members of] the drinking public are quite discerning and they'll pick up on any differences in each brew, so it's all about attention to detail.
"Another great part of the brewing process is hygiene – we put a lot of time and effort in on that side of things and you have to be incredibly careful, because what is the point of chucking out bad beer?"

Bowman Ales are already a mainstay of the bar at Ashcroft Arts Centre, which is regularly stocked with bottles of the brewery's flagship beers, including Swift One and their Wallops Wood ruby beer.
We'll also be serving three cask ales from Bowman Ales during the Summer Ale Festival to showcase the breadth of their brewing expertise:
Quiver Bitter: a glorious golden beer with a wonderful mown grass aroma, full of complex flavours, including a tiny amount of caramel.
Martin says: "We've been brewing Quiver Bitter since 2007 – it's a rich, creamier bitter and it's really quite hoppy, but it's a rounded hoppiness."
British IPA: a single-hop IPA with apricot and citrus flavours, made with Old English Ernest hops.
Martin says: "Way back in the 1920s, Wye College bred this hop and when they put it in front of the hop board to be evaluated, they said, 'Oh God no, it's like one of those coarse American hops!' – so it was put on the back burner.
"It really is a lovely hop to use and there's a very small acreage of it grown each year, but now of course people want that more aggressive bittering along the lines of American IPAs."
Elderado: a fine, light beer with a subtle injection of elderflower. Unlike some other brews of this type, there is no heavy floral scent, but more of the tiniest hint of this spring bloom.
Martin says: "It's a perfect beer to drink during the summer, and we forage our own elderflower to create Elderado. It takes a whole day of picking to get enough elderflower for one brew and you get pollen all over your fingers – it looks you've smoked 200 cigarettes in a day by the end of it!"
When asked what advice he would give to beer-lovers looking to start their own quest in brewing, Martin hasn't lost sight of why he started on the same path: "Do it for love."

Ashcroft Arts Centre Summer Ale Festival takes place on Saturday 13 August at Ashcroft Arts Centre, Fareham across two sessions: the day session will run from 12:00pm – 4:00pm while the evening session will run from 6:00pm – 10:00pm.
We will be serving a specially curated selection of 20 local beers and ciders, as well as firm festival food favourites from JJ's Street Food. We also have live music throughout the day, from high-energy rock 'n' roll to rootsy, foot-stomping blues.
Tickets are just £7 per session, plus you can order six tasting tokens either in advance or on the door for £10. One tasting token will buy you one half-pint of beer or cider, giving you great value for money at just £3.33 per pint! Click below to book your tickets and tasting tokens:
---