Kathy Mason is a teacher at 318 Ceramics and West Street Potters as well as a community artist and maker, specialising in hand building and raku firing. She is a founder member of The Farnham Pottery Trust, working alongside Ashley Howard, Tony Cohen and Ann Watson whose aim was to secure the unique buildings and ceramics legacy of the Farnham Pottery. Graduating from West Surrey College of Art and Design now U.C.A. with a BA (Hons) in 3.D. Design Ceramics, Kathy also has worked with local schools on projects as well as taking on private commissions and she values clay and fire as dynamic tools to energise people's creative spark.
Kathy has been instrumental in supporting the Ceramic leaf appeal at the Allen Gallery which is raising funds to support the upcoming redevelopment of the Allen Gallery and redisplay of the nationally significant ceramics collection held there. Kathy has support students from 318 Ceramics and West Street Potters to create unique ceramic leaves which can be donated to support the fundraising appeal.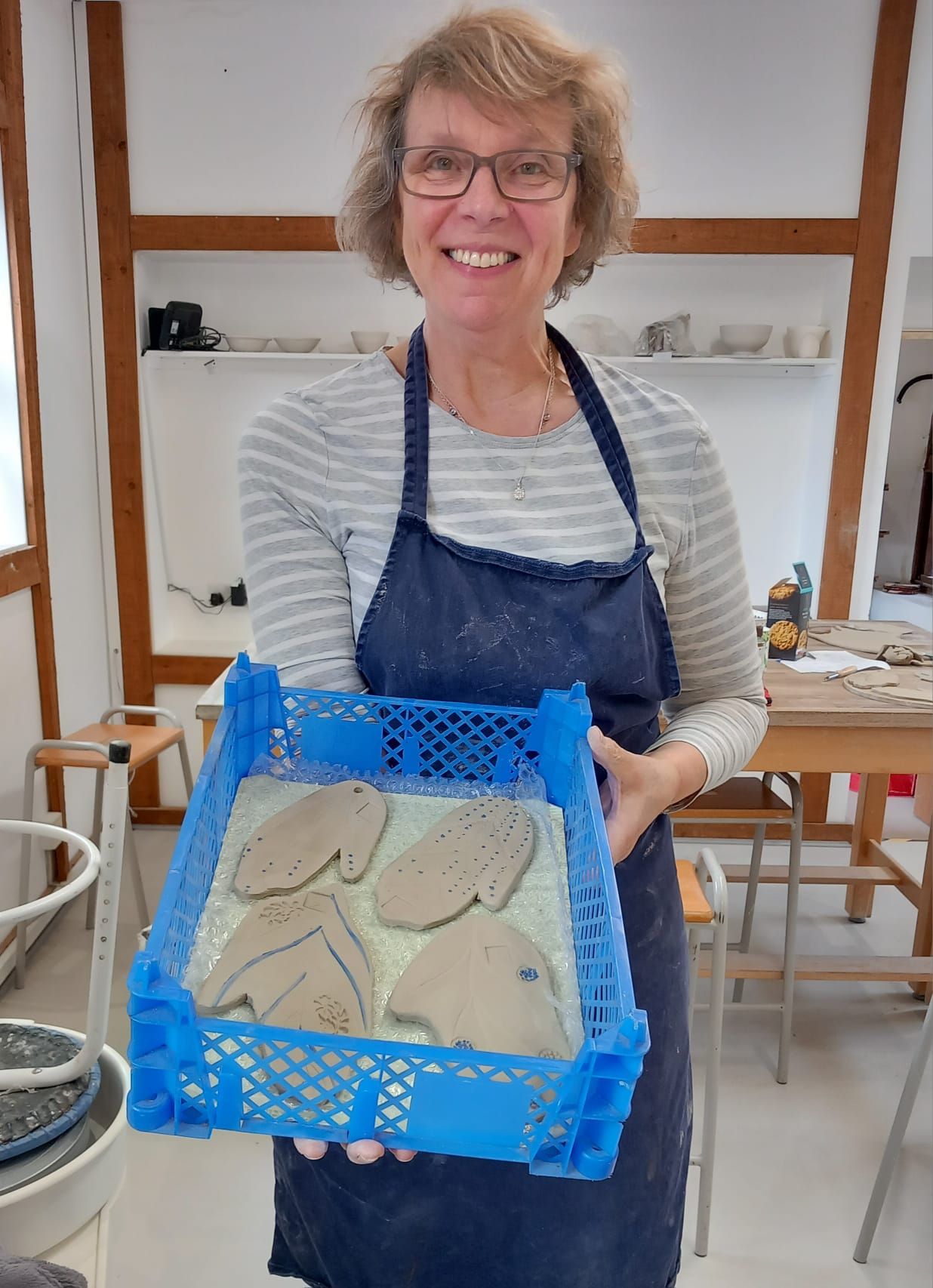 We spoke to Kathy to find out more about her career and working with the Allen Gallery.
What inspired you to become a ceramicist?

I have always been creative, drawing, painting and making things as a child. In secondary school, my best friend took a year out the visit the USA. I didn't have anyone else to hang out with so at school break times I would visit the art and pottery department. The pottery teacher Mr. Evans kindly suggested I develop my potters' skills by making things. And to this day I haven't stopped.
Why is working with clay important to you?

It's in the nature of the material. It can be so many things, soft, gritty, fluid and tactile, and so inspiring for ideas no matter how bold or delicate you want to be. Rather like a dance.
Why do you think it's important to have ceramics in our lives today?

Ceramics gives us a connection to the past through objects, building materials as well as finer qualities to make teeth and prosthetics. It's also a way of self-expression and developing our motor skills, hand crafted objects that make you think, feel and celebrate the world around us. We need to value what we have and be mindful how we source and mine these varied materials, some bountiful others quite rare.
What would you say to others if they wanted to start exploring more with clay?

We are fortunate that the Hampshire/Surrey area is blessed with a strong ceramics heritage due to the Weald clay deposit that runs from Hampshire through Surrey and across to Kent. There are many organisations that offer ceramics classes including 318 Ceramics, West Street Potters, Adult education, and the Maltings in Farnham. Check out local potters, they also run classes. Also, the internet hosts many potters and enthusiast who share ideas and techniques.

Is the Allen Gallery important to you, and if so, why?

It's local to me and hosts a truly inspiring ceramic collection, along with exhibitions of paintings and photography. It has a magical garden, a sweet café, you can escape to a quiet haven and get re fuelled with coffee and cake as well as creative inspiration. It will help you appreciate the ceramics and artworks you have at home no matter how humble.
What has been your favourite part about creating your leaf/leaves?
Exploring ideas and getting to know the Allen Gallery and its staff and volunteers.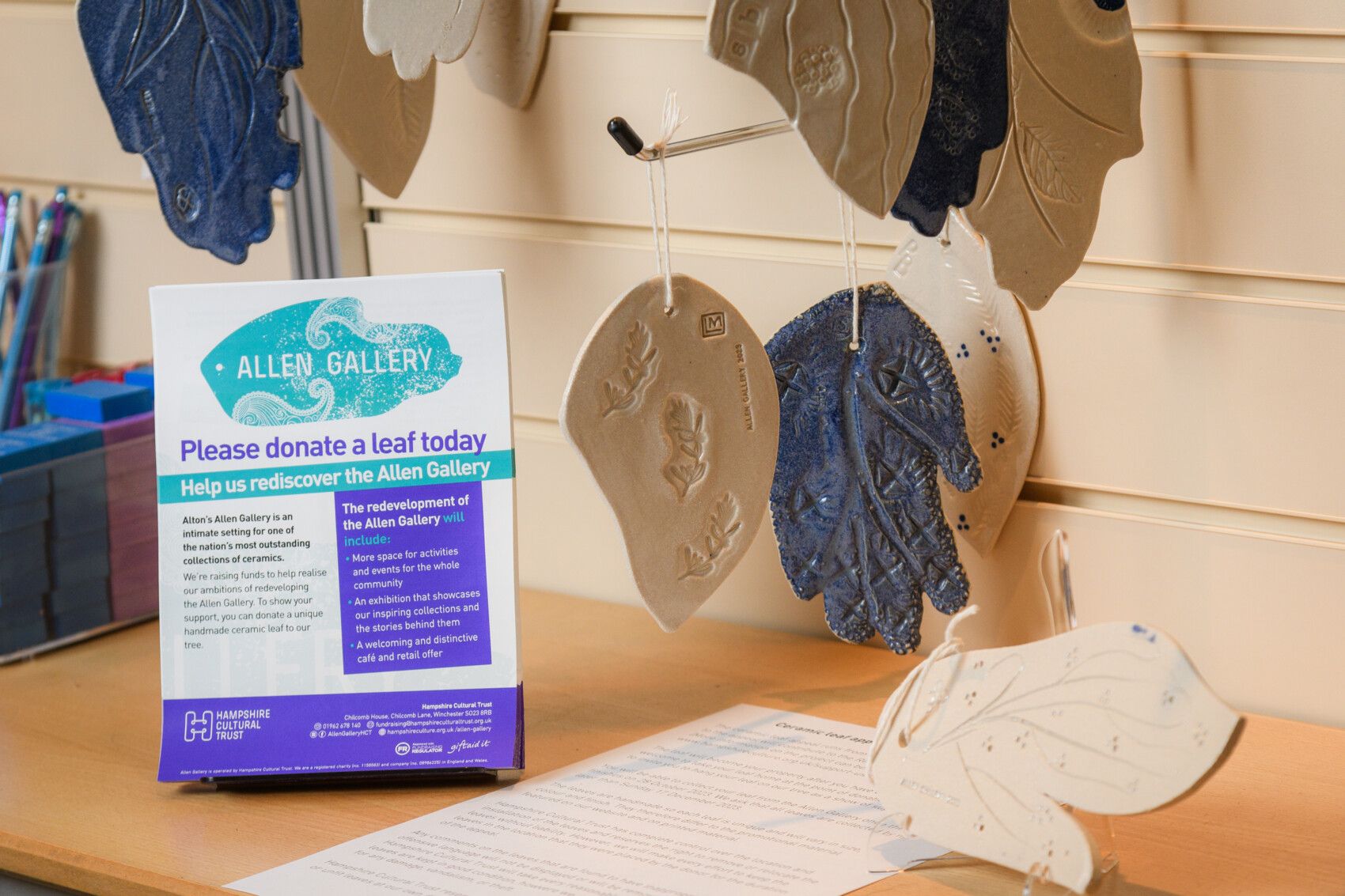 To find out more about the Allen Gallery, its future plans and the ceramic leaf appeal, click here.
---