Our Community Programme Coordinators, Amy (Ashcroft Arts Centre), Jasmine (Forest Arts Centre) and Alana (West End Centre), have come together to offer some New Year's resolutions that focus on personal growth and wellbeing — something we hope will many take time for in the New Year. In light of this focus, the trio have provided their Spring 2022 top picks from our arts centres' programmes with a few categories in mind.
---
Ashcroft Arts Centre, Fareham
Classic Skills: Exploring Pottery, Tuesday 1 March or 5 April, 10am – 12.30pm
"I'm sure we all remember building mini sculptures or vessels from playdough or clay as a child and it's one of those things we may not find time to do as adults. The Exploring Pottery workshops are a perfect opportunity to come and have a play, while learning core skills on the wheel and hand building techniques to create something lovely!"
Programmer Pick: Portrait of a Woman, Tuesday 8 March, 6pm – 9pm
"I can't wait for this workshop! Specifically programmed for International Women's Day, it's going to be a great opportunity to get creative while recognising women you find inspiring or look up to."
In this workshop you'll explore ways to celebrate women through portraiture and creativity. Choosing a woman who inspires and motivates you, you will create a portrait using mixed media, incorporating quotes and using a varied range of materials.
Wild Card: Felt Jewellery Making, Wednesday 16 February, 9.30am – 3.30pm
"Felt might not be the material you traditionally think of when it comes to jewellery making, but you can make some beautiful wearable creations by wet felting merino fibres. Sarah has been teaching felt at Ashcroft Arts Centre for many years now and I'm sure you'll find the workshop fun and informative!"
Whether you would like to make beads for a bracelet, a statement necklace or even learn how to connect loops together, Sarah will guide you each step of the way. Suitable for beginners and the more advanced felter, you will learn how to design, measure and size your work to achieve great results as you use soft, fine, coloured merino fibres.
---
Forest Arts Centre, New Milton
Classic Skills: Aromatherapy Candles, Thursday 21 April, 6pm - 8pm
"I think everyone has tried candle making in their kitchen at least once. I have, and I made a mess, but I loved it! This workshop will be relaxed and fun (and we get all the mess!) Who knows, you might get the candle-making bug!"
In this workshop, you will create your own vegan-friendly poured candles using all natural soy wax, complimented by jam jars, vintage tea cups and more. You'll learn how to blend essential oils and scents to create a harmonious mix that's tailored just for you.
Programmer Pick: Inspired by Nature Silver Clay Workshop, Friday 25 March, 10am - 5pm
'This workshop I am really excited about! This summer, my mum attended one of Grainne's workshops and loved it. She came home really excited about her new skill and she has now started making jewellery regularly as a hobby. My mum made me a really special piece of jewellery during Grainne's workshop, made from a leaf from a love ones memorial tree who sadly passed away this year. It's such a special gift I will treasure always - and it's made by my mum!
This workshop is programmed just before Mother's Day, so I hope people will come along and make something really special, like my mum did for me, or maybe pick up a new hobby. You can see my willow leaf being made in the images below."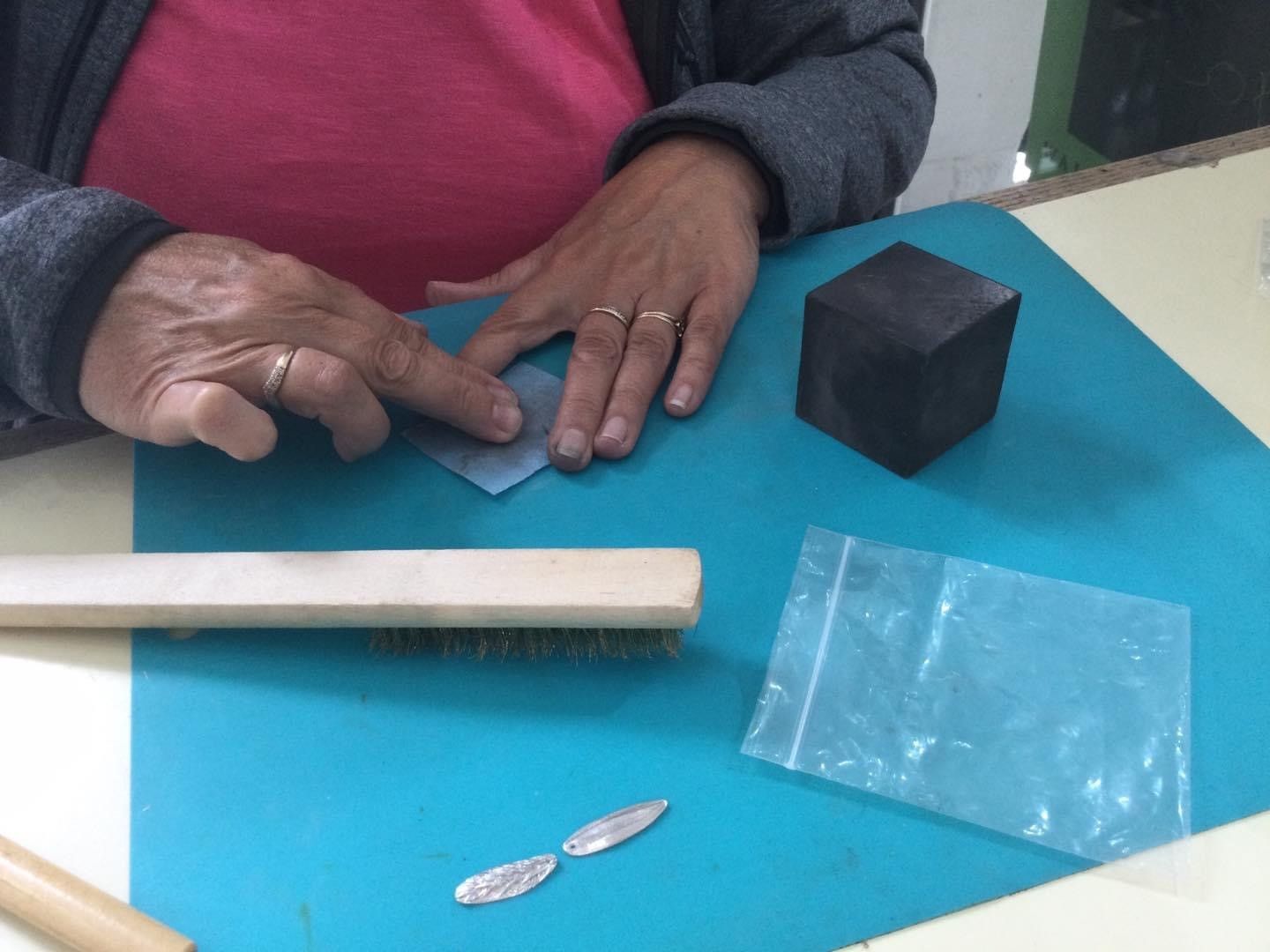 Wild Card: Divine Feminine Art Workshop, Saturday 12 March, 10am - 1pm
"This workshop is most definitely for those who don't mind venturing out of their comfort zone! Programmed specifically for International Women's Day, this workshop is designed to focus on overall wellbeing through art and creative practice."
Connect with the divine feminine and your inner goddess as you're guided through a series of meditations, embarking on a journey to reconnect with your true nature and divinity. Express yourself through colour and mark making; the three pieces of art you produce will act as keys, doorways to new consciousness and your sacred self.
Move Your Body, Move Your Mind with Forest Arts Centre
We think it deserves special mention that Forest Arts Centre puts great effort into their wellbeing courses the whole year round. With specialised dance classes, from Tap to Parkinson's Dance, Wellness Walks, Gentle and Chair Based Yoga, Balance workshops for the over 65s and much more, Forest Arts strongly supports the principle that exercise is more than just for physical health - it's for mental health, too. Exercise is proven to help us mentally due to the release of endorphins and in dance, the mind is also moved, due to having to remember steps, patterns, directions - it can be a real brain teaser!
---
West End Centre
Classic Skills: Westy Drama Groups
Youth Theatre: Monday 10 January - 4 April
Ages 8 - 12, 5pm - 6.30pm
Ages 13 - 17, 7pm - 9pm
Adult Drama – Tuesday 11 January - 5 April, 8.15pm - 10.15pm
"Drama is such a fun and creative way to build your confidence and resilience, develop your skills and make new friends. Here at the Westy, we have groups for all ages to meet weekly and create a safe environment in which to test things out, examine situations and strengthen your sense of identity. Our groups also work together to create performances on the Westy stage!"
Our drama tutor, Bekki Budd, has a whole load of games, drama exercises, and activities designed to help establish trust, unlock creativity, build confidence, and have fun doing so!
Programmer Pick: Women's Words, Tuesday 8 March, 7pm – 9pm
"Whether you are a complete novice or an experienced writer, this creative writing workshop is sure to inspire! I am so excited to host this workshop, amongst other great workshops during International Women's Week."
Visionaries, perceptive social commentators, pioneers, great wits – female writers have for centuries been made to play second fiddle to men, sometimes even having to pretend to be men in order to be published! But that is changing, with the past 30 years seeing more women win major prizes than ever before. Join Stella Wiseman in this writing workshop and draw inspiration from some of the great women writers for your own creative work.
Wild Card: English for Speakers of Other Languages, Mondays 10 January - 4 April, 10.15am – 12.15pm
"This group is welcoming and friendly and has a real sense of warmth, which really helps with learning, as well as improving self-esteem and well-being. I'd really recommend joining if you are looking to boost your confidence with your vocabulary, as well as to meet new people."
A relaxed, friendly class to help you speak more confidently, improve your pronunciation and listening skills and develop your vocabulary and grammar, using material from real life situations. Some students attend to prepare for exams, some for fun (so that they are more confident in things like helping children with homework) and others to generally help them feel more part of their community.
---
We hope that you find something to try amongst these fantastic suggestions. Tickets can be purchased online, or directly from the box office (re-opening 4 January).
From all of us here at Hampshire Cultural Trust, we wish you a very happy and healthy 2022.