In Biddenden, Kent, every Easter Monday, tea, loaves of bread and cheese are distributed to local pensioners and widows. At the same time, Biddenden cakes, with the image of the Biddenden Maids on them, are distributed to the tourists and locals. This tradition can be traced back to the 1500s, but the story has its roots even longer ago.
The Biddenden Maids were Eliza and Mary Caulkhurst, a pair of conjoined twins supposedly born in Biddenden in 1100. They are said to have been joined at the shoulder and the hip and to have lived for 34 years, dying within a few hours of one another.
On their death, they bequeathed five plots of lands to the village, known as the Bread and Cheese Lands, to be administered by the church wardens. The revenue from letting this land was to fund the gifts of bread and cheese to poor parishioners at Easter. The biscuits were a later innovation and are baked to a hardness that makes them a durable souvenir of the Maids' generosity – but also renders them virtually inedible!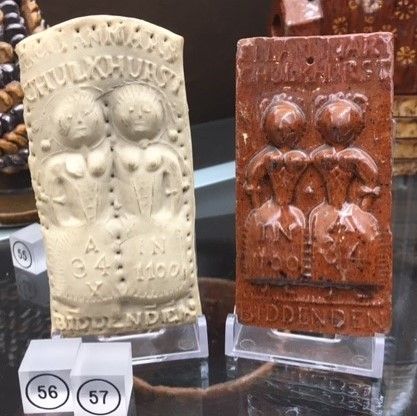 Two items in the Allen Gallery in Alton are a plaque and a biscuit. The plaque is lead-glazed red earthenware, the glaze mottled with manganese and was made in the early 19th century. The biscuit is a similar age and was made in a similar wooden mould. They show the twins in their customary pose with 'Eliza and Mary Chaulkhurst' inscribed at the top above the figures, 'Biddenden' at the base, and with the inscription 'A34Y IN 1100' on their dresses. They measure about 3 cm x 5 cm.
The plaque is something of an anomaly, however. The eagle eyed will have noticed that the 'A34Y' and 'In 1100' are the opposite way round on the plaque and the biscuit. The British Museum has a similar plaque, with the inscriptions the same way round as the biscuit. Why the Allen plaques are the other way round is a mystery!
While the essence of the story is thought to be genuine, there is much controversy around certain aspects. The dates of birth and death, whether they were conjoined at hip and shoulder or just hip, and even the names of the Biddenden Maids are in question.
But the tradition transcends any question over the precise facts – after all, who could resist a biscuit thrown from a church roof with such a story behind it?!
Come and visit the Biddenden Biscuit and plaque – and other exciting ceramics – at the Allen Gallery, Alton.
This article was written and researched by Allen Gallery volunteer, Jackie Breakspear.
---