Throughout the week, will will be sharing objects from from the collections we care for from seven decades of Her Majesty the Queen's reign, to mark the Platinum Jubilee. Today, we are stepping back to the 1980s.  
1980s: A Royal Wedding
The 1980s: known as the birth of punk and the rise of shoulder pads. A time of strife and the boom of all things British. And most definitively, the decade of Diana!
The year is 1981. Prince Charles and Diana Spencer are to be wed, invitations have been sent and audiences are gathered, clambering to get a better look at this lustrous royal affair. Unfortunately, not everyone was fortunate enough to receive an invite, however within our collections you can find a few copies of the official wedding programme.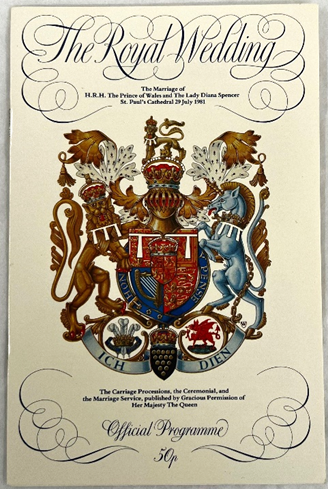 The first few decades after the two World Wars saw a much stricter and reserved Britain - something that was reflected in the royal family. As time moved on, so did they, making relations overseas and taking a more active role with modern society. With the addition of Lady Diana to the roster, it's clear to see how she became a favourite of the people. As a senior royal, she was sure to do her due diligence partaking in charity and humanitarian work, not to mention the historic impact her outfits and hairstyles had.
Put simply, it is the humanity of Diana in this decade that appealed nationally and beyond. Never had it been known for such public displays of humanity from a member of such a highly esteemed group. In this regard, it would be wrong to not also mention the work that Diana did for the AIDS crisis during its height in 1987, continuously working for a better future for those living with the illness and to remove the stigma that accompanied it.
Written and researched by Loui Lancaster.
---
Learn more about what we are doing at Hampshire Cultural Trust's venues to mark the Queen's Platinum Jubilee.
---