Today the world celebrates Random Acts of Kindness Day, which encourages people to extend thoughtful gestures of love into their communities. Though the work to create a kinder world never ends, fortunately there is no limit on the amount of goodness we can put out, so why not use today as your incentive to do something kind?
As you may already be aware, we have a fantastic participation programme across our arts centres that encourages individuals to take steps to better themselves all year round; from wellbeing activities, including yoga and meditation, to crafts and arts, our classes and workshops support the idea that being kind to yourself, physically and mentally, must always remain a priority. But if the last two years have taught us anything, it's how important to take these lessons of empathy and compassion and extend them to your community, too.
With this in mind, at Forest Arts Centre in New Milton, our Kickstart Assistant Ellie has come up with a few small ways you can mark Random Acts of Kindness Day.
Message Jars
One easy, at-home craft is to create a handmade mindful message jar. Re-purpose an old jam or sauce jar, or a generic container and take off any branded labels. You can customise your jar as you wish - anything that'll leave you going about your day feeling inspired to do something good! Then, you can write down a few ways to spread kindness. They can be big or small - whatever you think you can achieve. For example...
Ask a neighbour if they need help with anything
Go litter picking
Give to a local charity
Send a message to, or check-in with a friend
Write some kind words to your future self! These messages are great for days when you need a pick me up.
Then, pick out a note from the jar and do your best to complete it - either today, tomorrow, next week or next year! It's a great way to go about your day with a shift in perspective. #MakeKindnessTheNorm
Kindness Rock Painting
If you love getting artsy, why not try out this super easy craft? After becoming a viral trend in 2017, it's unlikely that you won't have seen a painted rock on your rounds. These vibrant little pieces of art are a really great way to catch someone off guard as they go about their day and it's a great way to do something kind for a stranger if you tend to be more introverted.
For this activity, try painting rocks with positive messages and leave them for people to collect. You can leave them on the school run, in the park or on the beach - there's no bounds!
Some areas will even have a Facebook group (i.e. Winchester, Basingstoke), so you can get involved with the community and see whose day you have made!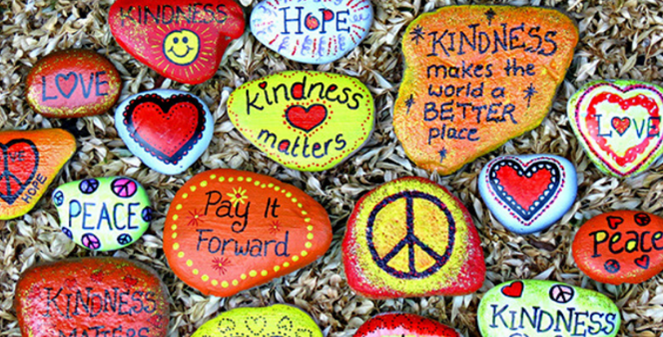 Still stuck for ideas?
If you're still looking for some inspiration, here are a few more ideas that won't take long, but will mean a lot:
Writing simple notes or cards for elderly members of your neighbourhood, family or assisted living centre (with restrictions applying to visitation at some centres, this can be a really nice way to warm the heart of some of the most isolated in the community).
Write a letter telling your loved ones all the reasons that you are thankful for them; whether it's making you laugh, cooking dinner or simply keeping you company, sometimes it's nice to know your small gestures don't go unnoticed.
Make someone smile with a good joke, or a funny story!
We'd love to hear what you get up to, so be sure to let us know on Facebook or Twitter how you get on!
---