Hampshire Cultural Trust has received funding from National Lottery Heritage Fund to help reimagine the Allen Gallery and its nationally significant ceramic collection over the next year. As a part of this project, we are researching and discovering the collections' untold stories.
This month is a shared object of the month as part of our collaboration with Crafts Study Centre, Farnham, part of the University of the Creative Arts. During Farnham Craft Month, we are both highlighting aspects of our nationally significant ceramic collections.
This article focuses on a creamware jug, produced by ceramicist Walter Keeler (b. 1942) in the late 20th century.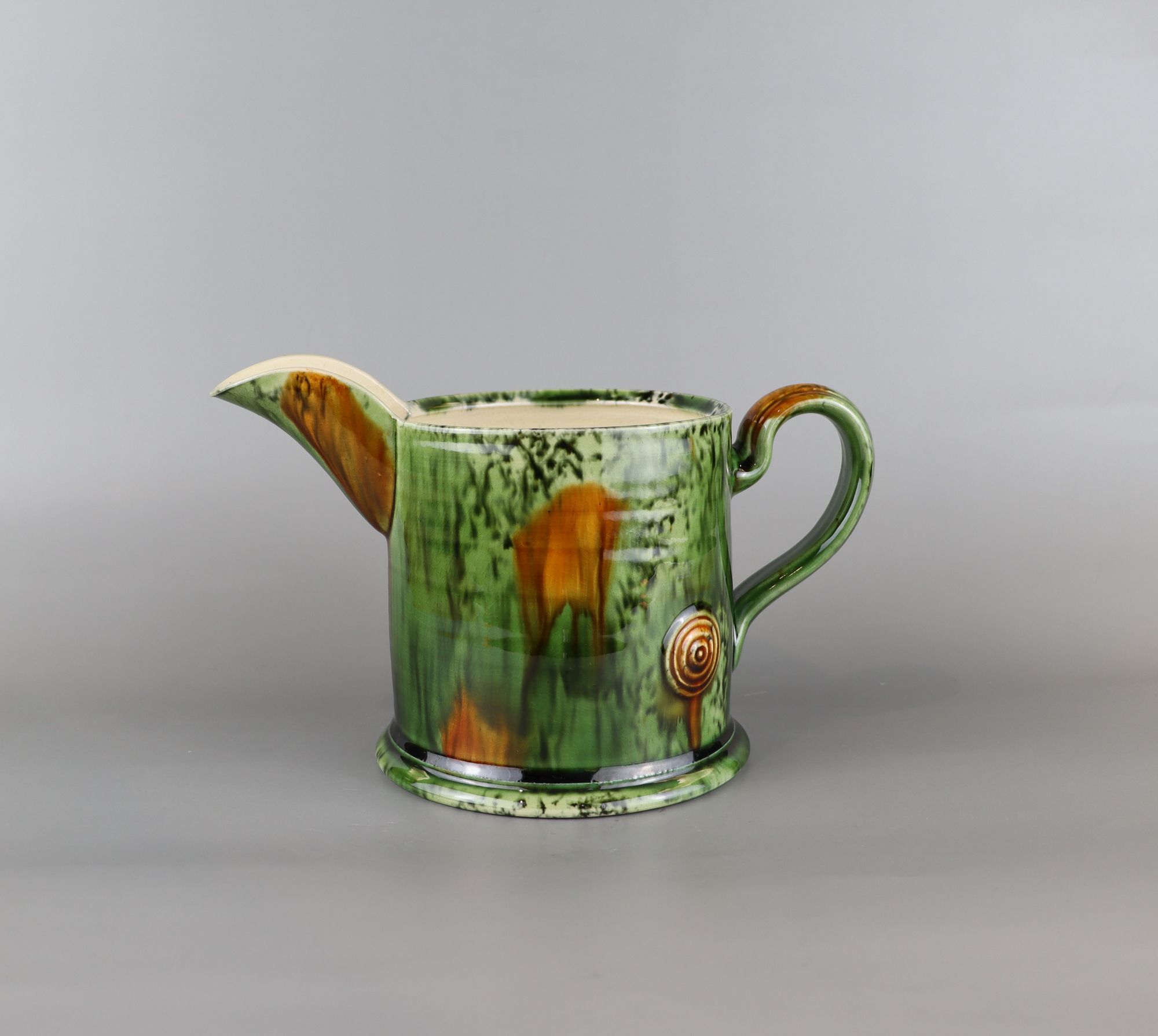 Walter Keeler is a key figure in 20th and 21st century studio pottery and is best known for his salt-glazed pieces which value function over form. Keeler graduated from the Harrow School of Art in 1958, after which he began teaching as a professor. This piece was made at his studio in South Wales in 1998, as is a large amount of his most popular works.
What is most striking about this jug is the mottled Whieldonware glaze which adorns it. This glaze was developed by Thomas Whieldon in the mid-18th century and involves mixing chemicals such as copper, iron and cobalt. This mixture is then sponged onto the object under the glaze with another glazed then applied on top. This leads to the beautiful melding of colours as seen in this piece by Keeler.
Keeler's jug is notably functional. Though the phrase 'function over form' is not taken fully to heart as there is a clear elegance and flow to this piece. The 'beak' of the jug would clearly serve a purpose if something was poured out of the vessel, but it also contributes to the fluid lines and unique shape. The jug is also adorned by Keeler's signature concentric circles. The stark difference between the shifting colours on the glaze and the sudden structured circles draws the eye in.
Walter Keeler continues to work today out of his studio in South Wales, where this object was made, and his works remain popular. His combination of both function and form means that his works look equally at home whether in the centre of a gallery or taking pride of place on a home mantelpiece.
With research contributions from Abbe Fletcher, Ceramic Research Volunteer
---
Discover Farnham's Walter Keeler jug here.
Discover Farnham Craft Town events this October here.
For more information about our Rediscovering the Allen Gallery project, click here.
---