Today marks National Teddy Bear Day – a day to celebrate one of the nation's favourite and beloved toys! In this article, Milestones volunteer, Carolyn, explores these furry friends and the cherished spot they hold within our community.
---
The Teddy Bear was "born" in 1902 following a shooting trip by USA President Theodore 'Teddy' Roosevelt when he refused to shoot a baby bear cub caught for him. Morris and Rose Michtom made a stuffed fabric bear in honour of the President and obtained his permission to use the name "Teddy's Bear" for their creation.
Since then, there have been many teddy bears produced across the world and in this article, we're going to have a look at a few of the famous teddies and producers.
We will start with Rupert Bear, as the history of Mr Simpson's Teddy Bear Museum in Milestones also starts with a bear called Rupert. Rupert Bear began his life as a comic strip character in the Daily Express - first appearing on the 8 November 1920. He was created by Mary Tourtel; there have been many different authors over the years and he can still be seen in the Daily Express to this day. The familiar looking Rupert Bear in his red jumper and yellow checked trousers and scarf can be found in Mr Simpson's Teddy Bear Museum.
Mr Simpson's Rupert was given to him in 1917 when he was a boy. Rupert has been through a lot in his life, including being lost in the war when the Simpson's house was blown up and again being lost when Mr Simpson took him racing. As he was so special to Mr Simpson, he then bought Tino as his racing companion and Rupert could stay safe at home! Rupert now has pride of place in the museum leaning against the racing car in which his friend Tino is sitting.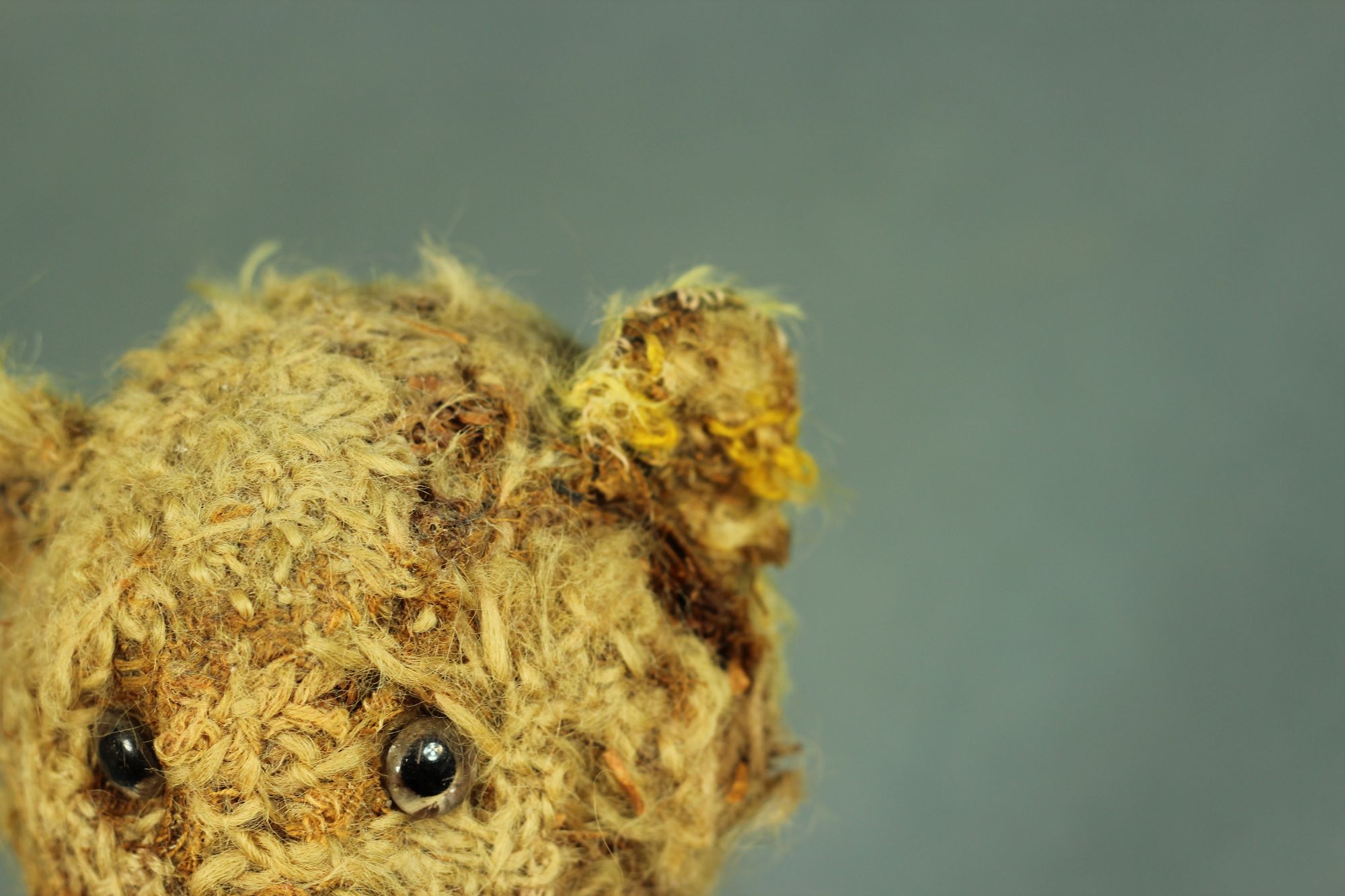 Another famous teddy bear is Winnie-the-Pooh, created by A A Milne in the 1920s. His son, Christopher, had been given a bear originally called Edward who he described as a bear with a big heart and a love of eating honey!  However Christopher decided to change his name – Winnie was his favourite real bear at London Zoo and Pooh was the name he gave to a swan he fed in the country. A A Milne wrote three books about Winnie-the-Pooh and these were illustrated by Ernest E Shepard who based his design on his son's Steiff bear called Growler. The Winnie-the-Pooh soft toy that we are most familiar with is yellow, wearing a red T-shirt embroidered with his name.
Now we'll look at Paddington Bear – he was created in 1958 by author, Michael Bond, who, so the tale goes, saw a lonely teddy bear on the shelves in Selfridges and bought it for his wife. He named the bear Paddington after the station near to his home and this toy inspired him to start writing the adventures of Paddington Bear with his famous love of marmalade. The first Paddington Bear soft toy was created in the UK by Shirley Clarkson, who made it as a Christmas present for her children, Joanna and Jeremy Clarkson, the world-famous motoring journalist and TV presenter! Shirley Clarkson was granted an official licence to sell them in the UK in 1972. The Paddington Bear we are familiar with is often seen wearing a duffel coat, hat and wellington boots. Paddington Bear was invited to Buckingham Palace to have afternoon tea with the late Queen Elizabeth II during her Platinum Jubilee celebrations – what an honour!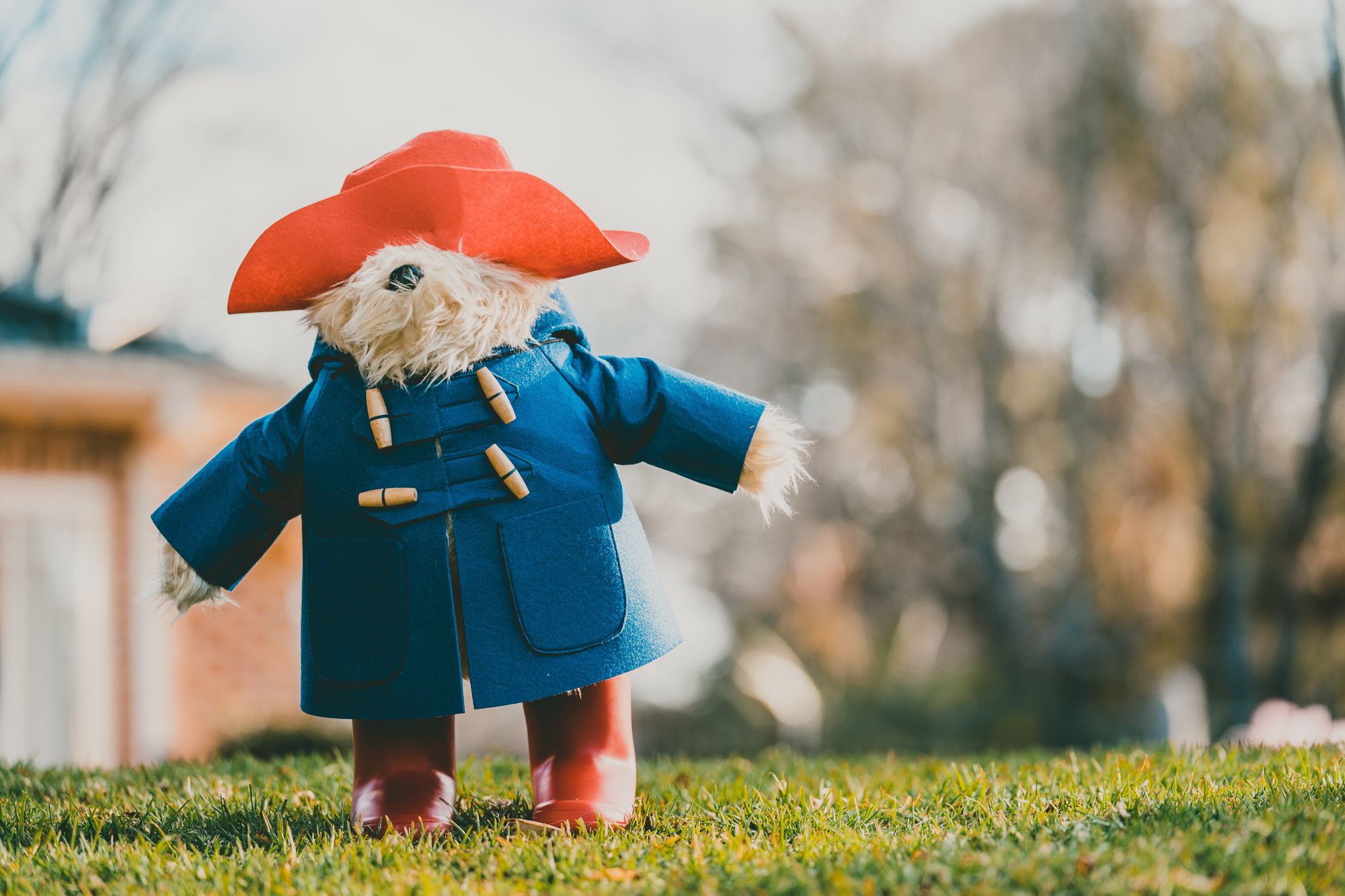 There are several teddy bear manufacturers across the world but this article will look at two of them – Steiff and Merrythought.
Steiff produced their first teddy bear in 1902, designed by Richard Steiff, and they are probably now the most famous manufacturer.  In 1904 they introduced their trademark "Button in Ear".  There are two colours of this trademark – yellow represents mass produced teddy bears and white indicates limited editions. One of the latest limited editions is a teddy bear made to commemorate King Charles Coronation - 2,022 bears were made to represent the year in which he became King. The limited editions are intended for adult arctophiles (a person who collects or is very fond of teddy bears). There are several yellow button in ear Steiff teddy bears to be found in Mr Simpson's collection.
Merrythought began making teddy bears in 1930. William Holmes, a spinning mill owner in Yorkshire, saw the opportunity to produce soft toys using the natural fibres they sourced.  He found a brick foundry building in Ironbridge, Shropshire, and together with a team of skilled local seamstresses, started the Merrythought factory. The first collection was designed by Florence Attwood and many of the design of modern bears are based on these original bears. Mr Simpson's collection includes a few of the Merrythought Cheeky Bears. To commemorate the opening of the museum, Merrythought have made 100 special edition bears which are available to buy. This bear was designed by Mr Fenton and has been named after him.
There are many bears for sale in the Milestones Gift Shop – the latest range are the Keel Eco Bears that are made from recycled plastic bottles and their eyes and ears are embroidered – truly a "green" bear!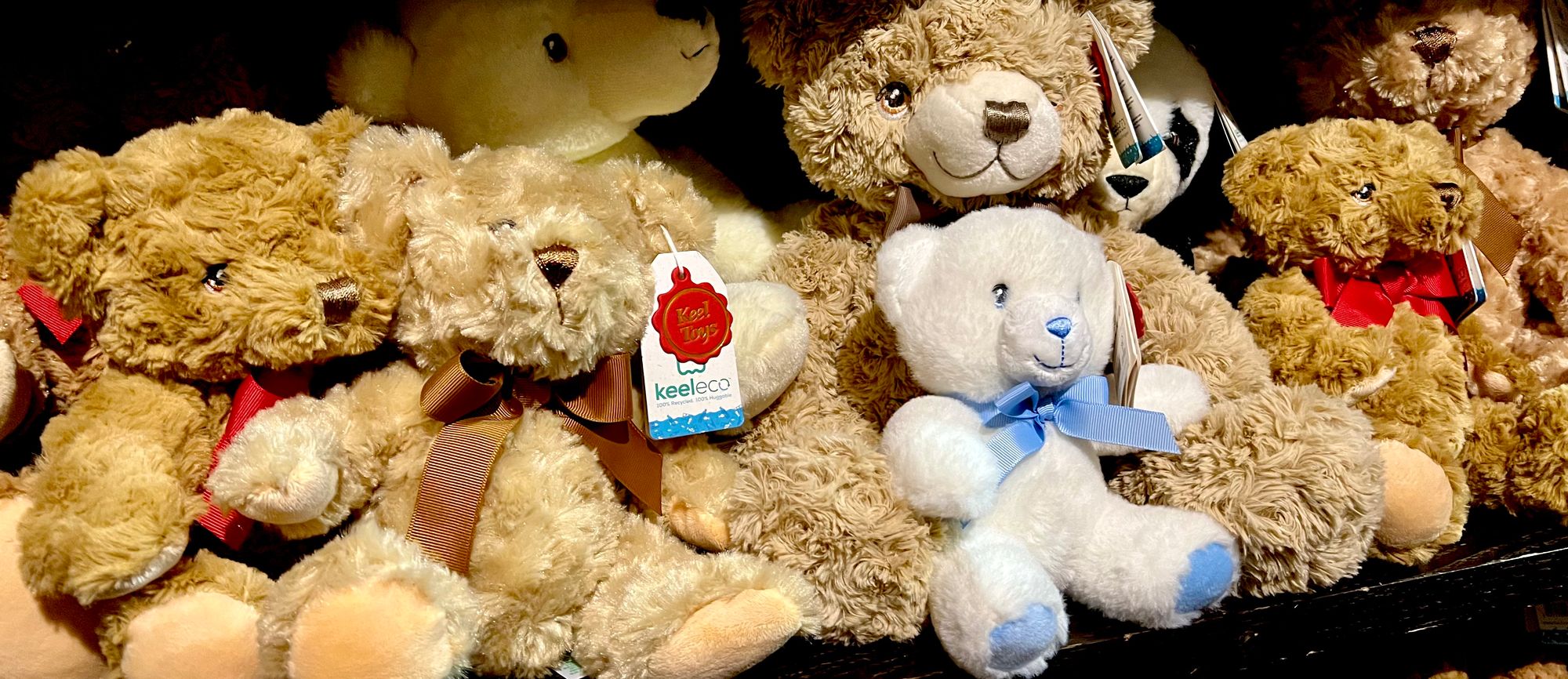 ---
With special thanks to Milestones volunteer, Carolyn Brown, for her article.
Discover more about these beloved bears at Milestones Museum in Basingstoke.