Experimental printmaker Kate Watkins spoke to us about the intricate developmental processes behind her exhibition Beneath the Surface, the rich hues of which have enveloped the City Space in a chromatic vibrancy. In this article, Watkins explains how she strives to balance the dichotomous forces of control and chance, a creative undertaking vital to her self-preservation, to achieve harmony in colour and composition.
---
Beneath the Surface, as a journey into abstraction focusing on experimentation, showcases a continuous striving for harmony. What drives you to continue to create harmony in form, material and colour, and how do you know when you have struck the right balance?
The drive to create harmonious compositions starts, as most of my work does, with an interest in the printmaking process. Different techniques result in different surface effects, and through exploring these, I land on the process which would best serve the idea or composition. For example, screenprint tends to give a smooth, flat layer of colour, whereas monoprint with oil-based ink gives more scope for capturing textured marks on the printing plate. My intention with the geometric series is to evoke a feeling or emotion, a curiosity about what the interacting plains and colours may mean and where they are leading the eye. It was a conscious decision to move away from figurative work a few years ago to allow the print process to dominate and the joy of colour to prevail without trying to prescribe the outcome at too early a stage. I wanted to see print as a playful process full of possibility and free from over-thinking as a response to managing the repercussions of my father's dementia diagnosis and managing his care.
In terms of when the composition is finished, that sometimes takes quite a while to emerge. The risk with printing multiple layers is that the paper becomes saturated or the colours dulled to the point where the composition breaks down and the work is spoiled. I've learnt to step back at the point when I'm unsure of the next step and wait it out. Sometimes weeks – or even months – before returning to a piece to try and make it work. For those pieces where it can't be resolved I will cut them down and re-work or create smaller collages.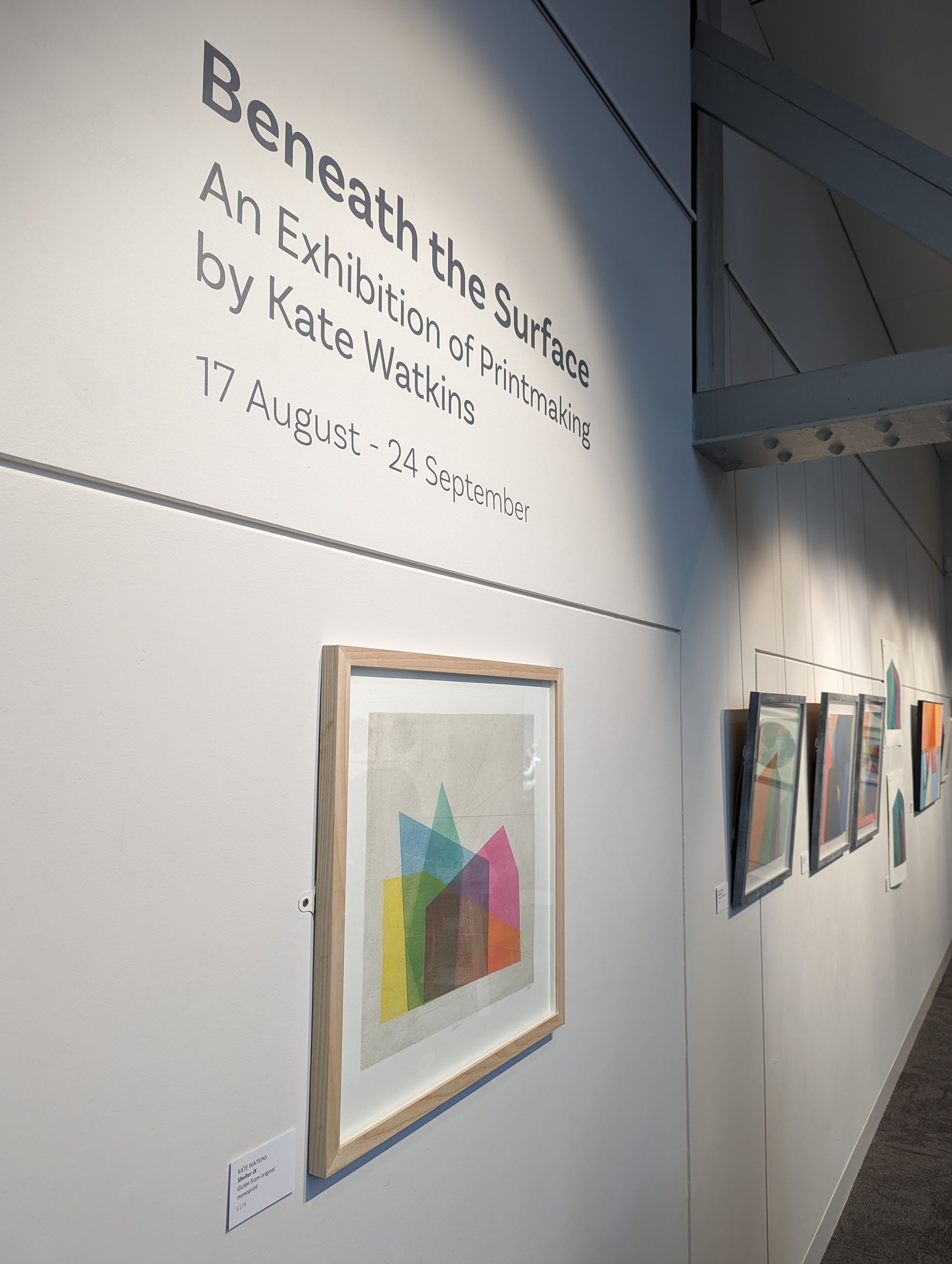 The Pathways series presents an energetically unique marriage of printmaking and painterly technique. Could you tell us more about the creation of these works?
The pathways/Make a Splash series were originally intended as mono-screenprints where inks are applied directly with brushes to open screen mesh and pulled through onto paper using a squeegee. It allows several colours to be applied at the same time but there is less control over where the inks go and the marks tend to be less defined and can bleed or blend too much. After early experiments, I decided to combine mono screenprinting with more controlled painterly mark-making. These are created by painting opaque Indian ink onto drafting film and transferring it to screens using photo emulsion. The marks are then printed across several printing sessions in different combinations using transparent printing inks. Only a couple of layers can be printed at each session because they have to dry in between to avoid overloading the paper.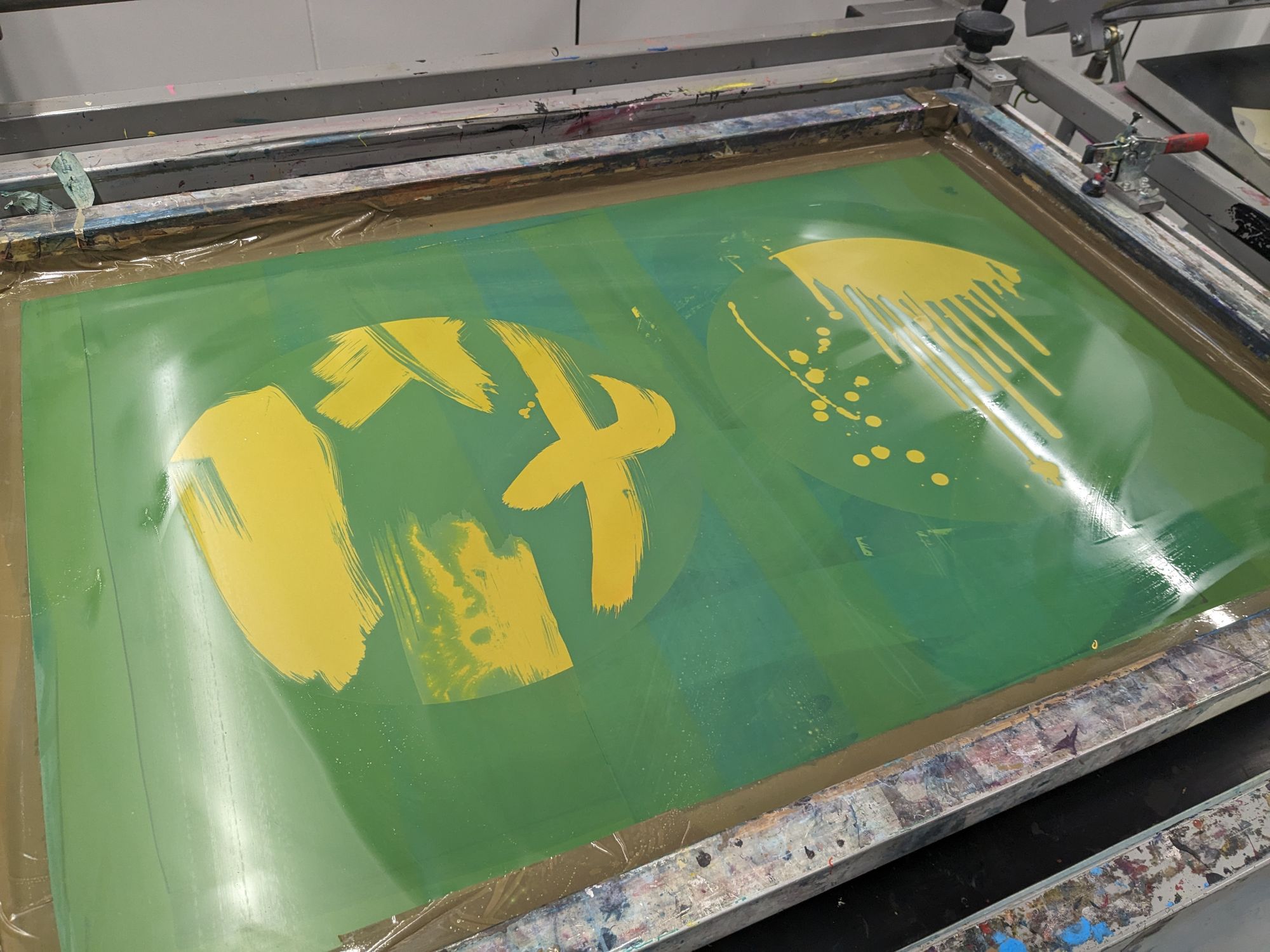 Compelling use of colour is recurrent across all your most recent works, including many of those on display at the City Space, how important are colour relationships to you?
My early works were mainly monochrome or in simple colour palettes of just a few shades because I focused more on etching, drypoint and collagraph and these processes lend themselves more traditionally to a simplified palette. After a conscious decision to move away from coastal themes, which I felt was limiting my subject matter, I chose abstraction because I had always been drawn to this style of art. It offered the chance to explore colour, scale, form and print technique within the same body of work and I wanted to feel excited about creating new work and the possibilities of combining colours not bound by realistic representations.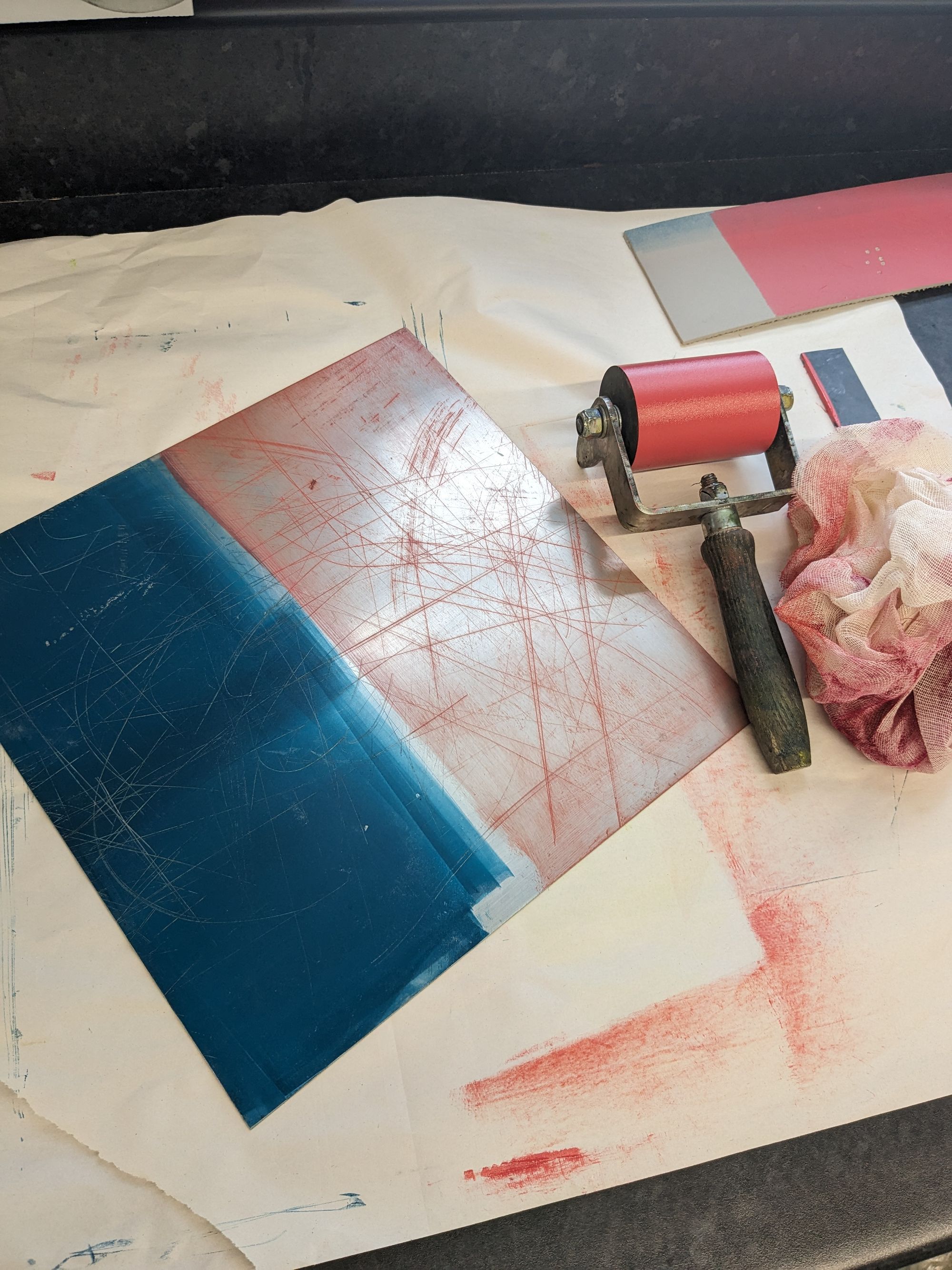 What do you envision your next series consisting of? Are there other areas of printmaking that you are looking to explore?
I'm lucky to work part-time as a printmaking instructor at Solent University, so I have a wide variety of print equipment available to me. Over the years, I have experimented with many processes but have focused more on screenprint and monoprint lately. I am excited to be going on an etching course run by Jenny McCabe at Handprinted in the autumn, which will refresh my skills, so I plan to produce some aluminium etchings in response to this. I'd also like to continue to experiment with alternative presentation methods, such as the wooden panels and printing onto different substrates, such as directly onto wood/fabric.
---
Beneath the Surface is open until the 24 September at City Space, The Arc. All exhibition prints are available to purchase.