Partnerships with 15 lenders from across the UK have played a fundamental role in the making of our exhibition, Extraordinary Everyday: The Art & Design of Eric Ravilious, at The Arc, Winchester. In this article, we wanted to take the opportunity to introduce you to them and their role in this specially-curated exhibition for Hampshire Cultural Trust.
Aberdeen City Council (Aberdeen Archives, Gallery & Museums)
Aberdeen Archives, Gallery & Museums (AAGM) cares for collections of outstanding importance and quality on behalf of the people of Aberdeen. Their collections have been recognised by UNESCO and the Scottish Government as nationally and internationally important. For Extraordinary Everyday, we borrowed two exquisite Ravilious watercolours: South Coast Beach (1939-42) and Train Landscape (1940), the latter often being referred to as Ravilious' finest watercolour. He depicts a worn-out railway compartment of the Southern Railway going past the Westbury horse in Wiltshire. As James Russell, curator of the exhibition and 20th century British art specialist, points out, it is "a perfectly ordinary subject" not without the "frisson of excitement that travellers still enjoy as they pass the white horse carved into the hillside".
Read more about Aberdeen Archives, Gallery & Museums here.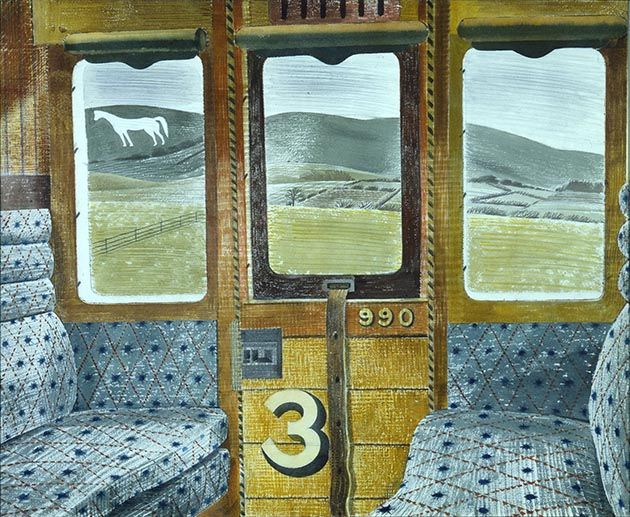 British Council Collection
Since 1938, the British Council has been collecting works of art, craft and design to promote abroad the achievements of the very best British artists, craft practitioners and designers. The collection has no permanent gallery and has been referred to as a 'Museum Without Walls'. For Extraordinary Everyday, we borrowed two watercolours by Ravilious, The Carnation House, Kew (1938) and Convoy Passing an Island (1941).
You can browse the fabulous British Council Collection of 8,500 works by following this link.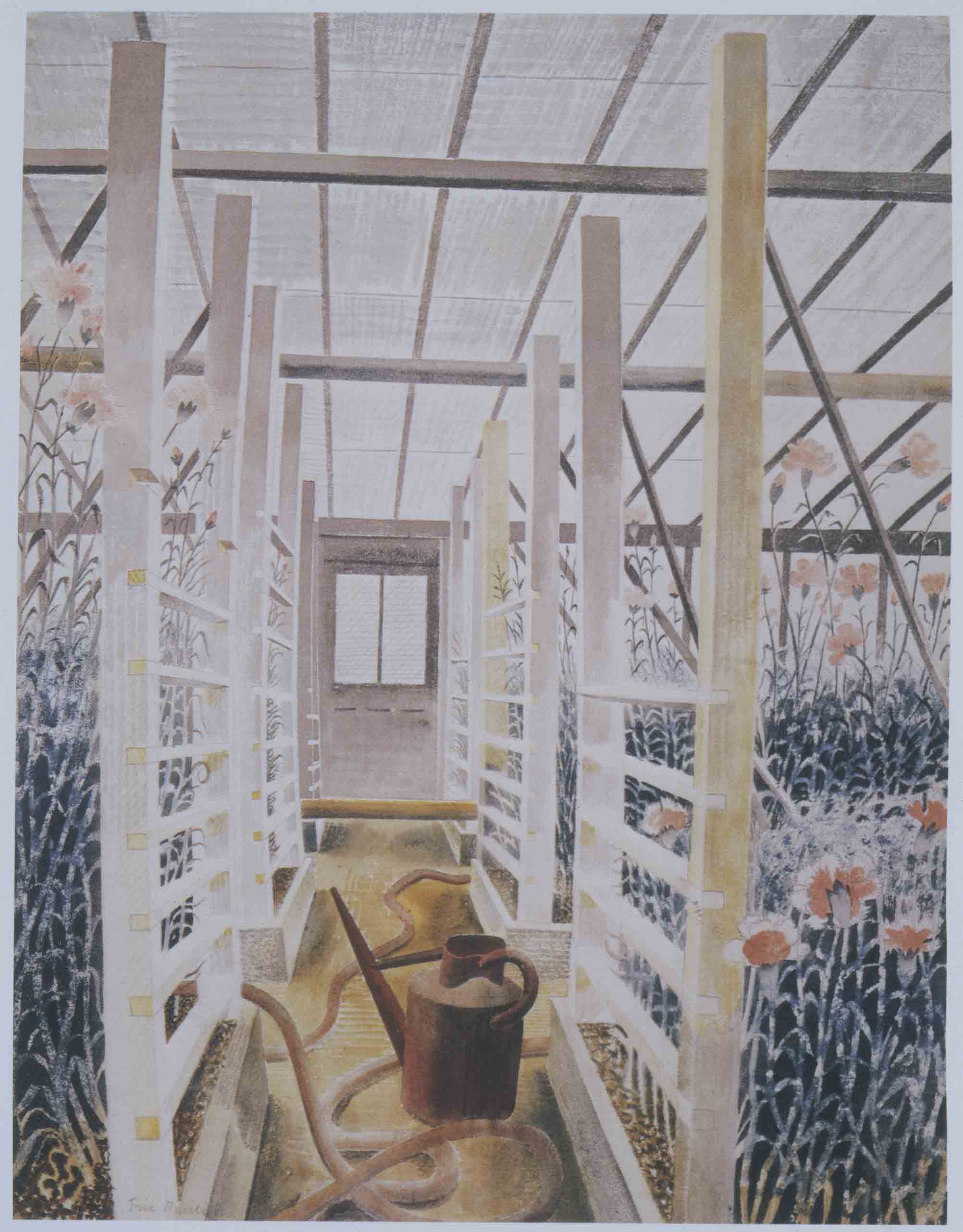 Fry Art Gallery
The Fry Art Gallery opened in 1987 and houses an impressive number of paintings, prints, illustrations, wallpapers and decorative designs by artists of the 20th century and present day who have local connections and have made a significant contribution to their field. There is an emphasis on those who, for a variety of reasons, settled in Great Bardfield in the early thirties of the last century. Featured in Extraordinary Everyday, we have two watercolours and one lithograph from this important collection, including the acute observations on the beauty of lettering and early 20th century design in Church Army Caravan (1935).
Learn more about the Fry Art Gallery here.
Grundy Art Gallery, Blackpool Council
The Grundy Art Gallery's collection, which is periodically displayed as part of their temporary exhibitions programme, includes Victorian oils and watercolours, modern British paintings, oriental ivories, ceramics, photographs and souvenirs of Blackpool, as well as contemporary prints, jewellery, sculpture and video. We were extremely pleased to be able to borrow one of our favourite Ravilious watercolours from this lender; the impressive The Yellow Funnel (1939). James comments "When Ravilious left his hotel room close to the quayside in the French port of Le Havre that morning he was planning to draw a magnificent steam yacht owned by one of the Rothschilds. But instead, he chose to focus his attention on an ordinary bit of nautical hardware. You have to look quite hard to see the yacht, moored in the distance."
Browse Grundy Art Gallery's collection by following this link.
Hampshire Cultural Trust Hampshire County Council Collections
We care for over 2.5 million historic objects, from working steam engines to fragile ancient artefacts. Our collections tell the stories of the people who lived in Hampshire thousands of years ago to the present day. We're always happy when we can work with our collections in our exhibitions and so was the case for Extraordinary Everyday, where we browsed in the wonders of our extensive ceramics collections and included the incredible Boat Race Day (1938) Queen's Ware bowl designed by Eric Ravilious.
Learn more about our collections and delve into our fantastic objects by following this link.
IWM (Imperial War Museum)
The Imperial War Museum houses over one million items that tell the story of modern war and conflict, collected since 1917. Their Art and Design collection is exceptional - indeed one of the most important representations of twentieth century British art in the world. It comprises of many great works of art from the British government war art schemes of the First and Second World Wars, which employed the greatest artists of their day, including Eric Ravilious. We had the fortune to be part of IWM's generous loans programme, borrowing three watercolours by Eric Ravilious: HMS Glorious in the Arctic (1940), The Teleprinter (1941), and Elementary Flying Training School, Sawbridgeworth, Herts (1942).
Browse the IWM Art and Design collection here.
The Ingram Collection of Modern British Art
The Ingram Collection is one of this country's most significant, and publicly accessible, collections of Modern British Art. The collection holds over 600 works of art across three distinct collections – The Ingram Collection of Modern British Art, Ingram Contemporary Talent and Inside Out – all of which are available to borrow. Thanks to their borrowing scheme, we have been able to feature four artworks, the watercolour Rye Harbour (1938) and three lithographs from Eric Ravilious' High Street (1938): Model Ships and Railways, Pharmaceutical Chemist, and Hardware.
Find out more about The Ingram Collection of Modern British Art's borrowing scheme following this link.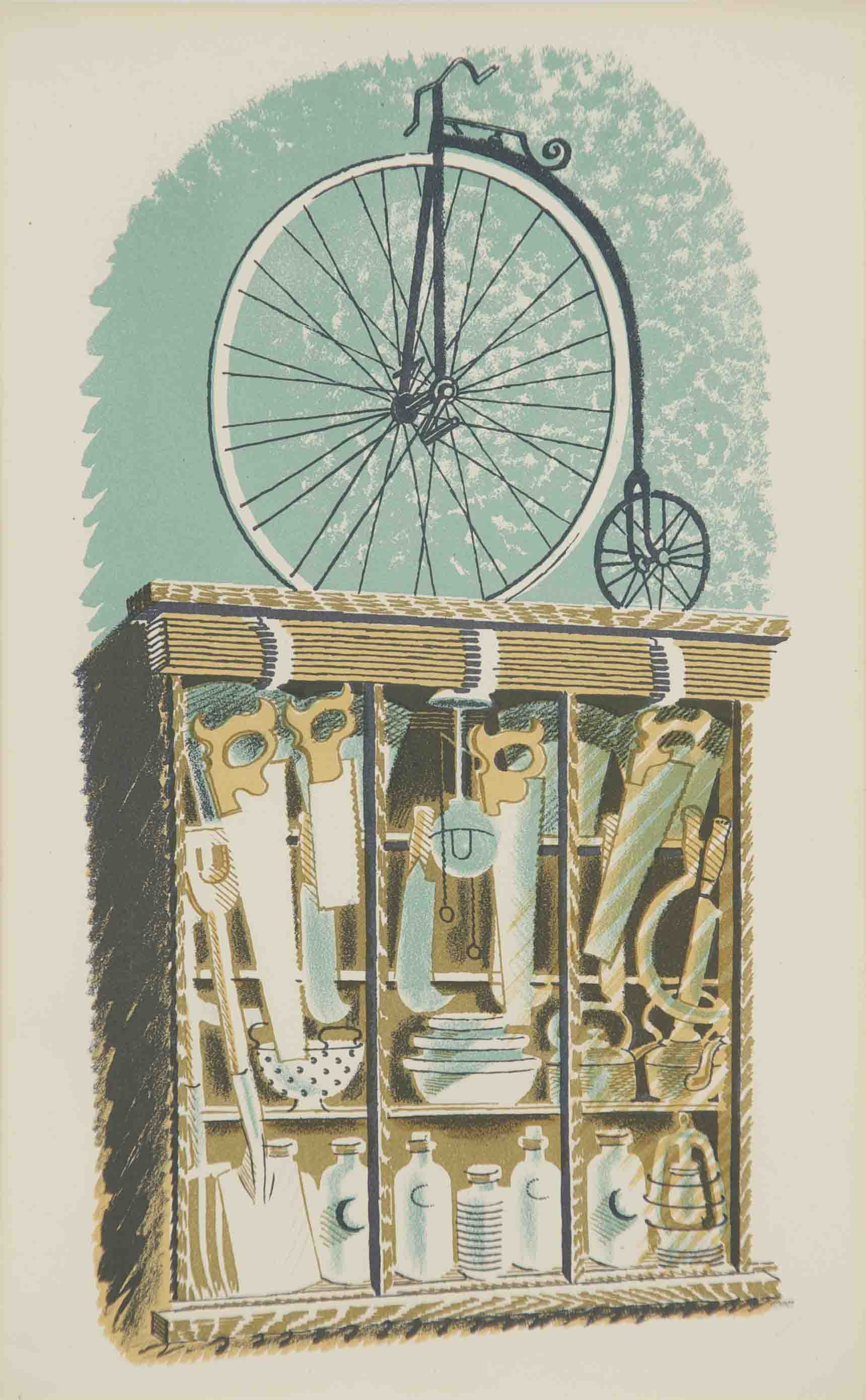 Leeds Museums and Galleries
Leeds Museums and Galleries cares for over 1.3 million objects, which are used to inspire, educate, entertain and challenge the people of Leeds. Their collections of natural history, fine and decorative art and industrial history have been designated as collections of national significance. We borrowed the unique watercolour No.1 Map Corridor (1942), given to Leeds Museums and Galleries by the War Artist's Advisory Committee in 1947. James notes "The map on the right shows where bombs have fallen on the city above, with a sign indicating Major Damages. You may notice that this has been partly erased, in a belated attempt by Ravilious to avoid censorship. He failed. A censor's stamp on the back of the work declares, 'Not to be exhibited during the war period'."
To browse their extensive collections, click here.
The Potteries Museum & Art Gallery Collection
The Potteries Museum & Art Gallery is part of Stoke-on-Trent Museums Service. The museums service was established in 1911 with the federation of the six towns of Stoke-on-Trent. The largest museum in the service, the Hanley Museum & Art Gallery, became the Stoke-on-Trent City Museum & Art Gallery when it moved to new premises in 1956 and the museum underwent major expansion in the late 1970s, winning the 'Museum of the Year' award in 1982. In 1998, the museum was rebranded as The Potteries Museum & Art Gallery (PMAG). They have almost one million objects in their diverse collections, including a Fine Art collection specialising in early 20th century British Art. For Extraordinary Everyday we borrowed two watercolours, Grimsby Trawlers (1940) and Barrage Balloons at Sea (1940).
Learn more about The Potteries Museum & Art Gallery here.
Towner Eastbourne
The Towner Collection is an ever-growing collection of 5,000 works of modern British and international contemporary art, with a focus on landscape, women artists and moving image. The collection boasts a major body of work by Eric Ravilious and, as such, was our key lender in the delivery of Extraordinary Everyday. We felt incredibly fortunate to borrow to six watercolours from their collection: Ironbridge interior (1941), Design for Wedgwood 'Afternoon Tea' (1937), Design for Wedgwood Alphabet Mug (1937), Train Going over a Bridge at Night (1935), River Thames at Hammersmith (1933  - the earliest work in the exhibition) and Farmyard with Carriage (Cab) (1935). We are extremely thankful to the team at Towner for all their support and encouragement throughout the making of this exhibition.
Browse their collection and learn more about them by following this link.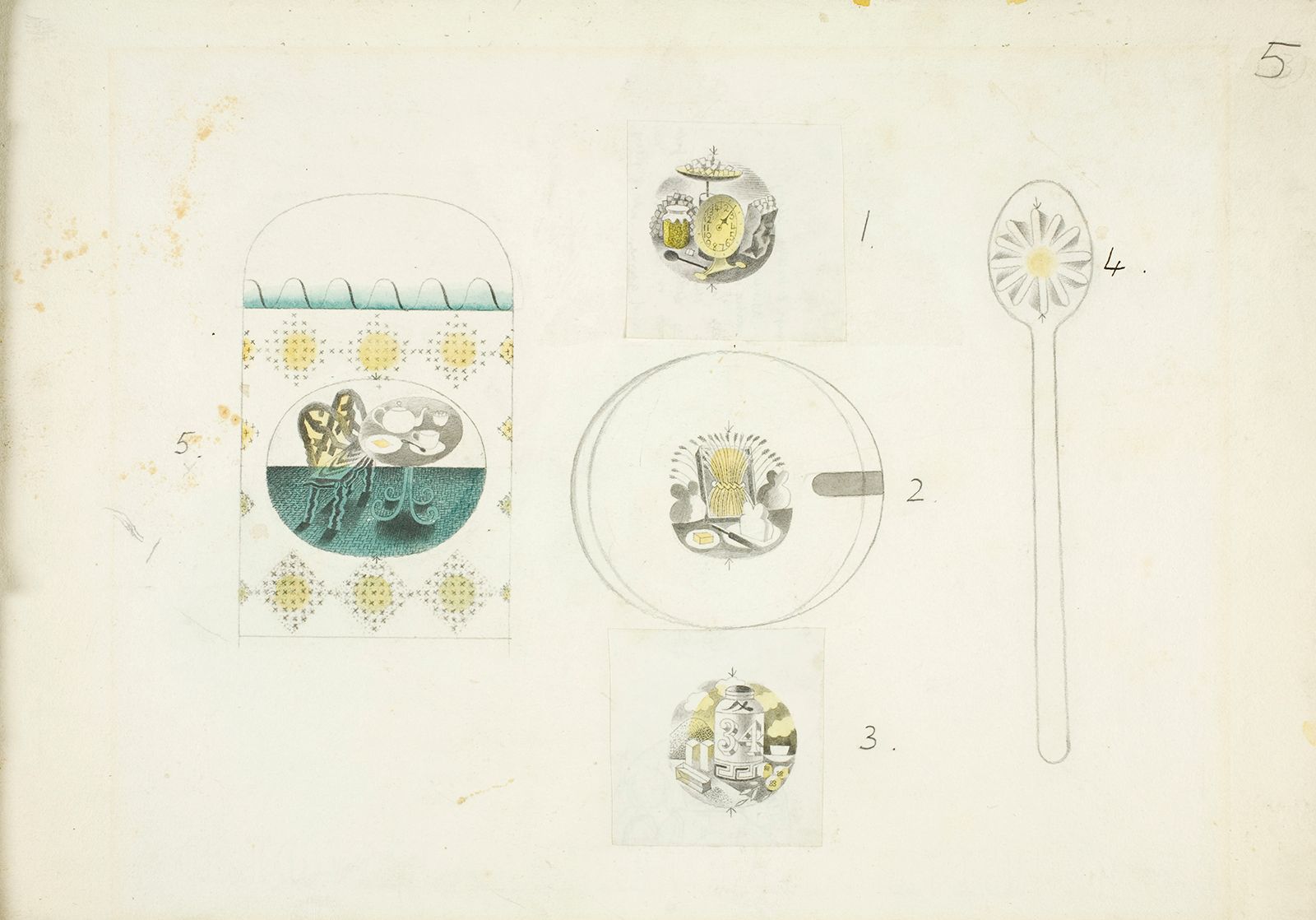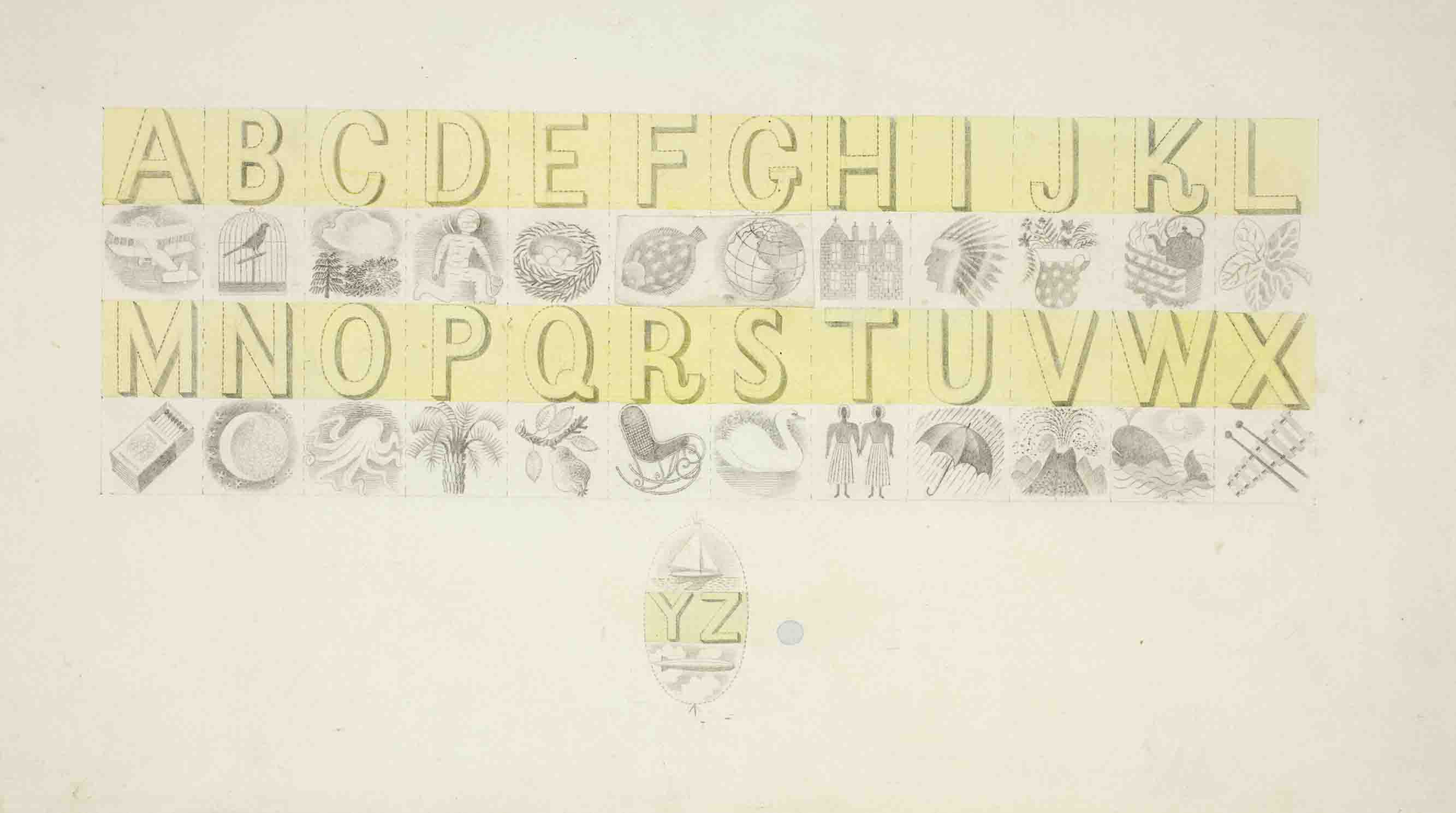 Victoria and Albert Museum, London
The V&A is the world's leading museum of art and design, housing a permanent collection of over 2.3 million objects that span over 5,000 years of human creativity. The museum holds many of the UK's national collections and houses some of the greatest resources for the study of architecture, furniture, fashion, textiles, photography, sculpture, painting, jewellery, glass, ceramics, book arts, Asian art and design, theatre and performance. Their Ravilious watercolour A Farmhouse Bedroom (1939) is a key addition to the exhibition and an example of how the theme of the everyday was handled by the artist.
Explore their collections here.
Private collectors
We are indebted to the generosity of all of our private collectors, without whom it would not have been possible to create this exhibition. We are so grateful to them for parting with their beloved works for months at a time, so that others can share in their wonders. Being able to display them, sometimes for the first time together, is what brings us the most joy – the pursuit to deliver something really special for our audiences.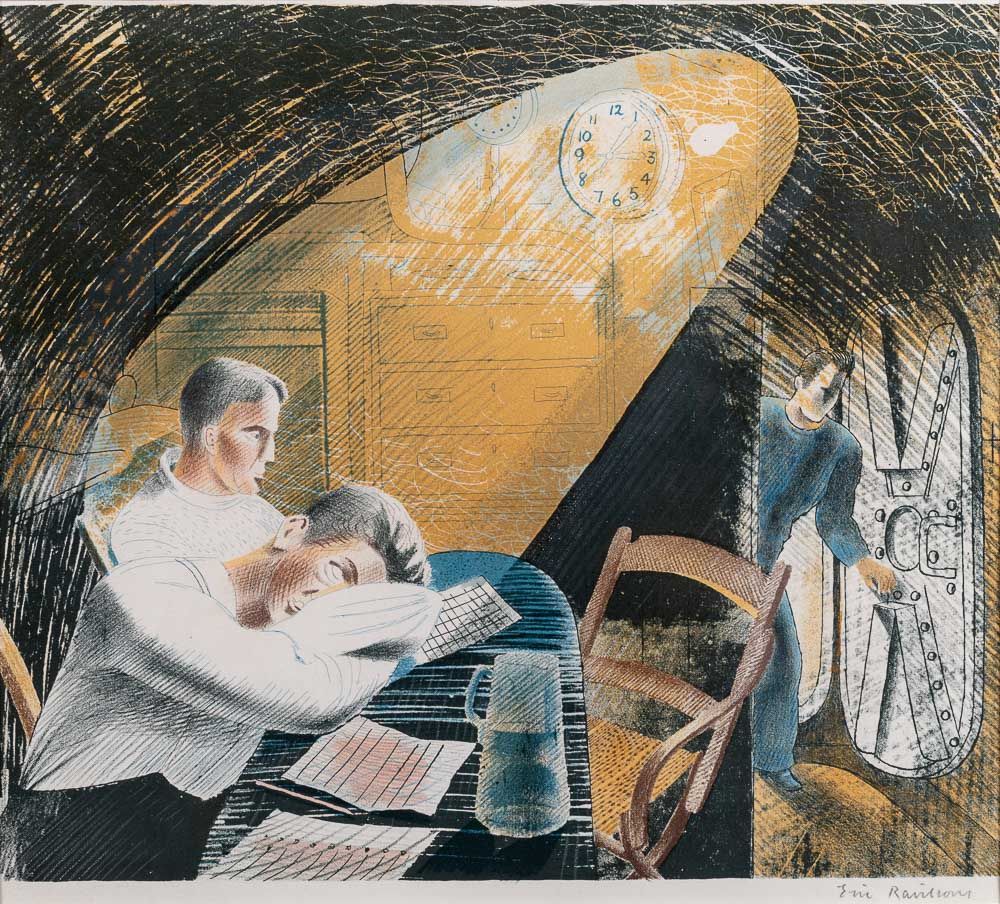 ---
Listen to curators Steve Marshall and Tim Craven talk about Eric Ravilious in context as a war artist in a two-part conversation on 6 April, 10.30am - 12.50pm. Book your tickets here.
We have a host of workshops and lectures taking place to coincide with our unique Ravilious exhibition. Find out more online or pick up a brochure in venue.
Extraordinary Everyday: The Art & Design of Eric Ravilious continues at The Gallery, at The Arc until 15 May 2022. Find out more about the exhibition and book your tickets to the exhibition here.
Extraordinary Everyday is accompanied by an illustrated catalogue written by the curator. The catalogue is available to purchase at The Arc and on our online shop.
---