As part of the Festival of Archaeology series on Culture on Call, Curatorial Liaison Manager, Ross Turle discusses some medieval tags found in Hampshire by metal detectorists.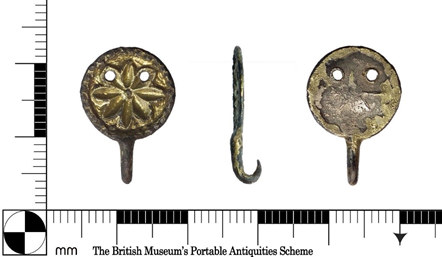 This silver gilt sharp-hooked tag of early medieval origin (700 to 1100 AD) was found in the parish of Headbourne Worthy, north of Winchester in Hampshire. Thanks to the generosity of the finder and landowner, it has now been catalogued into the Hampshire Cultural Trust archaeology collection.
The two holes were for attaching the hook to a garment, the tag would not have had a corresponding metal loop but would have hooked over a fabric loop.  The majority of the medieval hooked tags are quite simple in design, although the fact that they are decorated show that they were meant to be seen and admired.
The example below, also found by a metal detectorist, in Quarley, Hampshire and purchased by Hampshire Cultural Trust through the treasure process, is decorated in a style called the Trewhiddle style, which enables it to be dated to a narrower date range of 9th-10th centuries. The style is named after an intricately decorated hoard found in Trewhiddle, Cornwall in 1774.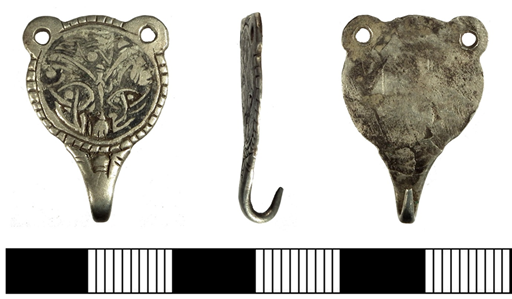 The tags could have been used to fasten various items of clothing, but individual finds which were lost in antiquity cannot tell us exactly how they were used. When items are found in association with other objects though there can often be more information to hint at their use. Two examples, very similar to the 10th century tag below, were found during excavations in Winchester. They were found in a grave at the knees of a skeleton, suggesting they were sewn on to the ends of garter ribbons.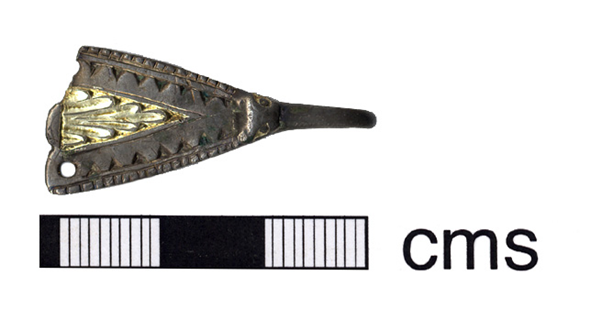 The later medieval and early post-medieval examples were more elaborate, with larger attachments loops. This Tudor example from the 16th century was found in the parish of Curdbridge and shows the greater decoration, even with the central rosette missing.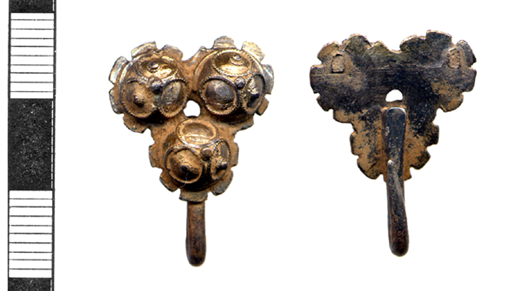 ---
If you have enjoyed Culture on Call and you are able to make a donation, please click the link below. Any support you can give will help us keep communities connected to culture in these difficult times.