In this piece, we hear from Extraordinary Everyday curator James Russell, as he shares some highlights from this remarkable exhibition, at The Arc, Winchester until 15 May 2022.
---
When we were planning Extraordinary Everyday, we decided to place famous watercolours such as 'Train Landscape' alongside beautiful, but less well-known examples of Ravilious's design work. As a student at the Royal College of Art in the early 1920s, Ravilious studied the difficult art of wood engraving, which was widely used for illustrations in newspapers and books. With the help of his tutor, Paul Nash, he quickly became a master of the medium.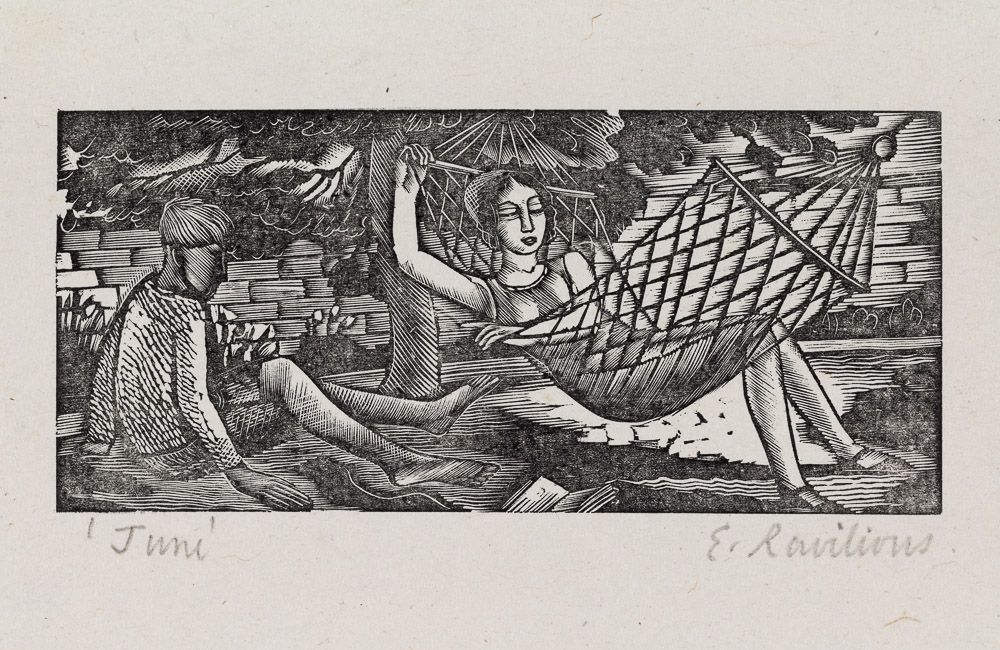 As with so much of his work, Ravilious combined in his wood engravings his love of the everyday and talent for making ordinary things extraordinary. He made 'June' to illustrate a new edition of a 16thcentury almanac. Our attention focuses on a young woman in a hammock. She's very much a modern woman, in casual summer clothes, but her face suggests old Italian paintings of the early Renaissance. She belongs to a moment, but is also timeless.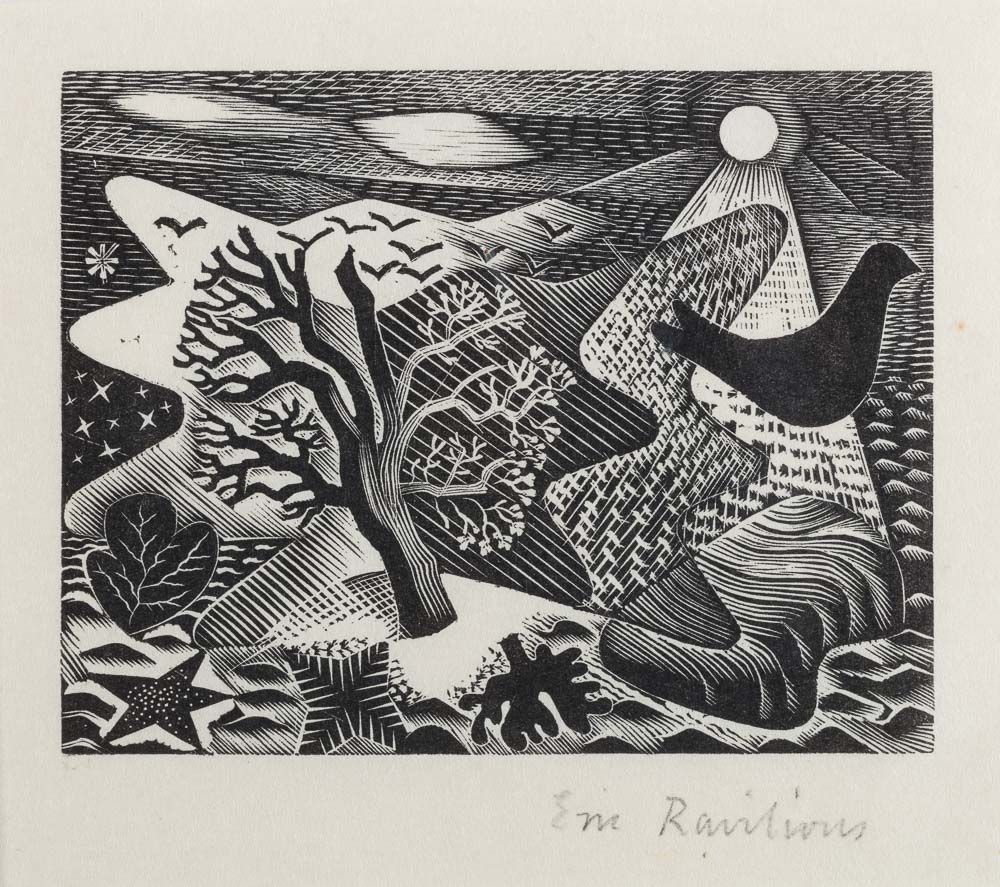 When Ravilious taught wood engraving he encouraged students to place light areas against dark and dark against light. You can see this simple approach in 'Bird and Tree'. The left side of the tree is dark against light, while on the right hand side the relationship is reversed. This back and forth adds drama and movement to the piece, as does his use of pattern. The simple bird shape is animated by the play of pattern going on around it.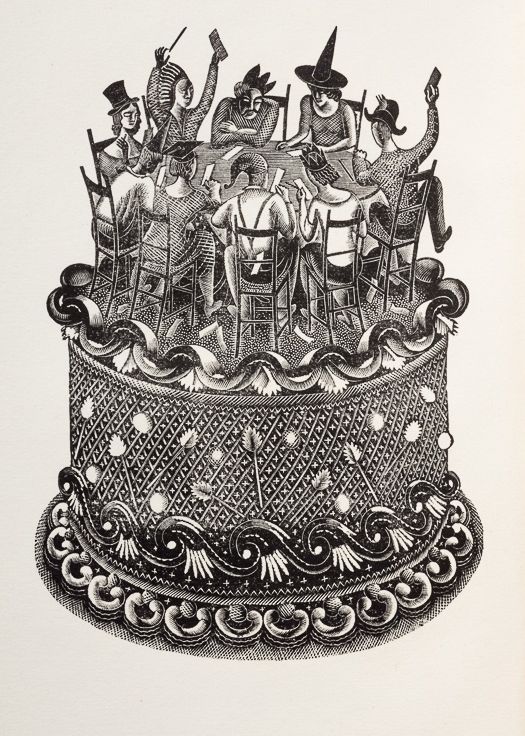 Play was important to Ravilious. He loved games of all kinds and used to go across the road to the pub after work for a game of shove ha'penny. 'Consequences' illustrates a book based on the old parlour game where people take it in turns to build a story. We see a group of friends seated round a table which is balanced on top of a cake – a very festive image with a frisson of mystery. Note the various patterns encircling the cake, which are cut so that the cake appears three-dimensional.
The more you look at 'Consequences', the more you appreciate how fiendishly complicated it is, yet the whole design still relies on the contrast of light and dark. The ability to create lively compositions in this way helped Ravilious enormously when he began making designs for Wedgwood ceramics. In fact he sometimes recycled one of his own wood engravings, turning it into a drawing which could be transferred to a teapot or a jug.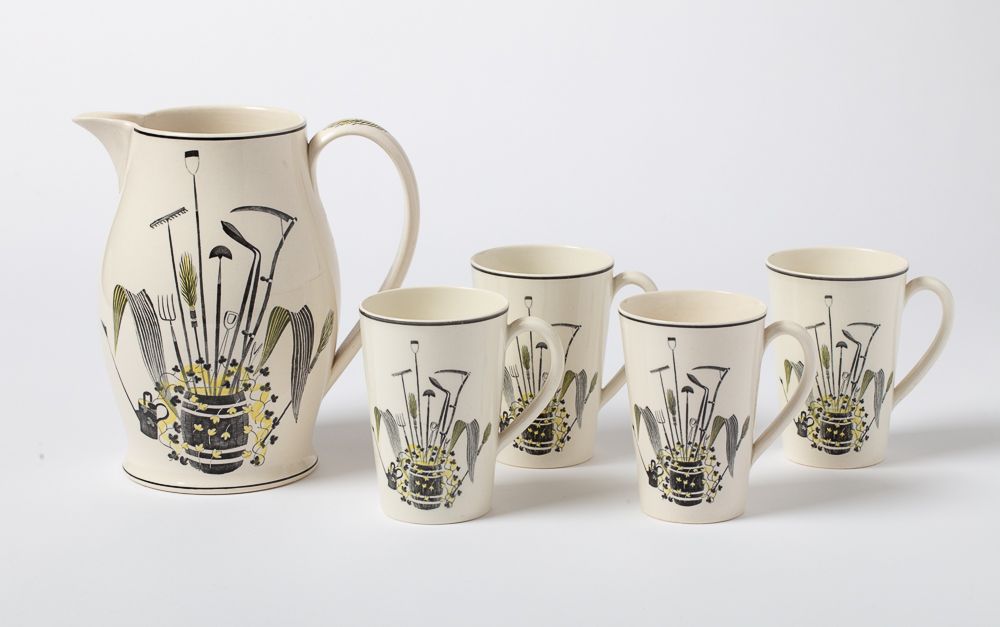 When thinking up ideas for designs, he was inspired by ordinary things such as a set of garden tools. It looks exotic today but the display depicted on the 'Garden Implements' lemonade set is pretty much what you'd have found in any garden shed of the 1930s. What the artist has done – again, very playfully – is make the hoe, scythe, etc, look like a floral still life, complete with leaves. More tools appear in the set of vignettes he made for 'Garden', a set of designs used by Wedgwood to decorate a memorable dinner service. As with the wood engravings, these vignettes are simple but effective. The swimmer diving into the pond is a masterpiece in miniature, from the reflections in the rippled surface of the pond to the tangle of clothes on the bank.
---