Today, as part of the Festival of Archaeology series on Culture on Call, we take a trip to Amport near Andover, where a late Roman silver bezel was discovered.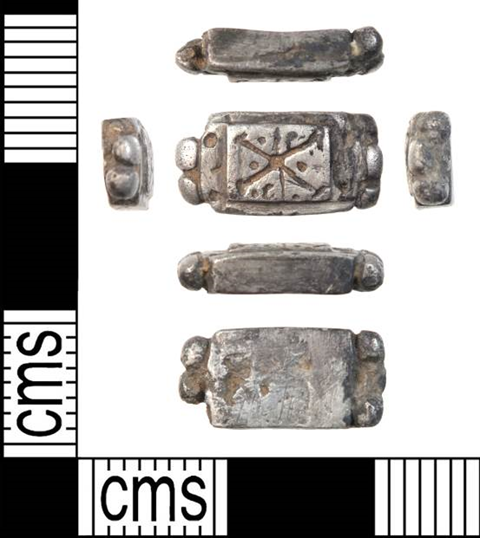 This silver bezel from a finger-ring was found by a metal detectorist in the parish of Amport, near Andover, and dates to the late Roman period in Britain (300-410 AD). The bezel is likely to have come from a ring of the so-called 'Brancaster' type, named after the Roman fort and Norfolk village where the first example was discovered in the mid-19th century. The decoration on the ring bezel is a crudely incised 'Chi Rho' symbol, a popular way of showing that the wearer was a Christian. The rectangular shape of the bezel, combined with the Christian symbol and precious metal, are all elements that lead to the Brancaster identification. Other Christian symbols seen on these rings were doves and peacocks. When the ring was made the design would have been more vivid, as traces of probable niello (now dark grey in colour) survive in some areas of the grooves. Niello is a black mixture, usually of sulphur, copper, silver and lead, which is applied into a recessed area to heighten the contrast with the surrounding area. So when the wearer proudly wore this ring, it would have been bright silver with a strikingly contrasting black design.
The Chi Rho symbol, the first two letters of Christ in Greek, was a popular symbol to show allegiance to Christianity in the later Roman Empire. Emperor Constantine I, who reigned from 306-337 AD, converted to Christianity and encouraged citizens of the empire to also do so. The coin below from the Hampshire Cultural Trust collections was minted during the reign of emperor Magnetius (350-35 AD) clearly shows the Chi Rho on its reverse side.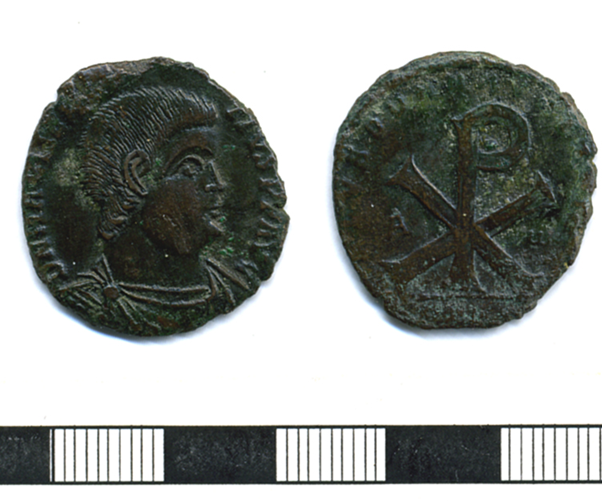 ---
If you have enjoyed Culture on Call and you are able to make a donation, please click the link below. Any support you can give will help us keep communities connected to culture in these difficult times.