Notably favouring the analogue camera, artist Paul Joyce takes a unique and individual approach to his work. In this article, we take a look into the techniques and processes Paul utilises, as well as his relationship with the camera.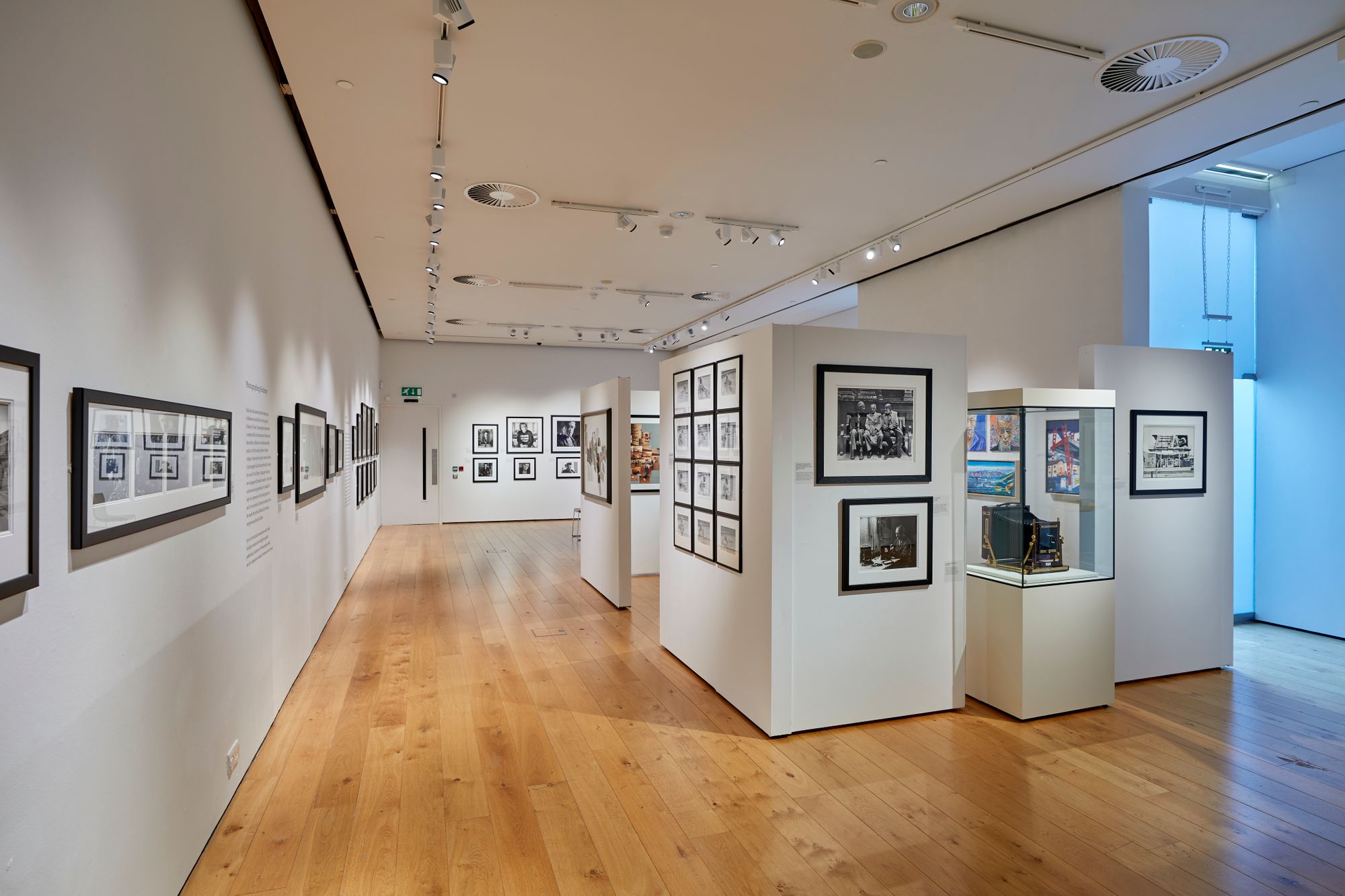 The Gandolfi family are behind the pioneering workshop of world class camera makers in Peckham Rye. In 1885, amongst a booming photography business, Louis Gandolfi set up his own camera making business. Taking advantage of the introduction of dry plate photography technology, Louis made innovative portable cameras. Wet photography was a tedious, delicate and sometimes even hazardous undertaking, which involved dangerous chemicals and laborious preparatory work. Unlike wet photography, the new technology of dry plate allowed photographers to store emulsified plates until needed - this allowed for photography to be a portable practice. Louis Gandolfi built large format, folding wooden framed cameras under the core values of good craftsmanship: excellent materials (including Japanese Cherry Wood and Cuban Mahogany) and careful assembly. He would later teach the craft to his two sons, Arthur and Frederick, who continued the business after his death in 1932.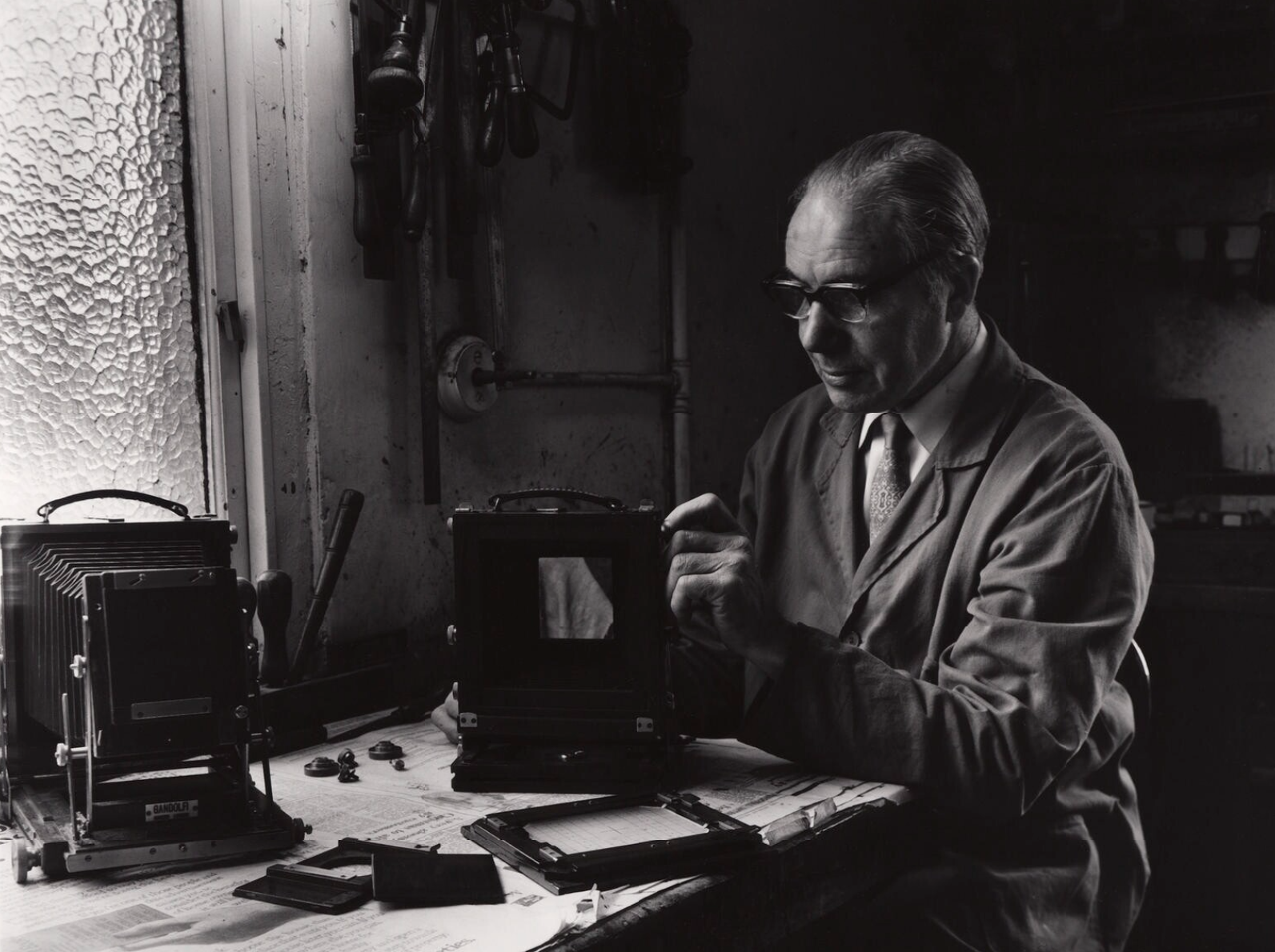 Paul Joyce first met Frederick Gandolfi in 1976, and despite not owning a Gandolfi camera himself, he ended up taking Frederick's portrait with a borrowed one! Paul says of the encounter:
"The Gandolfi brothers had been making cameras for over 100 years...I telephoned them, and told them I was interested in ordering a camera, and they said that there was a huge waiting list. Throughout the phone call they did everything they could to put me off. I ended up going to their offices myself and I got along with Fred, he was the talkative one...The Gandolfi camera is just this magnificent combination of mahogany wood, brass fittings and leather. Fred was an expert in camera making, in fact he had one there, must have been a 1000 brass fittings, all waiting in the drawers. I always like to think ahead and have enough material for the next photo. I said 'Look Fred, I'd like to take your picture'. At the time I had with myself an analogue camera, but not made by the Gandolfi family. As I was setting up my camera, Fred said, I am not having that, I would not be photographed in any other camera than a Gandolfi. He went to get one, I fiddled with it for about an hour to use my lens in his Gandolfi to take the photo, I managed to take the photograph of a Gandolfi brother in a Gandolfi camera."
Paul Joyce's approach to photography involves the deep belief that the picture will stand the test of time. As such, he only reveals the picture a significant period of time after it was taken. He has applied this practice with many of his photographic series', such as David Hockney Swimming in his Famous LA Pool (1990):
"I didn't do anything with them and I left the negative for 30 years, they became much more interesting for a number of reasons. He (David Hockney) has changed quite a lot physically. He would never do that again now, swim in a pool like that for someone to take his picture. In a way, this is a historic record which can never be replicated. I like to think after the passage of years, well considered and executed that it did at the time, these photos stand the test of time."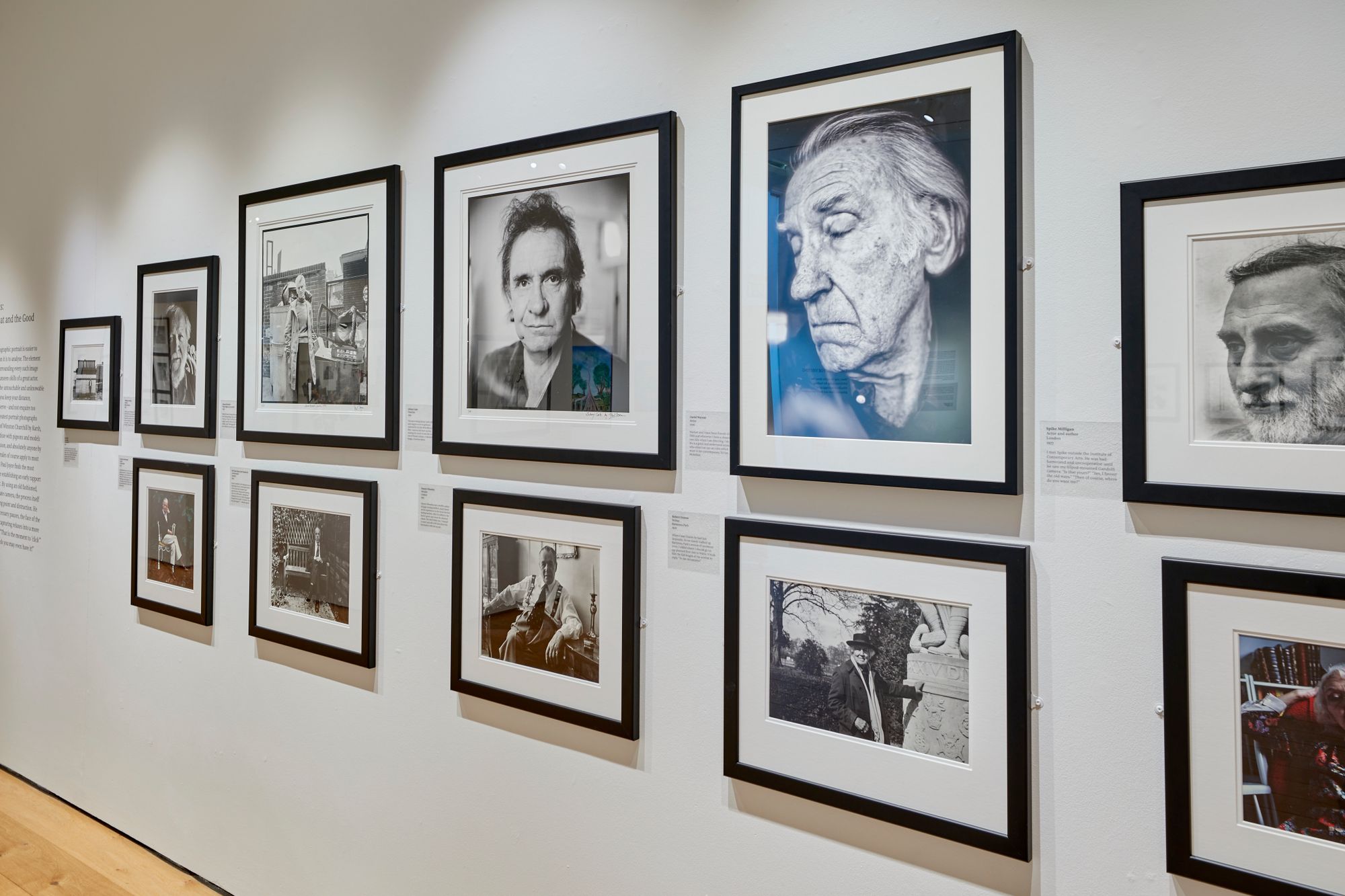 In his own unique manner, Paul compares the craft of photography to both samurai etiquette and alchemy:
"You know when a samurai warrior takes his sword from his sheath, by tradition it has to draw blood, you can't withdraw without drawing blood. I feel the same way about a camera, for me is like a samurai sword, if you remove it and you use it, you have to use blood. Otherwise just leave it in the drawer. Alchemy is a metaphor of photography, because the alchemical process has chemical undertones very similar to the art of fine art photography. They share the history of dealing with precious metals and minerals...silver, platinum, gold, some of these materials like selenium are dangerous...but dealing with these precious materials brings us one step closer to treating alchemy."
---
A Life Behind the Lens at The Gallery, Winchester Discovery Centre is now open until 10 November 2021. Many of the photographs on display are for sale and available to collect at the end of the exhibition. We are also offering a 'Prints on Demand service'. Entrance is free but ticketed, so we encourage you to pre-book your visit.
Paul Joyce has forged an international reputation in the fields of film-making and photography. As a photographer, he has shown widely in Europe and America, with work in many of the major institutions, collections and museums in the UK, France, Italy, Germany and the US. Joyce's photographic work is held by different public collections, including The National Portrait Gallery London, The Tate Gallery and The National Museum Wales.
Follow City Space and The Gallery on Instagram.
---