"Since joining Hampshire Cultural Trust at Ashcroft Arts Centre in January, I have absolutely loved meeting the Fareham community and hearing stories about past shows. It was on my interview day that I was first introduced to the artist's backstage room, where posters from acts who have performed at the arts centre cover the entire walls, some of whom now sell out stadium tours!"
Benjamin Hill, classes and workshops coordinator, takes us down memory lane with a blast from Ashcroft Arts Centre's past to see where some of the artists who have performed were then and where they are now...
Arctic Boosh (1999)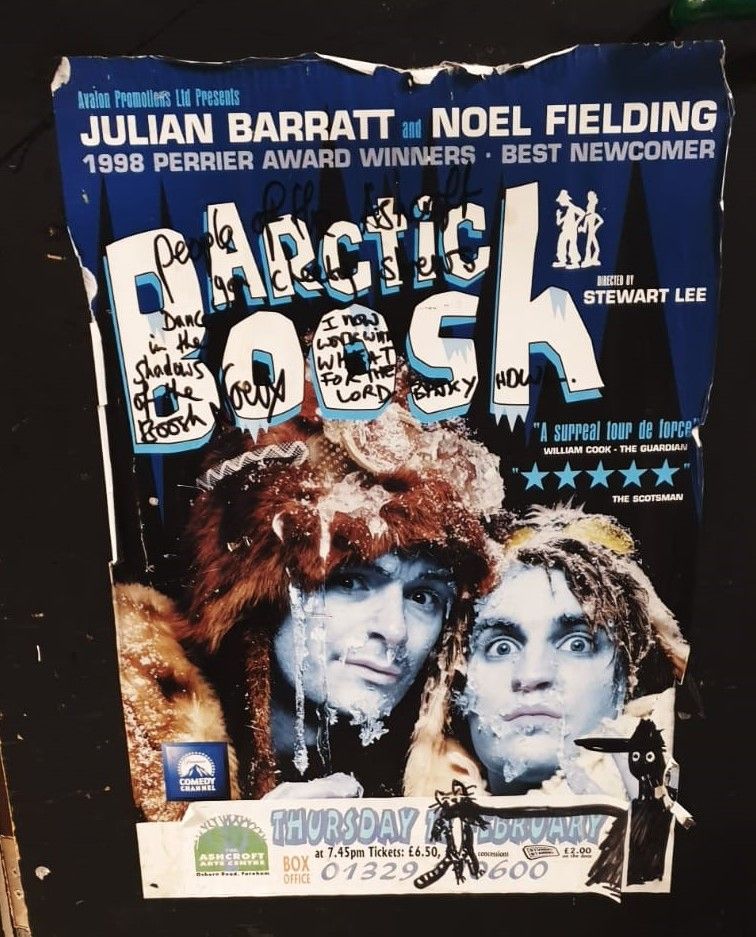 Arctic Boosh was the second comedy stage show performed and written by Julian Barratt and Noel Fielding, following The Mighty Boosh stage show.
The Mighty Boosh first appeared at the Edinburgh Fringe Festival in 1998 where the show won the Perrier Award for Best Newcomers and the pair quickly became a hit with the public. They returned only a year later with new show Arctic Boosh which was nominated for the main Perrier Comedy Awards (Edinburgh Comedy Award). The show was so successful it ended up selling out every night at the festival!
In Arctic Boosh, Noel Fielding and Julian Barratt play two postal workers (Vince Noir and Howard Moon) that set out on a journey to the tundra. On their way, they come across many creatures including Alan The Bingo Moose who shoots numbers from his hoof (of course!). After the success of Arctic Boosh, the Boosh stage series continued with shows including Autoboosh (2000), The Mighty Boosh Live (2007) and Boosh Live: Future Sailors Tour (2008/09) which were performed in venues such as Wembley Arena and The O2 Arena, London. As well as having huge success on stage, the show also gained its own radio show on the BBC and The Mighty Boosh TV series from 2004-2007, produced by Steve Coogan's company, Baby Cow Productions.
It would have been amazing to see Arctic Boosh at an intimate venue such as Ashcroft Arts Centre back in 1999!
For now, here is a much loved moment from the pair:
---
Craig Charles: Still Live on Earth (2000)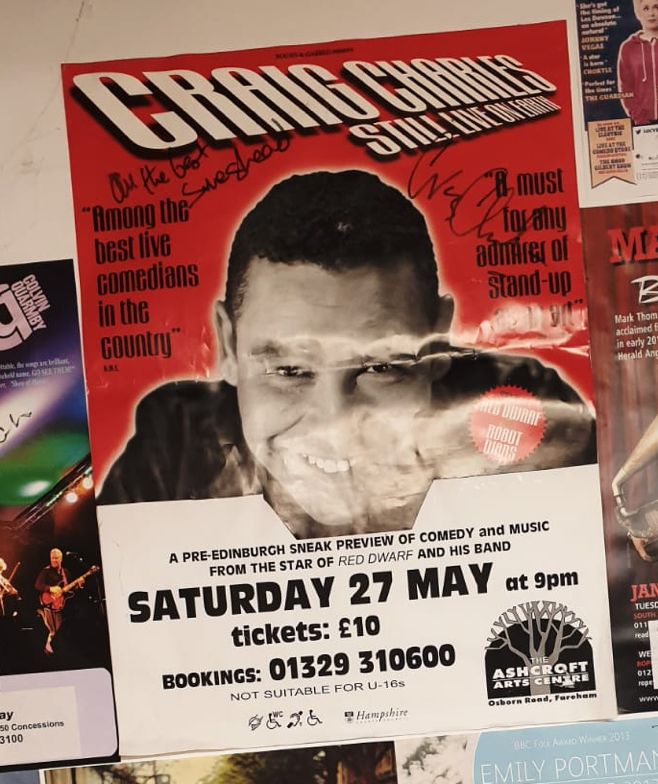 Most people would agree that Craig Charles has become a household name across the UK. He has been involved with many TV shows, including Red Dwarf, Coronation street, Takeshi's Castle and Robot Wars. Besides acting and presenting, he is also a well-known DJ and has his own shows on BBC Radio 2 and BBC Radio 6.
Despite his success, many people don't know that Craig Charles actually started out as a poet in the 1980s and adapted his witty poetry to aid his stand-up comedy, music and television career. Craig's show Still Live on Earth, which visited Ashcroft Arts Centre, was on tour between 1999-2000 and was a new take on his live show Live on Earth! which toured in 1995. Still Live on Earth went on to be performed at festivals such as The Great Norwegian Comedy Festival and the Melbourne International Comedy Festival.
Although Craig Charles hasn't performed stand up since 2000, when he performed his show Craig Charles and His Band at the Edinburgh Festival, he's gone on to lots of successful things. He still DJ's live at many renowned festivals such as Glastonbury Festival, WOMAD, Cheltenham Jazz Festival, Kendal Calling and many others!
---
Rob Beckett: Live (2013)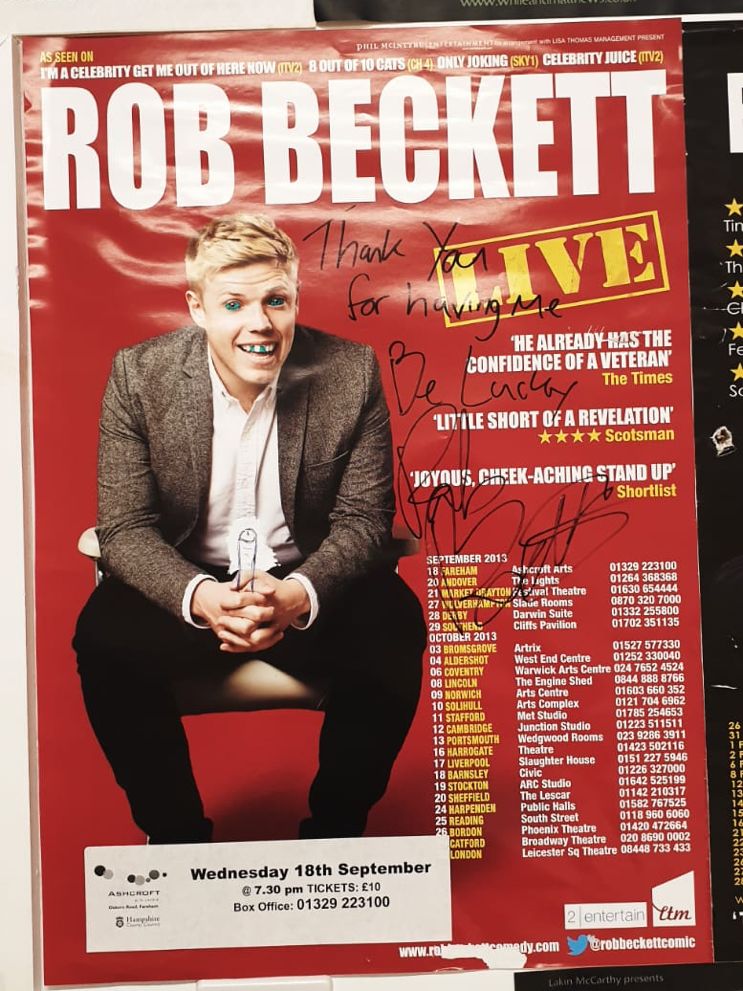 In the not-so-distant past, the brilliant Rob Beckett opened his tour of LIVE in 2013 at Ashcroft Arts Centre. This was his first national headline tour after supporting Russell Kane in 2011/2012 and hosting his own show at the Edinburgh Fringe Festival in 2012, Rob Beckett's Summer Holiday Edinburgh. Rob's most recent tour was in 2016 with his show Mouth of The South and his next national tour Wallop is starting in Autumn 2020.
Throughout his stand-up career, Rob has already won four awards including the Amused Moose Laugh Off in 2010!. He's also appeared on TV shows such as Live at the Apollo, Mock the Week, Smells Like Friday Night, Celebrity Juice, I'm A Celebrity Get Me Out of Here, Fresh Meat and many more.
---
It was really difficult to pick just three stand-out comedy shows as so many brilliant comedians have visited Ashcroft Arts Centre over the years - we've loved reminiscing and seeing where the performers are now. The posters show that we're lucky enough at Ashcroft Arts to host brilliant performers, whether in the early stages of their careers or as part of their national tours.
If there is a show that catches your eye at Ashcroft Arts when we re-open after lockdown this autumn, come and watch! It may be one of your last chances to see an act in an intimate venue before they potentially headline Wembley arena...
---
If you have enjoyed Culture on Call and you are able to make a donation, any support you can give will help us keep people connected.