From the regal linens worn by pharaohs to the colourful silks worn by everyday Egyptians, the tapestries and textiles of civilisations of yesterday offer a fascinating journey through time and culture, and open a window into life of the past.
As we explore the fascinating intricacies and mysteries of ancient Egyptian life in Andover Museum's latest exhibition (until 21 January 2024), offering visitors a peek at the lives of Ancient Egyptians, their beliefs and explain why some remarkable artefacts have wound up in Hampshire, textile art group, The Alchemist's Needle, have delved into these themes within their beautiful embroidery pieces.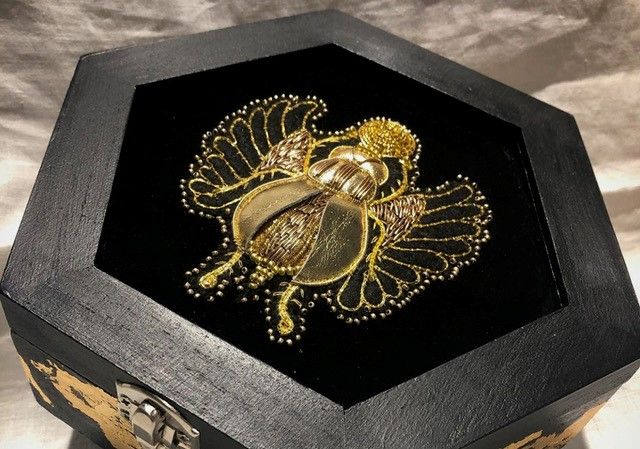 The group create art as part of both solo and group projects, which often form the backbone of their future exhibitions and help to motivate the local artists between shows. It just so happened that, this year, the news that Andover Museum and the Museum of the Iron Age would be hosting Mysteries of Ancient Egypt coincided with their first group project for the year – the discovery of Tutankhamen's tomb, resulting in a beautiful collection of skillful, intricate and inspired artwork.
We have been fortunate enough to see these works evolve over the past few months; the stitch group, based around Andover, has enjoyed a connection with Hampshire Cultural Trust following a successful exhibition late last year. Spurred on by the Egyptians eye for design and colour, the group has wasted no time in producing a small body of work around the treasures discovered by Howard Carter in 1922.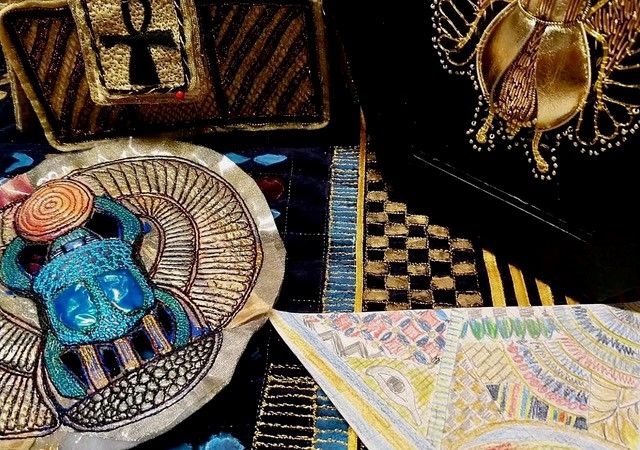 While it appears that the Ancient Egyptians did use some basic decorative embroidery stitches such as blanket, chain and running stitch, they used others to darn and mend clothes. According to the Textile Research Centre, when King Tutankhamen's tomb was discovered, they found a wealth of textiles – including everyday items like loin cloths and socks to elaborate woven linen ceremonial together with beaded and appliqued items. Later in the 1920s the treasures became a world-wide phenomenon and influenced not only interior design but fashion, too!
Hours of work go into creating these fabulous pieces and the eight members have used a variety of techniques including mixed media, free motion machine and hand embroidery as well as goldwork – often associated with ceremonial and ecclesiastical embroidery – as well as the use of plastics to create unique works of art.
Among the Alchemist's Needle treasure trove is a tiny golden container on globe feet, painstakingly constructed from fabric and paint, and decorated with ancient symbols and even a bust of the young king. The collection also boasts a luxurious decorative black velvet bolster pillow stitched and painted with tiny repeating patterns similar to those found on Tutankhamen's sarcophagus, and a hexagonal wooden box painted matt black with a goldwork Scarab Beetle, lined with golden silk and bursting with colour a second Scarab, created using a stitched plastic technique learned on a workshop.
---
With special thanks to The Alchemist's Needle for their beautiful and inspired work.
Discover The Myseries of Ancient Egypt at Andover Museum; a free exhibition, until 21 January 2024.