This Sunday (12 November), we celebrate the one-year anniversary of 878 AD in Winchester, a tribute to the city's vibrant Anglo-Saxon heritage. We're delighted to share an authentic Anglo-Saxon cake recipe with you to mark the occasion!
Join us in commemorating our first birthday by exploring this delightful treat below.
---
The Anglo-Saxons had different customs and cultural practices than we do today. The celebrations of birthdays as we know them today were not a common tradition among the Anglo-Saxons. Anglo-Saxon celebrations were more closely tied to religious festivals, agricultural events and communal gatherings. For example, they celebrated various seasonal festivals like Yule (winter solstice), which centred around feasting and wider community celebrations, rather than on an individual level.
Birthdays, as we know them, became more prominent in Western cultures in later centuries. The idea of celebrating individual birthdays with cakes, candles and gifts gained popularity during the 18th and 19th centuries - long after the Anglo-Saxons. However, we think today is the perfect opportunity to blend modern celebrations with historic practices, as we share an authentic recipe for Alfred's Anglo-Saxon honey cakes!
Alfred's Anglo-Saxon Honey Cakes
Recipe makes 12 cakes as standard
Ingredients:
250g of porridge oats
125g of unsalted butter
50g of chopped dried apricots or dried apples
4 generous tablespoons of runny honey
1 level teaspoon of ground cinnamon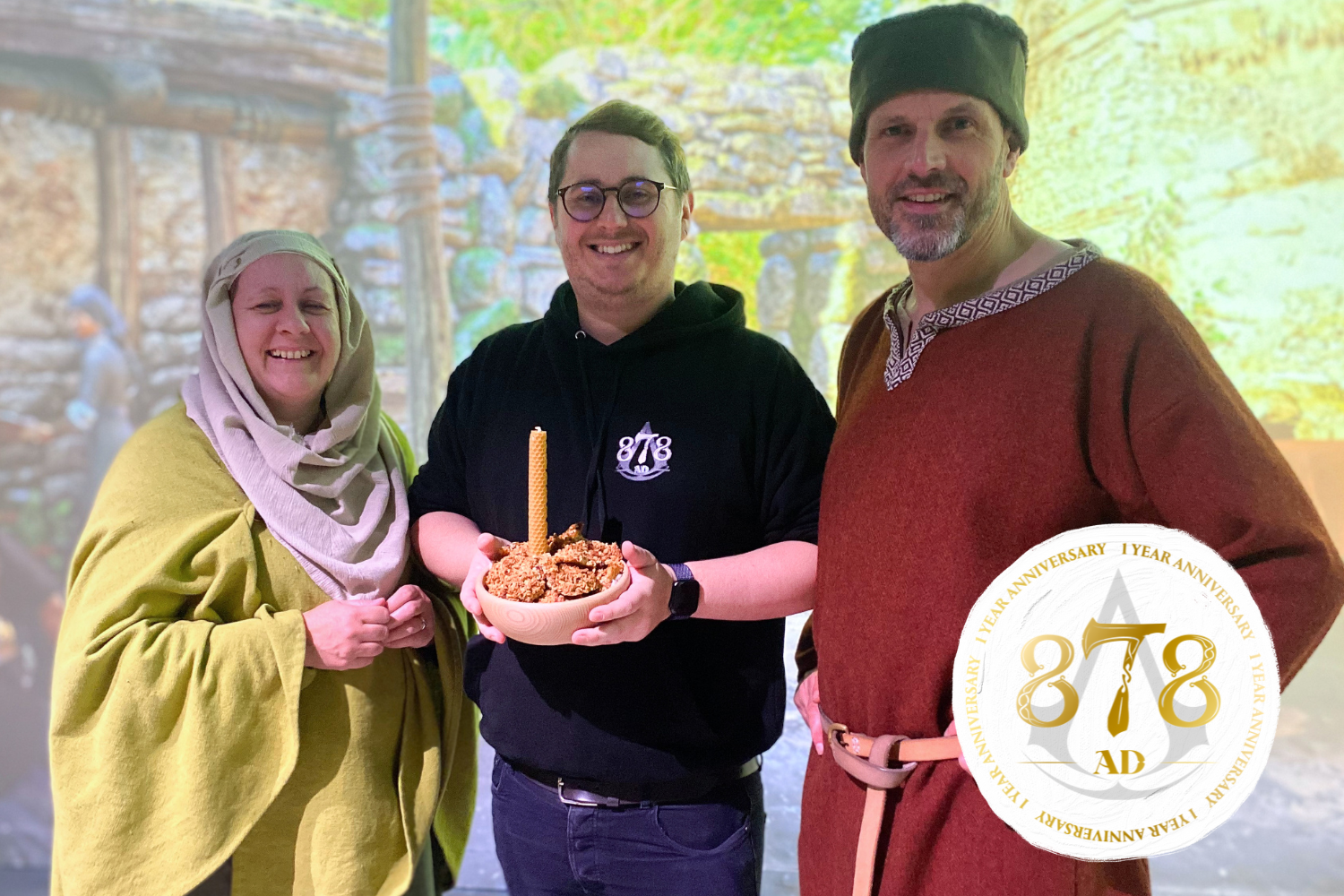 Directions:
Begin by pre-heating your oven to 180°C, or 160°C if you're using a fan oven. Though this isn't technically authentic, a modern oven will do!
In a large saucepan, melt the unsalted butter over low heat, and once it's melted, remove it from the heat.
Add the runny honey, oats, ground cinnamon and the chopped dried fruit to the melted butter. Stir the mixture thoroughly until all the ingredients are well combined.
Grease a baking tray to prevent sticking. Then, use a spoon to drop 12 portions of the mixture onto the tray, gently flattening each one slightly. You can apply less than 12 portions for larger cakes - adjust baking time as necessary.
Place the tray in the preheated oven and bake for approximately 10 - 12 minutes. The cakes should turn golden brown during this time.
Once the cakes are done, carefully transfer them to a wire rack to cool. Allow them to cool completely.
Serve your Anglo-Saxon honey cakes to celebrate the first birthday of 878 AD!
This cake is a delightful blend of the flavours and ingredients that were often used in Anglo-Saxon cooking. It's a sweet and slightly spiced cake that's perfect for celebrating this special occasion. Enjoy!
"Since opening 12 months ago, we're seeing visitors who would not normally visit traditional museums coming to 878 AD. 878 AD does something completely new in the heritage world and has opened up history for everyone to discover. The experience is based on the latest academic research and displays authentic 9th century objects, but also tells its story through the immersive world of Assassin's Creed, live performance and a cutting edge, augmented reality app tour of Winchester that really does reveal Alfred's legacy to the city in a completely new way. We would like to thank our funders without whose support this innovative project could not have come to fruition, they include Winchester City Council, Hampshire County, Arts Council England, Garfield Weston Foundation, Art Fund, The Syder Foundation as well as generous contributions from a number of donors." Paul Sapwell, CEO
---