Collections Team Assistant and Kickstart scheme staff member, Loui Lancaster, takes a look at the origins of 'Yule' and the traditions that followed.
---
When looking through Hampshire Cultural Trust's collection of Christmas items, I stumbled upon a single blue and black bauble, unusually shaped, dated between the 1930s to the 1950s. While looking at this decoration, it made me think on why we bring in trees to decorate during the cold festive season and the origins that surround the Christmas period.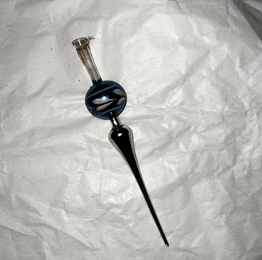 Throughout history, there has always been important emphasis placed on the winter months and the festivities that accompany them. For most, this comes in the form of Christmas, Hanukkah or the Winter Solstice, among many others. However, why not look a little further back into the more spirited past?
When most people hear the word 'Yule', thoughts of cold dark nights spent around a warm roaring fire with loved ones spring to mind, but how would this change when the context of our ancestors and traditions are called into the spotlight?
Though the actual origins of the iconic yule log are debated, it is often credited to the Norse and the Celtic Druids respectively, with mistletoe and lighting a yule log believed to banish evil spirits.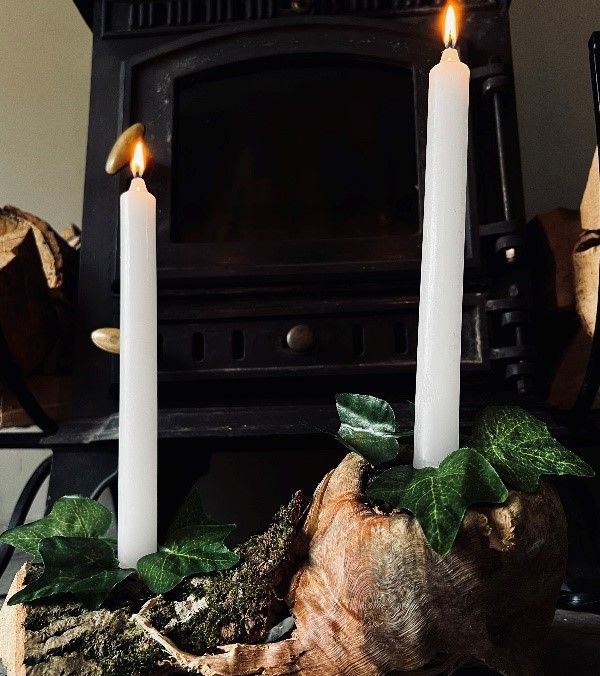 Later in history, medieval families would go out into the woods to find a large log or a whole tree, that would then be known as the Yule log. Once the wood was selected, it would be used typically from the Winter Solstice (21 December) for twelve whole nights, each night with more of the tree being burned.
Interestingly, depending on the time period and location, the traditions surrounding the burning of the yule log differ. Some counted the sparks from the log to see how many new calves to expect in the New Year, whilst others adorned the log with holly, mistletoe, ivy and candles (much like what can be seen in the image above). The French, for example, were even known to pour wine on the log to give the smoke a sweet scent, changing the colour of the flame produced due to the different chemicals found in the wine.  
Today, 'Yule' is used to describe the feast celebrating the birth of Christ with 'Yuletide' describing the Christmas season and the Yule log — far from its origins is the popular chocolatey dessert eaten at Christmas time.
Despite all of theses changes throughout history, the purpose of the 'Yule' traditions remain the same - to bring families together in light and warmth, to enjoy feasts and stories of the past, but mostly, to live through the cold harsh winters and look onward to the New Year and the suns return.
---