To celebrate Raymond Briggs: A Retrospective opening at The Gallery, Winchester Discovery Centre (now on until 18 August 2021), we spoke to Katie McCurrach, Assistant Curator and Touring Manager at House of Illustration, and Nicolette Jones, author of Raymond Briggs, a new publication in the Thames & Hudson Illustrators series, all about Briggs and his work.
---
1. First off – Why Briggs and his work in particular?
Katie McCurrach (KM): Briggs has had an amazing career as an illustrator and yet there has never been a retrospective that examines all of his work before. He has illustrated such a diverse range of books and his stories have emotional depth that has resonated with people across the world, so when the opportunity came to work with Briggs and access his personal archive, we jumped at the chance.
Nicolette Jones (NJ): Briggs' work is proof that illustration is also art, and it was overdue to have an exhibition that demonstrated this. The work always rewards close attention; although I have now written two books about Raymond's work, I constantly find new things of interest in it – both for grown-ups and for the very young.  And he was a pioneer, both in his response to class and in his use of the cartoon strip, as well as being profound in his treatment of such subjects as loss, aspiration, family and war.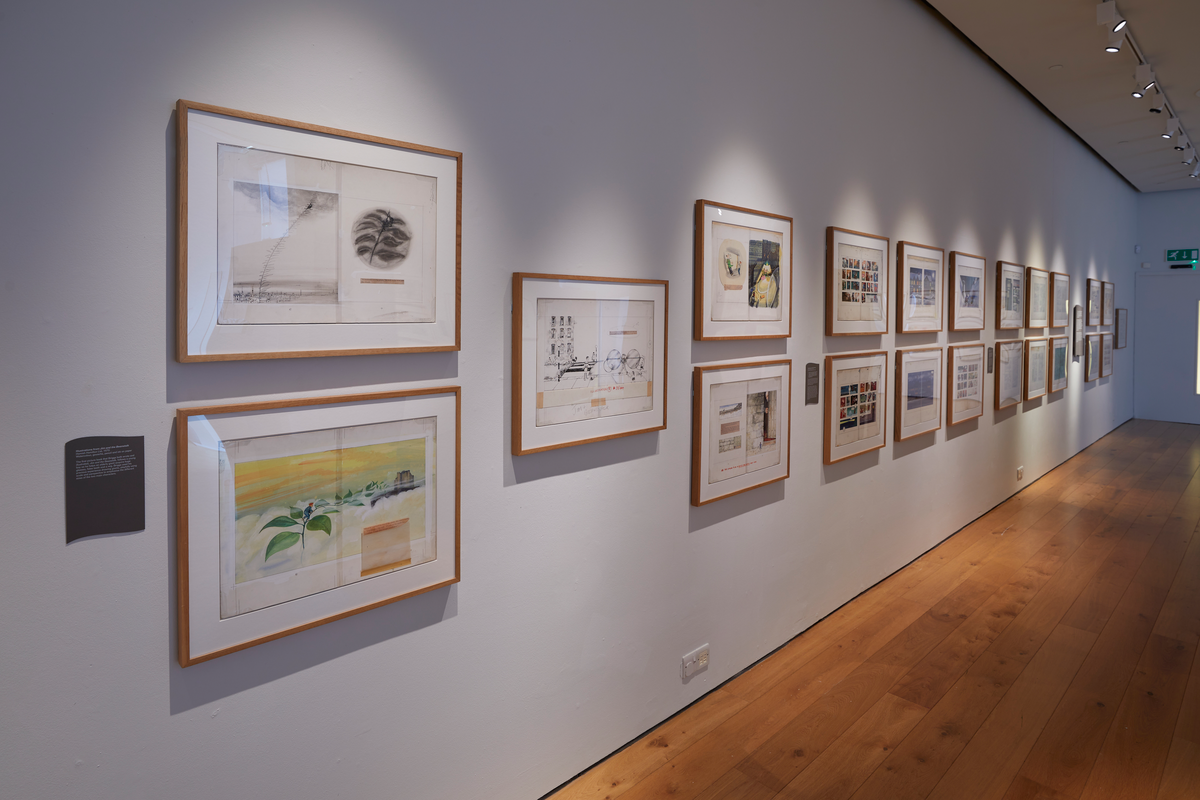 2. What was your first experience with the books of Raymond Briggs?
KM: I grew up reading books illustrated by Briggs, from The Elephant and the Bad Baby by Elfrida Vipont when I was very little, to When the Wind Blows as a teenager. I remember being absorbed for hours by the intricate details on every page, drawing my own comic strips and inventing illustrated characters inspired by Fungus the Bogeyman.
NJ: I had a book I loved as a child which was a real favourite: a retelling of The Swan Princess. I realised many years later, when I was researching him, that it was illustrated by Briggs. He kindly gave me a new copy because I had coloured mine in as a child.
3. Why do you think Briggs has such universal appeal?
KM: Briggs' books engage with themes that everyone can relate to – family relationships, grief, love, political conflict – and do so in a way that is sensitive, moving and often humorous. Not everyone in the world lives somewhere with snow, but The Snowman is popular in so many countries because it shows a beautiful friendship that ends sadly (and does so entirely wordlessly!) which many people can understand.
NJ: Images are a universal language but his are especially accessible, because they are never pretentious or obscure (even though Fungus loves long words). I agree with Katie that Briggs' trademark balance of humour and melancholy is a winner. And we all recognise not only the pathos and the big emotions, but also the small things, such as the grunge (Fungus), how intimidating bureaucracy can be (Gentleman Jim), and the grind of a repetitive job (Father Christmas).
4. A lot of children's books have an author and illustrator team - what does Briggs as the author-illustrator bring to his works that differentiates him?
KM: Briggs talks about writing and illustrating a graphic novel as similar to making a film – he chooses the sets, the lighting, the actors, the storyboard, the dialogue – and then he has to be a graphic designer working on the layout and typography too. It's a hugely time-consuming and difficult process, but perhaps if there is just one person doing all of this, you know that the story which is being communicated is undiluted. Briggs has brought in personal details which perhaps he would not have been able to if he had been working with another creative.
NJ: I think many of our greatest illustrators create the words as well as the pictures, though it isn't a requirement of the job. It is a way of having a complete vision, and makes for a very satisfactory whole in which words and pictures tell a story together. Certainly that is true of the books that Raymond wrote and illustrated. But some of the early work in this show, when Raymond was illustrating other people, shows that he could bring a wonderful, witty visual imagination to other people's ideas too.
5. How much of Briggs work is autobiographical?
KM: Most of his work draws on aspects of his own life – and I hope visitors to the exhibition will be able to see some of these connections. Ethel & Ernest is of course the most autobiographical, as it is about the life of his own parents, but their relationship is echoed in that of Jim and Hilda in When the Wind Blows and Gentleman Jim, and elements of his relationship with them can be seen in Ug and even Fungus the Bogeyman. His father Ernest was the inspiration for Father Christmas and even features in one of the frames of the comic!
NJ: Ethel & Ernest feels like the key to everything Raymond did, because it reveals the source of his preoccupying themes: not least the gulf in attitudes and experience that opened up between Briggs and his parents when he went to grammar school and then art school. I think there is an element of his life and his parents' lives in everything he created – even in the most fantastical books.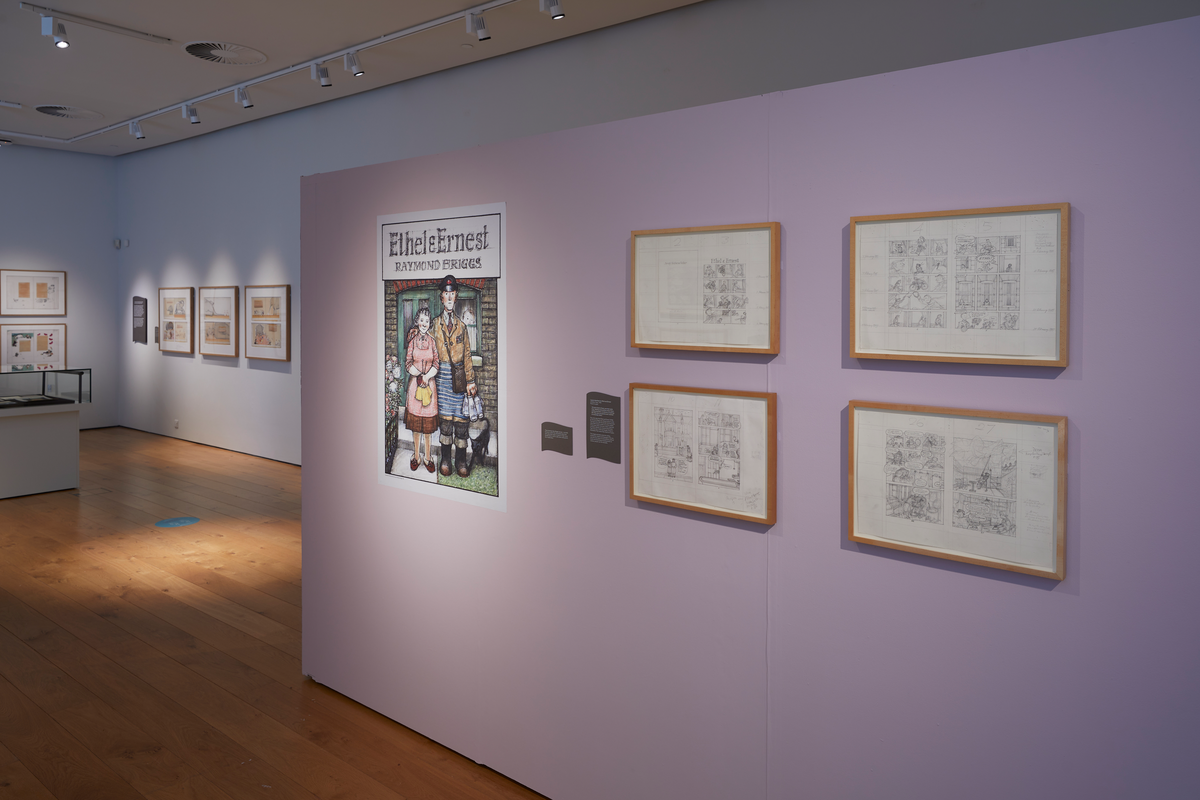 Look out for the second part of our Q&A, coming soon!
---
If you have enjoyed Culture on Call and you are able to make a donation, please click the link below. Any support you can give will help us keep communities connected to culture in these difficult times.