As part of the Festival of Archaeology series on Culture on Call, find out about a medieval item discovered in the parish of Chilcomb in Hampshire: a Papal Bulla.

This is an incomplete medieval lead alloy papal bulla of Pope Alexander III (AD 1159-1181), found in the parish of Chilcomb and kindly donated to Hampshire Cultural Trust by the finder. The obverse depicts the faces of St Peter and St Paul flanking a cross, all surrounded by a beaded border. The now lost upper portion would have carried the inscription SPASPE (Sanctus Paulus, Sanctus Petrus). The reverse bears the legend [ALEX] / ANDER / :PP. III within a beaded border. PP is an abbreviation of pastor pastorum (shepherd of the shepherds). The bulla is solid, with no visible channel for cords.
Papal bullae were used as seals on official papal documents as a means of authentication. Following their initial use they were often intentionally broken and then re-used as amulets or charms.
This object was found close to the site of the St Mary Magdalen Leper Hospital in Winchester (founded by Bishop Toclyve around 1180). It is possible that it originates from a document relating to the foundation of that institution. A parallel institution, also called the St Mary Magdalen Leper Hospital, was founded in Southampton at the same time and is known to have been confirmed by Pope Alexander III in 1179 as one of the possessions of the Priory of St Denys. If this bulla does relate to the Winchester foundation it may be evidence that both foundations were receiving similar documents from Pope Alexander III in 1179-1180.
The complete example below was found on the site of Hyde Abbey in Winchester, issued by Pope Alexander VI (AD 1492-1503) and can be seen in the Winchester City Museum.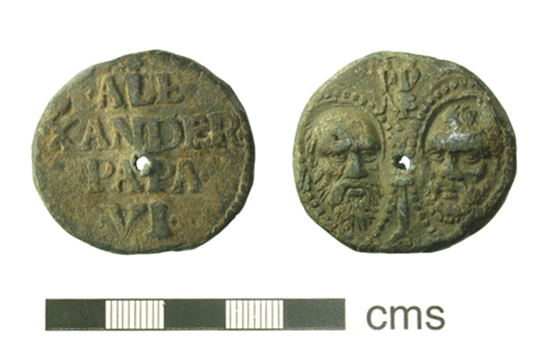 ---
If you have enjoyed Culture on Call and you are able to make a donation, please click the link below. Any support you can give will help us keep communities connected to culture in these difficult times.