Half a century has passed since Emlyn Koster, PhD — a geoscientist, museologist and humanist in Raleigh, North Carolina, USA — first visited Red House Museum and Gardens in Christchurch. The museum, now operated by Hampshire Cultural Trust, assisted his class projects at the former Gore Road Secondary Modern School and Christchurch Grammar School, now the Arnewood School and Highcliffe School respectively.
Here, Emlyn reflects on the role the museum played in setting the trajectory of his schooling and career opportunities, his most recent visit to the museum and the importance of museums to educate and inspire.
---
As a geologist I often think about the passage of time, periods stretching back tens and hundreds of millions of years and the changes they bring about in landscapes. Evidence from meteorites, moon rocks and the oldest rocks on the Earth's surface tell us that our Solar System was formed about 4.6 billion years ago. 99% of this history had happened when the sand and clay layers exposed in the cliffs at Barton-on-Sea were deposited along rivers and in lakes on a coastal plain under a subtropical climate about 40 million years ago. That was long after the last dinosaurs and long before the most recent ice age.
Growing up in New Milton, I often biked to Barton-on-Sea to spend hours exploring pond life in the subsiding landscape below the clifftop and searching the cliffs along the beaches after storms for freshly exposed fossils. During early evening rising tides, I often biked to Becton Bunny at the eastern end of Barton-on-Sea to fish with homemade rods, usually catching some bass and flounder.
My fascination in the local cliff subsidence was encouraged by my geography teacher, Don Stevens, at New Milton's Gore Road Secondary Modern (1961-66) and my geology teacher, Geoffrey Finlayson, at Christchurch Grammar School (1966-68). Those opportunities to study engineering attempts to manage natural forces were assisted by Red House Museum displays of samples of the Eocene epoch strata exposed in the Barton cliffs with maps of the early post Ice Age geography of the Solent area. Together, those experiences nourished my lifelong interest in geology, pursuit of geology degrees, and appointments at the helm of museums. However, I remain fascinated by the ongoing efforts to grasp the details of geological causes of cliff subsidence and beach erosion along the Highcliffe to Milford coastline.
Below are two of my school reports (interestingly with a marked evolution in handwriting style):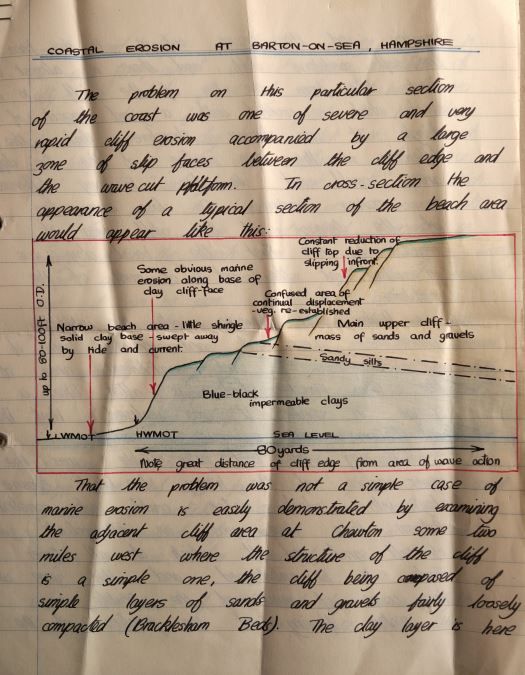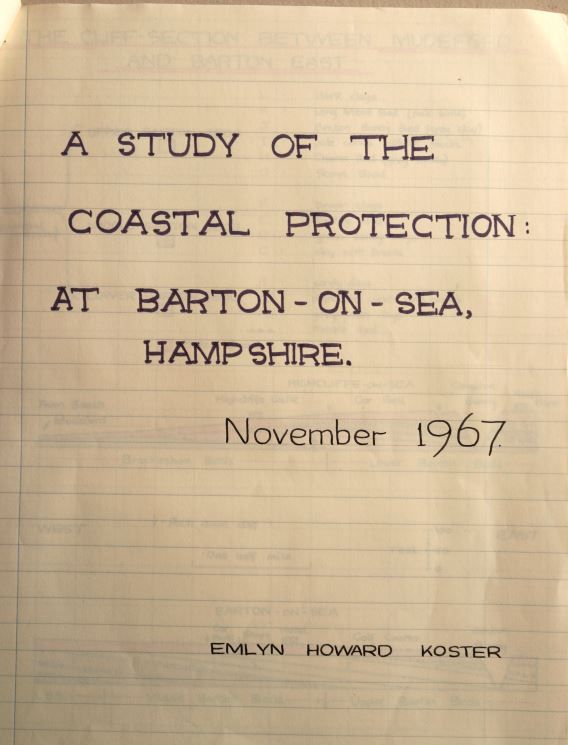 Last May, I returned to Red House Museum – still fascinating and of course with different displays – to donate my school reports and newspaper clippings and to meet community manager Laura Bullivant and volunteer Michael Andrews (by chance, Mike is also an alumni of Highcliffe School).
Already excited by planning emails and Zoom conversations, my visit, accompanied by an Arnewood and Highcliffe School friend, exceeded expectations for two reasons. One was our very warm welcome with an energetic conversation. The other was an engaging surprise that regional review and planning discussions about coastal problems continue apace, with inundation of low-lying areas in addition to beach erosion and cliff recession. It was after my visit that I became aware of an online 'Christchurch Bay and Harbour, Flood and Coastal Erosion Risk Management Strategy Engagement' meeting on 9 June, which I joined and offered several comments.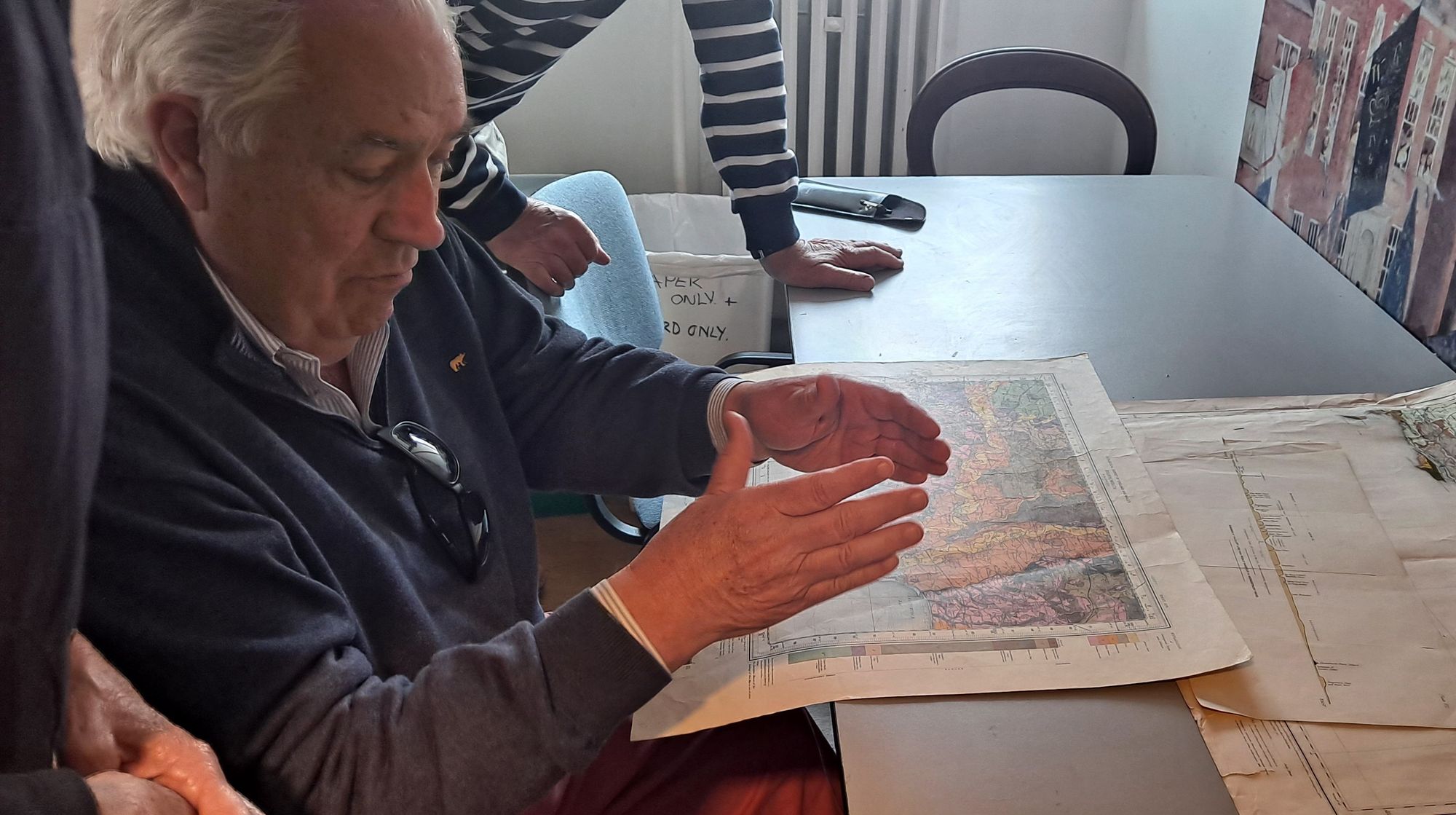 Looking back, my Barton-on-Sea experience also had a more specific lasting influence. This was that geological pursuits in Canada continued to be occasionally untraditional, including calculation of culvert sizes after watershed urbanization in Ottawa and the effects of weirs and dams on river sedimentation in Saskatoon. More broadly though, I became focused on increasing the external relevance of museums to local and global needs on the premise that these institutions are at their best as resources to inspire reflection. For me, not only did this philosophy begin at Red House Museum, but it nourished a career path during which I became appointed the chief executive at four major museums in Canada and the United States as well as elected board chair of the Geological Association of Canada on its 50th anniversary.
With deep appreciation and best wishes to all involved with Red House Museum, Emlyn Koster, PhD.
---