In the fourth and final part of this series, artist Mahlia Amatina discusses her exhibition Life on a Spectrum, which was disrupted by the national lockdown.
---
Hello and welcome back! Here is the final blog in this exhibition series, which has taken you through my journey of being diagnosed with autism and my new career as a visual artist. Both have run in parallel with one other, and it almost feels like you couldn't have one without the other.
This last year or so has been hard for all of us, and from an artist perspective, it's been difficult not being able to show my work in person. My work has evolved over the years to be both interactive and participatory, and to replicate this online has been challenging, to say the least. Below is an image of the exhibition at South Hill Park, Bracknell – the only venue where 'Life on a Spectrum' was able to be shown in the end. You can see the full gallery of images from the show in Bracknell here.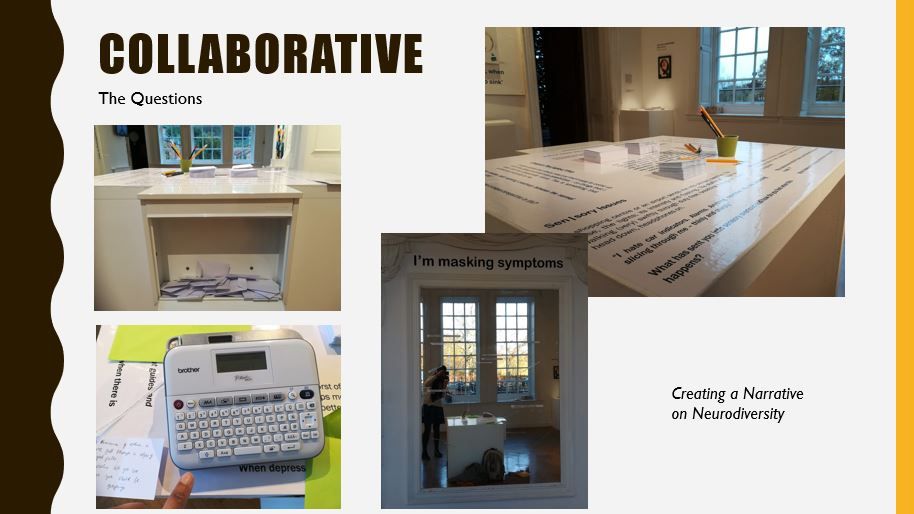 I became quite despondent by not being able to show my work, however, later in 2020, I had the opportunity to take existing work and translate it into an immersive online exhibition. This experience was incredible! Below you can watch a walkthrough of what this online exhibition looked like:
The exhibition used visual art, writing, videography and performance art to involve viewers both onsite and online. The work built on previous autism-related exhibitions 'On a Spectrum – an exploration of Asperger's syndrome' and 'Around the World in 80 Washing Lines', as well as an arts-based project on 'Women and Autism' created in New York City.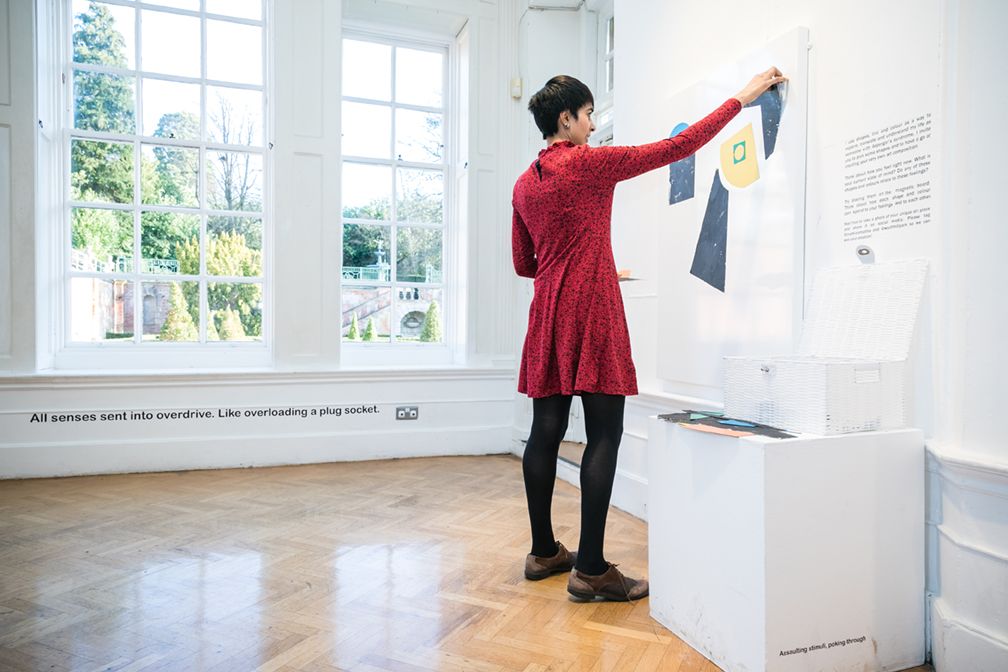 I was blown away with what could be achieved with my online exhibition and my hope is that I can explore the digital domain in more detail to see what possibilities there are to have interactive experiences online. One of the pluses of the digital world is that my work is not site-specific: anyone, anywhere, (with an internet connection) can 'visit' my shows. Plus, it's more accessible too – something I care greatly about.
I'm going to be spending more time looking into this, but also taking time to create new paintings. Interestingly, apart from a sprint of painting at the start of the first lockdown (the 'Memories' series), I haven't had the urge to paint at all during this time. It will be interesting to process this past year and reflect this through my artwork.
It's been a pleasure writing these blog posts for you over the last month and sharing my journey with you. I hope that we get to meet in person, and I can share my art with you at one of the Hampshire Galleries. Please do stay in touch via my website or social media (@mahliaamatina) – I'd love to hear from you! Thank you for taking the time to read this 😊.
---
If you have enjoyed Culture on Call and you are able to make a donation, please click the link below. Any support you can give will help us keep communities connected to culture in these difficult times.