Artist and printer Katherine Anteney joined us at the Arc, Winchester, this week accompanied by the carefully cut, chiseled and incised printing blocks that she used to create her new artworks for WE CARRY A NEW WORLD IN OUR HEARTS. In this article, she ruminates on themes central to the show and talks us through the processes behind making her work.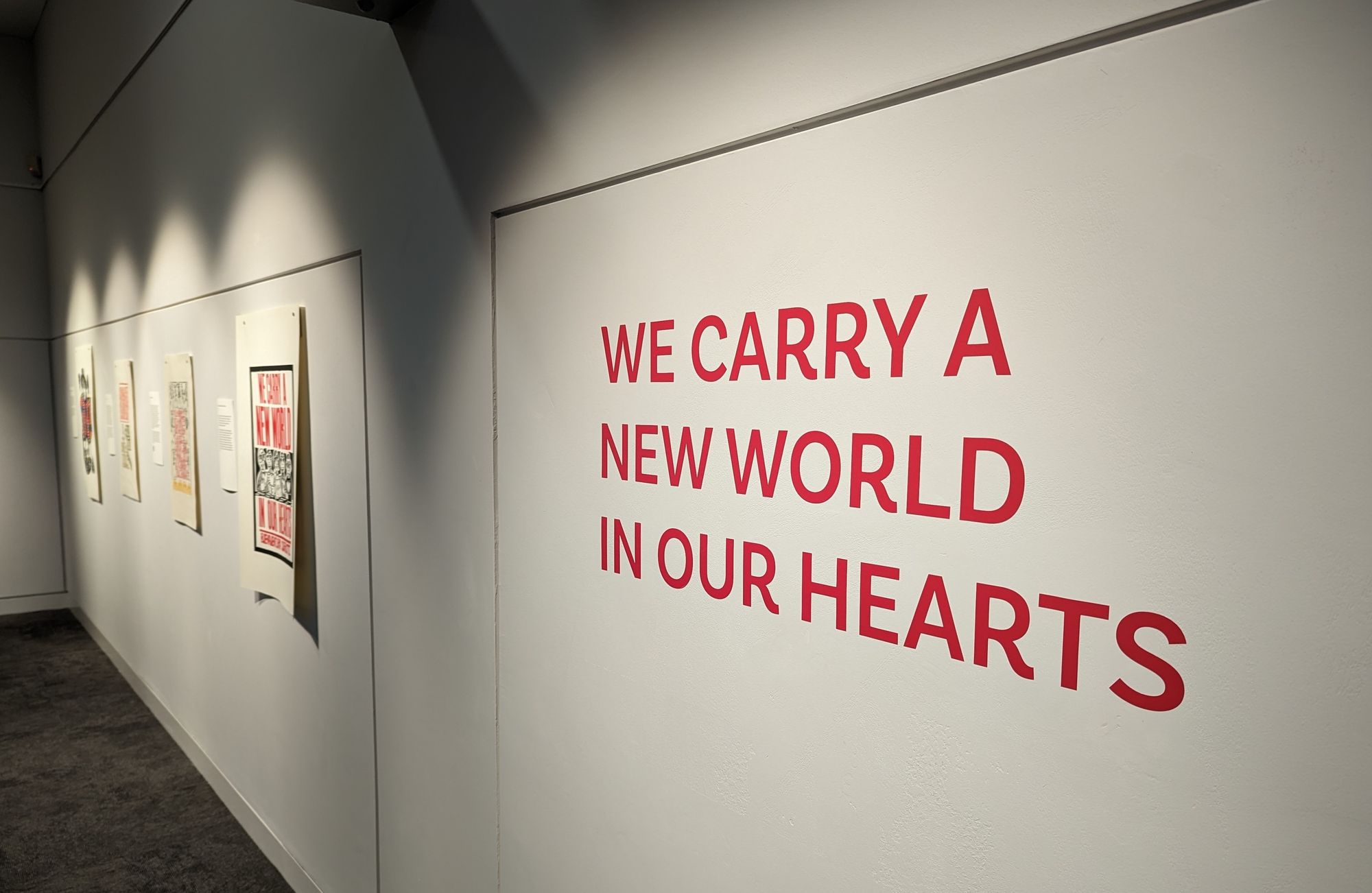 So, Katherine, why these artworks and why now?
I think that in the world we're living in now, a lot of these themes are in the news and are relevant to what's happening to us at the moment, and although all the resources that I've explored are historical, they all resonate with the world today.
Are these prints as much about self-expression as they are about venerating voices of decent?
I think they are about self-expression – you can't help but include yourself in your artwork, in how you feel about things and how you approach life and what your own internal politics are. They are all about themes that are important to me and the way that they are portrayed reflects my personality a little bit. It's been really good to have the chance to be able to say what I feel through the words of others and reimagining those words into my own style.
What inspired your printmaking methodology in the creation of the works for this exhibition?
Primarily I'm a relief printmaker. Most of the time I work in Lino and also wood cuts. I'm a letterpress printer too, so those are my preferred ways of working. But also, relief printmaking is a very simple way of making prints and really the traditional way of working - from the beginnings of printing, block printing was the way of illustrating, and I wanted to reflect that. All the pieces reference historical words and I didn't want to reproduce them in a modern form, I wanted them to have the feeling of posters or paste-ups. That's why the newer pieces created for this exhibition are not framed, because they have the feel of political or revolutionary posters that you'd see pasted on the wall. There is also the ease of relief printing. They can be inked up and printed quite quickly, to commercial levels. The mark-making in relief printing is very direct, too – carving into something and taking a direct print from it. There's no fussing – you cut the block and print the block, with not much in between as with etching or lithographs. It is what it is and that really appeals to me.
Katherine reveals more about the making of the prints, here:
Which of the works means the most to you?
I think the works that mean the most to me are perhaps the three prints that take as a reference stories and songs from Brazil during the miliary dictatorship. They feel a little bit more personal to me. I grew up in Portugal which was also under military dictatorship until 1974. That culture is somewhat inside me and so those have more of a personal connection for me. From an artistic point of view, the one that means the most to me is the one that references Warsan Shire's poem, 'Home', which I call 'A Great Wave'. I know that this one really strikes a chord with so many viewers and it means a lot to me that people identify with it in some way. Technically, this print turned out exactly the way I wanted it to, so that's always a nice thing too!
What message do you want people to take away from the exhibition?
I think really what I want people to do is to think about the situations that these original quotes were made in and why they were said, and to maybe think about how that impacts on the world that we're living in now. It's up to the viewer to interpret and discover and to learn something and find out new things – go away, read more, discover more, enjoy the work and find something in it that resonates in themselves. I think that's all you can ask for as an artist.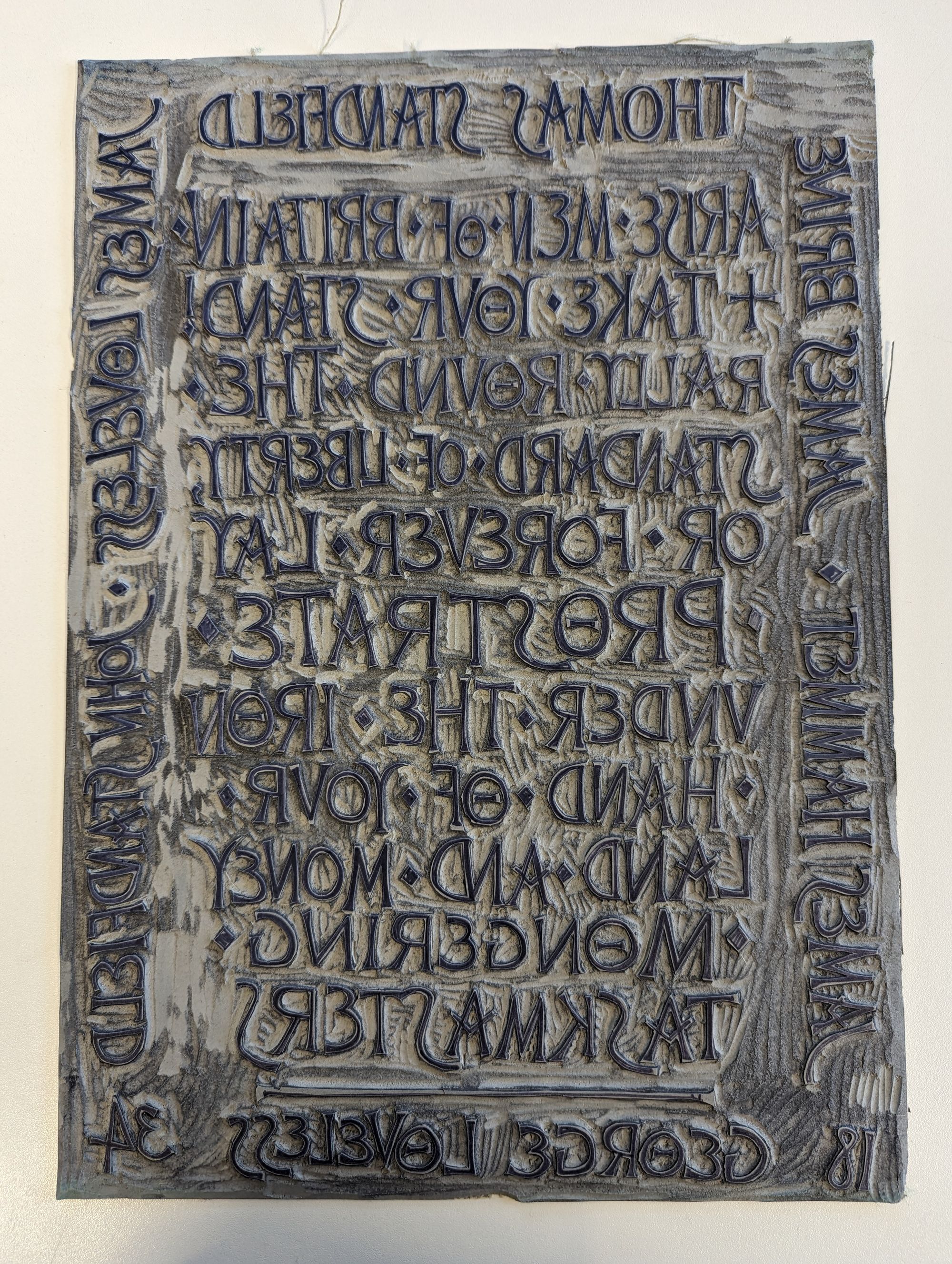 WE CARRY A NEW WORLD IN OUR HEARTS is open until the 21st of March at City Space, The Arc. All prints are limited editions and are available to purchase.