Hampshire Cultural Trust has received funding from National Lottery Heritage Fund to help reimagine the Allen Gallery and its nationally significant ceramic collection over the next year.
With funding support from the University of Southampton, we are researching and discovering the collections' untold stories, including its relationship with slavery and the Atlantic slave trade.
This month's article focuses on an earthenware figure of Charity, produced by Herculaneum Pottery in the late eighteenth or early nineteenth century.
---
Herculaneum Pottery was founded in 1796 by former silk thread maker Samuel Worthington at Toxteth Park, just south of Liverpool. The Pottery produced earthenware of all types and has been described by ceramic historians as the 'final impressive phase of the two-centuries-old potting tradition in Liverpool'.
There is evidence that several men who owned shares in the Pottery were involved, either directly or indirectly, with the Atlantic slave trade.
One of the most influential of these was Thomas Case Jr. who became the Chairman of the Management Committee in 1814. Case was connected to the slave trade through his parents. His mother, Anna Ashton, was the daughter of rich salt merchant John Ashton who was involved in the trade of enslaved Africans in the British West Indies in the eighteenth century. Case's father, Thomas Case Sr., was also a member of the African Company of Liverpool and a part-owner of sixteen slave ships and a sole owner of two.
The earthenware figure of Charity, decorated with yellow, ochre, brown and blue oxides, in the Allen Gallery ceramics collection, was probably made by Herculaneum Pottery, Liverpool in the late eighteenth or early nineteenth century.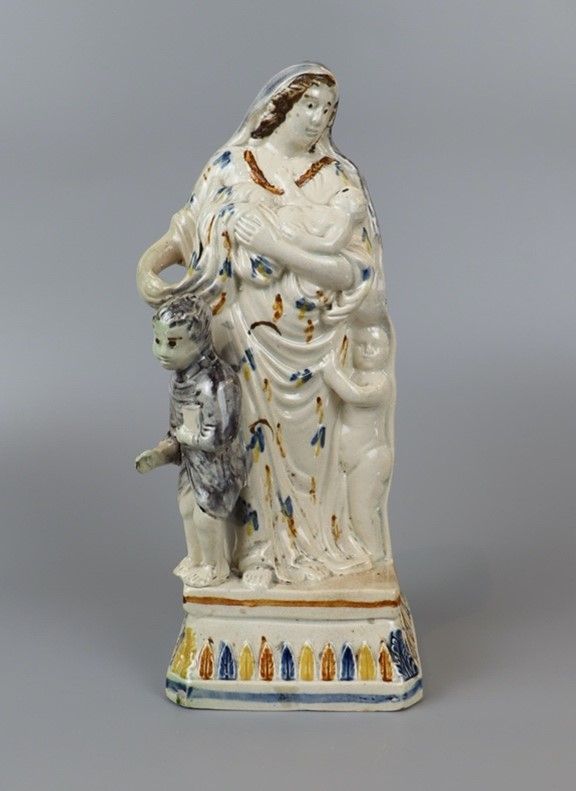 The brothers John and Robert Gladstone, who became shareholders of the Pottery in 1828, were also involved in the slave trade. John Gladstone was one of the largest owners of enslaved people in the West Indies and the Chairman of the Liverpool West India Association. He owned several plantations in both Demerara and Jamaica, while his brother, Robert, owned one in Jamaica. John Gladstone became particularly well-known in Liverpool as a Member of Parliament and the father of the future Prime Minister of Britain, William Ewart Gladstone.
Herculaneum Pottery was also partially owned by Charles Horsfall, a merchant who, at the time of his involvement in the Pottery, dealt in the 'legal trade' of palm oil from West Africa. However, Horsfall had previously owned enslaved people in Jamaica and received compensation for his estates in British Guiana and Jamaica after slavery was abolished in 1833.
The links between this Pottery and the slave trade are just one example of how slavery infiltrated almost all aspects of British society in the eighteenth and nineteenth centuries.
---
For more information about our Rediscovering the Allen Gallery project, click here.
---