10 April marks Encourage a Young Writer Day, promoting creativity and imagination in children and young people. This week saw the launch of a great opportunity for budding writers, with the return of Hampshire Young Poets Competition for 2022. Open to young people across Hampshire, the competition is a partnership between Hampshire Cultural Trust, Winchester Poetry Festival and Hampshire Library Service, with school prizes kindly sponsored by P&G Wells, Winchester.
Last year's competition, with the theme of 'hopes and dreams', attracted dozens of fantastic entries from across Hampshire and were judged by Hampshire Poet 2020, Kathryn Bevis.
This year's theme is 'Jubilee' and the winners and runners-up will be announced at an awards ceremony at The Arc, Winchester, on Saturday 8 October 2022.
Read on for our 2021 winners and visit our website to find out more and enter. Entries close Sunday 31 July 2022 - good luck!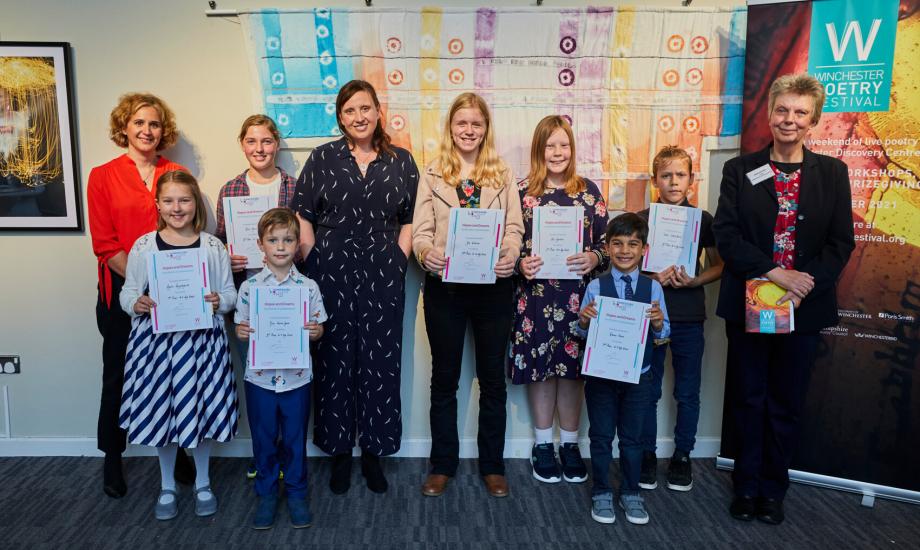 ---
There must be a reason for why we are here, by Jamie See, age 12 - 16 category
When Ursula took away Ariel's voice
With a contract to deceive her naivety
Politicians replicated the dark artistry
To distort voices through your votes.
When you begin people watching
You notice death becomes a statistic
You never see Superman saving lives
The world around you is spinning.
With the elixir of youth,
Embrace humanity in its entirety
Fight in multitudes of rainbows
Dance in spectrums of colours
Whilst holding the small universe
In the palms of your hands.
My Box of Dreams, by Agata Augustyniak, age 8 - 11 category
I will put in the box: A needle from a hedgehog's back,
A fairy-dust-filled pixie sack, a very joyful dog that's black.
I will put in the box: A cloak of gold and silver beads,
A tuft of useless garden weeds, a handful of magic beanstalk seeds.
I will put in the box: A super-silky butterfly wing,
A turquoise bird that cannot sing, a rainbow arch that's amazing.
I will put in the box: Crystal shards from the depths of the sea,
The thought of a song that's been following me,
Some oak-coloured roots from a very old tree.
My box is fashioned from silver and silk and stars,
With rainbows on the lid and ribbons on the sides.
It's floor is as deep as an infinity sack.
I will bury my box in a hole in the coral reef, where no one can find it.
One day, when the tide goes out far, someone will find my box…
Where the frogs was, by Rihaan Morar, age 4 - 7 category
Where the frogs was,
Was where the grass was,
Was where the rocks was,
Was where the water was,
Was where the frogs was.
---