Hampshire Cultural Trust has received funding from National Lottery Heritage Fund to help reimagine the Allen Gallery and its nationally significant ceramic collection over the next year. As a part of this project, we are researching and discovering the collections' untold stories.
This article is a spotlight on the Timorous Beasties London Toile dish.
---
Timorous Beasties' London Toile dish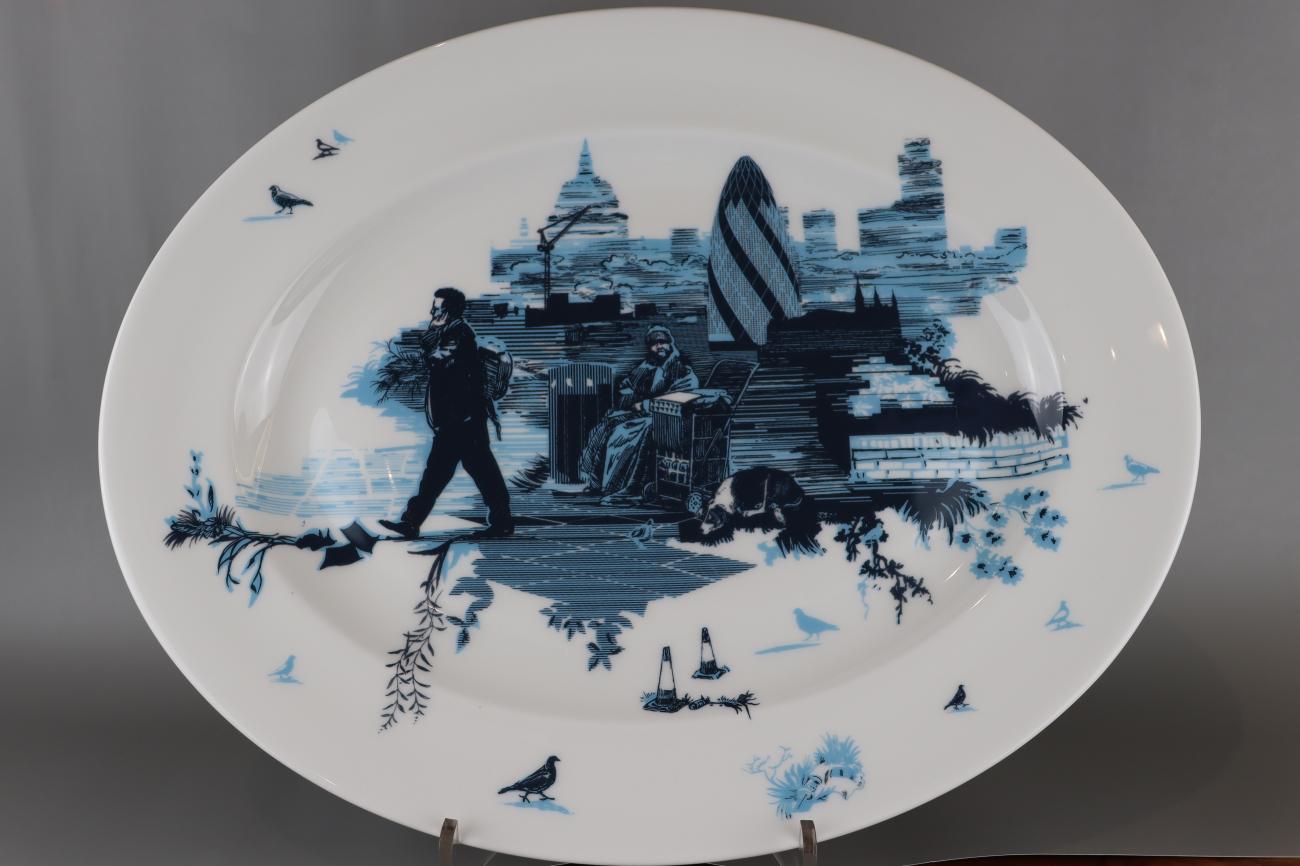 The dish is bone china, silk screen transfer printed onto a Wedgwood blank. It is printed in two shades of blue with the London Toile pattern, showing a composite and distinctly unsentimental view of a London park with park users, birds and litter in the foreground, and St Paul's Cathedral and The Gherkin in the background. The back is stamped with a limited edition mark 27/100.
London Toile was designed by Paul Simmons of design studio Timorous Beasties, Glasgow, in 2005, as a fabric pattern and first appeared on ceramics in 2006. The print is still available as a wallpaper or fabric. Ceramics with a decoration based on the design are currently sold by Cath Kidston.
The London Toile is the second Toile that Timorous Beasties produced, the first being the "Glasgow Toile". The London Toile is different aesthetically and its reference is from the "islands" of images that are often found in the original Toiles. It was designed from a love of London and a respect of the old Toile de Jouy that were produced in a pre-revolutionary and post-industrial France, in the small town of Jouy, on the outskirts of Paris in the 1770s.
The imagery in the original Toiles included scenes showing the factory at Jouy and rural scenes of workers relaxing, drinking and dancing. Timorous Beasties have not changed the Toile concept significantly, but have updated the references from the contemporary urban.
Designed using the same techniques as the original Toiles by separating the drawings, the design produces extra depth and texture by overlapping and leaving gaps in the artwork to create more tones when the inks overlap one another.
London Toile is patterned after late 18th and early 19th-century copperplate printed Toiles de Jouy, which often depicted picturesque scenes or points of interest around various cities. But, a closer inspection of London Toile reveals a very contemporary London skyline, including the Gherkin, along with multi-ethnicity and contemporary social woes such as homelessness and litter.
Written and researched by Jackie Breakspear, an Allen Gallery Research Volunteer.
For more information about our Rediscovering the Allen Gallery project, click here.  
---