Hampshire Cultural Trust has received funding from National Lottery Heritage Fund to help reimagine the Allen Gallery and its nationally significant ceramic collection over the next year. As a part of this project, we are researching and discovering the collections' untold stories.
This months article focuses on a Chelsea porcelain candlestick figure of a girl with basket of flowers.
---
There are several Chelsea porcelain figures in the Allen Gallery.  This one is a candlestick, although the candle sconce itself is missing.  It has a gold anchor mark and therefore dates between 1765 and 1769.  The female figure is holding a basket of flowers and may be emblematic of spring.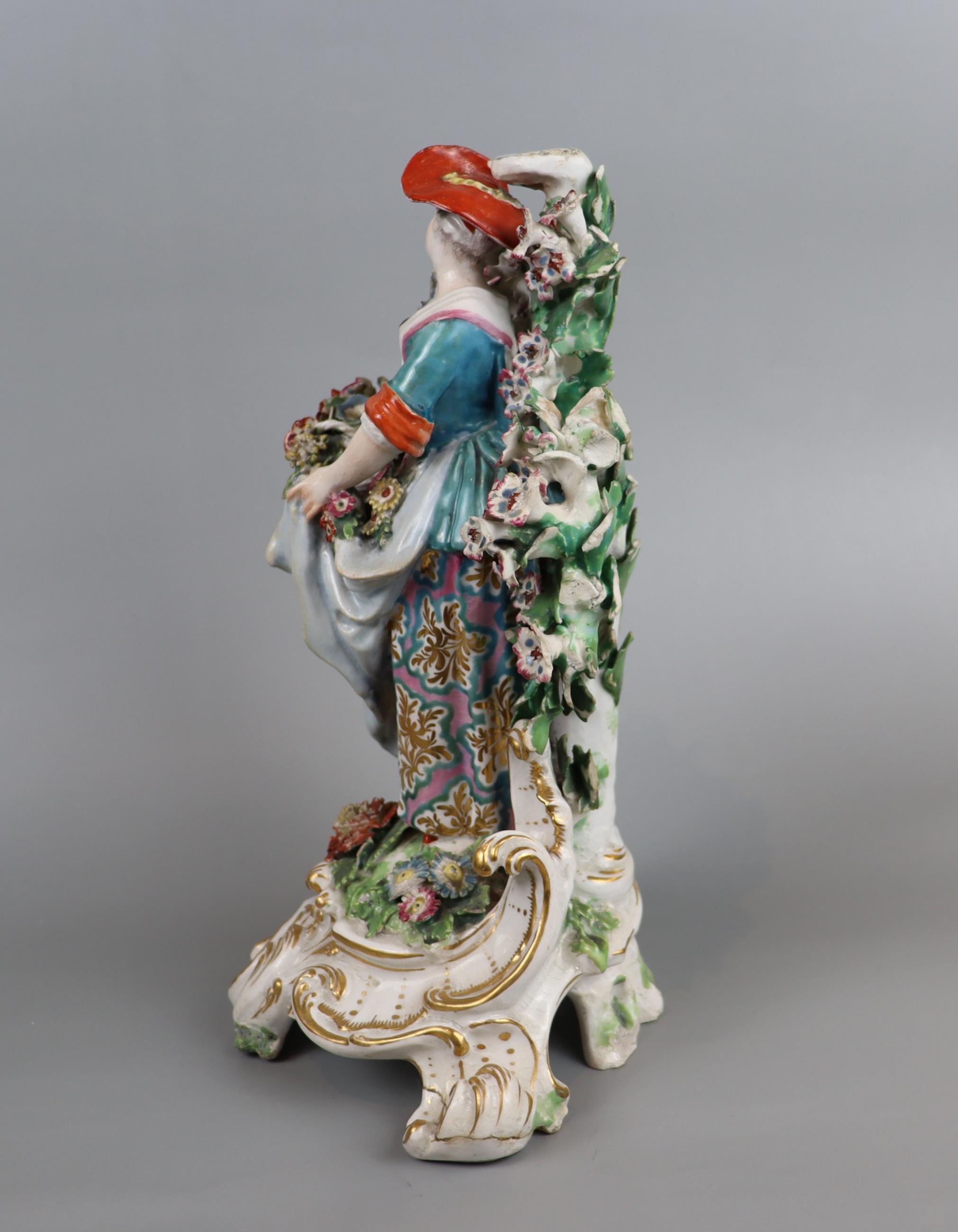 Chelsea was the earliest and most significant manufactory of English porcelain.  It was created largely by the Huguenot silversmith, Nicholas Sprimont.  He was born in 1716 in Liège where his father was a silversmith.  His family had moved north to escape religious persecution.
Nicholas came to London and registered as a silversmith in 1742.  He was commissioned in 1742/3 by Frederick Prince of Wales to make a silverware service. This became the Neptune Service which is still in use at Windsor Castle.
In partnership with a fellow Huguenot, jeweller Charles Gouyn, Nicholas Sprimont leased a property and set up the Chelsea factory.  The two Frenchmen undertook the creation of pieces from soft-paste porcelain using technology that was barely known in England, and so-called because it was fired at lower temperatures than those required to finish hard-paste porcelain.
Unsurprisingly, the early years at Chelsea were strongly influenced by silver forms, but Sprimont's silverware shapes transferred easily into white Chelsea porcelain.  Trade restrictions and the Seven Years War prevented the sale of Meissen and Vincennes porcelain into England, so Sprimont set about copying collectors' pieces and creating new designs for the European taste.  Later, during the gold anchor period, the influence of Sèvres becomes apparent.  By the 1740s, flower painting had developed into a very sophisticated art.
Once Charles Gouyn left to set up business on his own in 1749, Sprimont secured the future of his solely-run operation by arranging patronage from the Duke of Cumberland.  By the early 1750s, a very fine paste had been developed and the quality of painting was high.  Sprimont was so vital to the running of the factory that when he fell ill in 1756 the entire business was closed down for two years until his return.   It was reopened in 1758, thereby beginning the gold anchor period, adopting the style of Sèvres.  Botanical painting at Chelsea continued well into the gold anchor period, until 1765.
Ultimately after another bout of ill-health, Sprimont was forced to sell the factory to James Cox in 1769.  James Cox quickly passed on the controlling interest to William Duesbury, a previously London based enameller who had set up his own pottery in Derby.  William Duesbury recognised the high quality of the Chelsea wares, and ran both factories for about 15 years.  Eventually, however, the Chelsea factory was closed down and anything useful was relocated to the midlands, along with many of the workmen.
By Jackie Breakspear, Ceramic research volunteer.
---
For more information about our Rediscovering the Allen Gallery project, click here.
---